Real Estate Investment Trusts, or REITs, have taken a beating over the past several weeks. The market appears to be pricing in an interest rate hike, perhaps as early as December. Longer-duration interest rates have already started to rise in anticipation of this, which has taken REITs down with it.
One of the REITs getting hit hard is Welltower (NYSE:HCN), a REIT that specializes in health care properties in the U.S., the U.K., and Canada.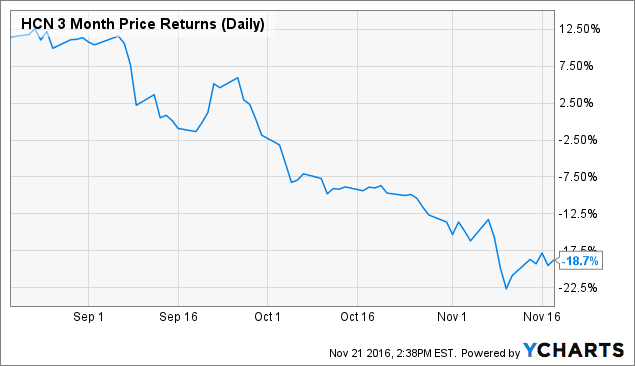 Welltower is down nearly 20% in just the past three months. But this decline has not been accompanied by a deterioration of the business model. Welltower's fundamentals remain strong, and the company has a compelling future growth catalyst in the form of the aging population.
At $62, Welltower is a much more attractive stock to buy for income investors. The reason is that its recent share price decline has elevated its dividend yield up to 5.5%, which is more than double the average dividend yield in the S&P 500.
Income investors can use the price dip as a buying opportunity.
Restructured Investment Portfolio
In addition to its dividend, the reason I continue to hold Welltower is its positive future growth outlook. The major growth catalyst for Welltower is the aging population. The 85-and-over population is set to soar moving forward.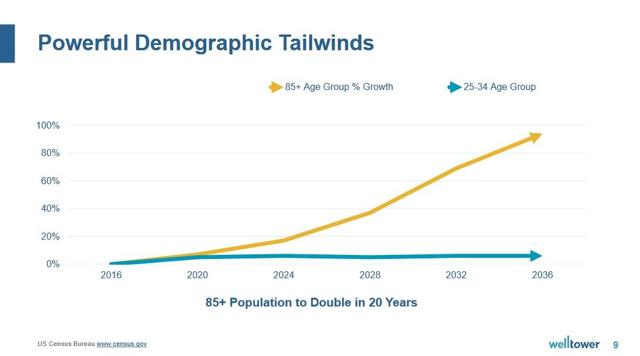 This sets up a very favorable environment for Welltower. It is a major player in its industry-it has more than 1,400 properties, all of which cater to the aging demographic. The aging population should result in higher health care spending. According to Welltower's most recent investor presentation, average per-capita personal healthcare spending is $35,000 for the 85-and-over group, compared with $16,000 for those aged 65-84.
To maximize its growth potential from the aging population, Welltower has restructured its investment portfolio. Going forward, it will focus much more on private-pay sources such as senior housing, and less so on hospitals and long-term care facilities.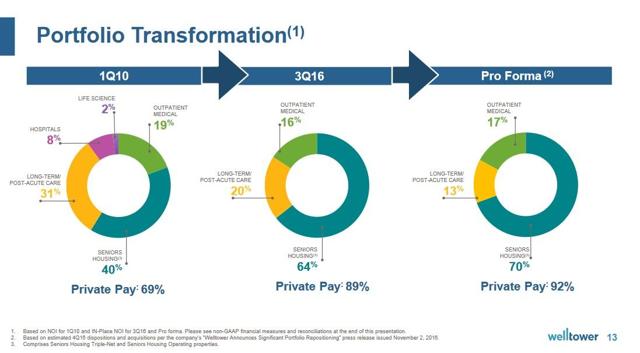 Other areas in which the company is re-positioning its portfolio to capitalize on the aging population is in geographic focus. Welltower is focusing its portfolio on urban areas. These are large cities like New York that have high populations of aging individuals but are under-served markets.
Urban areas are also attractive because they are high barrier-to-entry markets, due to the cost of acquiring and developing health care properties. Only large companies like Welltower have the financial resources to be able to compete in these areas, which gives the company a key competitive advantage.
Lastly, Welltower is allocating significant resources to outpatient facilities. These facilities will represent 17% of the company's annual operating income going forward. The reason why Welltower is focusing on outpatient is because of the tremendous growth in this category relative to inpatient facilities, which have stagnated for many years. For example, since 1999, Welltower notes that outpatient facility visits have increased 36%, versus only a 6% rise in inpatient visits.
Collectively, these strategic initiatives should provide Welltower with steady growth each year. Management forecasts 3%-4% growth in FFO in 2016. In turn, that will fuel its consistent dividend growth as well.
Dividend is Stable and Secure
Of course, perhaps the biggest reason why Welltower deserves a place in an income investor's portfolio is its reliable dividends. The stock price is declining based on interest-rate fears, but this is a short-term concern. Over the long term, Welltower has a proven track record of navigating all sorts of interest rate cycles. Its dividend has remained intact through it all. The company has paid 182 consecutive quarterly dividends, a streak that goes back 45 years.
And, the company regularly increases its dividend. In 2016, Welltower boosted its dividend by 4%. And it has already announced a 1% dividend hike for 2017. Admittedly, these are not huge increases, but they usually match or exceed inflation. This helps protect investors' purchasing power and provides higher levels of income each year. Since 1971, Welltower has increased its dividend by 5.7% compounded annually.
Investors should feel confident about the security of Welltower's dividend because the company carries a strong balance sheet. Its debt profile is balanced over the next several years. With the exception of 2021, most annual debt obligations remain at or below $1 billion per year.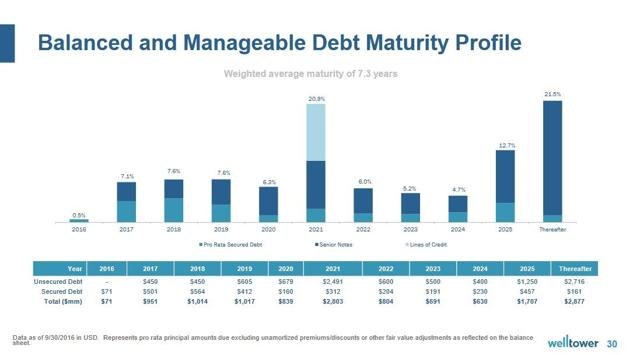 Welltower generated $1.5 billion in funds from operation (FFO) last year, and is set to grow this year and beyond. Therefore, the company's debt position seems to be manageable.
As an indication of its strong financial position, the company's debt rating was recently upgraded by Standard & Poor's, from BBB with a positive outlook to BBB+ with a stable outlook. Part of the upgrade was due to Welltower's de-leveraging efforts over the past few years. Indeed, at the beginning of 2016, Welltower held a 5.6 debt-to-EBITDA ratio. At the beginning of 2014, its debt-to-EBITDA ratio was 6.1.
Final Thoughts
Interest rates are starting to creep higher, but from a historical perspective, are still well below average levels. In this low-rate environment, high yields are hard to find. Many fixed income securities still do not offer compelling yields, and the average dividend yield in the S&P 500 hovers around 2%.
As a result, Welltower's 5.5% dividend yield is very attractive for income investors. Importantly, the dividend is backed by sound company fundamentals. Welltower is a well-run company that should generate enough growth to continue increasing the dividend from year to year. Income investors should view the share price decline as a welcome buying opportunity to generate high levels of income.
Disclaimer: This article represents the opinion of the author, who is not a licensed financial advisor. This article is intended for informational and educational purposes only, and should not be construed as investment advice to any particular individual. Readers should perform their own due diligence before making any investment decisions.
Disclosure: I am/we are long HCN.
I wrote this article myself, and it expresses my own opinions. I am not receiving compensation for it (other than from Seeking Alpha). I have no business relationship with any company whose stock is mentioned in this article.