Every investor desirous of developing an ETF-based portfolio does well to start by selecting a few core holdings. In my view, such holdings should offer what I have previously described as the "solid anchors" of low expenses and diversification.
Note to New Readers: If you are new to the "ETF Monkey Focus" series of articles, please see this article for some helpful introductory information. It highlights the criteria I used for ETFs to be included in the series as well as common features that I hope will make these articles very useful tools for an investor as they begin their research. This article brings to 9 the total number of ETFs I have covered in this series.
Since the two broadest asset classes are stocks and bonds, a well-diversified portfolio does well to add as one of its core ETFs a first-rate U.S. Total Bond Market ETF.
Overview
In this article, I will feature four such ETFs. Each of these ETFs, as it happens, tracks the same basic underlying index. Until August 24, 2016, this index was known as the Barclays Capital Aggregate Bond Index. However, Barclays sold its indexing business to financial information provider Bloomberg. Now, this index is known as the Bloomberg Barclays U.S. Aggregate Bond Index.
This index measures a wide spectrum of public, investment-grade, taxable, fixed income securities in the United States-including government, corporate, and international dollar-denominated bonds, as well as mortgage-backed and asset-backed securities, all with maturities of more than 1 year. By "investment grade," this means that all securities must be rated at least Baa3/BBB- by Moody's Investors Service, Inc., Standard & Poor's Financial Services, LLC, and Fitch, Inc.
As you consider this article, bear in mind that one ETF may have an advantage over its competitors if your brokerage offers commission-free trading in that ETF, particularly if one of your goals is to invest regularly and in small increments.
So let's get started. In the following table, you will find key high-level profile and portfolio information for each of our 4 ETFs.
| | (NYSEARCA:AGG) | (NYSEARCA:BND) | | (NYSEARCA:SCHZ) |
| --- | --- | --- | --- | --- |
| ETF Name | iShares Core U.S. Aggregate Bond ETF | Vanguard Total Bond Market ETF | SPDR Bloomberg Barclays Aggregate Bond ETF | Schwab U.S. Aggregate Bond ETF |
| Index Tracked | Bloomberg Barclays U.S. Aggregate Bond Index | Bloomberg Barclays U.S. Aggregate Float Adjusted Bond Index | Bloomberg Barclays U.S. Aggregate Bond Index | Bloomberg Barclays U.S. Aggregate Bond Index |
| Expense Ratio | .05% | .06% | .08% | .04% |
| Average Spread | .01% | .01% | .09% | .04% |
| AUM | $41.6 Billion | $32.2 Billion | $1.3 Billion | $3.2 Billion |
| Number of Holdings | 5,864 | 8,435 | 3,208 | 2,938 |
| Average Coupon | 3.13% | 3.10% | 3.16% | 3.08% |
| Average Maturity | 7.58 Years | 8.0 Years | 7.95 Years | 7.53 Years |
| Average Duration | 5.36 Years | 5.8 Years | 5.62 Years | 5.41 Years |
| 30-Day SEC Yield | 1.76% | 1.98% | 1.95% | 1.92% |
Notes on terms that may be unclear:
Average Spread refers to the average price difference between the price buyers were willing to pay and sellers were willing to sell, averaged over the latest 45 days.
Average Maturity refers to the average length of time to the repayment of principal for the securities in the fund, including the likelihood that bonds may be called before the scheduled maturity date.
Average Duration refers to the calculated percentage change of a portfolio's value for every 100 basis point change in yield.
30-Day SEC Yield refers to the investment income available to shareholders minus the fund's expenses for the most recent 30-day period. This measurement was introduced by the SEC to ensure fair comparative reporting between funds.
Next, let's take a quick look at each ETF, in alphabetical order by ticker symbol.
iShares Core U.S. Aggregate Bond ETF
At some level, I am going to compare AGG and Vanguard's offering, BND, along very similar lines.
First, some good news for investors in AGG. In October, 2016, BlackRock (NYSE:BLK) cut the expense ratio from .08% all the way down to .05%. Following this cut, only SCHB has a lower expense ratio.
With respect to both size and tradeability, AGG and BND are the "800 pound gorillas" in this asset class. AGG slightly outranks BND in total size, with $41.6 billion in AUM vs. BND's $32.2 billion. As a result, both carry market-leading average spreads of .01%.
The ETFs are not exact mirrors of themselves, however. A close examination reveals that AGG is tilted slightly toward the shorter end of the maturity spectrum. As an example, bonds with maturities of greater than 10 years comprise just 15.17% of AGG vs. 16.70% of BND. Not surprisingly, then, AGG's average duration comes in a little lower, at 5.36 years vs. 5.8 years for BND. All bonds in AGG are rated BBB or higher (according to the S&P rating standard), with 71.34% being AAA rated (S&P's highest rating).
Here is a look at AGG's sector breakdown.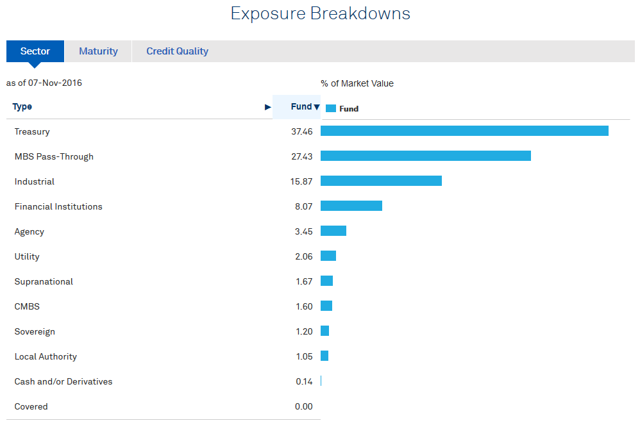 Click to enlarge
Vanguard Total Bond Market ETF
I have already written an in-depth article on this ETF for Seeking Alpha, in preparation for including it in The ETF Monkey Vanguard Core Portfolio. Feel free to consider that article if you wish.
Really, I covered the high points of the comparison between BND and AGG in the section above. I would just like to point out one thing with respect to BND, however. All of these ETFs use "sampling" techniques to replicate the underlying index. In other words, they do not actually purchase every last bond in the index. As you can imagine, some of the smaller bonds could prove quite expensive to trade. As a result, the costs involved in attempting to trade every single bond could cause the fund to have greater tracking error (variance from the index) than the sampling method used. However, having explained that, you will notice that, with 8,435 holdings, BND has the deepest coverage of the index of all our competitors.
As you may be aware, concern has recently been expressed as to the safety and liquidity of bond ETFs. This article concerning a recent major default may be of interest. It features the fact that the default involved a mutual fund, not an ETF, and also that the fund invested in highly speculative and somewhat illiquid junk bonds. In contrast, as featured above, BND contains 8,435 different bonds, 62.7% of its assets are in U.S. Government bonds, and no bonds rated lower than Baa are included, as noted above. Put otherwise, this is not a speculative vehicle. In fact, none of these ETFs are.
Here is a look at BND's sector breakdown.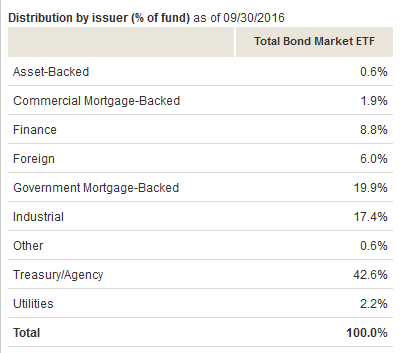 SPDR Barclays Aggregate Bond ETF
This is the first time I have written about an ETF from State Street Global Advisors. State Street is a venerable firm that began business in 1978. In 1993, they launched the very first ETF. That ETF, which today is known as the SPDR S&P 500 ETF Trust (NYSEARCA:SPY), is still considered to be the world's most venerable and well-known ETF, with a whopping $207 billion in AUM. Other extremely well known State Street offerings include the SPDR Dow Jones Industrial Average ETF Trust (NYSEARCA:DIA) and the SPDR Gold Trust (NYSEARCA:GLD).
Originally, State Street's first ETF was known as the Standard & Poor's Depositary Receipts. That, of course, can be abbreviated to "SPDR", and hence the term "spiders" that you may hear so frequently in the ETF arena.
Despite State Street's venerable name and history, this ETF has some disadvantages when compared to others in this group. At .08%, its expense ratio is the highest of the group. At $1.3 billion of AUM, it is also the smallest of our group, and its .09% trading spread reflects this. Lastly, as its prospectus notes, because it holds a smaller number of bonds than some of its competitors, "a decline in the market value of a particular security . . . may affect its value more than if it invested in a larger number of issuers."
Let me be clear. These are all minor quibbles. This is still a high-quality ETF. In such a competitive market, however, they leave BNDS, in my opinion, in last place among this group.
Here is a look at BNDS's sector breakdown.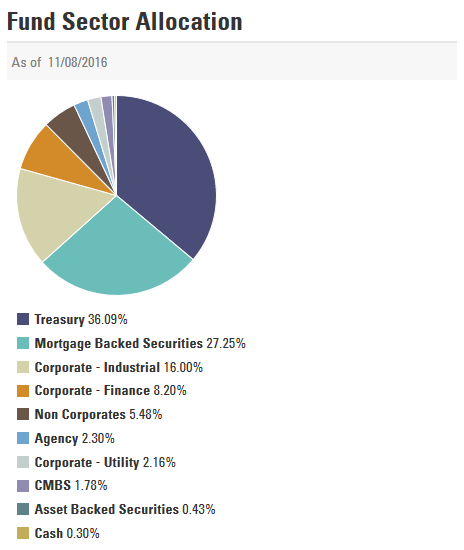 Schwab U.S. Aggregate Bond ETF
With an inception date of 7/14/2011, SCHZ is both newer, and far smaller, than either AGG or BND. Its AUM of $3.2 billion, while larger than BNDS, falls far short of either AGG or BND. This contributes to its mid-pack trading spread of .04%.
With 2,938 bonds, SCHZ also contains the smallest number of holdings in the group; slightly behind BNDS and far short of AGG or BND. In terms of portfolio construction, SCHZ runs closest to AGG, having an effective duration of 5.41 years.
SCHZ's strongest feature is that, at a puny .04%, it has the lowest expense ratio of our 4 competitors. That, along with its broad market coverage make it a solid choice for buy-and-hold investors.
Here is a look at SCHZ's sector breakdown.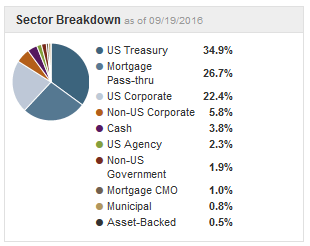 Summary and Conclusion
In summary, while any of these four ETFs would do a nice job serving as a core holding in your portfolio, my two favorites are AGG and BND. Their overall combination of low expenses, greater size and tradeability give them top honors. For my money, SCHZ comes in 3rd and BNDS come in last.
If you are interested in further reading, you might take a look at how AGG, BND, and SCZ fit into the three implementations of The ETF Monkey 2016 Model Portfolio.
Disclaimer: I am not a registered investment advisor or broker/dealer. Readers are advised that the material contained herein should be used solely for informational purposes, and to consult with their personal tax or financial advisors as to its applicability to their circumstances. Investing involves risk, including the loss of principal.
Disclosure: I am/we are long AGG, BND.
I wrote this article myself, and it expresses my own opinions. I am not receiving compensation for it (other than from Seeking Alpha). I have no business relationship with any company whose stock is mentioned in this article.