John Deere Co. (NYSE:DE) has been weathering one of the toughest agricultural slumps since the Great Depression, analysts say, but its perseverance in protecting profit margins has helped keep it from falling into the great abyss that some farmers and other machine makers have experienced over these challenging three years.
Among the world's largest makers of agricultural, construction and forest machinery, diesel engines and drivetrains used in heavy equipment, as well as lawn-care gear, DE is reporting Q4 and full-year earnings results ahead of the market's opening Wednesday.
In the previous quarter, DE soundly outstripped Wall Street's expectations despite double-digit declines as the global markets for farm and construction equipment continued to drag overall results. Some 70% of its revenues are gleaned from agriculture and turf equipment operations, according to the company, whose second-largest division is construction and forestry machinery.
"John Deere's performance in the third quarter reflected the continuing impact of the global farm recession as well as difficult conditions in construction equipment markets," Chief Executive Samuel Allen said in the earnings release. "All of Deere's businesses remained profitable with the agriculture and turf division reporting higher operating profit than last year."
"As in past quarters, our results benefited from the sound execution of our operating plans, the impact of a broad product portfolio, and our success keeping a tight rein on costs and assets," he added.
Analysts say they want to know how well those strategies worked in Q4. Allen said in Q3 that DE was "continuing to focus on ways to make our operations more efficient and achieve further structural cost reductions."
Analysts say they're also looking for an update in DE's efforts to acquire Precision Planting, a high-speed precision planting-equipment maker. They'll also be interested in any forecasts DE might give for Q1 and the next fiscal year, as well as company executives' thoughts on what ramping up infrastructure construction in the U.S. might mean to the business.
At Thomson Reuters, analysts are forecasting, on average, earnings of $0.40 a share, representing a 63% tumble from the year-ago profit of $1.08 per share. Revenue also is projected to slip roughly 8% to $5.38 billion from $5.86 billion last year.
DE has a long track record of outpacing Wall Street's expectations, having done so 15 straight quarters and mostly in double-digit percentages. In the most recent quarter, DE beat projections by more than 64%, partially helped by a stock buyback. The results were so good that DE upped its full-year guidance at the time.
Short-term options traders have priced in a potential share price move of 4% in either direction around the earnings release, according to the Market Maker Move™ indicator on the thinkorswim platform from TD Ameritrade.
Buyers over the past few days were picking up calls at the 93-strike price and puts at the 88 strike. The implied volatility is at the 32nd percentile (Please remember past performance is no guarantee of future results).
Note: Call options represent the right, but not the obligation, to buy the underlying security at a predetermined price over a set period of time. Put options represent the right, but not the obligation, to sell the underlying security at a predetermined price over a set period of time.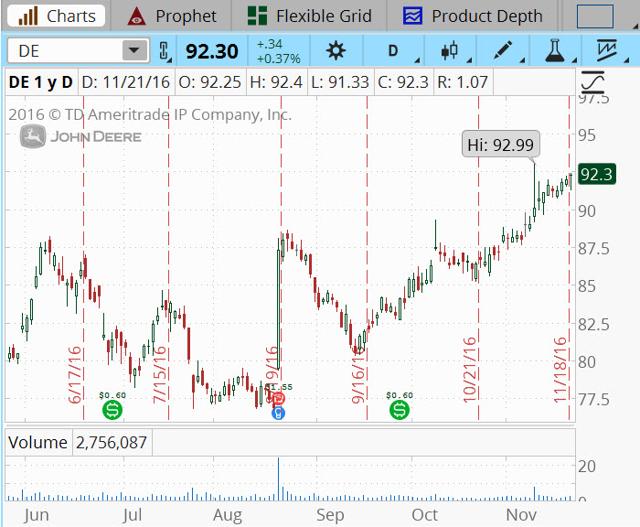 Click to enlarge
Figure 1: Plowing Ahead. DE's shares surged better than 13% after the farm-and-construction machinery maker outpaced Wall Street's Q3 expectations in mid-August. The stock is up over 20% on the year.
Chart source: thinkorswim by TD Ameritrade.
Data source: Standard & Poor's.
Not a recommendation. For illustrative purposes only. Past performance does not guarantee future results.
TD Ameritrade commentary for educational purposes only. Member SIPC. Options involve risks and are not suitable for all investors. Please read Characteristics and Risks of Standardized Options.
Disclosure: I/we have no positions in any stocks mentioned, and no plans to initiate any positions within the next 72 hours.
I wrote this article myself, and it expresses my own opinions. I am not receiving compensation for it. I have no business relationship with any company whose stock is mentioned in this article.