In the days since the Presidential election, there has been a rout in the bond market which has been fueled by expectations that President-Elect Trump will cut regulations and put forth other pro-growth policies that will lead to rising rates. Part of it is also probably due to expectations that the Federal Reserve will raise interest rates in December. Below, take a look at the chart of the iShares National Muni Bond ETF (NYSEARCA:MUB), and you can see the sudden plunge that has taken place in this sector. The Relative Strength Index or "RSI" is just 19 for this ETF, which indicates it is extremely oversold. When the RSI reaches 30 or less, it indicates that the selling pressure has been extreme and possibly not is not sustainable.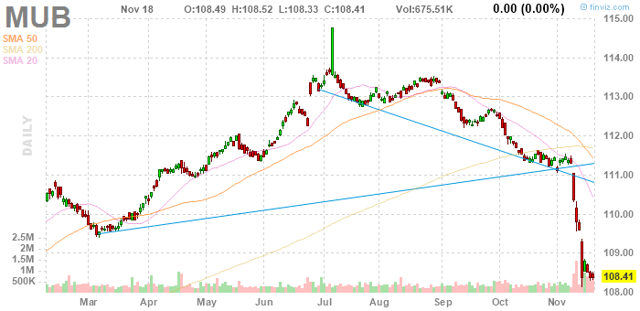 Click to enlarge
I believe the market is way ahead of itself and overreacting with this recent plunge in the bond market. Sure, let's assume that new policies boost growth from nearly stagnant levels to slightly better levels and let's also assume that the Federal Reserve pulls off a puny interest rate hike of a quarter point. Neither of these factors is enough to make higher yielding bonds unattractive for longer term investors and that is why I think this has created a buying opportunity. The recent plunge in bonds has already priced in higher rates anyhow.
Whenever there is a plunge in the stock or bond market, one of the best places to go bargain hunting is in the closed end funds or "CEF" sector. Because closed end funds trade like stocks instead of based on net asset value (like open end mutual funds), CEFs can suffer from liquidity risks which push the share price way below net asset value, especially at times of market dislocation as we have recently seen. That makes CEFs far more volatile and therein lies the opportunity. I believe the bond market is going to stabilize and probably even rebound from extremely oversold levels. Based on this, I am seeing a significant buying opportunity in the Invesco Advantage Municipal Income Trust (NYSEMKT:VKI). This is a closed end municipal bond fund that focuses on tax-free, high-yields bonds.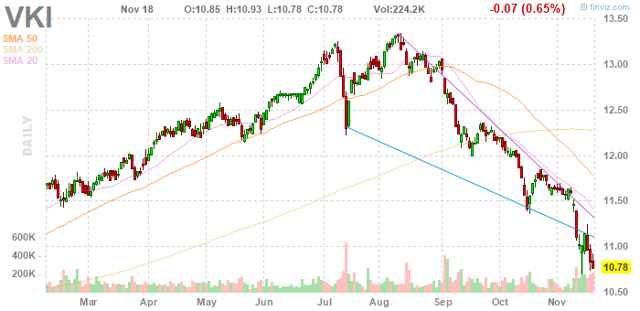 Click to enlarge
As the chart above shows, this CEF has dropped significantly since peaking at about $13.25 per share in August. Just in the past few days, it has dropped another 10% which far exceeds the actual drop in the net asset value. As of November 19, 2016, the net asset value is $12.06 and the current share price is $10.78. This represents a discount to net asset value of nearly 11%, which is close to the highest level of discount this CEF has seen in the past 52-weeks. During the past year, the average discount to net asset value is about 3%, so the current selloff has provided a very significant additional discount for investors willing to buy now.
This CEF pays a monthly dividend of 5.47 cents per share which yields about 6.1% on a tax-free basis. This is equivalent to a much higher taxable yield of 9% or possibly even more depending on your tax bracket. A tax-free yield of over 6% is very generous and is far more than the current yield on the S&P 500 Index (NYSEARCA:SPY) of just about 2% (which is not tax-free). This CEF typically trades ex-dividend around the 10th of each month and pays the monthly dividend at the end of each month. A 6.1% yield is not going to make you rich overnight, but it is enough to double your money in just under 12 years. That is based on the "rule of 72" which you can calculate here.
Personally, I plan to buy more shares of this CEF in the coming days for the generous tax-free yield it offers and hold onto that long-term. However, I am also going to buy additional shares which I plan to hold until this CEF rebounds back towards the average net asset discount of roughly 3%. Those shares will be a trade for me on which I might see a 8% gain, if this fund trades back at historical averages. Even if the bond market does not rebound from current levels and just stabilizes, this CEF could return the 3% discount to NAV that it historically offers. That would put the share price back to about $11.65, which is almost $1 more than I can buy it for today. That is a solid gain and while I wait for either a rebound in the bond market, or simply for this CEF to see the NAV discount return to the historical average of just about 3%, I will be rewarded with the monthly dividend.
Data is sourced from Yahoo Finance. No guarantees or representations are made. Hawkinvest is not a registered investment advisor and does not provide specific investment advice. The information is for informational purposes only. You should always consult a financial advisor.
Disclosure: I am/we are long VKI.
I wrote this article myself, and it expresses my own opinions. I am not receiving compensation for it (other than from Seeking Alpha). I have no business relationship with any company whose stock is mentioned in this article.