Canadian Solar's (NASDAQ:CSIQ) third quarter results, which were released this Monday, were a mixed bag as the company met expectations on the bottom line, but fell short of the revenue estimate. In fact, Canadian Solar's revenue in the third quarter fell almost 23% from last year, as a result of which it missed Wall Street's estimates and the stock fell. So, let's take a look at how Canadian Solar performed in the third quarter and whether it can make a comeback in the future.
A closer look at the quarter
Canadian Solar's revenue of $657 million was lower than its guidance range of $660 million-$710 million. This weakness in Canadian Solar's top line was a result of lower revenue recognition from its total solutions business as the company's shipments on a year-over-year basis increased slightly. For instance, Canadian Solar shipped 1,161 MW worth of modules in the third quarter, up slightly from 1,150 MW in the year-ago period.
However, Canadian Solar recognized lower shipments in its total solutions business, through which it generates revenue on account of electricity generation and from projects that it builds on its own. More specifically, Canadian Solar recognized only 16.3 MW of module shipments from the total solutions business in the third quarter as compared to 110.5 MW in the year-ago period.
Now, the reason why Canadian Solar recognized lower revenue from the total solutions business is because the company decided to retain more of its projects for sale at a later stage. For instance, Canadian Solar recognized $529 million worth of its assets as held-for-sale after bringing down its non-current assets from $1.8 billion at the end of the second quarter to $436 million at the end of the third quarter.
These non-current assets are the ones usually held for generating electricity in the long run. But since Canadian Solar has now put a sizable portion up for sale, it should be able to improve its revenue going forward by recognizing higher revenue from its total solutions segment. Hence, it looks like Canadian Solar is now looking for a more opportune time to sell of its solar projects so that it can fetch a better price.
In my opinion, this is the right strategy since not selling of its projects at a lower price will allow Canadian Solar to improve its margins. For instance, last quarter, Canadian Solar posted a gross margin of 17.8%, which was higher than its guidance and also the year-ago gross margin of 14.9%. Additionally, Canadian Solar's cost reductions have been another reason behind the improved margin profile, as the company benefited from a reduction in module costs last quarter due to lower purchase price of cells and wafers.
Moreover, I believe that Canadian Solar will do better if it elects to sell its solar projects at a later stage than now. This is because the solar market should come out of the prevalent oversupply situation.
Improved solar pricing will be a tailwind
Of late, the oversupply in the solar industry has weighed heavily on solar stocks. This is not surprising as a fall in Chinese demand owing to a reduction in incentives has led to a 30% decline in solar panel pricing. However, looking ahead, this oversupply is not going to last for long owing to an increase in solar demand.
In fact, Canadian Solar has a strong pipeline in key regions across the globe, with most of its pipeline being in the late or the mid stage. This is shown below: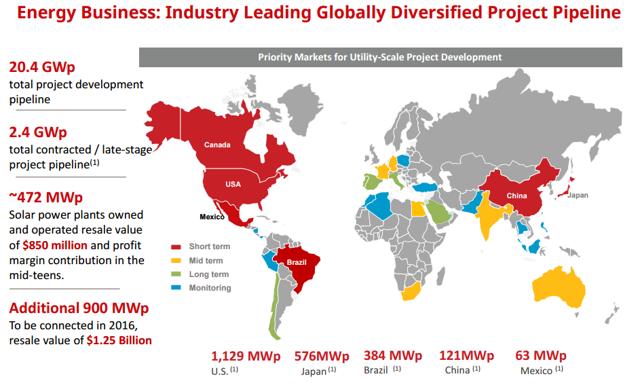 Click to enlarge
Source: Canadian Solar
More importantly, I believe that Canadian Solar should be able to convert a substantial portion of its pipeline into revenue because of the advantage that solar energy has over other sources. I am saying this because the cost of generating electricity using solar energy is lower than traditional sources. This is evident from the table given below: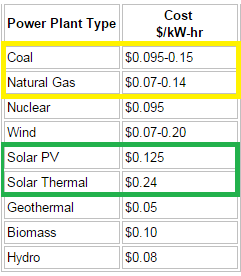 The table above shows that the cost of generating electricity by way of solar PV is almost at par with both coal and natural gas. Now, as the price of modules has declined further, solar PV will become more competitive on the cost front, which will lead to an improvement in the adoption rate of the technology. As a result, Canadian Solar will witness higher demand for its products going forward, which will have a positive impact on the financials.
Conclusion
Canadian Solar's latest results might not have been outstanding, but investors should not miss the positives. The company has been able to improve its margins and has a robust pipeline, while the retention of projects on the balance sheet will allow it to land a better price in the future once the oversupply is over. So, in my opinion, investors should keep faith in Canadian Solar as it can do better in the long run.
Disclosure: I/we have no positions in any stocks mentioned, and no plans to initiate any positions within the next 72 hours.
I wrote this article myself, and it expresses my own opinions. I am not receiving compensation for it (other than from Seeking Alpha). I have no business relationship with any company whose stock is mentioned in this article.