Source: InTheMix
Business Overview
Diageo PLC (NYSE:DEO) is a diversified producer of alcoholic beverages, with brewing and distilling a branded portfolio of vodka, whiskey, tequila, gin, and beer. Notable brands include Guinness, Johnnie Walker, Smirnoff, Tanqueray, Captain Morgan, Seagram's, Don Julio, and Baileys. The company is headquartered in the United Kingdom, and is the world's largest producer of whiskey.
Investment Thesis
The investment thesis revolves around three primary drivers:
Cost Cutting Program Pushes Margin Improvement: Diageo is employing a program known as "zero-based budgeting" to cut costs. With this program, Diageo expects to cut over $650m in costs over the next three years. Under zero-based budgeting, the company creates completely new budgets every year, instead of relying on previous budgets to forecast costs.
"Premiumization" Trend Drives Higher Margin Sales: As the U.S. economy improves, consumers are increasingly focused on more premium brands in both the beer and hard alcohol segments. By producing and selling higher shelf alcohols, Diageo can move its sales mix towards higher margin products. However, this "premiumization" trend may have an adverse effect on their beer segments, which we will touch upon later.
Stable Business Model Encourages Multiple Expansion: Volatility in capital markets is concerning for both small and large investors alike, and will drive capital towards companies with reliable business models. We believe that increased demand in the market for defensive stocks will propel industry multiples higher, especially for companies like Diageo that trade beneath their industry average.
Investment Risks
The trend of "premiumization" has led to higher demand for more quality alcohol in the U.S. market, driving growth in both craft beer production and consumption. The number of craft breweries sits around 4,200, and has seen explosive expansion in the past few years. Craft beer sales make up an increasing amount of overall beer consumption, which adversely affects established brewers. Additionally, currency fluctuations of the Great British Pound may cause volatility in the stock, as Diageo is headquartered in the UK and reports earnings in GBP.
Key Drivers
We attribute upside potential to:
Cost Cutting Program to Push Margin Improvement
"Premiumization" Trend to Drive Higher Margin Sales
Market Volatility Encouraging Multiple Expansion in Defensive Stocks
Zero-Based Budgeting Will Improve Margins
Zero-based budgeting has seen great popularity in the Food & Beverage industry, with companies like Kraft-Heinz and Mondelez employing the strategy.
In industries with low organic growth potential, cost-cutting has become the method of choice for improving earnings. While we believe in Diageo's ability to drive growth with new products and by penetrating unopened markets, an emphasis on cost-cutting is a healthy strategy for any established player in the Food & Beverage industry.
Many companies have employed the strategy of zero-based budgeting to drive margins, such as Kraft-Heinz and Mondelez. In practice, companies do not use their previous year's budget to forecast their next year's budget. Instead, all expenses must be justified individually in the new period, regardless of what happened in the previous period. In effect, companies start from a "zero base."
The total savings from 2017 through 2019 are expected to total $667 million dollars. These savings are likely to be reinvested in their existing brands to recapture market share, which has seen losses with regard to their whiskey and vodka portfolio.
Premiumization Trend Will Drive High Margin Sales
Premiumization in the hard spirits market will drive demand for higher-priced products, pushing Diageo's sales mix towards higher margin sales.
Premiumization has been the primary driver of growth for distillers over the past five years. Additionally, the increasing popularity of cocktails has heightened demand for quality liquors. This trend is well-illustrated by per capita expenditures on alcohol, which have increased almost 1% annually for the past five years. Premiumization is a double-edged sword for Diageo and its major competitors. While higher-priced premium products fetch higher margins for producers, it also opens up an opportunity for local craft distillers to carve out a market niche.
At the end of the day, we believe premiumization carries more benefits than dangers for Diageo. Unlike the craft beer industry, which we will touch upon later, Diageo has the benefit of established political policy that protects its place in the market. Operators face higher taxes, burdensome distribution rules, and limits on marketing and sampling product in the distillery itself. Therefore, many of the tools available to craft brewers to grow their business are unavailable to craft distillers. Additionally, the actual product limits the amount of growth a producer can experience. Harder spirits, unlike beer, require a far longer brew time, and therefore have a longer ramp period. For example, most types of whiskey take two or more years to produce. As the craft brewing and distilling trend is relatively recent, the actual craft distillery market will take a longer time to build the proper inventory to sell to the general market. It is also difficult for craft brewers to compete in the super-premium segment of the market, as they do not have the established brand, history, or brewing time to create a super-premium spirit.
As Diageo takes advantage of more expensive tastes, it has the opportunity to push its sales mix towards higher price products, which are in turn higher margin. Higher pricing, a key way distillers and brewers drive revenue, is easy to pass off to consumers in this case.
Market Volatility Encourages Defensive Allocations
Market volatility, particularly in the wake of the recent election, could fuel a return to defensive stocks, driving an increase in multiples.
After a bout of low volatility at the end of the summer, the market is seeing a return to turbulence. As the U.S. election cycle ends, and uncertainty as to what exact legislation President-Elect Trump will push mounts, we believe investors will push their portfolio allocations out of risky assets and towards defensive stocks. Companies that trade at a relatively low multiple within their industries, particularly those with high dividend yields, will benefit the most from this shift. Yielding 3.06% and trading at a relative discount to its peers, Diageo is perfectly positioned to see multiple expansion. More details on relative valuation can be seen in our comparable companies analysis at the end of this note.
Emerging Markets Will Fuel Organic Growth
A high concentration of sales in emerging markets will help fuel organic growth for Diageo, especially relative to peers who do a great deal of their sales in developed markets like the United States and Europe.
While we see growth opportunities in mature markets from products like artisanal spirits and flavored specialties, we believe growth is likely to come from emerging markets. At the end of 2015, the Distilled Spirits Council announced strong growth of the spirits sector, both domestically and abroad. Specifically, the appeal of American whiskey is growing internationally, resulting in 7.8% growth in sales worldwide from 2014 to 2015. Emerging markets continue to see massive growth in sales across all lines of spirits. For example, sales in Vietnam grew by 234%, Latvia by 76%, Brazil by 35%, the Dominican Republic by 28%, and Panama by 21%.
As illustrated by this chart, almost 40% of revenues are derived from sales to emerging markets. This does not even include sales to Eastern European countries, which are witnessing strong growth in their spirits consumption (See above: Latvia). Diageo has made a strong push to expand its international sales, as well as acquire local brands, which tend to be popular in foreign markets. For example, in 2013, they began to acquire a stake in United Spirits, a major distillery in India. By 2014, Diageo owned a majority stake in the company, at 54.8% of shares outstanding. In another case, it pioneered a new system of beer distribution in Kenya that involved delivering beer via motorcycle, the most effective transportation in rural areas. These sorts of moves make Diageo a market leader in emerging markets growth, and gives us confidence they will continue to deliver strong growth internationally.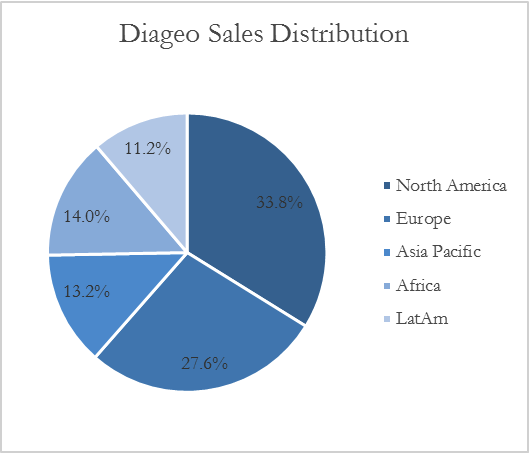 Source: Bloomberg
Weaker GBP is a Plus for Revenues
Diageo reports its sales in GBP, meaning it will have higher revenues as it repatriates foreign sales.
The U.K.'s decision to exit from the European Union, popularly known as the "Brexit", battered the stock on the day of the choice. However, it quickly rebounded, as investors realized Diageo's strategic importance as a safety play with a high dividend yield. However, the most important macro takeaway from the Brexit was its profound effect on the GBP. The GBP, already trending downward, now trades at a ratio of 1 GBP/1.32 USD, as opposed to 1 GBP/1.70 USD midway through 2014. Diageo, which reports its earnings in GBP, benefits from this shift. As they repatriate foreign earnings into GBP, they will now see higher revenues reported from sales internationally.
Mergers & Acquisitions Chatter
Rumors have been floated about a possible DEO acquisition, though we see acquisitions of smaller local competitors by Diageo as more likely.
There has been some mild chatter about Diageo being an acquisition target, potentially by a company like Heineken. While this could certainly act as a catalyst for the stock, we see any major M&A activity within the sector as unlikely. In October of 2015, Anheuser-Busch InBev announced an all-cash bid to acquire SABMiller. The megamerger is still undergoing regulatory scrutiny, but we see it as a hard sell to create any more massive competitors within the breweries and distilleries segment.
However, smaller acquisitions by Diageo are certainly not out of the question. The company has a habit of purchasing high-growth brands to add to its portfolio. For example, over the past two years, Diageo has purchased Don Julio tequila (an ultra-premium offering), Peligroso (a super-premium tequila), and Casa Noble (a super-premium brand). Tequila is a rapidly growing product within the U.S., which Diageo is attempting to capitalize on. On top of these acquisitions and the previously mentioned acquisition of United Spirits, the company has also fully acquired United National Breweries, a leading brewery in South Africa. Much of the consolidation in the industry has stemmed from the rising competition of craft beer, which poses a threat to sales for all its peers.
Key Risk: Premiumization of Beer Poses Threat
Beer sales, almost 20% of Diageo's total revenue, could be challenged by an increasing number of craft brewers.
While premiumization in the domestic spirits market is a positive for Diageo, premiumization in the domestic beer market also poses threats to its sales. 18% of its sales last year were derived from beer, down from 20% in 2010. Similar to hard alcohol, consumers are looking towards more premium beers to drink. That niche is being increasingly filled by craft brewers, who now number over 4,200 in the U.S. As regulations on craft beer are much looser than those on hard alcohol, it is easy for competitors to arise in the market. Many restaurants have also built their own breweries, offering their beers direct to the consumer and for local distribution.
However, we believe that while this is bad for the industry on an absolute level, it is a plus for Diageo. As investors look towards the beverage sector, they will likely look away from companies facing industry issues such as the major brewing companies, and instead towards diversified or pure-play distilleries. Diageo fits that mold perfectly, deriving 80% of its revenues from spirits and 20% from beer sales. This should drive the multiple closer to that of its peers.
Conclusion
Diageo is a stable and well-positioned company in a time of uncertainty, and would be a strong portfolio addition, especially given its 3% annual dividend yield.
Our investment thesis revolves around five drivers: Cost cutting to drive margin improvement, premiumization to drive high margin sales, stable business model encouraging multiple expansion, emerging markets exposure to drive organic growth, and M&A of local competitors to diversify and grow Diageo's brand portfolio. Given its strong position within the industry and overall economy, we see it as a compelling investment given its relative discount to the industry and strong 3% dividend yield.

Click to enlarge
Disclosure: I/we have no positions in any stocks mentioned, and no plans to initiate any positions within the next 72 hours.
I wrote this article myself, and it expresses my own opinions. I am not receiving compensation for it (other than from Seeking Alpha). I have no business relationship with any company whose stock is mentioned in this article.