One of the biggest benefits of writing articles for Seeking Alpha is the comments section. The feedback and second level thinking of thousands of investors add value to my writing and to my trading.
I can spot opportunities and trade my edge, but I can't know all there is to know about every company I trade.
So I have to ask my readers, what's up with Nuveen Minnesota Muni Income (NMS)?
The Munis
The Munis have been hit hard by the bond selloff as they are low yielders. Many have fallen over 10% in value and are trading near the 2016 lows. This is illustrated by the iShares National AMT-Free Muni Bond ETF (MUB).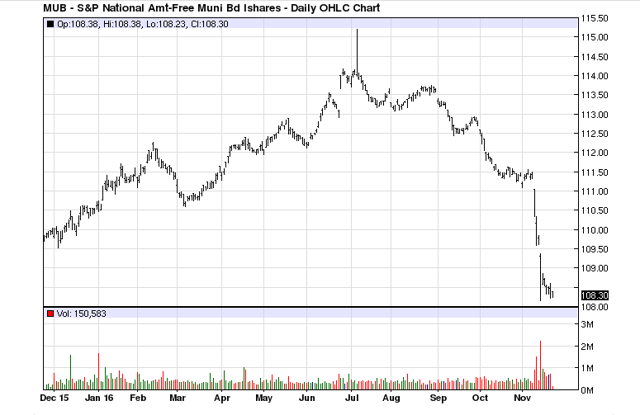 Click to enlarge
NMS, on the other hand, soared 10% last week and is back near the 2016 highs. What is so special about this fund?
The Fund
NMS looks like a standard Muni CEF. As per the Nuveen website, 'The primary objective of the fund is to provide current income exempt from regular federal and Minnesota personal income taxes'.
The current distribution is 4.66%, which is achieved using a (fairly high) 37.97% leverage of its $86m in common net assets. I checked to see if the move up in price was due to a distribution increase, but it has remained $0.0665 all year.
As with most Munis, interest rates are the main risk as credit quality is good: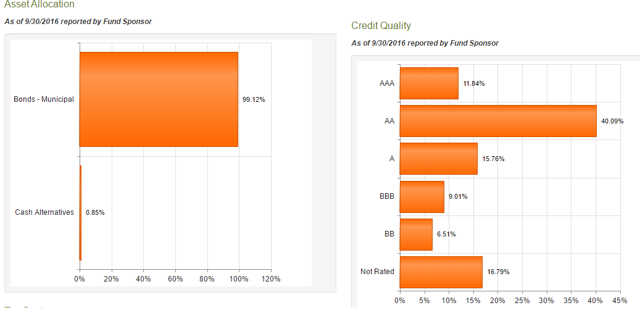 Click to enlarge
Source: CEF connect
Past performance is pretty solid, but you know what they say about past performance and future results...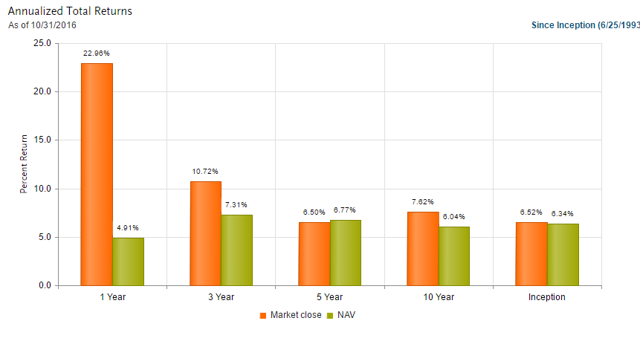 Click to enlarge
The fact the fund has been around since 1993 and survived two market crashes with the above performance is quite impressive. But it still doesn't explain the recent pricing anomaly. Is this fund bulletproof?
Just how unusual the pricing is currently is illustrated in the next section.
The Statistics
NMS is one of these funds that does not like to follow its NAV. I don't know the reason why and just state the facts as they are. Here you can see the deviation of equal value positions in NMS and its NAV: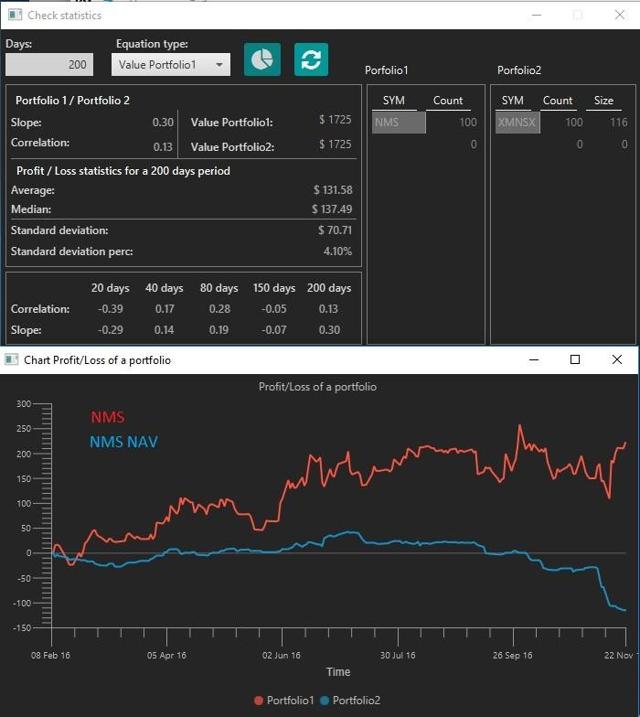 Click to enlarge
Source: author's software
The correlation for the last 200 days is 13%. Not something that will give me an arbitrage trade because there is no model.
This behavior is seen only for the last year. Earlier this fund was behaving "normally."
Even though I have no model and I have no idea how to trade it statistically, I find its premium ridiculous in this environment when all the Muni CEFs have sharply sold off: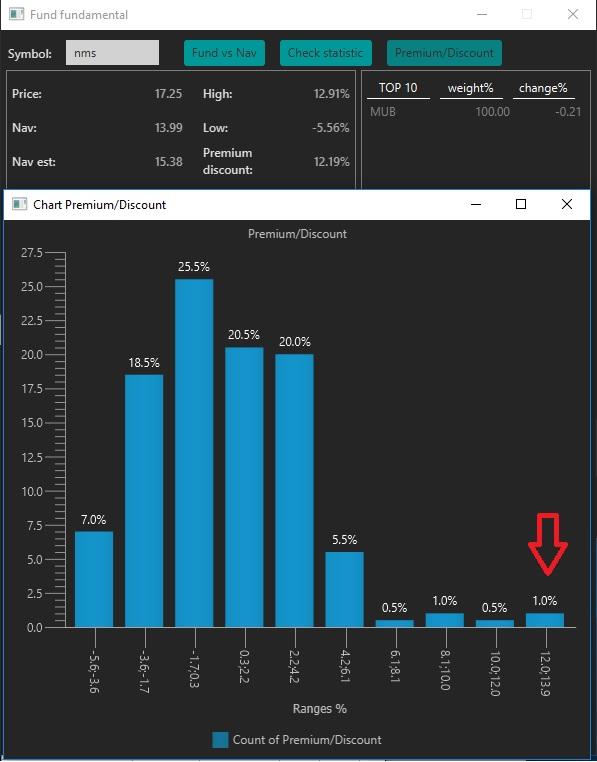 Is there any reason to trade at its largest premium for the last year exactly at the time when its sector is being crushed?
There is a strange behavior in animals when they cannot identify what kind of animal they are: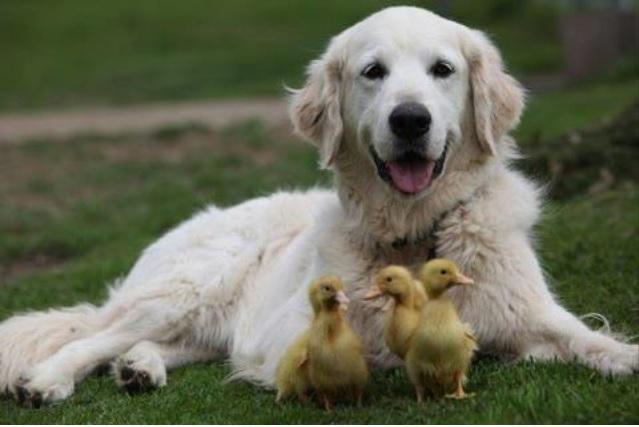 Might this be the case with NMS? Does it think that it is a financial sector CEF rather than a municipal bond one?
Anyway, this might be the right time to sell this fund as sooner or later it will understand that its NAV has fallen.
Conclusion
I was really interested in this fund as I saw it as a number one short in my database today. Is the fund bulletproof? Well it's certainly resilient, but the current divergence from NAV is not sustainable.
It does not have a strong enough statistical model for me to execute a pair trade, but if by chance you have it in your portfolio, you are probably very lucky to be able to sell it at these prices.
Disclosure: I/we have no positions in any stocks mentioned, and no plans to initiate any positions within the next 72 hours.
I wrote this article myself, and it expresses my own opinions. I am not receiving compensation for it (other than from Seeking Alpha). I have no business relationship with any company whose stock is mentioned in this article.