The Energy Information Administration (EIA) reported that natural gas storage levels reached a record level last of week of 4.047 trillion cubic feet, 51 billion cubic feet higher than a year ago when market conditions became weak. The weather has been disappointing, and who would have thought it would be even milder than a year ago?
The correction to the glut had been very supportive from May through early October, but the case for higher natural gas prices has been undercut by the relatively warm temperatures. On top of that, the EIA is projecting that coal may once again displace natural gas as the leading feedstock for electrical generation. It is important to know that electric power is the largest source of consumption of natural gas on an annualized basis.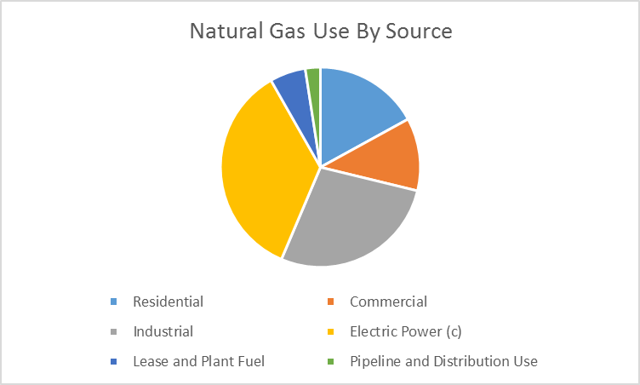 Click to enlarge
Recent Data and Forecast
The National Oceanic and Atmospheric Administration (NOAA) computes different HDDs weighted for natural gas home heating, oil home heating and electric home heating due to fact that the distribution of heating sources vary around the U.S.
In the heating season through November 19th, HDDs are 41%, 33% and 41% below normal, and 19%, 13% and 19% below last year, respectively for each heating source mentioned.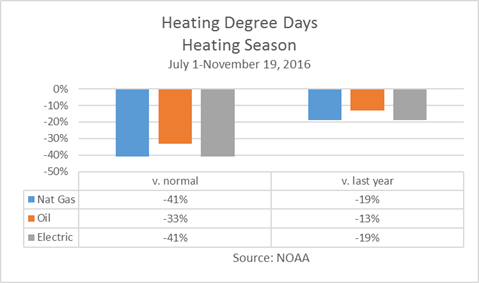 For the week ending November 26th, NOAA is forecasting HDDs to be 14%, 5%, and 16% below normal, and 11%, 3% and 15% below last year, respectively.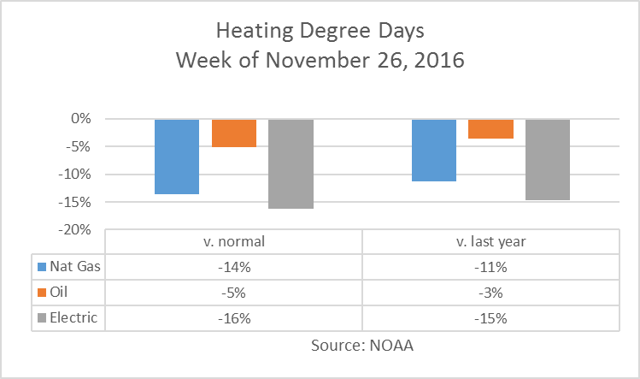 Click to enlarge
Conclusions
Although HDDs are going up, they still significantly lag normal levels and even the trends last year at this time. This has been a major disappointment for the natural gas market. My analysis of weather trends shows that warmer periods are normally offset by colder periods and vice-versa, so maybe that will be the case this winter.
Disclosure: I/we have no positions in any stocks mentioned, and no plans to initiate any positions within the next 72 hours.
I wrote this article myself, and it expresses my own opinions. I am not receiving compensation for it (other than from Seeking Alpha). I have no business relationship with any company whose stock is mentioned in this article.