In August of this year, we wrote an article on Nordea (OTCPK:NRBAY) (OTC:NRDEF) pointing that the stock had an attractive risk-return.
Nordea's share price has been hit by a relentless stream of negative news. Tighter regulatory requirements, the leaked SFSA memo, risks of cost inflation, the "Panama Papers" and a possible dividend cut have spooked investors. However, we believe these fears are overdone.
Nordea's shares have delivered an impressive run. The stock was up by 44% and by 30% since 'post-Brexit' lows and our BUY call, respectively.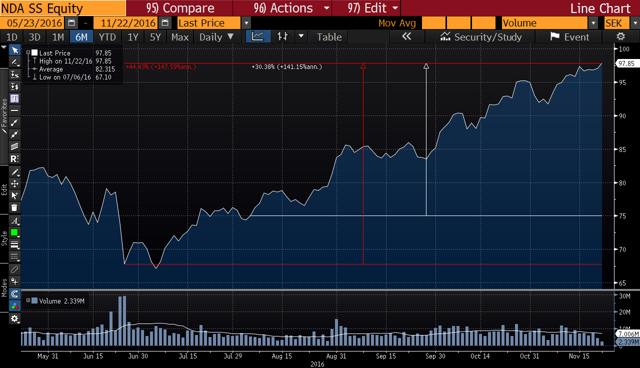 Click to enlarge
Source: Bloomberg
One of the world's safest banks
Nordea was ranked the 26th safest bank globally by the Global Financial Magazine in 2015. The safest U.S. bank, incidentally, is AgriBank - #31 on the list. The ranking was based on the long-term foreign currency ratings issued by Fitch Ratings, Standard & Poor's and Moody's Investors Service.
Nordea is the biggest pan-Nordic banking group, commanding market shares of 15-30% in each of the four Nordic countries (Denmark, Finland, Norway and Sweden). The group focuses on universal banking and is organized in three business areas: Retail Banking, Wholesale Banking and Wealth Management. With approximately 600 offices in the Nordic countries, Nordea has the largest distribution network in the Nordic and Baltic Sea region.
Capital question off the table
Svenska Dagbladet reported in June that the SFSA (Swedish Financial Supervisory Authority) was looking into Nordea's capital position and referred to an FSA memo, suggesting that Nordea has a capital shortfall of c.EUR5-9bn due to too low corporate RWs (risk-weights). The memo was based on a simple analysis of Nordea's actual defaults during the period 2010-2015 compared with the bank's corporate PD (probability of default) estimates. The analysis suggests that Nordea's loss frequency was higher than modelled PD and, hence, EUR5-9bn of capital could be needed, should Nordea have to recalibrate its PD models and increase the safety margin. Nordea's shares fell 6% on the day, and the article has clearly spooked investors as the SFSA was indeed planning to lift corporate RWs.
Capital was indeed the key debate for Nordea, given the market's dividend focus on the stock. However, we believe capital concerns should be off the table, given the bank's CET1 of 17.9% in Q3, a +50bps beat to consensus and a solid 60bps buffer to 17.3% SREP.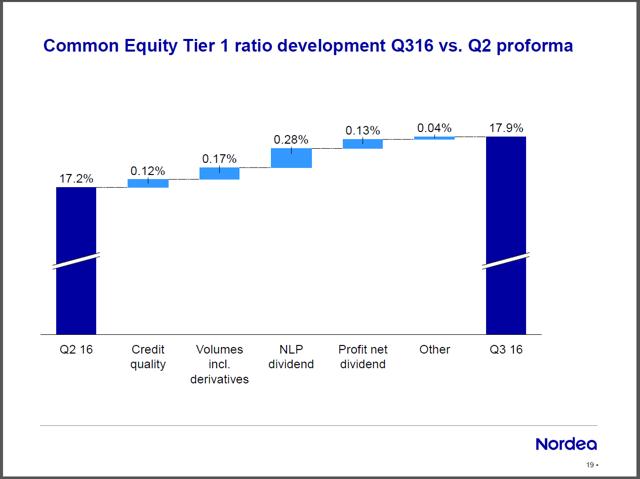 Click to enlarge
Source: Company data
A 7% dividend yield supported by strong organic capital generation
Nordea is back on track to be a bank that is a stable dividend payer and the company's management remains committed to a progressive dividend policy. The bank is offering the highest dividend yield among the Nordics.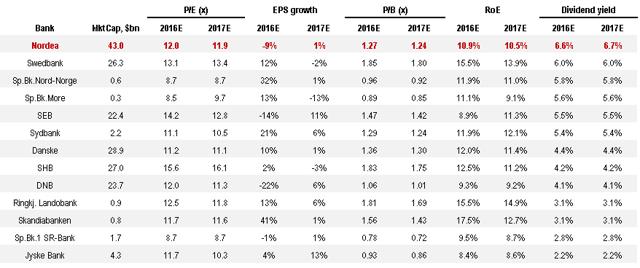 Click to enlarge
Source: Bloomberg, Renaissance Research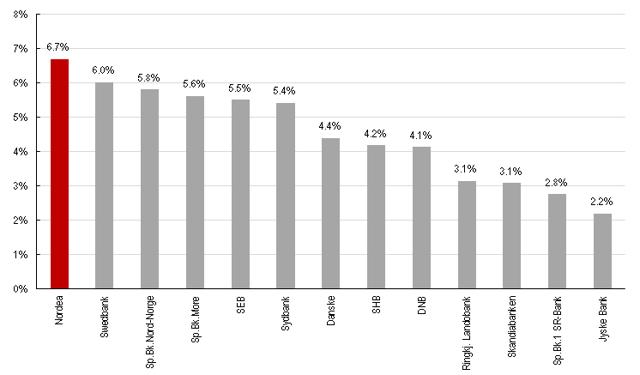 Click to enlarge
Source: Bloomberg, Renaissance Research
Net interest income to benefit from tailwinds in Denmark and Finland
Nordea has recently announced a round of mortgage "contribution" margin increases in Denmark. As a reminder, both Nordea and Danske Bank (OTC:DNSKF) (OTCPK:DNSKY) should benefit from rising margins. The unlisted Denmark's market leader (over 40% of Danish mortgage lending), Nykredit, needs to improve its profitability levels and generate additional capital. As a result, Nykredit has announced that it will raise its administration margin by 13-15 bps for repayments and 18-20 bps for interest-only loans. According to the several research reports on the Danish mortgage market, mortgages are nearly commodities and the market is mostly efficient, meaning that most issuers should be lifted by any initiative from Nykredit. More importantly, we view the initial increases as relatively modest and as likely to be the beginning of a longer trend in Denmark's mortgages.
In addition, Nordea's net interest income in Finland should benefit from strong volume growth and stabilized lending margins.

Click to enlarge
Source: Deutsche Bank Research
The stock screens as inexpensive compared to its Swedish peers
The relationship between P/B (P/TB) and RoE (RoTE) for European banks indicates that Nordea is cheaper than the other Swedish banks, despite its superior dividend yield and capital adequacy ratios.
P/B vs RoE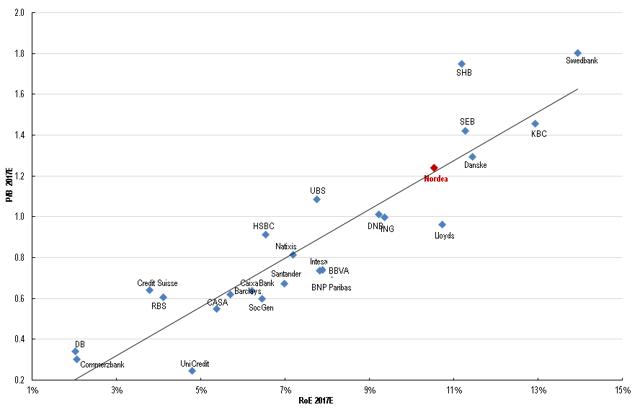 Click to enlarge
Source: Bloomberg, Renaissance Research
P/TB vs RoTE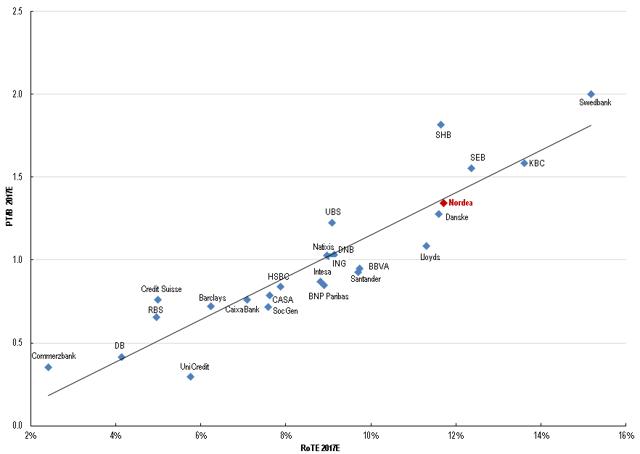 Click to enlarge
Source: Bloomberg, Renaissance Research
Valuation
We increase our target price for Nordea from EUR9.4 to EUR11.0. Our valuation implies 10% upside potential from the stock's current levels.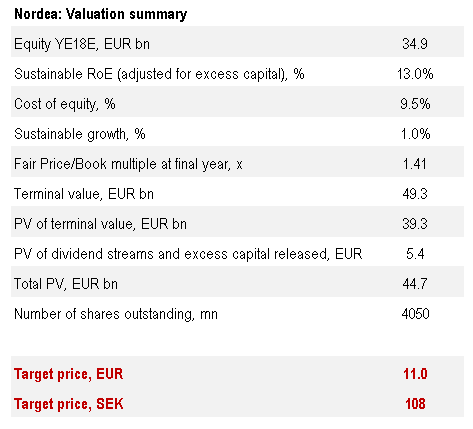 Source: Renaissance Research estimates
Risks
1) Lower-for-longer interest rates - We expect an improvement in macroeconomic conditions and believe the current environment provides a robust backdrop for earnings generation. That being said, the risk for yet lower ECB or Nordic policy rates is not zero. Should Nordic central banks cut their policy rate, there will more pressure on Nordea's margins, in our view.
2) Execution risks on IT/compliance transformations programs - Nordea is carrying out substantial IT Investments and changes in large organizations could be a costly exercise. As such, there are risks of: a) cost inflation; b) capitalization of IT spending, which would deteriorate Nordea's capital position; and c) significant restructuring charges.
3) Asset quality issues in the Baltic countries - Nordea's exposure to the Baltic region is very limited, less than 3% of FY15 revenues. While macroeconomic indicators of the Baltic countries look much better compared to the late 2000s, the region remains volatile and could lead to asset quality issues.
4) Exposure to Russia. Nordea's exposure to Russia is less than 2% of the group's FY15 revenues. We acknowledge that the visibility on oil price dynamics and, hence, on the macroeconomic situation in Russia, is still somewhat limited. Should oil prices decline to the low $20s, credit quality at Nordea Russia will deteriorate.
Bottom line
We believe Nordea still offers a compelling investment case. It is a safe haven stock with multiple revenue tailwinds, strong capital ratios and a 7% dividend yield with a progressive policy. The bank is trading at a discount to its Swedish peers.
As a deputy portfolio manager, I am covering banks and financials, and largely invest in dividend-focused names. So if you are interested in the topic, consider following us by clicking the "Follow" button beside our name at the top of the page. Thank you for reading.
Disclosure: I am/we are long NRBAY, DNSKF.
I wrote this article myself, and it expresses my own opinions. I am not receiving compensation for it (other than from Seeking Alpha). I have no business relationship with any company whose stock is mentioned in this article.
Editor's Note: This article discusses one or more securities that do not trade on a major U.S. exchange. Please be aware of the risks associated with these stocks.