HP Inc. (NYSE:HPQ) reported F4Q16 earnings this Tuesday, November 22nd, after the close.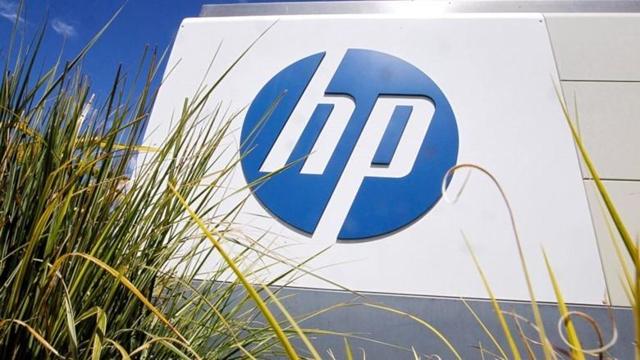 Click to enlarge
Credit: bookcoverimgs.com
F4Q16 revenues of $12.5 billion in the quarter beat consensus of $11.9 billion, representing an unexpected increase of +2% YOY that was much better than last quarter's top line decline of -4%. Non-GAAP EPS of $0.36 met expectations, and fell within the guided range of $0.34 to $0.37. FY17 EPS guidance range of $1.55 to $1.65, shared in October, remained unchanged. F1Q17 EPS Street consensus of $0.38 barely squeezed into management's guidance range of $0.35 to $0.38.
Profitability came in solid, as non-GAAP operating margins from continuing operations reached 7.0% in the quarter vs. 6.6% in F4Q15 - a 40-bps improvement. F4Q16 net cash from operating activities came in at $700 million, likely impacted by restructuring payments and pension settlements.
Regarding F4Q16 segment results,
"Personal Systems net revenue was up 4% year over year (up 5% in constant currency) with a 4.3% operating margin. Commercial net revenue increased 3% and Consumer net revenue increased 7%. Total units were up 5% with Notebooks units up 9% and Desktops units up 1%.

Printing net revenue was down 8% year over year (down 6% in constant currency) with a 14.0% operating margin. Total hardware units were up 1% from the prior-year period, with Commercial hardware units up 10% and Consumer hardware units down 3%. Supplies net revenue was down 12% (down 10% in constant currency)."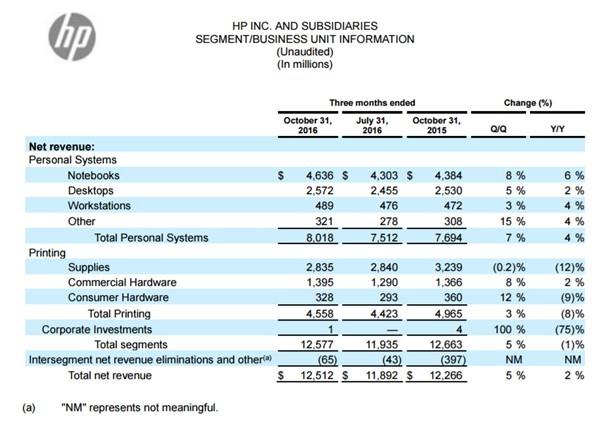 Source: Company's press release
Bull vs. Bear cases
Bulls must appreciate the fact that HP's leadership team has done a very decent job at managing, in part through cost cuts, a business that operates in a tough, declining environment.
As the table below indicates, both on a three-month and nine-month basis using F3Q16 as reference, HP was able to improve continuing op profits as a percentage of revenues by 130 bps and 10 bps, respectively - despite a significant drop of 50 bps in gross margins that resulted partly from currency headwinds and an unfavorable revenue mix shift towards the Personal Systems business.
Sales and marketing costs have fallen sharply by a run rate of $220 million per quarter as of the end of FY16, driving much of the bottom-line upside. And further cost reductions are likely, as management announced in October that 3,000 to 4,000 additional jobs would be terminated by the end of FY19.
If and once currency headwinds subside, the more optimistic investor might hope for top line resilience and improved gross margins, considering pricing in both Personal Systems and Printing had been reported favorable YTD through F3Q16. Factor in additional opex cuts and an extra $3 billion in share repurchase authorized last month, and the potential upside could very well drop through to EPS.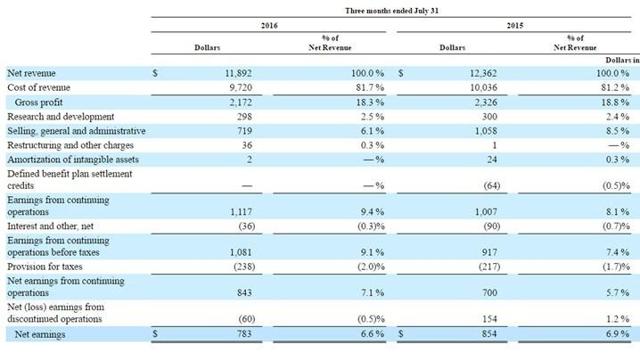 Click to enlarge
Source: SEC filings
Also worth noting is the stock's rock-bottom valuation, at 10x forward 2017 EPS consensus of $1.60. This multiple looks even better considering that HP generated $2.8 billion in FCF (free cash flow) in FY16, representing 10% of market cap for the year and pointing to an EV/FCF valuation of only 9.9x. And because HP pays out only 22% of FCF in dividends, the 3.3% dividend yield seems like a good, safe incentive for holding the stock.
Bears, on the other hand, will point to a struggling personal computer business (over 60% of total net revenues), which research firm IDC stated in October had declined by 4%. The Supplies business, representing about one quarter of the company's total net revenues, has been declining at a sharp 15% rate - and the most optimistic expectations (management's) is for stabilization of the division no sooner than the end of FY17.
Growth-seeking investors, therefore, are very unlikely to be attracted to HPQ any time soon.
Post-earnings thoughts
Following HP's earnings release, I remain open to an investment in HPQ - especially considering the slight after-hours pullback of about 2% in share prices. First, revenue growth in the quarter has shown signs of having a pulse, despite additional deterioration in the shrinking Printing business. Second, the company's cost-cutting initiatives will likely continue to create bottom-line upside over the next couple of years. And lastly, cash returns to shareholders through a dividend yield of 3.3% and a recently-authorized wave of share buybacks will likely please most value investors who decide to place a bet on HPQ at sub-$16 levels.
Disclosure: I/we have no positions in any stocks mentioned, and no plans to initiate any positions within the next 72 hours.
I wrote this article myself, and it expresses my own opinions. I am not receiving compensation for it (other than from Seeking Alpha). I have no business relationship with any company whose stock is mentioned in this article.