Conclusion:
Domino's Pizza, Inc. (NYSE:DPZ) presents no fundamental flaws, so it's understandable that stock is trading at all time high. There is so much focus on their technology platform that the improvement in products over the last five years has perhaps not received the attention it deserves. For my money (subject to disagreement by other pizza "experts") Domino's product is the best among the big three pizza chains. That said, the good news is fully baked into the stock price, with the forward P/E about twice the long term presumed growth rate. My recommendation is to wait for a more opportune buying point. Nothing goes straight up forever.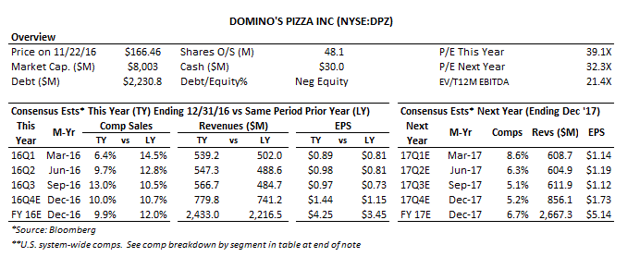 Click to enlarge
DPZ: Company Overview (1) Excerpted from DPZ corporate documents and presentations, and assembled by Lipton Financial Services, Inc. (LFSI). As indicated by quotation marks, information was previously published on the LFSI website. Quotation marks designate such previously published materials. The conclusion shown above has not been previously published and is based on all past and current information available to the author.
"Domino's Pizza is an Ann Arbor, Michigan-based pizza restaurant chain, which, as of its 16Q3 operated and franchised 13,252 units globally, generating an estimated $9.5B in sales (about 1.5M pizzas/day), making it the world's second largest pizza chain (after Pizza Hut) and the number one U.S pizza delivery company. About half the sales are produced by the 5,245 domestic stores (386 company, 4,859 franchised), while the other half are produced by franchised stores in over 80 markets around the world.
"In the T12M through 16Q3 DPZ's revenues were $2.4B which were derived from company stores (17%), royalties and fees from franchisees (12% domestic, 7% international) , with the remaining 64% from sales of food supplies and equipment to company and franchise locations. We estimate the AUV's of company units are slightly over $1.1M (or about $740/sq. ft., assuming average store size of 1,500 sq ft). Disclosed store-level operating margins (which include depreciation but not advertising expense) are about 25%, while royalties from domestic and international franchisees are almost pure profit. We estimate domestic and international franchised unit AUV's are about 20% and 30% lower, respectively, than domestic company locations. Disclosed average store level EBITDA of domestic franchisees is about $125K, up from $61K in 2009. (These figures are presumably net of royalties, fees and advertising fund contributions). The cash investment for leasehold improvements, furniture, fixture, equipment and signage for a new store at upper end of the range is about $410K based on Franchise Disclosure Documents and other materials.
"The supply chain provides pricing and distribution scale and uniform ingredient quality to participants. It operates 18 regional dough manufacturing and food supply chain centers in the U.S., one thin crust manufacturing center, one vegetable processing center and one center providing equipment and supplies to certain of the domestic and international stores. It also operates five dough manufacturing and food supply chain centers in Canada and leases a fleet of more than 500 tractors and trailers. As such, it makes approximately twice weekly deliveries of food supplies and equipment to over 5,600 system units, including all company stores and 99% of U.S, & Canadian franchisees. It passes through its prices paid with a small markup to participants and shares a portion of profits with franchisees, which nets out to a segment margin of about 8%. The supply chain segment's relatively low EBIT margin and capital intensity are a drag on consolidated margins and free cash flows, making them lower than other highly franchised peers. Arguably, DPZ could boost margins by leaving supply responsibilities to franchisees, as, say, DNKN does, but it would lose scale advantages for both their own and franchised stores (less of a concern for DNKN with virtually no company stores). It would also diminish its ability to control quality. Perhaps most importantly, it would lose an important touch point with its franchisee partners. (We're not so much trying to decide the correct strategy as to point out key differences in strategies from other highly franchised peers.)
"Domino's has gone through a variety of development stages since its founding in 1960. Its current stage is a brand revival which dates to the end of 2009 when it scrapped its original pizza recipe in favor of a line of premium (and distinctly better tasting) pizzas featuring higher quality ingredients and a wider variety of toppings such as roasted red peppers, spinach and feta cheese in addition to the traditional favorites. The company has gone counter to industry trends by avoiding LTO's and complicating its menu with a stream of new products. Instead it has concentrated on providing consistency and value with a limited and uncomplicated core menu of pizzas, baked sandwiches, pastas, chicken items (like wings), breads, beverages, deserts & extras (sauces). In the past 4 years DPZ has added just 3 items: Specialty Chicken in 2014 and Marbled Cookie Brownie in 2015 and salads (Classic Garden, Chicken Caesar and Chicken Apple Pecan) in August '16.
"The current brand revival stage is also supported by DPZ's "Pizza Theater" re-imaging of system stores (expected to be substantially complete in 2017); its innovative marketing (e.g. the iconic campaign trumpeting the scrapping of its former pizza recipe); and its use of state of the art technology to take the complexity out of operations and improve the customer experience. One of the first with on-line ordering, DPZ has since developed a digital platform, which is nearing utilization by the entire system (including international units) to manage internal operations (re-supply, scheduling, payroll, order accuracy, etc.) and customer-facing actions to simplify ordering, payment processing (with a range of payment systems in addition to credit & debit cards) and enabling order tracking (from prep through delivery) on virtually any communication device. Together with a sophisticated loyalty program, the platform provides a rich source of data for its robust marketing initiatives. Not content with 50% of domestic sales transacted via digital orders and the fast growing international acceptance, the company is continuously improving the platform. For example, in 16Q2 it launched a "Zero Click Ordering" app, seemingly the penultimate in ordering ease (the ultimate being that your order appears by just thinking about it).
"The proof of the brand revival is in the numbers. Through 16Q3, revenues have grown at a 7.6% annual rate on comps averaging 7.1% domestically (including 22 consecutive Q's with positive comps) and 6.9% internationally (91 consecutive Q's of positive comps!). Most of the unit growth has been international (10.4% CAGR since 2010). Although management believes there's room for 1,000 more domestic units, it does not seem to be actively encouraging it. It is very selective about granting new franchises and the annual domestic unit growth (company and franchised stores) since 2010 has been only 1.0%. During the same period EBIT, EBITDA and FCF have grown at annual paces of 11.2%, 11.6% and 12.4%, respectively. Long term the company expects global retail sales will grow at 7-11% on domestic comps of 2-5% and international comps of 3-6%, while net global new unit growth will be 5-7%. If it achieves its top line targets, margins will continue to expand and net income and free cash flows will grow at a double digit pace.
"As of 16Q3, Domino's has a strong balance sheet, though it has joined many of its heavily franchised peers in taking on debt to finance share repurchases, adding $703M net new debt in the last year. The company's ratios of total debt to T12M EBITDA and lease adjusted debt to T12M EBITDAR at 4.7X and 5.0X, respectively, are comparable with its peers. T12M cash from operations of $287.1M less $67.1M cap ex, leaves free cash flow of $219.4M, or a FCF margin of 9.2%. Its increased leverage and free cash flows financed T12M net share repurchases of $862.9M and dividends of $69.7M.
"DPZ: Current Developments Per Q3 report
"Domino's delivered a strong 16Q3, robustly exceeding expectations from the top to bottom lines. While firing on all cylinders, the 13% domestic comps (13.8% company stores & 12.9% franchisees) on top of last year's 10.5% were a principal driver of the quarter's strength. Noteworthy because of its rarity in the sector, the Q's solid comps were almost entirely due to traffic increases (& flat pricing). (Most of the industry has experienced negative traffic that tended to more than offset price increases.) Management credits its year-old loyalty program and the salad introduction (noted above) as the latest of its traffic driving initiatives. It pointed out, for instance, how the salad option prevents a veto and also fits into its 2 for $5.99 each mix & match value offering.
"The domestic comps, international comps (+6.6%), and 1,133 system-wide net new units (9.3% YOY growth) and supply chain revenues (16.9% YOY growth) drove revenues up 16.9%. The strong top line, aided by flat commodity costs and a one- time insurance benefit, leveraged operating income growth 22.6% to $100.9M and operating margin expansion of 120Bps to 17.8%. Interest increased 29.5% to $25.1M on the higher debt, resulting in net income growth of 24.8% to $47.2M. Share repurchases boosted EPS growth by 18.5% to overall EPS growth of 43.3%. As to future periods, the company does not provide guidance other than tax rate (36%-38%)."
With the stock trading, based on the forward P/E per our table above, I consider the stock fully valued for the moment. My conclusion is more fully stated above.

Click to enlarge
Disclosure: I/we have no positions in any stocks mentioned, and no plans to initiate any positions within the next 72 hours.
I wrote this article myself, and it expresses my own opinions. I am not receiving compensation for it (other than from Seeking Alpha). I have no business relationship with any company whose stock is mentioned in this article.