The municipal market has been under significant pressure after eight strong months in 2016. We highlighted the issues several times over the summer, both long and short term, that municipal bonds were facing. Many have to do with the reinvestment risk (short term) from called issues as well as pension and other budget risks at the state and local level (long term) that munis were facing.
What Happened To My Year-To-Date Return?
The iShares National Muni Bond (NYSEARCA:MUB) peaked in early July following the Brexit vote at $115.19, up from $110.71 at the start of the year. Since then, the shares have collapsed to the current $108.40, with most of that loss coming after the election result was known.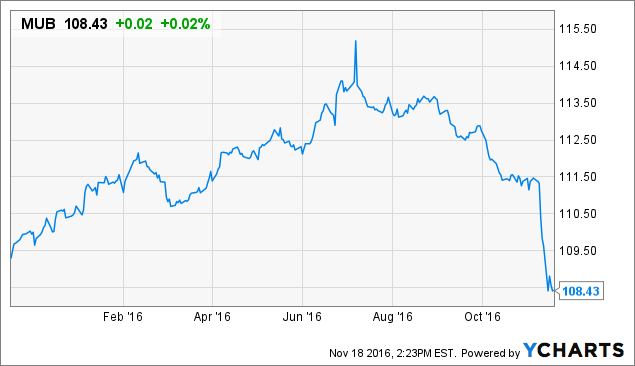 The downshift in munis, after being one of the most loved asset classes during 2016, is the result of more than just an interest rate adjustment. The election of President-elect Trump creates a policy risk for the asset class in addition to supply-demand imbalances. We saw some of that supply-demand imbalance in September as issuers rushed to get new debt to the market, and refund older, higher-yielding debt, before the highly anticipated rate hike by the Federal Reserve in December.
A record level of debt was put to the market in October, which resulted in widened spreads and reduced prices for munis even before the surprise result of the presidential election. The election was a low probability outcome according to the experts and polling and thus, not baked into muni bond prices.
The ascendancy of Donald Trump to the presidency, along with full control of the Congress by the GOP, means that he will effectively have carte blanche to do what he wishes. Many of his top campaign issues have a direct effect on municipal bond prices.
The negative policy points:
Trump's plan for a massive infrastructure stimulus bill will likely be funded with municipal bonds. The plan calls for $1 trillion in infrastructure investment over the next ten years equating to $100 billion in new supply. As of the end of the second quarter, the muni market had $3.8 trillion in outstanding debt. Adding another trillion to that total would increase total supply by 26% over the next year.
Tax reform is now firmly on the table, though we think individual tax reform is going to take a backseat to corporate tax policy. Any reduction in the top rate, which is the most obvious rate to alter, would have a direct effect on tax-equivalent yields. Today, top earners (those who file jointly and earn in excess of $466K) are paying a 43.4% marginal rate (39.6% plus 3.8% investment tax). If muni bonds today have yields of 4%, the tax-equivalent yield is 7.06%. Under Trump's tax reform plan from his website, the top rate would be 33%. That reduces your tax-equivalent yield to 5.99%. That is a 15% haircut.
The third effect is the increase in inflationary pressures due to the above policies as well as other pro-growth economic fiscal reforms planned. With full-employment and wage pressures already forming, inflation and inflation expectations are likely to increase significantly. That would equate to fund flows out of fixed income and especially long-dated debt like municipal bonds.
The repeal of the Affordable Health Care Act (ObamaCare) could hit the hospital revenue munis sector and cause downgrades to an area of the market that was thought to be highly defensive.
Now, there is a large difference to what a politician says on the campaign trail and what they actually do while in office. But there is no doubt that there are pressures to the space that need to be considered when allocating to muni bonds.
Interest Rate Risk
Rates have been on the rise since July but the increase has accelerated dramatically in October and then again on election night. The October strain was the supply disruption, but the move since November 4th is the surprise result of the election. All this as the specter of a December rate hike has been hanging over the sector for the last several months.
The yield curve steepened significantly in the last 45 days as the 10s2s spread jumped to 1.22%. In our note from this summer, we noted how that spread had been reduced to just 85 bps. For traditional muni investors, a steeper yield curve is a negative as long rates rise depressing prices. For closed-end funds, you have the same near-term dynamic, however, over the long term, it can be a positive as the spread between borrowing cost (short end) and earnings (long end) increases.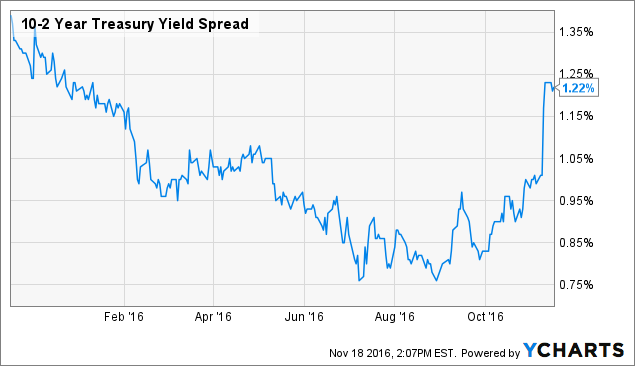 Here is a chart of 30s2s: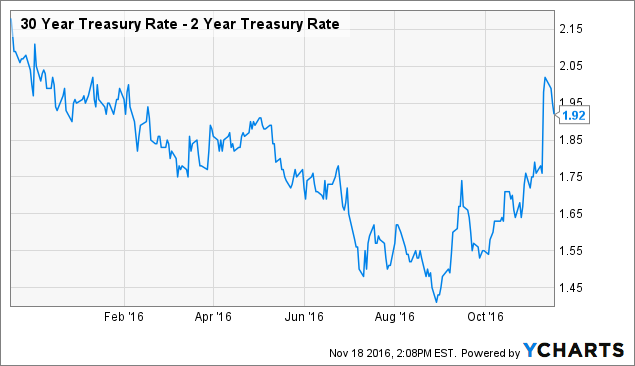 Lastly, we want to show the SIFMA Municipal Swap Index Yield which is a great indicator of muni CEF leverage funding costs. The current 0.55% is down from 0.74% this time last month, but up significantly (from essentially 0.01%) since the start of the year.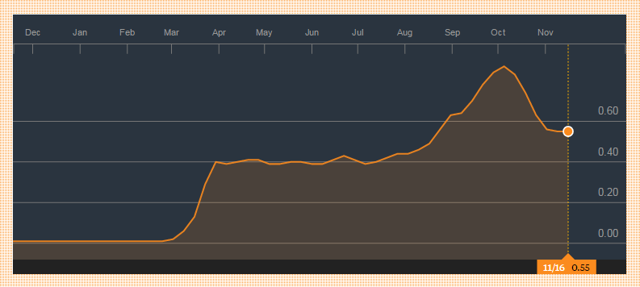 Click to enlarge
(Source: Bloomberg)
Market Imbalances
October's gross supply was a record $53.2 billion in total issuance, which, to put in perspective is 42% above the long-term historical average. As we noted above, this is due to the current environment characterized by a surprise Donald Trump victory and the looming prospect of higher yields, infrastructure spending, and tax reform. The issuers are rushing to get their issuances to the market, even in the face of higher coupons. Why? Because the yields are still significantly lower than this time last year and the media narrative is decidedly inflationary and pointing to higher yields.
Since the election, the 10-year triple-A muni index yield is up 42 bps to 2.16%. Going forward, we are likely to see diminished supply. For one, this is a seasonally weaker time of year for issuance and second, we have in all likelihood pulled forward a significant amount from the next two quarters. Of course, the narrative of tax reform and higher rates may lead to more refundings and new issuance. The recent volatility has also led to the postponement of some issues.
This at a time when flows turned negative after 54 consecutive weeks and record supply. There have been a ton of negative headlines in the last several months and we have highlighted a medium-to-long term bearishness, given the pension funding problems.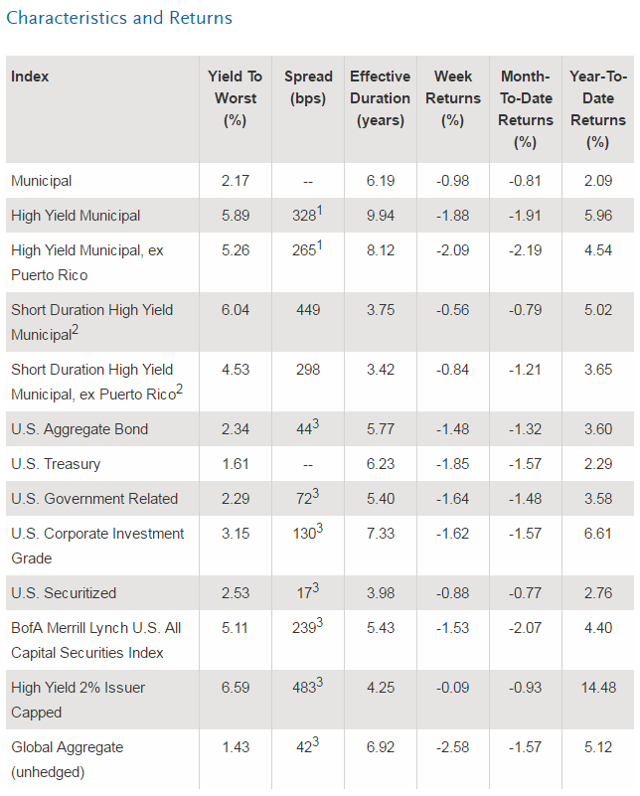 Click to enlarge
(Source: Nuveen)
Nuveen National Muni CEF Update
Overall Nuveen national muni closed-end fund coverage declined by 80 bps in October, after a 130bp decline in September. The coverage ratio now stands at 95.9%. UNII and earnings deteriorated slightly in the month with UNII going further into negative territory at -$0.011 from -$0.007.
It still remains to be seen if the recent merger involving NAD and NEA are likely to create the scale and better earnings. NVG and NZF, which conducted mergers several months before the recent NAD and NEA combination, have yet to produce solid coverage ratios. In fact NVG, which is one of the largest closed-end funds with over $5 billion in common assets, has seen their coverage ratio fall below 90%. With just one penny of UNII left, a distribution cut could be likely.

Click to enlarge
(Source: Nuveen, Alpha Gen Capital)
Surprisingly, the discounts have closed since this time last month overall. This seems counterintuitive to many who traffic in the closed-end fund space and especially the muni market. The average discount of the group was 4.75% as of November 22, compared to 5.16% approximately the same date in October. Many of the funds have seen their discount narrow including NAD which carried a 10.4% discount in October and NEA which was at 10.75% discount.
Unless things change materially, we now believe several of the funds will likely conduct a distribution cut within the next several months. Distribution yields over 6% will be harder and harder to maintain unless borrowing costs subside and the underlying municipal market headwinds reverse. Funds will definitely hold off as long as possible given the possibility of the above market dynamics to be transitory.
The market was very strong in the first half of 2016 which, aided by negative rates abroad, strong flows, and falling interest rates, helped put muni CEFs to an average premium to NAV. This was the highest valuation since the Taper Tantrum in 2013. We continue to worry about higher cost-to-borrow with Libor now approaching 92 bps, although the SIFMA swap index is off its highs.
Subscribers Only
For our marketplace subscribers, we highlight several funds where we see opportunity as well as our tax-loss harvesting and buying timing. For more information, please sign up for a two-week trial today.
Conclusion
The muni market continues to contend with significant headwinds and anomalous dynamics due to the recent election results, the path of interest rates, and the reflationary trade. Nuveen's national muni CEFs continue to show declining coverage despite realizing some discount tightening in the last month. Tax-loss pressures and supply and demand imbalances are likely to persist for a few more weeks before the tide shifts towards traditional fundamentals in these securities.
Note: To get these types of articles as soon as they are published, just click on the "follow" button next to my profile and choose the 'real-time alerts' option.
Marketplace Service For Those Hunting For Yield
In April 2016, we launched our marketplace service Yield Hunting: Alternative Income Investing dedicated to yield investors who wish to avoid the froth associated with most of the equity market. We encourage investors to utilize the free two-week trial in order to benefit from our yield opportunities within closed-end funds, business development companies, and other niche areas. We attempt to construct a "low-maintenance portfolio" with a yield in excess of 7% on a tax-equivalent basis with capital gain optionality. The core portfolio is now up 15.8% YTD through the end of September and generates a high-single digit yield.
Disclosure: I am/we are long NAD, NZF, NEA.
I wrote this article myself, and it expresses my own opinions. I am not receiving compensation for it (other than from Seeking Alpha). I have no business relationship with any company whose stock is mentioned in this article.
Additional disclosure: The commentary does not constitute individualized investment advice. The opinions offered herein are not personalized recommendations to buy, sell or hold securities. As I have no knowledge of individual investor circumstances, goals, and/or portfolio concentration or diversification, readers are expected to complete their own due diligence before purchasing any stocks mentioned. The strategies discussed are strictly for illustrative and educational purposes and should not be construed as a recommendation to purchase or sell, or an offer to sell or a solicitation of an offer to buy any security. There is no guarantee that any strategies discussed will be effective. The information provided is not intended to be a complete analysis of every material fact respecting any strategy. The examples presented do not take into consideration commissions, tax implications or other transactions costs, which may significantly affect the economic consequences of a given strategy. This material represents an assessment of the market environment at a specific time and is not intended to be a forecast of future events or a guarantee of future results. This information should not be relied upon by the reader as research or investment advice regarding the funds or any security in particular.