Donald J. Trump is going to be the President. However you may feel about that, the markets sure are making their opinions felt. So far, surprisingly, stocks have gone up, and the investors getting into stocks appear to be coming from the bond markets. A number of people, both here and in financial media, have already dubbed this a "great migration." If this trend holds, bonds, and stocks that act like bonds, will underperform. At the same time, the more cyclical type of stocks will overperform.
As for me, this move comes as a shock. I got out of industrials in late 2013, and gave up on materials stocks in 2014, mostly because I no longer had any faith in "the commodities supercycle" and the thesis of rapid growth across 'emerging markets.' This left me entirely without the usual cyclical names that would do so well in this "great migration."
Personally, I have little faith that the global economy will grow at the rates that it did earlier last decade. I also believe that most hard commodities are going to remain low. I do, however, have confidence that the US economy will do better under Donald Trump, and I continue to believe that some pockets of "emerging markets" will do well, particularly China and India. Therefore, I think investors should be quite selective when looking for industrials and materials, which I myself am looking for right now.
One wise choice would be United Technologies Corporation (NYSE:UTX). United Technologies is a conglomerate of four businesses: Aerospace systems, Pratt & Whitney turbine engines, Otis elevators, escalators and moving walkways, and finally UTC Climate Controls & Security. Each of these four segments carry a roughly equal portion of the company's $56 billion in annual sales.
I think United Technologies represents a nice blend of cyclical exposure (aerospace and global commercial construction), and non-cyclical exposure such as aerospace defense contracting and climate controls (the latter of which is somewhat linked to energy prices, the higher the better). United Technologies also has exposure to some strong trends, including a buildout in commercial aerospace and construction in large cities in legitimately emerging economies such as India and China.
This article looks at United Technologies' latest quarter, its guidance for the future and its valuation and historical valuation. As always, I write this article with income investors in mind.
Results and expectations
Organic sales increased 5% this quarter, on a year-on-year basis, with adjusted EPS also up 5% year on-year.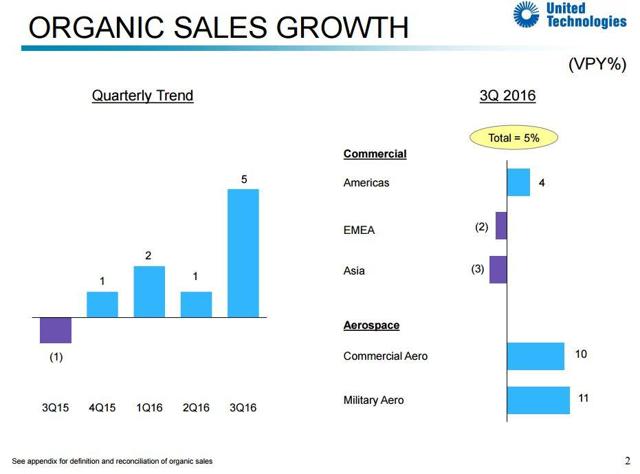 Click to enlarge
Courtesy of United Technologies Investor Relations.
Unsurprisingly, strength was driven by the 'Americas,' and also commercial and military aerospace. While I think investors should be skeptical about any 'rapidly developing global economy,' the global aerospace cycle is real. For example, aerospace giant Boeing Inc (NYSE:BA) plans on doubling its commercial fleet between 2015 and 2034 as air traffic from around the world increases.
Also, we shouldn't be surprised to see the 'Americas' outperforming Asia and Europe. The Indian economy is strong, China is as well, but it is slowing down some. The rest of Asia is not doing so well. I think Europe will continue to be weak due to economic austerity policies. It's a good thing that United Technologies is more heavily exposed to the US.
Looking at things by division, Otis organic revenue was flat and operating profit declined 9% by constant currency. Equipment orders were up 2% on constant currency, however. In China, sales declined 10%, and this cancelled out strength in sales in the 'rest of Asia.'
Temperature and climate controls were also flat in organic revenue. However, profits were up 7% in constant currency because of productivity increases and cheaper commodities. Gross margins increased 40 basis points.
Moving on to aviation, Pratt & Whitney organic revenues increased 13%, with strong commercial sales and strong military aftermarket sales. Operating profit was down, however, due to foreign exchange tailwinds as well as pension tailwinds. There was also higher spending on 'ramp related' costs.
The reason for higher costs and lower profits from Pratt & Whitney is delays in its new model of turbine; the geared turbofan. The turbofan ended up taking longer to build by two times above what was expected, and United Technologies has been contractually making payments to airlines as a result of these delays. The biggest challenge will be for Pratt & Whitney to improve fan blade production. Management expects to make those improvements in the first half of 2017. The good news is, that those airline customers who have received the geared turbofan seem to very much like the high power and low noise that comes with it. I believe that this good thing will be worth the wait.
Within 'UTC Aerospace,' organic revenue increased 6% with operating profit up 4%. While military sales were down 6%, commercial aerospace sales were 17%. Cost reductions and productivity gains boosted profits in addition to growth in the top line here. Aerospace is a good place to be right now.
Management expects 2-3% overall organic revenue growth in 2016, and I suspect results may improve next year, depending upon the macro economy.
Valuation and dividend
Courtesy of Google Finance.
In the latest quarterly conference call, management claimed that shares of United Technologies were below their 'intrinsic value.' That may be the case, but as of right now shares are almost right smack at their average valuation over the last business cycle, so I wouldn't yet call this a 'screaming buy.'
Shares trade at about 16 times trailing, adjusted operating earnings. That seems reasonable. According to data from FAST Graphs, United Technologies has averaged about 16 times earnings over the last ten years. Shares have recovered substantially from their lows in early 2016.
However, I believe there is significant upside here if the US economy is going to be growing faster. Faster US growth would greatly benefit the 'aerospace supercycle' in the form of new orders and refitting. It could also help in commercial construction, which would boost United Technologies' earnings as well. If the US economy is going to accelerate, United Technologies will do well. This company might not be the most US-centric or economically cyclical company out there, but this company is a more balanced way to get in on the 'Trump play,' and it is also a long-standing dividend grower.
United Technologies yields about 2.5% right here, and has raised its dividend every year since the early 90s. As of now, dividends per share are only about 40% of earnings per share; not so high. Since 2006, United Technologies has grown its dividend by over 11% compounded annually.
The situation changes a bit when we look at things from a cash flow perspective: The dividend is almost 82% of free cash flow. I suspect the discrepancy here comes from higher than usual capital expenditure related to development of the new geared turbo fan. Until capital expenditure declines, I expect dividend growth to just about match earnings growth. This means, in the second quarter of next year dividends, should most likely increase some 5%, if capital expenditure continues like it does. Afterwards, however, I would expect an acceleration closer to the high single-digits, perhaps even greater.
Conclusion
If the US economy, and to a lesser extent the global economy, is going to accelerate over the next few years, then United Technologies is a balanced way to get in on it. Most of the potential upside here comes from accelerated earnings over the next few years, and long-term benefits of the ongoing 'aerospace supercycle.'
If you're interested in United Technologies, feel free to follow me here on Seeking Alpha. I intend on following this company and a handful of other industrials, and will write update articles when doing so is both material and relevant.
Disclosure: I/we have no positions in any stocks mentioned, and no plans to initiate any positions within the next 72 hours.
I wrote this article myself, and it expresses my own opinions. I am not receiving compensation for it (other than from Seeking Alpha). I have no business relationship with any company whose stock is mentioned in this article.