We did call the "Trump Rally" at 9:32 am on November 9th. We moved to the sidelines the next day. The rally needs to be respected. That said we think the rally is an unwinding of a massive short position taken overnight as investors started to smell a Trump win coming. We don't think the move is so fundamentally driven. We want to show why we think this is a short cover rally.
What was investors' first reaction to a Trump win?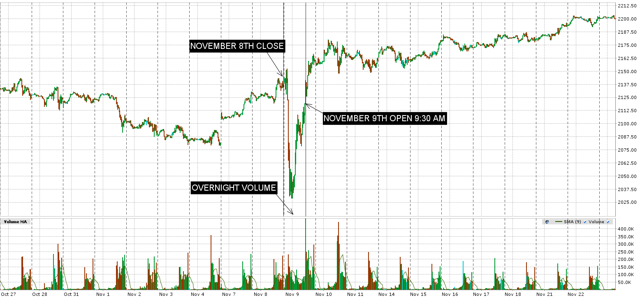 Source: Interactive Brokers
Above you see the overnight action of the S&P 500 Futures. For us, these futures are the equivalent of the SPY ETF (NYSEARCA:SPY) but they trade more overnight which is why we're using the futures for this exercise.
Markets crashed from about 2140 to 2030 or a 5% move overnight. Investors were piling on top of one another to get out or short. Even when it bounced, many saw it as an opportunity to get out of more.
Overnight doesn't typically have the best trading volume. But you can see above that more than a normal day of volume took place overnight. More of that was on the "sell" side.
As the market approached flat, many of those were stuck with losing positions or missing performance on once-held longs.
As soon as the market opened, many needed to get back in or cover shorts.
How long should that unwinding take? That depends. How much volume traded and how long should it take to unwind.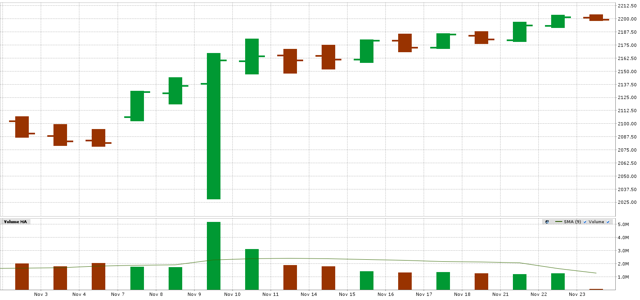 Source: Interactive Brokers
The average daily volume for these S&P 500 futures contracts is about 1.6mm per day. November 9th, when including the overnights traded over 5mm. Close to 2mm traded during market hours which means 3mm traded overnight. (Volume is represented by the lower bars on the chart.)
As the market went up, those fast sellers needed to become buyers. Some sold because they didn't like fundamentals but many sell because they see prices getting creamed.
That extra 3mm futures contracts needs to unwind. How many days does it take to unwind?
That's tough because you see above volume has dried up since. That makes it tougher to get out of short positions without pushing up the market.
Let's assume you need a little more than half to be buy volume to get markets up. The problem is volume dried up since then so many have been stuck with positions they don't want. The unwinding of that November 8th-9th overnight volume could be the reason for the post-election follow through rally.
Nothing changed fundamentally yet except plans to add fiscal spend, impede trade, raise Fed rates, and expect more inflation. Fiscal policy probably takes a year or two to kick in while the other more negative catalysts can happen sooner.
We don't think this rally is fundamental but rather price driven short covering making people think it's based on fundamentals.
Where we could be wrong.
Earnings were up in Q3 for the first time since Q1 2015 (FactSet). Earnings are expected to be up for Q4. A turn in earnings could be getting people bullish.
GDP accelerated to the fastest rate in the last two years (Trading Economics). Investors could be getting excited for a turn.
It could be that price action pushed bullish fence sitters to buy. That would mean the rally is partly fundamentally driven.
Why we agree with ourselves and don't think we're wrong.
At least we agree with ourselves, right?
Rates are going up. The Fed is behind the curve and has stated that coming fiscal policy will require them to adjust up their inflation and rate hike projections.
Rate hikes will drag economic and market performance.
Fiscal policy takes time to benefit the economy but ahead of that the government needs to issue more bonds to pay for it. More bonds mean more bond supply, dropping bond prices and further raising yields and rates. Higher rates are a drag to the economy and stocks.
The new administration has said tougher trade policies are 'day one' moves. That may benefit the long run economy, bringing jobs home, but the short run economy would slow and inflation would increase.
So we continue to agree with ourselves.
Fundamental investor gasps can come at any time. We'd guess those gasps can come ahead of the Fed and ECB meetings mid-December.
Conclusion
We're still all bear-ed up.
PRO TRADER: Price Rise December 1st. Free Two-week Trial
Click here for a free trial.

Directional calls on stock market, stocks, gold, oil, bonds, currencies, indexes and more.

Get in before we raise rates 15% on December 1st.
If you want Elazar's analysis on Seeking Alpha, scroll to the top of the article and hit "Follow." Elazar also writes real-time pieces as news is reported. If you want to be among the first updated check the box for "Real-time alerts on this author" under "Follow."
Disclaimer: All investments have many risks and can lose principal in the short and long term. This article is for information purposes only. By reading this you agree, understand and accept that you take upon yourself all responsibility for all of your investment decisions and to do your own work and hold Elazar Advisors, LLC and their related parties harmless. Any trading strategy can lose money and any investor should understand the risks.
Disclosure: I/we have no positions in any stocks mentioned, and no plans to initiate any positions within the next 72 hours.
I wrote this article myself, and it expresses my own opinions. I am not receiving compensation for it (other than from Seeking Alpha). I have no business relationship with any company whose stock is mentioned in this article.