I'm primarily looking at Supervalu today as its facing major headwinds in the food retailing and wholesaling space and negative press does abound concerning the company. Operating in the grocery stores industry, Supervalu, Inc. (NYSE:SVU), together with its subsidiaries, operates as a grocery retailer and wholesaler in the U.S. Established in 1925 as the successor to two wholesale grocery firms formed in the 1870s, the company today has approximately 40,000 full and part-time employees.
Supervalu has a network of 3,382 stores. The Company is headquartered in Eden Prairie, Minnesota. It held its initial public offering (IPO) on July 25, 1951. Supervalu has annual sales of roughly $18 billion.
Supervalu's Wholesale segment mainly provides wholesale distribution of products to independent retail customers. This Wholesale division is the largest public company grocery wholesaler in the U.S.
It's been a tough go for Supervalu lately in the always-changing and cutthroat grocery stores space. The Company has sold its Save-A-Lot stores to Onex Corporation (OTCPK:ONEXF) for $1.3 billion in cash. Nonetheless, Supervalu and Save-A-Lot will enter a 5-year professional services agreement. Save-A-Lot was its hard discount format under which it operated or licensed around 1,350 stores.
Supervalu will provide Save-A-Lot with essential services and support its daily operations. This includes information technology (IT), payroll, as well as finance. Supervalu expects to complete this transaction by the end of January 2017. This is a positive for Supervalu as it allows them to further build its service business.
Here are some things, good and not-so-good, to consider regarding Supervalu:
Weakening of comparable-store sales
Supermarket News (NYSE:SN) reported in a September 2016 article that, "Supervalu … warned of further deterioration of comparable-store sales at its retail and Save-A-Lot divisions in the current quarter, citing a challenging operating environment it said would also impact financial results for the fiscal year." (SN - September 8, 2016 - Jon Springer -Retail struggles worsen at Supervalu).
Now, for Q2 Fiscal Year (FY) 2017, the Company's Retail identical store (comparable store or same-store) sales were -(5.9) %. Its Save-A-Lot network comparable store sales were -(5.2) % percent. Comparable store sales for corporate stores within the Save-A-Lot network were -(5.0) %.
This is disconcerting to say the least. Why? It's because comparable store sales compare sales of retail stores open for a year or more. Therefore, a company can compare current year's sales to the same period the year prior. A company can ascertain how its core, existing stores, with a longer history of operation are doing.
The comparable stores sales calculation leaves out newer retail operations - open less than a year - as this skews comparison. These newer stores may have inflated sales in the short-term because of promotions. They can also have sluggish sales because these stores have not yet built up a stream of regular customers.
Comparable store sales give a true picture of a business' mainstay operations. Seeing falling comparable or same-store sales in these outlets presents a significant challenge to a business. A company must continue to boost growth in these stores, and not rely on just new stores for increased sales. Moreover, customer counts in Supervalu's corporate stores fell by 320 basis points in Q2 2017.
The Kroger Co. (NYSE:KR), a company with a much bigger market cap, had Q2 2016 same-store sales growth of 1.7%.
Q2 2017 sales
Supervalu's Q2 2017 sales were $3.9 billion. Sales at its Save-A-Lot and at Retail were down versus 2015. In the Company's core wholesale segment, sales were down from 2015. Falling sales is a red flag for investors and potential investors. The causes of it must be studied by shareholders and addressed by Supervalu.
So, what's causing these falling sales? In a nutshell, the company said it's:
growing levels of competitive openings
a challenging sales and operating environment for its retail stores
the sustained and deepening effect of deflation and lower levels of SNAP benefits at Save-A-Lot (more about SNAP below)
In Wholesale, not having cycled 2015's loss volume from the Albertson's Southeast stores and the majority of the volume from the Haggen stores out West.
The customer loss of Gordy's as a customer in the Midwest (Supervalu did get back the produce business for all 26 of Gordy's stores midway through Q2 2017)
Sales are the lifeblood of retail and significant sales volume is essential to sustainable food retailing operations. Grocery stores operate on thin margins and require substantial sales (and growing sales) to stay competitive and be profitable. Supervalu has its work cut out for them here and investors need to beware concerning this.
The effect of lowering retail prices
It's easy to institute a lower retail price strategy, thinking it will always win back customers, or keep a business' current core customer base. And it can. However, the caveat here is not being able to cut or control costs in a company's operations to counteract the effects of less sales revenue because of price cuts.
In addition, Supervalu has instituted some lower retail prices. The flipside to this is that it alluded that it is having trouble counterbalancing these price cuts on certain products in certain categories with sustained or higher pricing regarding other products in its mix. It's the old you're damned if you do and damned if you don't conundrum as concerns pricing.
Adjusted EBITDA
Adjusted EBITDA (Earnings Before Interest, Taxes, Depreciation, and Amortization) is an estimated gauge of a business' operating cash flow. For Q2 2017, the Company had adjusted EBITDA of $147 million, versus $166 million in the prior year's Q2.
What can be ascertained from this? It's that Supervalu is having some trouble generating growing income on its operations.
Comparing its profitability with another company of the same industry we see that Sprouts Farmers Market, Inc. (NASDAQ:SFM) had EBITDA of $62,827,000 for the thirteen weeks ended October 2, 2016, versus $72,493,000 for the thirteen weeks ended September 27, 2015. Sprouts is also facing income headwinds.
Consider sales growth and EBITDA when investigating companies because you want to see healthy proceeds from a retailer/wholesaler's day-to-day business and robust operating cash flow as a sign that an entity is competing successfully in its industry.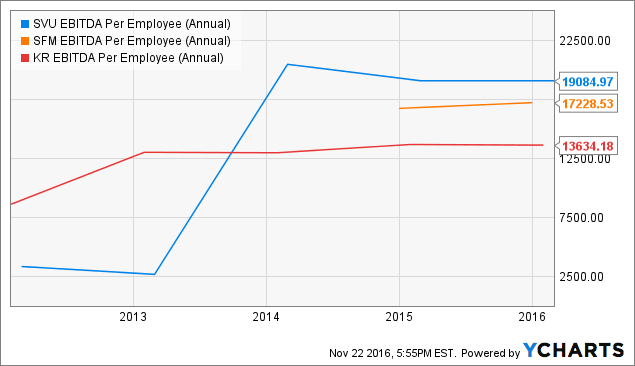 Operating cash flow
Supervalu has operating cash flow for the trailing twelve months of $425 million. It has levered free cash flow for the same period of $116.38 million. Sprouts has operating cash flow of $256.84 million and levered free cash flow of $71.77 million for this period.
Both companies are positive here concerning these two metrics and therefore are in a position to offer dividends, but currently are not. Nevertheless, they are producing cash from their usual operations. Take a look at cash flow when researching companies as you want to determine if their core operations are relatively healthy despite significant battles they are facing in their industry. Continued negative cash flow is the yellow brick road to insolvency.
Price deflation
The Food Marketing Institute noted in its Voice of Food Retail blog that, "We're in the midst of one of the longest periods of food price deflation in more than 50 years. USDA reports that the consumer price index has been negative on a year-over-year basis since December 2015, causing severe pressure on same-store sales growth." (Winners and Losers in the Grocery Industry from Deflation - Nov. 15, 2016 - Andrew Harig)
Consider that this month, the U.S. Bureau of Labor Statistics noted that prices at grocery stores dropped on a year-over-year basis for the eleventh consecutive month in October 2016 (its monthly update to its CPI [Consumer Price Index]).
This isn't especially good for grocers. It affects top-line growth. Price deflation causes stores to engage in price discounting on items they may not have had to do this with in the past. They're forced to engage in this to retain their customer base - at the expense of profits as margins become slimmer and slimmer, unless they can work out even better temporary pricing deals with suppliers.
Natural & organic opportunities
Yes, these are 'millennials' and 'foodies' buzz words - and for good reason. It's what contemporary consumers', or at the very least a majority of them want. They desire healthy, clean label, non-GMO, artificial preservative free and artificial flavors free food.
The upside for Supervalu regarding this? Its natural and organic space retail sales are increasing by roughly 19%, versus 2015. Some of this increase is due to its Wild Harvest brand. This brand continues to perform soundly across the Company's retail and wholesale businesses. The expectation is that Supervalu will have approximately 635 unique Wild Harvest SKUs (Stock Keeping Units) by the end of this FY.
Price...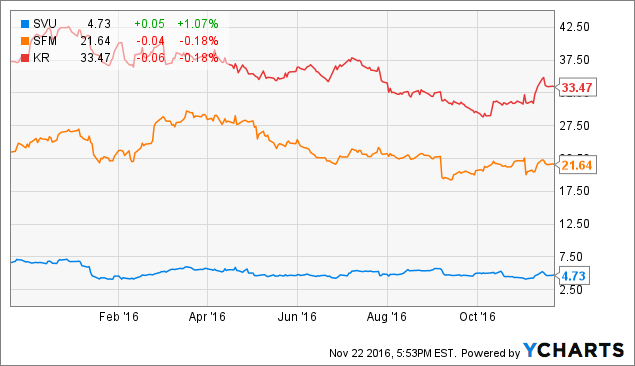 Recent wholesale operations gain
Supervalu, this month, made a gain regarding its wholesale operations. The Company and America's Food Basket (AFB) announced that Supervalu was chosen by AFB as a grocery wholesaler and supplier. The parties signed a long-term agreement.
Supervalu will supply the AFB member stores with traditional grocery products across a range of categories. AFB is a regional cooperative. It serves 47 neighborhood stores situated mainly in New York and parts of New England. AFB stores operate under three primary banners. These are America's Food Basket, Ideal Food Basket and Superfi Emporium.
Supervalu will distribute AFB's "Ideal Brands" and provide AFB stores with the ability to offer Supervalu's private brand products, including Essential Everyday, Wild Harvest, and Culinary Circle.
Mr. Mike Stigers, Executive Vice President (NYSEMKT:EVP) of Supervalu's Wholesale business, said earlier this month, "America's Food Basket is a terrific regional co-op that delivers a great neighborhood grocery experience for its customers. Our plans to continue to grow Supervalu's wholesale business took another step forward today with the addition of America's Food Basket."
Additionally, the Fresh Market has chosen Supervalu to be its grocery wholesaler. The Fresh Market operates more than 170 stores across greater than 20 States.
Why Supervalu sold Save-A-Lot
For one thing, Save-A-Lot has been affected by the decrease of SNAP (Supplemental Nutrition Assistance Program) benefits. This is in 22 States that Supervalu operates. The Company's level of SNAP sales is considerably greater than other retail stores. SNAP works to improve participants' food security and also their door to a healthy diet.
But, let's get it straight from Supervalu. Its President & Chief Executive Officer, Mr. Mark Gross, said in the October 19, 2016 earnings call that, "The Board determined that a sale of Save-A-Lot to Onyx is in the best interest of our stockholders. This transaction is strategic for Supervalu, as it will delever the balance sheet and allow us to better focus and execute on our strategic plan. As we have discussed previously, we are excited about the growth possibilities for Supervalu and our core wholesale business." (Seeking Alpha - Supervalu's (SVU) CEO Mark Gross on Q2 2017 Results - Earnings Call Transcript)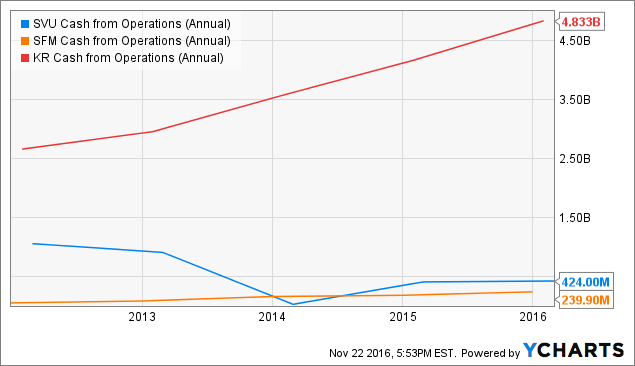 Analysts' views
Deutsche Bank downgraded Supervalu at the beginning of 2016 from Buy to Hold. On a scale from 1 to 5, with 1 a "Strong Buy" and 5 a "Sell", the Supervalu consensus is 2.6 between Hold and Buy but leaning more to Hold. VectorVest in its November 4, 2016 analysis rated Supervalu a Sell.
Conclusion
Supervalu has its work cut out for building same store sales, building its income, and generating greater cash flow. To its credit the Company is working on being more competitive regarding price. It said that its emphasis here is "an initial focus on those items most important to the customer."
In addition, it does have a strong private brands portfolio. Also, concerning new store openings, Supervalu is being aggressive in extending its national footprint. It's planning to open 70 new stores (approximately 50-50 between its corporate stores and licensees).
Furthermore, it's upgrading its fresh departments and is focusing on building its bakery and deli operations to meet consumers' demands for first-rate innovative products in these categories. It has its produce strategy where it said it's working to become a produce wholesaler versus a wholesaler that sells produce. Its commitment is to delivering fresher produce to its retailers.
I'll hold off on buying Supervalu shares as an investment, though. There's not enough value in the company for me personally. I want to see dividends in the hopefully near future from the Company. I want to see a rebound in its same-store sales. Then I may shop Supervalu for a stock holding - just not right now.
Disclosure: I/we have no positions in any stocks mentioned, and no plans to initiate any positions within the next 72 hours.
I wrote this article myself, and it expresses my own opinions. I am not receiving compensation for it (other than from Seeking Alpha). I have no business relationship with any company whose stock is mentioned in this article.
Editor's Note: This article discusses one or more securities that do not trade on a major U.S. exchange. Please be aware of the risks associated with these stocks.