There are a storm of devout followers of MannKind Corporation (NASDAQ:MNKD) going nuts over the firm's third-quarter results. The enthusiasm is severely misplaced. Beneath this misleading quarter lies a whole lot of nothing. The company's big revenue surge was basically entirely due to Sanofi (NYSE:SNY) having to make a $161.8 million payment in relation to a terminated license agreement between the two companies. Other than that, the company's only revenues from Afrezza were around $600,000. Obviously, this doesn't even come close to covering the $13.1 million in selling, general and administrative expenses involved in marketing the product.
This company has been in a weird state of decay for quite a long time now. The story is pretty clear at this point. Inhalable Insulin seemed like a great medical idea. Unfortunately, things haven't worked out. Whether out of marketing mistakes, complications, or just plain old bad luck, Afrezza is not a big hit with patients. The fact that the stock has largely lost value since its earnings release should showcase the situation. The ones moving this thing are day traders.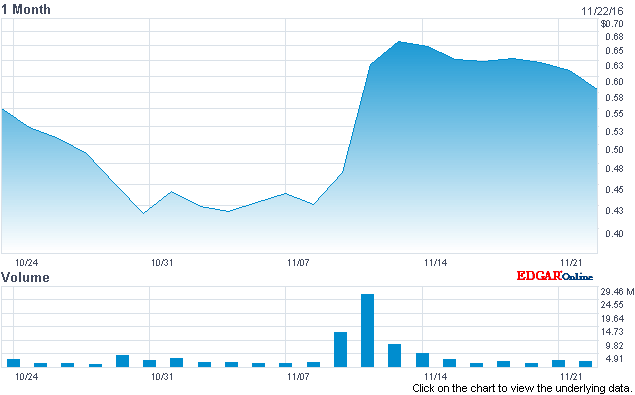 What's changed? Well, the cash infusion has bought the company some more time to burn cash. One look at the income statements and you can see that's all this company does. Sales for the quarter don't come close to covering the cost of goods sold. Let's not forget this drug was getting sold before marketing responsibility fell to MannKind. It wasn't faring well then, and besides stopping the massive losses, there's not much here suggesting it's turning the game around. Afrezza has been on the market for two years. It should have taken off with patients by now if it was going to happen.
Don't be fooled by this one-time surprise of an earnings period. As a shareholder, your shares are getting progressively liquefied as the company sells shares to get the cash to keep going.
Disclosure: I/we have no positions in any stocks mentioned, and no plans to initiate any positions within the next 72 hours.
I wrote this article myself, and it expresses my own opinions. I am not receiving compensation for it (other than from Seeking Alpha). I have no business relationship with any company whose stock is mentioned in this article.
Editor's Note: This article covers one or more stocks trading at less than $1 per share and/or with less than a $100 million market cap. Please be aware of the risks associated with these stocks.