Overview
PHI's share price (PHII, PHIIK) has been getting the beatdown: Since reporting its Q3 2016 results on November 8, 2016, their shares have gone from $15/share, down to $13/share, and are now back in the $14/share range. Just a year ago, they were trading in the $20 range. Admittedly, the decline in share price is understandable, thanks to PHI's exposure to the offshore oil & gas industry (57% of 2015 revenues and 62% of 2014 revenues). However, their business is still pretty simple: air transportation. Helicopters are still helicopters, whether they are moving people to offshore rigs, hospitals, or just giving a sky tour. In that context, PHI's share price makes it seem like helicopters are no longer relevant.
How About a Helicopter for Black Friday?
Since the beginning of this year, PHI has sold 12 total aircrafts (9 light and 3 medium) for a gain of $3.9M. They have been working on their housekeeping punchlist and taking the downturn in oil and gas to reconfigure their fleet. Overall, the Oil & Gas fleet has profitably shrunk quite a bit (161 aircraft as of 9/30/2015 vs. 139 aircraft as of 9/30/2016) while the Air Medical fleet has remained roughly the same (106 vs. 104). Their Technical services segment operates 100% customer owned aircraft, so aircraft count is not particularly relevant here.
PHI's PP&E line item on their balance sheet can basically be summarized as "Flight Equipment":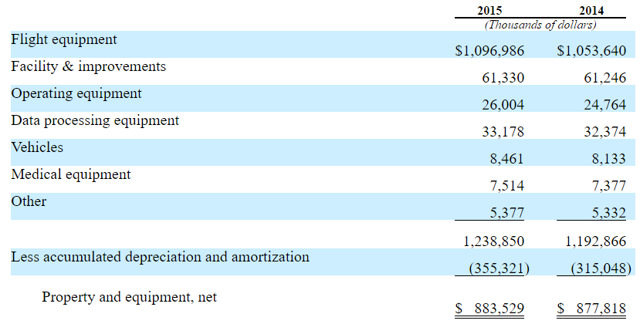 Source: PHI Inc 2015 10-K
Apart from owning loads of helicopters, PHI holds a pretty big portfolio of short term investments ($289M as of 9/30/2016). This is mostly comprised of corporate bonds and notes.
Understandably, PHI's operating business (or specifically, the Oil & Gas business) is facing severe headwinds. However, the underlying assets - helicopters - have held its value so far. With that in mind, let's take a look at their price to tangible book ratio: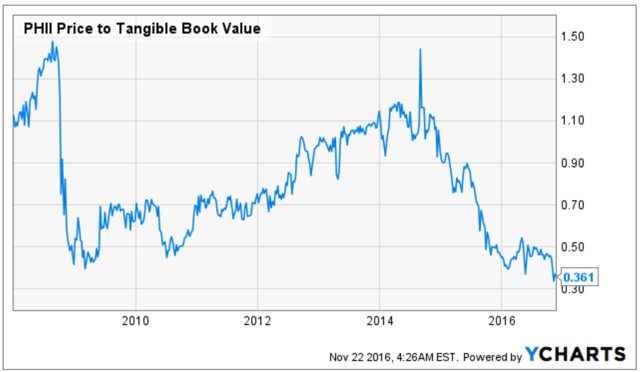 Source: YCharts
While PHI is no stranger to low P/B ratios, they are trading at an exceptionally low point right now. And by exceptionally low, I mean an all-time low. Ideally, I would prefer to see the short term investments in cash, but $289M in relatively liquid form isn't the worst thing in the world either.
When Nobody Wants Helicopters Anymore
While the profitable disposals of 12 aircraft in the first 9 months of this year is obviously good news, it certainly does not mean that this trend will continue. That said, PHI has the fortune of running one of the largest Air Medical fleet in the United States. PHI has been downsizing its Oil & Gas fleet and that is likely to continue for the foreseeable future. Apart from selling the aircraft, PHI can also retool the aircraft and use it to expand Air Medical operations.
Since we've established that the Oil & Gas business is facing some headwinds and basically made the case that PHI will be okay because they have a relatively large Air Medical fleet, it's time to consider some of the risks involved in the Air Medical segment:
Reliance on Medicare and Medicaid

Negative PR

Pushback from health insurance companies
The payor mix for the Air Medical business looks like this:

Without digging too deep into politics, Trump probably won't help with PHI's payor mix as far as Medicare and Medicaid goes.
The next two points go hand-in-hand. There have been several cases where Air Medical transportation providers have slammed their customers with a hefty bill. While nobody has ever expected medical transportation to be cheap, some of the cases gaining attention seem extreme: One of the cases involved a $46,800 bill for an 85 mile flight. The article is written about PHI's competitor, Air Methods (NASDAQ:AIRM), but this PR affects the industry as a whole. It would certainly be foolish to think that insurance providers wouldn't fight back on the hefty prices either.
Closing Thoughts
Oil & Gas is still a struggle, Air Medical has its risks, but PHI's story still stands: They are a transportation service provider. PHI holds an ample amount of short term investment cushion that buys them some time to downsize and retool their fleet while patiently waiting for a recovery in Oil & Gas and/or an operational expansion in the Air Medical business. With an all-time low price to book value, supported by assets that have maintained their resale value, PHI is worth considering for the long-term investor.
Disclosure: I am/we are long PHII.
I wrote this article myself, and it expresses my own opinions. I am not receiving compensation for it (other than from Seeking Alpha). I have no business relationship with any company whose stock is mentioned in this article.