The upstream and the chemical segments of Royal Dutch Shell (NYSE:RDS.A) (NYSE:RDS.B) have been doing really well in recent quarters on the back of an improvement in realizations and margins in both these segments. However, one segment where Shell has struggled this year is the refining segment, which is the reason why its profit from downstream operations was down almost 20% from the prior-year period.
The major reason behind the drop in downstream earnings was a $700 million drop in Shell's refining and trading margins. This is shown below: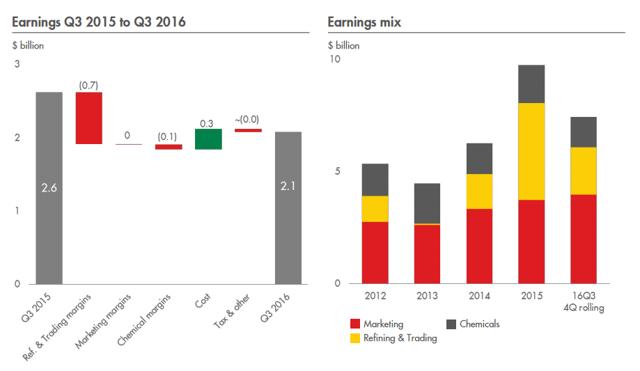 Click to enlarge
Source: Royal Dutch Shell
The reason why Shell's downstream earnings fell last quarter was because of lower refining margins, which have continued to decline in 2016 even as other segments have risen. This is evident from the following chart: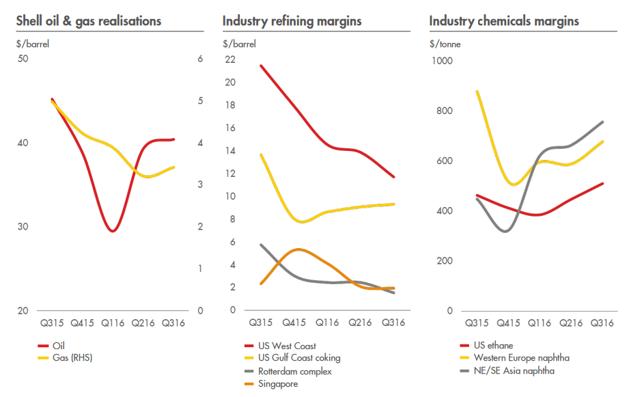 Click to enlarge
Source: Royal Dutch Shell
This consistent decline in refining margins has weighed on Shell's earnings, offsetting the positives witnessed by the company in other segments. However, a closer look at the chart above will indicate that the decline in refining margins has slowed down of late. This is because of an improvement in the consumption of gasoline this year and a drop in refinery utilization runs.
Expect refining margins to get better
More specifically, gasoline consumption in the U.S. is anticipated to hit record levels this year, increasing by 130,000 barrels per day from 2015 to a total of 9.29 million barrels per day. This will be the highest gasoline consumption on record since 2007 as more Americans take to the road. In fact, the key reason behind the increase in gasoline consumption will be a 2.5% increase in highway driving. Additionally, the U.S. is also exporting around 400,000 barrels per day of gasoline this year, which should further reduce inventory levels.
Another factor that should negatively impact gasoline inventory is a reduction in the utilization rate of the refinery operable capacity. When 2016 began, refinery utilization was higher than the year-ago period in the first quarter. But, ever since the industry oversupply started hurting gasoline margins, refinery utilization rates have been well below the year-ago levels from April to August, according to the available data. This is shown below:

Click to enlarge
Source: EIA
As a result of this favorable demand-supply scenario, refining margins have started getting better as the year has progressed, leading to a slowdown in margin erosion at Shell. The following table clearly shows that refining margins have been gradually getting better across the globe: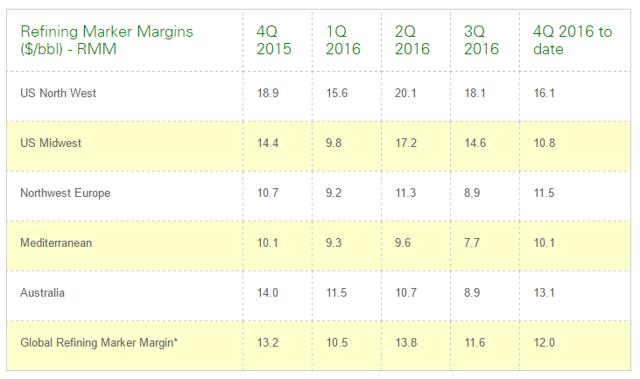 Click to enlarge Source: BP
More importantly, as the refining environment improves, Shell will be in a good position to capitalize on the same due to its robust refinery infrastructure.
Shell's refining infrastructure will help it benefit from an improving environment
Shell has been focused on strengthening the refining infrastructure by bolstering refining capacity and feedstock availability. For instance, Shell will be enhancing the hydrocracking capacity of its Scotford refinery in Canada by 20% this year, as a result of which the company will be able to generate higher volumes of high quality, light fuel refined products from heavy feedstock.
Similarly, in the U.S., Shell is constructing an alpha olefins plant that will be completed in two years' time. This new plant will increase Shell's alpha olefins capacity by 425,000 tons per annum, allowing Shell to benefit from a market that's set to grow at a compound annual growth rate of 6.2% until 2020.
Moreover, as the refining environment improves, Shell should be able to improve its returns from this segment since it has been busy divesting its non-core refining assets. Over the period 2013-2015, Shell's downstream asset divestitures increased as compared to the previous period. This is shown below: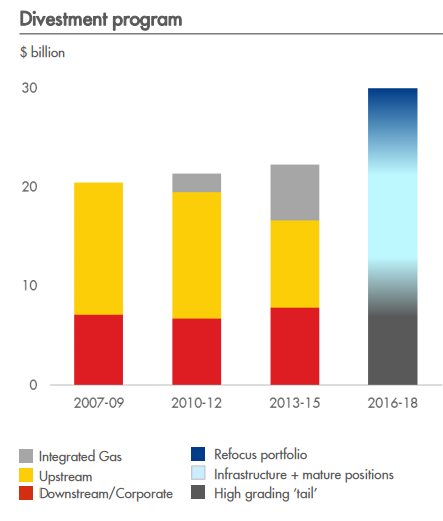 Source: Royal Dutch Shell
More specifically, since 2007, Shell has reduced its refining capacity by 20%, while its marketing volumes have dropped at a greater pace of 30%. But, despite the cut in both capacity and volumes, Shell's global weighted average refining margin has remained almost the same as 2007 levels. What's more, the company's earnings from oil products have increased from just over $6/barrel to almost $8/barrel, which is remarkable considering the divestments achieved by Shell in the downstream.
Conclusion
Royal Dutch Shell's refining segment is the only one that did not do well last quarter. However, given the improving market conditions, I won't be surprised if Shell is able to make a comeback in this segment, which is why investors should continue to hold the stock as the strength in the upstream and the chemical segments will be complemented by a recovery in the downstream.
Disclosure: I/we have no positions in any stocks mentioned, and no plans to initiate any positions within the next 72 hours.
I wrote this article myself, and it expresses my own opinions. I am not receiving compensation for it (other than from Seeking Alpha). I have no business relationship with any company whose stock is mentioned in this article.