Most people hate it when things break down or change. I am a different kind of breed - I actually enjoy when things are not working the same way they used to. A trader makes his/her money by taking advantage of changing circumstances, and if asset prices always behaved as they are supposed to, then there wouldn't have been any space for people such as myself. Today, I want to share with you a recent change that got my attention.
After so many years of trading, I have grown accustomed to noticing asset mispricings on the go, even without using my own software. And recently, my attention was drawn towards one of the preferred stocks in my tradable universe - MS-A [Morgan Stanley (NYSE:MS) Series A Non-cumulative Preferred Stock]. I have always thought of that preferred stock in the context of other three similar instruments - AEB [Aegon (NYSE:AED) Floating Rate Perpetual Capital Securities], BAC-E [Bank of America (NYSE:BAC) Series E Dep Shares Non-cumulative Preferred Stock] and GS-C [Goldman Sachs (NYSE:GS) Series C Dep Shares Float Rate Non-cumulative Preferred Stock]. All these preferred stocks are floaters that, under normal circumstances, pay interest at a rate of LIBOR + a fixed spread. The current low interest environment, however, is anything but normal. And in such low interest environment, another feature of these 4 preferred stock shares comes into play - an embedded floor option. The floor for all four preferred is set at 4% and this is exactly how much each of them is paying in interest at the moment. For all intents and purposes, until interest rates start climbing up again, these 4 floaters are essentially fixed-rate securities with the same nominal yield of 4%.
Why short MS-A?
To answer that question, it's best to start with a comparison between the four securities.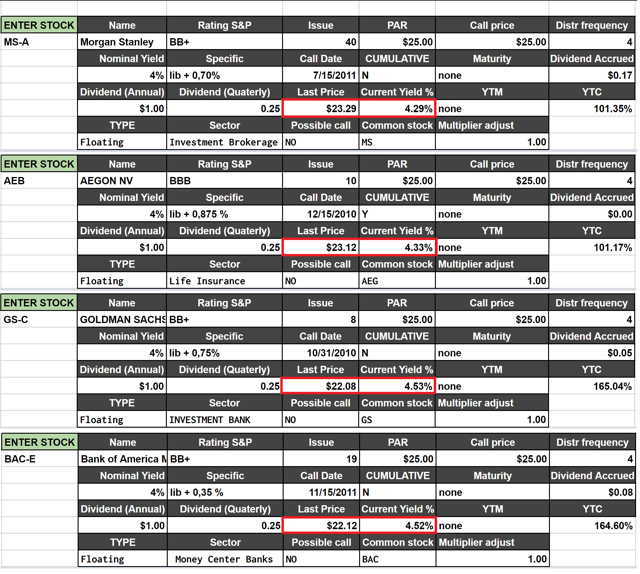 Source: Author's spreadsheet
As you can see from the chart above, MS-A is the preferred stock that offers the lowest current yield of the four. Moreover, the four securities have identical cash flows going into perpetuity and bear almost identical reinvestment and interest rate risks. The credit risk implied by the different ratings varies from stock to stock. We have 3 BB+ rated securities and one BBB-rated. Even though MS-A has a lower credit rating than AEB, it offers current yield that is quite similar to the latter, which is another point in favor of shorting the former.
Maybe some of you are still skeptical and think I am focusing too much on current yield when I am building my argument in favor of selling MS-A, but there is a reason behind that. The current yield has also been the yield to worst for the four securities since the Great Recession, precisely because those securities essentially became fixed rate perpetual preferred stocks after 2008. Theoretically, all four preferred stocks should be moving in tandem with small deviations driven by changing liquidity. And in practice that has been the case for much of the last 7-8 years. But now, MS-A has drifted away from the rest.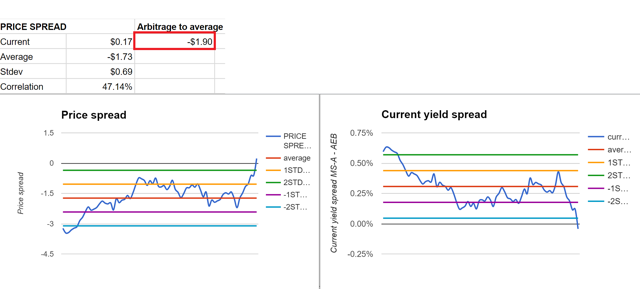 Source: Author's spreadsheet
Above, you can see a simple statistical comparison between MS-A and AEB. It is clear that the spread between MS-A and AEB has moved more than 2 standard deviations away from the average price spread between the two. For simplicity sake, I will not include the same charts to compare MS-A to BAC-E and GS-C, but they tell the same story. The potential statistical arbitrage opportunity here is between $1.15 and $2.30 depending which preferred stock you choose to compare MS-A to. Correlations also vary, with MS-A having the strongest relationship with GS-C.
Risks
Two caveats - first, there is a potential call risk that this trade bears. MS-A as well as all the others securities are currently callable, which means that if any of the parent companies undertakes measures to call any of these securities, the aforementioned potential arbitrage opportunities might not materialize in practice. We believe, however, that the call risk inherent in the pair trades is relatively low, although we would not go so far as to say it is zero.
Second, there might be a fundamental reason for the deviation of MS-A from the other preferred stocks. Before I make a trade decision based on my relative analysis, I always look for fundamental reasons for any perceived mispricing. This time is no different from any other, and despite my thorough checks, I haven't identified any fundamental reason for the deviation, which leads me to conclude that it is probably driven by technicals.
Conclusion
MS-A seems to be overvalued in relative terms compared to its peer group. If you are hunting for yield, you are better off staying away from it. If you are like me and want to take advantage of the deviation, you might consider taking a short position in the stock, but bear in mind that deviations could sometime be quite persistent, and staying short for a long time could be pricey.
Disclosure: I am/we are long AEB, BAC-E, GS-C, GS-D, BML-J.
I wrote this article myself, and it expresses my own opinions. I am not receiving compensation for it (other than from Seeking Alpha). I have no business relationship with any company whose stock is mentioned in this article.
Additional disclosure: I am short MS-A