Please take note this is only one aspect in weighing the attractiveness or non-attractiveness of the companies mentioned as an investment and should not be used independent of other factors. This article examines one segment of the companies' businesses, and other factors such as valuation are not addressed.
The real estate and construction sector accounts for about a third of China's GDP, considering its indirect impact on other sectors such as cement, glass, metal and furniture.
Rising house prices in China have sparked concerns about China's property market.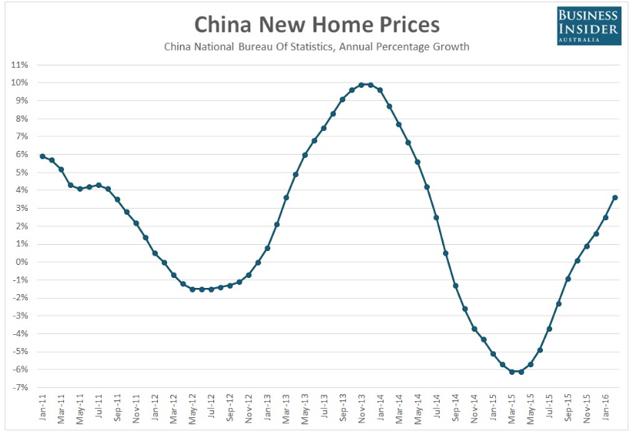 Click to enlarge
Source: Business Insider
A deeper look reveals that the steep property price increases in China are mainly concentrated in Tier 1 cities which represent the most developed and wealthiest areas.
National average property prices in China are 36% higher from a June 2010 baseline. In Tier-1 cities, average prices are over 80% higher while in Tier-3 cities, average prices are up a moderate 13%.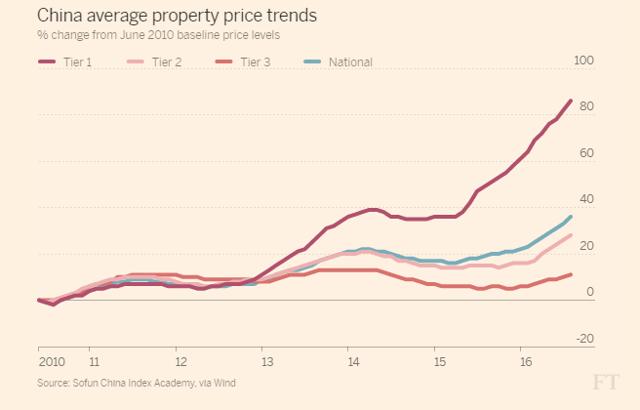 Click to enlarge
Source: FT.com
China's Tier-1 cities namely Beijing (population = 21.5 million), Shanghai (population = 24 million), Shenzhen (population = 15 million) and Guangzhou (population = 14 million) account for around 5.7% of the total Chinese population (China's total population is estimated at 1.3 billion), 10% of urban population (estimated at 750 million) and about 12% of China's residential floor space sold last year.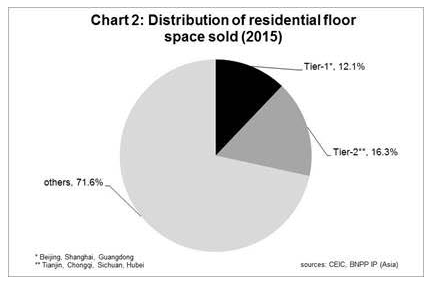 Source: Barron's
Shenzhen, known as China's 'Silicon Valley' has witnessed the steepest increases in property prices among the Tier-1 cities having risen 580% over the past decade. The tech hub is home to top technology brands including telecoms companies Huawei and ZTE Corporation, Internet giant Tencent, drone manufacturer DJI and gene mapping company BGI.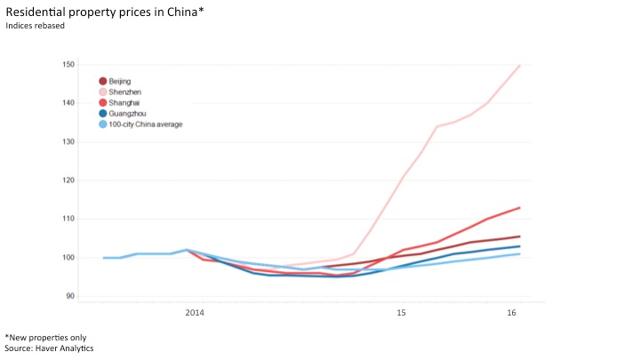 Click to enlarge
Source: The International Banker
The ratio of house prices to income is high in Tier 1 cities while in Tier 3 cities, prices are more affordable. According to analysts at UBS Wealth Management, the ratio of house prices to household disposable income in Tier-1 cities was 14.7x at the end of 2015. This figure has increased to around 18-20x, making China's Tier-1 cities similar to Hong Kong in terms of affordability and more expensive than London (15x), which is the highest among major global cities.
In contrast, Tier-2 and Tier-3 cities are more affordable. The ratio was 8.0x for tier-2 cities as of end-2015 and, is around 9x on average this year, excluding Xiamen and Hangzhou. The ratio nationwide reached 7.2x as of the end of 2015, the lowest in the past 17 years and below the 1999 peak of over 10x.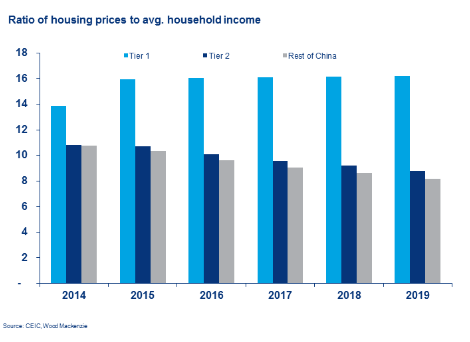 Source: Wood Mackenzie
China's property inventory rose to a record 6.2 billion square meters by the end of 2015, which according to the China Index Academy would take at least five years to clear at the current speed of sales.
As of July 2016, analysts at ANZ estimate it would take 40.8 months to sell all of China's housing stock based on the current pace of sales.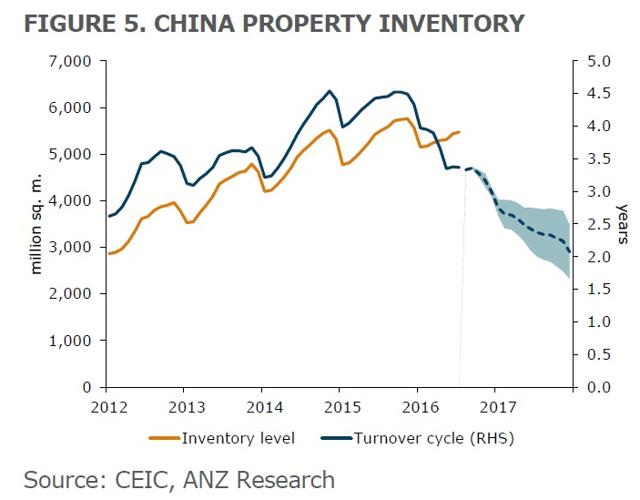 Click to enlarge
Source: Business Insider
The excess inventory is concentrated in non Tier-1 cities, reflecting the oversupply situation in those areas.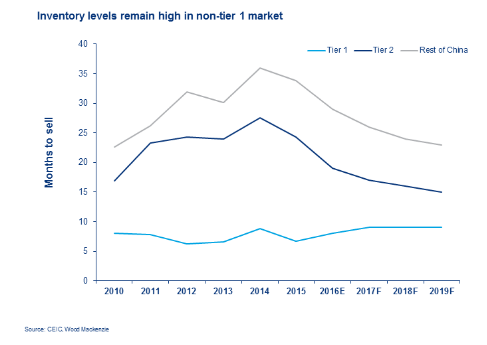 Source: Wood Mackenzie
This suggests that China has a two-speed property market where Tier-1 cities are faced with excess demand and limited supply which are pushing up prices while lower tier cities, faced with excess inventory and moderate price increases, are dealing with a supply glut. Last year, 61% of new housing starts were in the Tier-3 and Tier-4 cities, while only 5% were in Tier-1 cities.
In an effort to fix the imbalance, the government has initiated a number of policies. For instance, recently the minimum down-payment for first time home buyers was reduced from 25% to 20%. The down-payment for home buyers with an existing mortgage was reduced from 40% to 30%. But it is not applicable to first-tier cities with home purchase restrictions such as Beijing, Shanghai, Shenzhen and Guangzhou where prices are high and expected to remain so due to high demand, an influx of people due to net immigration as well as a shortage of land suitable for construction as the Chinese government has sold only a limited number of land parcels (limiting the availability of land supply in Tier-1 cities for urban development appears to be a deliberate maneuver aimed at restricting the growth of China's big Tier-1 cities. The state ultimately controls ownership of all land in China, and the central government decides which land can be auctioned off to private developers. Land auctions to not entitle the buyer to permanent ownership of the land, but rather the right to use the land for decades, usually about 70 years).
This year, land sales have marginally increased from last year when land sales touched 5-year lows.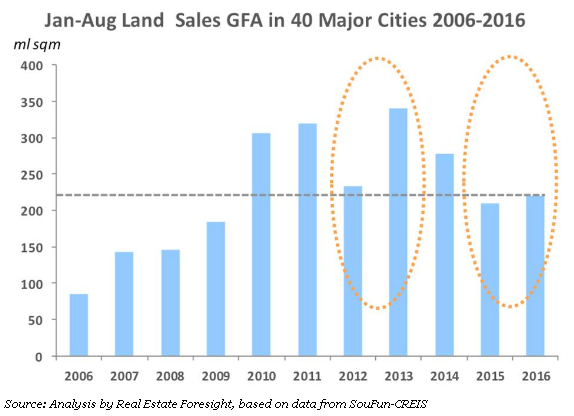 Source: Forbes
In addition to reducing the down payment, the central government has urged local governments to make it easier for migrants and farmers to buy flats in cities, particularly in lower tier cities through policies such as reforming the household registration system (Hukou), cash subsidies and extending the government sponsored Housing Provident Fund to farmers.
Meanwhile, the government is tightening measures in the Tier-1 market. This month, down payments for first time home buyers in Shenzhen was increased to 30% while the minimum down payment for second-home or more purchases was increased to 70%.
Down payments for second-home buyers in China's Guandong province (the capital of which is Guangzhou) will be increased to no less than 70%. Guangzhou has limited local residents to purchasing a maximum of two properties.
By restricting demand in Tier-1 cities, China is aiming to channel some of that excess demand (some of which is from affluent investors who, faced with a lack of investment alternatives given China's capital controls and low interest rates, turn to the local property market to park their savings) to the oversupplied Tier-3 and Tier-4 cities which have substantial inventories. The current stock of 7 billion square meters of properties under construction, of which 4.8 billion square meters is residential, is mostly located in these lower tier cities.
In the longer term, the government plans to drive up housing demand in the lower tier cities through urbanization. China's urban population is about 56% of the total population up 6% from 2010 when the urbanization rate was a little below 50%.
China's urban population percentage is still lower than developed economies such as the United States (81%), South Korea (82%) and Japan (93%) according to data by the CIA (Central Intelligence Agency).
Between 2000 and 2010, China's urbanization rate increased by 13% from 36% in 2000 to just below 50% in 2010, during this ten-year period over 200 million urban residents were added. China's 13th Five Year Plan (2016-2020) aims to increase the country's urbanization rate to 60% by 2020 shifting 100 million people from farms to cities, equal to about 12% of the rural population, (mostly to smaller cities such as Tier-3 and Tier-4 cities with large stockpiles of unsold homes. The plan does not include moving rural dwellers to Tier-1 cities) through investment in transport networks and urban infrastructure and reforms to the country's registration system (Hukou system).
This urbanization process should help drive demand for property, with Hukou reform in particular expected to have a significant impact. The Hukou system, introduced in 1958 classifies citizens as "urban" or "rural" and Hukou residency is not determined by where a person lives but rather by the parents' Hukou status. Consequently, China's migrant workers were not entitled to city services such as education, health care and social security and hence were not encouraged to buy property in their city they were employed in. Experts have said Hukou reform is essential to achieve true urbanization in China and it has been noted that the Hukou system is a major constraint in the housing consumption of migrants. Of China's 750 million urban population, about 270 million are migrant workers (known as the "floating population"), of which only 1% own homes in the cities where they work.
Hukou reform would encourage migrants to purchase homes in their city of employment and help migrant workers access the local housing funds to help pay for their new homes. By 2020, China aims to have 45% of its urban population to have Hukou, an increase from 36% in 2013.
Assuming a requirement of 30 square meters of space for each resident, 100 million people would require a total of 3 billion square meters of accommodation. An HSBC Greater China economist last year estimated China's unsold housing inventory at 1.8 billion square meters, which could house up to 90 million migrants. A researcher at the Chinese Academy of Social Sciences estimated that if 70% of the 100 million migrant workers buy homes in the cities, it would "solve" the 2.2 billion square meters of unsold housing inventory.
Labor costs have historically been the major factor attracting corporate investments, however, with land prices rising in the Tier-1 cities, land costs are emerging as another significant factor, causing "reverse migration" from Tier-1 cities as corporates as well as individuals migrate to more affordable regions. Many young employees who came to Tier-1 cities for work and opportunity have been returning home in search of alternative opportunities,a trend that is benefiting employers in Tier-2 and Tier-3 cities. Spurred by job creation and the availability of high quality affordable housing (unlike in Tier-1 cities where housing is increasingly unaffordable) this "reverse migration trend" has already been somewhat evident in Tier-2 cities such as Tianjin, Suzhou, Ningbo, Qingdao and Dalian, to name a few, which are witnessing net immigration, which is the case in all of China's major Tier-1 cities.
In the three maps below, each prefecture or prefecture-level city in China is colored according to its net migration rate, the deeper the shade the higher the rate (red = net immigration, blue = net emigration).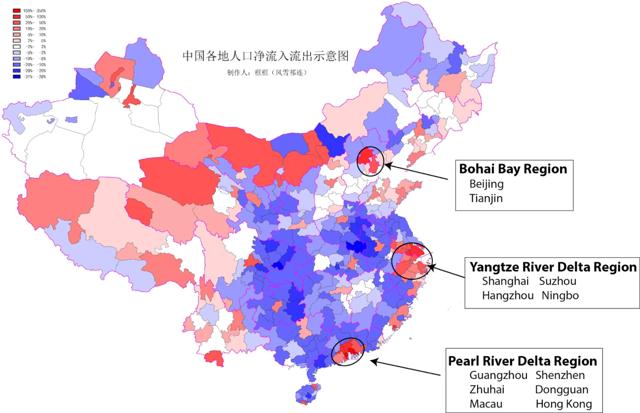 Click to enlarge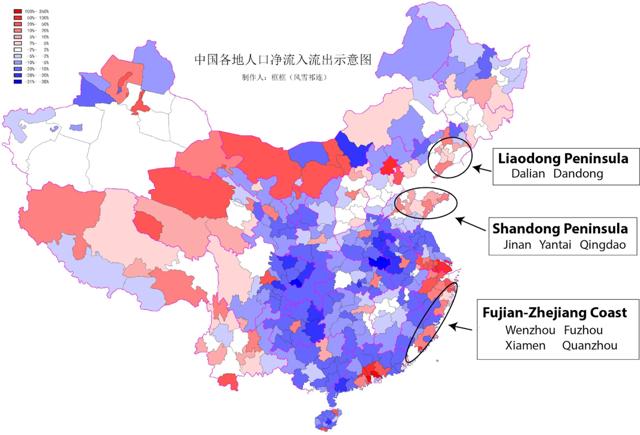 Click to enlarge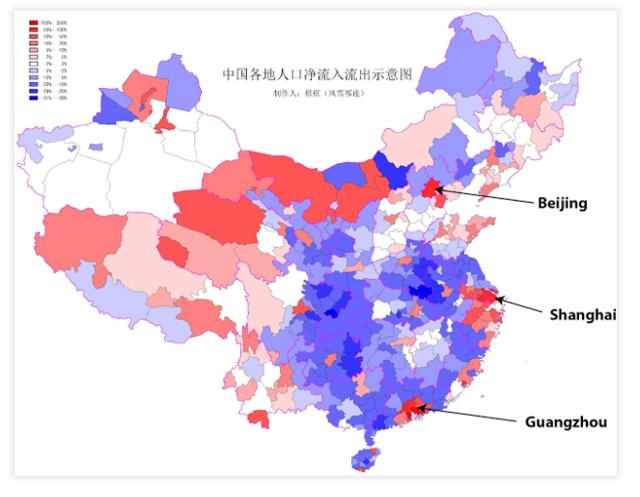 Click to enlarge
Increasing opportunities and economic activity in such lower tier cities are expected to lead to rising incomes as well; a report by The Economist titled "Chinese consumer in 2030" released early this month finds that by 2030, lower-tier cities such as Foshan, Wenzhou, or Changsha will have more "high-income" consumers than Beijing has now. The four main Tier-1 cities (i.e., Beijing, Shanghai, Guanzhou and Shenzhen) are expected to continue to dominate as the top four cities for high-income consumers, while Tier 2 cities which are currently witnessing net immigration as illustrated in the above maps namely Tianjin, is expected to be fifth, Hangzhou and Suzhou will be sixth and eighth. Ningbo, Wenzhou and Xiamen will be within the top 20 cities for high-income consumers.
This reverse migration process is still at early stages and over the longer term, it could help support property demand, particularly commercial high-end property demand (as opposed to low-cost government-sponsored public housing) in non Tier-1 cities.
Currently, growth in China's residential property market is relatively subdued compared to previous years and the sector is witnessing consolidation (such as the ongoing takeover battle for China's largest homebuilder, China Vanke, (OTC:CVKEY) (OTC:CHVKF) between Evergrande (OTC:EGRNF) (OTCPK:EGRNY) and Baoneng Group and the recent merger between Poly Real Estate Group Co and AVIC Real Estate Holding Co), the pace of which is expected to accelerate.
Nevertheless, China's urbanization plan, Hukou reform and the "ongoing reverse migration process" could drive property demand and fix the supply-demand imbalance within the country, suggesting a favorable outlook in the long term.
Singapore real estate developer CapitaLand, (OTCPK:CLLDF) (OTCPK:CLLDY) which is optimistic about China's property market, closed the third iteration of its China-focused real estate fund last month with commitments from major institutional investors around the world including Canada's largest pension fund, Canada Pension Plan Investment Board.
This year, it was reported that Ivanhoe Cambridge, the real estate investment arm of Canada's second largest pension fund, Caisse de Depot et Placement du Quebec, is doubling its investment in mainland China.
Disclosure: I/we have no positions in any stocks mentioned, and no plans to initiate any positions within the next 72 hours.
I wrote this article myself, and it expresses my own opinions. I am not receiving compensation for it (other than from Seeking Alpha). I have no business relationship with any company whose stock is mentioned in this article.
Editor's Note: This article discusses one or more securities that do not trade on a major U.S. exchange. Please be aware of the risks associated with these stocks.