For all our American readers, I wish you a happy Thanksgiving. And stay safe in all your travels.
The markets are also enjoying the festive spirit. The S&P 500 (NYSEARCA:SPY) finally touched 2,200 after months of trying: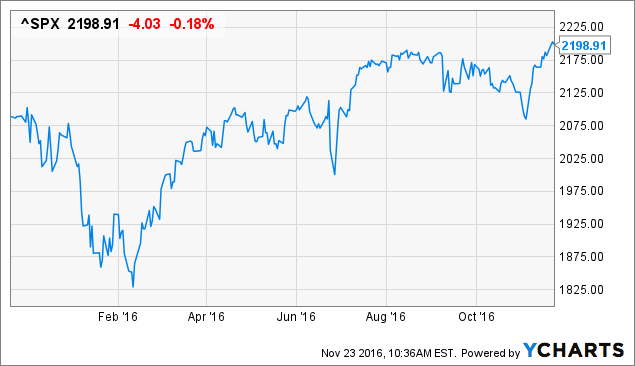 And the Dow Jones Index (NYSEARCA:DIA) has hit 19,000. Get the Dow 20k hats ready, we're potentially just a strong retail season and some Christmas cheer away from hitting that big round number.
Most professional investors ignore the Dow in favor of more diverse indexes. That said, many more hands-off investors and members of the general public still resonate more with the Dow; don't underestimate the psychological impact that hitting 20,000 would cause. If the market moved toward that number as we moved into the new year, it could be incremental fuel toward a more irrational push higher in share prices.
That said, don't get too enamored with the long case here; stocks will probably rally into the year-end. December is the most bullish month of the year historically. But real issues remain for stocks heading into 2017. The biggest of these continues to be the surging US Dollar (NYSEARCA:UUP). I apologize for sounding like a broken record, but this issue is becoming more and more imperative with every passing day:

Click to enlarge
The Dollar is sharply higher just ahead of the low-volume Thanksgiving period. If past turkey days are any guide, there's a decent chance currency speculators will use the quiet period to run stops, sending the Dollar to new multi-year highs.
The Euro (NYSEARCA:FXE) sits just 0.4% above crucial support at 1.05. And the Yen (NYSEARCA:FXY) is in freefall, down more than 10% since October. Currency trades tend to pick up momentum until reaching a dramatic climax - we're setting up for what could be an epic move in the Dollar heading into year-end. And this would have dramatic results for emerging markets. I highly recommend Harry Kourouklis's article on the subject, here's his conclusion:
Overall, as the US dollar strengthens with time, an increasing cost of dollar funding in emerging economies will make the refinance of dollar denominated obligations and currency hedging needs prohibitive. The escalation of a USD liquidity crisis could reverse any attempt by the emerging equities to pick up the slack in relation to their US counterparts. Emerging economies still represent the most promising segment of the global marketplace, but this time they will be faced with a new and stronger opponent; a shortage of USD funding. Under the totally unpredictable Trump presidency, nobody can count on the Fed as the lender of last resort with certainty. Emerging markets and their investors might ultimately find that their best friend so far could ultimately turn into their worst enemy; the bullish US dollar.
Emerging markets (NYSEARCA:EEM) have underperformed following Trump's victory, with the sector ETF 10% down from its 52-week high while US markets have reached uncharted waters. And particularly exposed countries, such as Mexico (NYSEARCA:EWW) and Brazil (NYSEARCA:EWZ) have been shellacked since Nov. 8th.
Between emerging markets heading back into a slump and the rising Dollar slashing US multinationals' earning power in 2017, it's hard to see where rising earnings will come from to lift the market higher. Sure, some industrials should benefit, and the financial sector should get a lift. But that probably won't be enough to offset the broad impact of the stronger Dollar - and ultimately, a market needs rising earnings - PE multiple expansion only takes you so far.
The Dollar and Commodities
One of the most interesting developments in the post-Trump wave has been the divergence in commodity prices. Copper (NYSEARCA:JJC) continues to be the big winner. It's up sharply again today, and threatens to break to new highs, already +20% since late October.
To the extent that Trump's economic policies will spark inflation, copper is one of the more logical ways to play the trade. Copper is called the economist's metal with good reason - it's importance to construction tends to make it a solid leading indicator.
However, China is still the leading driver of copper's price, and things aren't looking great there. The Yuan continues to slump; it'll likely have to devalue more rapidly going forward as the Dollar continues to surge. The all-important 7 Yuan to the Dollar level is just a few cents away now.
Also of note, China is one of the leading marginal buyers of gold (NYSEARCA:GLD), and it hasn't been stepping up to the plate there. Gold thudded through $1,200/oz today, and silver (NYSEARCA:SLV) is also diving lower:

Click to enlarge
My playbook for gold remains little changed. I shorted the gold market, via the juniors, back in June. The then-popular long gold trade was based on the idea that the Dollar Index was about to tumble (it was sitting on support at that time).
Instead, the Dollar held firm and eventually went higher. Gold tried to rally despite the thesis not playing out, leaving my short temporarily under some serious water. However, fundamentals eventually swamped technicals, precious metals simply can't maintain a rally in the face of such a strong Dollar.
Now the question is to the other direction: Will gold make new lows? To that, I've been saying no, and I still think that. The $1,050/oz low came at an absolute nadir in sentiment, the likes of which we rarely see. Any so-called weak hands in the metal would have abandoned it last winter, when everyone and their dog was calling for triple-digit gold in 2016.
With all the people that are convinced that gold is in a new bull market that have moved back into the trade, it'd take some new development to move the market through the strong support built in the $1,050-1,100/oz area. That's not to say gold is a buy today necessarily; the Dollar is soaring, and these sorts of moves can run farther than you expect, especially in light holiday trading conditions.
Disclosure: I/we have no positions in any stocks mentioned, and no plans to initiate any positions within the next 72 hours.
I wrote this article myself, and it expresses my own opinions. I am not receiving compensation for it (other than from Seeking Alpha). I have no business relationship with any company whose stock is mentioned in this article.
Additional disclosure: I have a short position in Brazilian equities. I covered my JNUG short discussed in previous articles, still have a short position on an individual gold equity.