There have been several healthcare-related REITs (Real Estate Investment Trusts) that have sold off recently (for one reason or another) but one of the ones that caught my eye is Medical Properties Trust (NYSE:MPW). In one of my previous articles, I talked about the risk associated with specific medical REITs and gave perspective as to what REITs are riskier and why some command a stronger price in the market. MPW is in my opinion a very diversified healthcare REIT.
Although I do not own any shares of MPW at the moment, the recent price drop has encouraged me to investigate MPW to see whether or not a future investment is justified. This article's primary goal is to review the status of Adeptus Health's (NYSE:ADPT) impact on MPW, as this appears to be the main catalyst for the decline in MPW's stock price.
What is MPW?
According to the company's website, MPW is a self-advised REIT that focuses on building a portfolio of medical properties that accurately reflect current and future trends in the medical industry. The following is a list of properties that MPW's portfolio focuses on:
1. Rehabilitation Hospitals
2. Long-Term Acute Care Hospitals
3. Ambulatory Surgery Centers
4. Women's and Children's Hospitals
5. Regional and Community Hospitals
6. Medical Office Buildings
7. Other Single-Discipline Facilities
MPW is "now the second largest for-profit owner of hospital beds in the United States" (2016 3rd Quarter Financial and Operating Results).
I have included the illustration from my previous article to show that MPW was defined as a hospital REIT by Healthcare Trust of America (NYSE:HTA).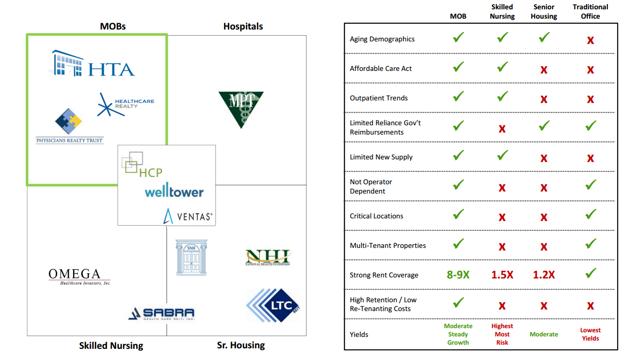 Click to enlarge
I would have to agree with HTA's portrayal of MPW, because their healthcare portfolio is made up of almost entirely hospitals. Although MPW has concentrated almost exclusively on hospitals, they have diversified their assets geographically, with operations spread throughout the US and Europe. The following chart breaks down MPW's capital allocation: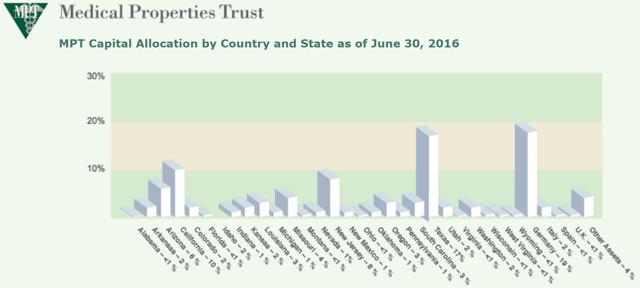 Click to enlarge
I am fond of MPW's hospital concentration, primarily because hospitals are indispensable to the communities they serve, making it very unlikely that they would have a difficult time keeping the doors open. In the event that one of MPW's clients fail, it would be unlikely that the buildings would go unused, as their facilities are located in desirable/attractive locations.
Impact of Adeptus Healthcare
The risk associated with Adeptus is significant; however, there are positive developments in Adeptus's financial situation, including:
1. Lease coverage ratio for 58 properties leased to Adeptus was 2.85 times. (June 2016)
2. Adeptus has prepaid all rent through the month of November.
3. 65% of MPW's Adeptus investments are leased as joint ventures and are "market leading hospital systems" in each market.
4. Adeptus is estimated to represent approximately 6% of MPW's 2017 revenue.
Adeptus is exploring financial options, including issuance of preferred shares (see 25,000 share Sterling Partners issuance) and is also reviewing options with Goldman Sachs. Adeptus stock has dropped significantly since releasing Q3 2016 results. The following graph shows Adeptus Health's stock performance over the last 6 months: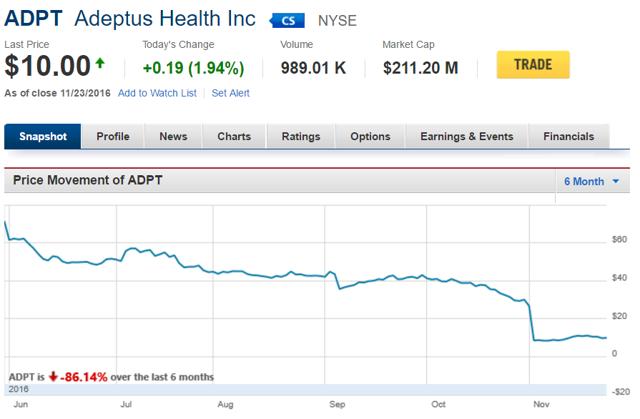 Click to enlarge
Compare the drop in Adeptus to the drop in MPW's value over the same time frame.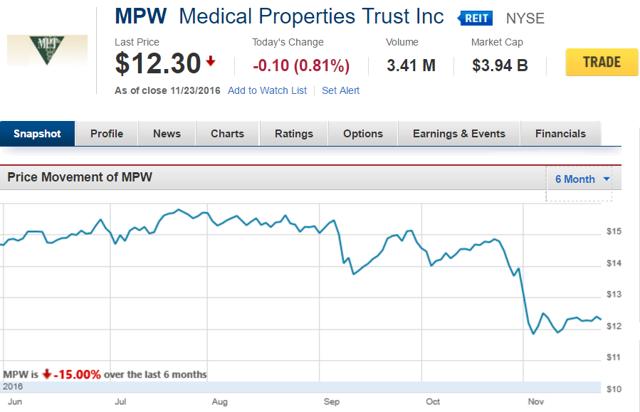 Click to enlarge
From the graphs, we can reasonably say that Adeptus's poor performance and financial concerns have contributed to the downturn of MPW's stock; however, I believe that the concerns are overblown for the reasons mentioned above. Adeptus may not be healthy as a business, but their facilities are crucial to their reorganization and future success. Additionally, Adeptus's locations are crucial healthcare provider centers that would unlikely go unused in the event of an Adeptus default. A review of Adeptus shows that they still have a lot of options available and that they are far from bankruptcy measures.
MPW's Operating Results
MPW's Q3 2016 FFO increased YoY from $72.5 million in 2015, to $75.1 million in 2016. While the total increased by 4%, the FFO per share decreased from $.32/share in 2015 to $.30/share in 2016. This decrease can be attributed to stock issuance to raise funds. It is expected that MPW will end the year with $1.27/share of FFO, which means that the existing $.23/quarter dividend is well covered at a FFO payout ratio of 72.4%.
Future guidance suggests that MPW will be looking at approximately $1.35 FFO to $1.40 FFO per share at the end of 2017. These estimates are including estimated acquisitions, property sales, and redemption of notes/financing. Assuming these numbers will be accurate, we are looking at a minimum FFO growth of 6.3% and a maximum FFO growth of 10.2%.
Conclusion
Given these numbers, I am optimistic that MPW will continue to grow and that the current pullback on the stock presents a compelling buying opportunity. A closer examination of MPW's financials shows that the impact from Adeptus is unjustified, especially because Adeptus does not appear to be in a bankruptcy-like stage. MPW's fundamentals all point in the direction of future growth, and with a healthy growing FFO comes future dividend increases. I have added MPW to my personal BUY list because the stock price is not indicative of the operating fundamentals.
Final Note: If you enjoy my articles please take the time to follow me. While I enjoy performing analysis, following me is the best method for showing me that SA subscribers are finding my work useful.
If you have any suggestions to improve my articles or if you would like me to perform analysis on a stock please feel free to message me and I will do my best to make it happen.
Disclosure: I/we have no positions in any stocks mentioned, and no plans to initiate any positions within the next 72 hours.
I wrote this article myself, and it expresses my own opinions. I am not receiving compensation for it (other than from Seeking Alpha). I have no business relationship with any company whose stock is mentioned in this article.
Additional disclosure: This article reflects my own personal views and is not meant to be taken as investment advice. It is recommended that you do your own research. This article was written on my own and does not reflect the views or opinion of my employer.