Fellow contributor Giovanni DiMauro published a bearish take on Valeant Pharmaceuticals (NYSE:VRX) with which I strongly disagree. I'll start by going over DiMauro's points (between quotes) where I hold a variant view and summarize my bullish take at the end.
CEO Joseph Papa mislead investors in August when he reaffirmed guidance for the year. The company missed miserably on earnings and lowered guidance for this year and next year; a bad recipe for the stock price going forward.
Companies missing earnings and lowering guidance isn't fun if you are already long. Obviously, you like your investments to meet or exceed expectations. It is not a recipe for the stock price going down forward. Earnings misses are immediately priced in and I'd argue a new CFO who really steps it up in terms of transparency and starts by calling it quits on earnings tricks or whatever companies do to match reality with Wall Street estimates is a good thing. As I've argued previously: I like the new CFO.
Ziana, Zegerid, and Ofloxacin Otic are going off patent in 2017, which will diminish cash flows.

The business of jacking up prices on products going off patent is finished.
To address the above two comments at once I want to take a little detour; Pershing Square is infamously invested in Valeant and also represented on the board. On Pershing's recent earnings call and Mr. Ackman described Valeant as a sum-of-the-parts play on three businesses, the durable growth business, the specialty pharmaceuticals and a cigar butt business. The latter category contains drugs that were running off patent soon. The company bought them up cheaply and jacked up prices to take a few really good puffs.
Revenues from this segment are falling fast as the company isn't buying fresh butts anymore and it has patent cliffs looming. This is surely going to remain a headwind for something like 4-8 quarters. The headwind is slowly subsiding as the revenue base it represents shrinks until the segment no longer exists.
Interestingly, Valeant's consolidated growth rate improves much as these cigar butts disappear. It will also make it much easier for Valeant to deal with public outrage about price gouging.
Here is a statement from the CFO Paul Herendeen "Value creation is not linear so we will face setbacks and we will overcome them." I think I will wait for the next setback before I get back in the stock.
No one is keen on downside surprises and I've had my modest share riding Valeant up and down from the low-20s. The problem with not accepting any exposure to setbacks is you also limit your exposure to positive events. Management is acutely aware it needs to sell assets and now is a good time to do so. Here's another statement by Herendeen:
Part of our job is to know the value of assets we own, and if we believe an asset may be worth more in someone else's hands and they'll pay us more than what may be worth in our hands, we should sell that asset.
If they make a big sale, like the rumoured Salix (NASDAQ:SLXP) one or a more modest one, that would improve the intrinsic value of Valeant by a lot. The impact from a solid surprise asset disposition seems to be much bigger the impact of more disappointments.
In my view, the stock will be under pressure along with the rest of the Pharma sector that is taking a beating especially today. At this point, the stock will likely be used as a tax selling tool for the rest of the year.
Sure, Valeant could suffer some tax loss selling but that's something I view as an opportunity not a risk.
While Papa says the turnaround story is under way; Valeant must prove through execution that it can grow revenue and in my view, it is not getting the job done. Year-end tax selling could pressure the stock to the downside.
Last quarter was the first sequential quarter in quite some time where revenue went up instead of falling even if it didn't on a year-over-year basis.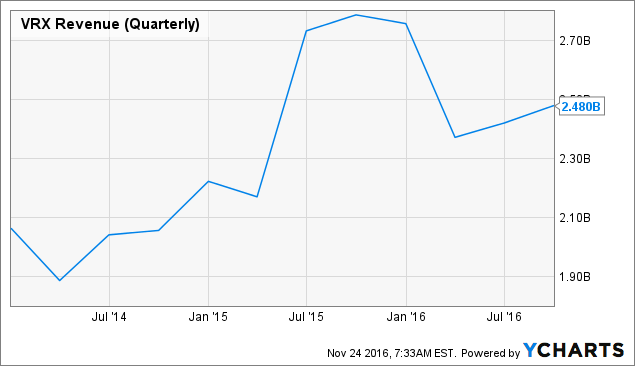 VRX Revenue (Quarterly) data by YCharts
It has only been a few quarters after all hell broke loose on this company and top execs and management got replaced. The CFO has only been there for one earnings call.
I've lowered my cost base as the stock traded down in the pasts few weeks and expect asset dispositions and positive EBITDA will substantially reduce the company's debt over the next four quarters. When we have a new management team in place, the company is renamed, the cigar butt/price gouging businesses falls off, debt has been paid down substantially and some time has passed, investors will look at this company and see something completely different.
By that time, I'll look back and think how nice I bought some Bausch & Lomb someone sold me sub $20 because it didn't meet expectations in the quarter a new CFO aired out the financials.
Disclosure: I am/we are long VRX.
I wrote this article myself, and it expresses my own opinions. I am not receiving compensation for it (other than from Seeking Alpha). I have no business relationship with any company whose stock is mentioned in this article.