In recent times the stock market has not been kind to Real Estate Investment Trusts ("REITs"). This chart shows the worst of the sell-off in early to mid-November.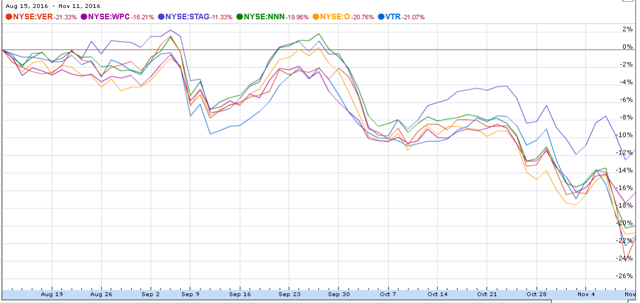 Click to enlarge Source: Google Finance
Despite selecting a diverse set of REITs, from healthcare to retail to industrial to hotel, consisting of Realty Income Corp. (NYSE:O), National Retail Properties, Inc. (NYSE:NNN), W.P. Carey Inc. (NYSE:WPC), VEREIT Inc. (NYSE:VER), STAG Industrial (NYSE:STAG), and Ventas Inc. (NYSE:VTR), all are down 12% to 24% in the last three months. Yields on the 10-year treasury are up a little, but that doesn't explain much of the move. Presumably due to regulatory risk and uncertainty associated with the new regime, healthcare REITs, despite posting among the strongest growth rates, were hit the hardest.
To illustrate the overreaction to interest rate fears, I recently published an article demonstrating, and in my opinion, comprehensively, there is little historical correlation between rising rates and poor REIT performance once adjusted for the returns of the broader equity markets.
Let's focus on Ventas. BMO downgraded VTR due to Kindred Healthcare's (NYSE:KND) decision to leave the skilled nursing business. It's true that VTR owns 36 properties associated with Kindred, but let's put that into context.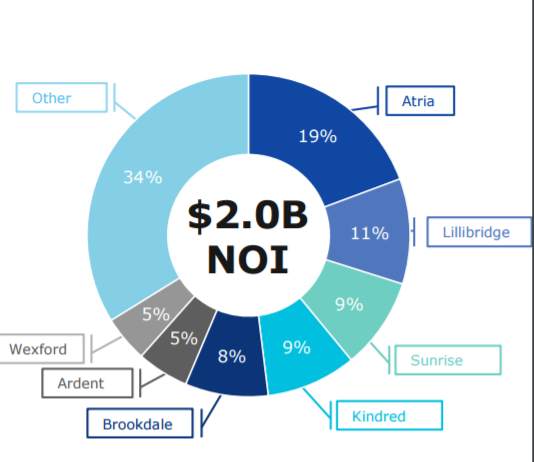 Source: Ventas
Kindred is 9% of the firm's $2.0 billion of annual net operating income ("NOI") as of the firm's September presentation. While it may take some time to replace Kindred or sell off the properties to another company, Ventas has ample time to adjust and should not take a significant hit given the single-digit reliance in terms of NOI. It's bad for VTR's business and there is no getting around that - but not 20% erasure of its market capitalization bad. Its financial performance right up through Q3 has been strong.

Click to enlarge
Source: SEC.gov Ventas 10-Q
Good investors must remain skeptical. Perhaps Ventas failed to translate these higher revenues into greater Funds From Operations ("FFO") and that's why the seemingly good results are weaker than they appear.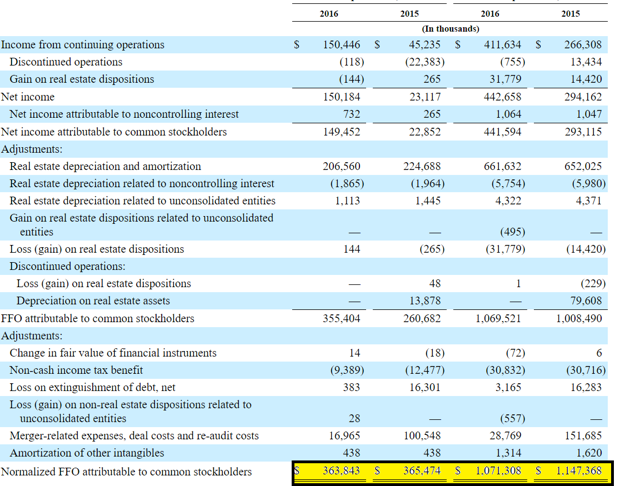 Click to enlarge
Source: SEC.gov
While FFO attributable to common stockholders looks strong on a quarter-over-quarter basis, we see weakness in the year-to-date figures highlighted in yellow. This is misleading, however, as VTR spun-off Care Capital Properties (NYSE:CCP), and despite being net of other acquisitions which did bolster results, this resulted in a hit to FFO. Adjusting for CCP shares received, VTR had good results. In terms of valuation and price action, VTR traded over $76 per share on August 1st of this year. Now we can purchase the stock below $60. This is despite the largest firms in the space VTR, Welltower Inc. (NYSE:HCN), and HCP Inc. (NYSE:HCP) beating guidance in Q3. They did not post poor results or even come in flat - they beat expectations. These three firms are larger than the rest of the sector combined, which suggests the overall health of the sector, provided management of a given company is competent, is likely strong. Omega Healthcare Investors (NYSE:OHI), a Seeking Alpha favorite and long standing position I recently added to, ranks number four in market capitalization and met expectations along with Medical Properties Trust (NYSE:MPW) which is not far behind at number six with a market cap of $6.5 billion. A few firms such as Physicians Realty Trust (NYSE:DOC) did not perform as well but we are focusing on the value in REITs that did have strong Q3 earnings yet sold off hard. For those interested in DOC, keep in mind its extremely high growth rate makes the firm susceptible to earnings misses.
As I said in my article on CCP, for VTR, this recent price action and earnings translate into the previously high-end of fair value valuation of 15x+ FFO to a much more reasonable and historically more favorable 13-14x FFO. For a top tier and still growing firm like Ventas, this entry historically equates to a strong long-term total return for patient investors. True value investors want to remain patient for it to break $55. There is also the important risk associated with hospitals that has punished Medical Properties Trust and other healthcare REITs with material exposure to that asset type.
Ventas has just under a 15% allocation to hospitals. As discussed in my article on MPW, EBITDAR coverage is strongest among general acute hospitals at 4.0x on average versus 2-3.0x for other types. That's about where the good news ends, however, as general acute care hospitals are generally the highest cost service providers. This means they are most susceptible to a retraction in government reimbursements or a continued push toward lower cost providers. Skilled nursing facilities are also subject to regulatory risk due to their high reliance on government payments. Not all healthcare REITs with heavy weightings to skilled nursing are overly exposed to this, but many of those most followed on Seeking Alpha are, such as OHI.
Speaking of reimbursement risk, Ventas spun off Care Capital Properties much in part due to this. VTR is now more in line with its management's ideal allocations and can better justify its consistently higher-than-sector average multiple.
While this article served to reinforce the buying opportunity in Ventas below $60 a share based on recent earnings, Welltower and HCP are also worth considering if you believe earnings will continue to grow, even at a low to mid-single digit pace. I think all will average 4-6% per annum in the next 5-10 years based on what I know today.
Here are the potential gains associated with various entries and exits for Ventas. For all three, a six and 12-month timeline adds approximately 3% and 6%, respectively, to the gains.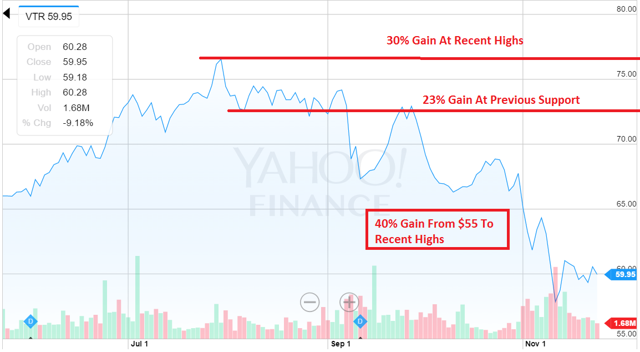 Click to enlargeWelltower: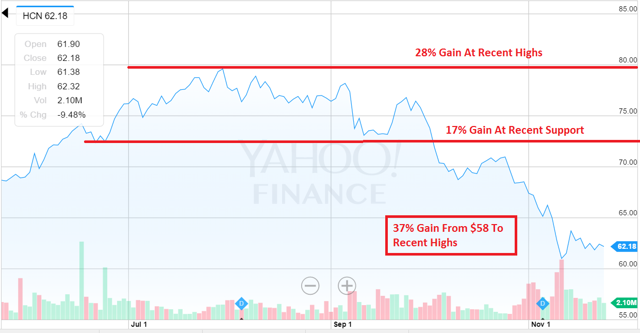 Click to enlarge
HCP: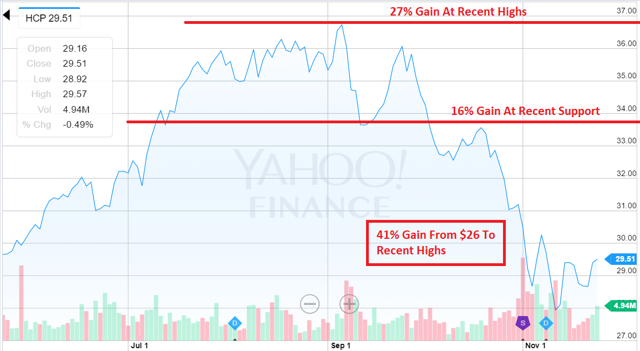 Click to enlarge
To reiterate, these stocks operate in a complex environment and own complex assets - there is risk. They still have a very strong demographic trend behind them and the management teams of the top tier healthcare REITs (and REITs in general) have highly coveted track records in terms of earnings and distribution growth. For more conservative or cautious investors, wait for the share values closer to what I used in the "boxed" projections within the charts. On a technical basis, these are likely associated with where the stocks will trade momentarily in the duress of another sharp sell-off. Since I already have positions in VTR and HCP from many years ago, that is I will be adding.
Disclosure: I am/we are long GST-A, VTR, HCP, HTA, OHI, DOC, MAIN, BXMT, BNS, LGCYO, CF, EPD, MMP, CF, EVEP, TD, RY, HMC, CCP, MRCC, LGCY.
I wrote this article myself, and it expresses my own opinions. I am not receiving compensation for it (other than from Seeking Alpha). I have no business relationship with any company whose stock is mentioned in this article.
Additional disclosure: WER has positions in EVEP debt only and LGCY debt and preferred only. WER does not own the common units in either. WER is short Deere & Company (DE). The author may enter into long or short positions in any part of the capital structure of any of the firms mentioned in this article. Readers should always conduct their own independent due diligence and not rely upon information or opinions provided by the author.