Sunoco LP (SUN) is a growth oriented company in the downstream energy sector. It is one of the largest wholesale fuel distribution and retail marketing platforms in the U.S. The company is based in Dallas, Texas, and operates across 30 states throughout the southeast, mid-Atlantic and northeast regions of the United States. The distribution network includes more than 6,800 Sunoco-branded stations, convenience stores, independent dealers, commercial customers and distributors -- including approximately 1,340 C-stores and retail fuel sites operated by SUN.
It is structured as a master limited partnership (MLP), and usually pays each year the vast majority of its profits back to shareholders in the form of distribution. Sunoco LP is part of the Energy Transfer Equity (NYSE:ETE) family of companies, which also include Energy Transfer Partners (NYSE:ETP) and Sunoco Logistics Partners (NYSE:SXL).

Source: company's website
Highlights of Sunoco
SUN operates in an industry which is considered non-cyclical and defensive, as demand for gasoline is relatively inelastic, even during economic downturns.
Sunoco owns and represents some of the most iconic brands in the motor fuels industry.
The company is set to benefit from lower oil prices which drive the demand for gasoline higher. The company's fuel margins are not sensitive to fluctuations in the price of oil. Its margins have proven to be resilient throughout the period of large fluctuations in the price of oil.
About 39% of its income is derived from retail merchandise & convenience store sales, an activity not related to fuel or oil price. This segment has been seeing strong growth.
Sunoco has diversity in its sales channel and geographic locations, which helps stabilize its cash flows in retail gasoline sales.
It has some long-term fee-based contracts and significant real estate holdings, providing a wide mix of revenue sources and resulting in an attractive business risk profile.
SUN was recently named as "top defensive pick" for low gasoline prices, by J.P. Morgan.
A Diversified and Stable Cash Flow Stream
The Company's business model is fairly simple and generates fairly stable cash flows. The revenues are clearly diversified with 56% related to fuel sales and 39% related to merchandise & convenience stores sales, and 5% in rental income.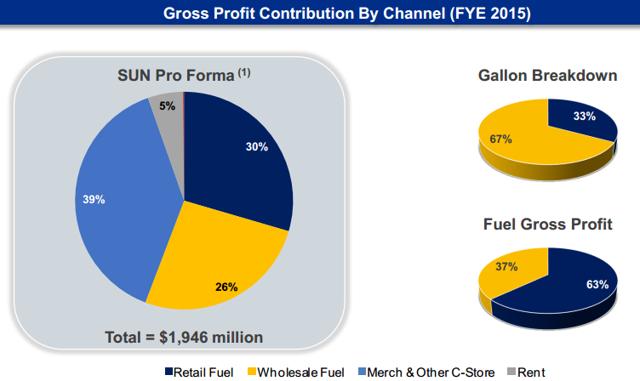 Click to enlarge
Source: company's website
Sunoco's Recent Activities
During the past two years, SUN has grown significantly via drop downs and acquisitions as well as organic growth through new convenience stores (C-stores) and fueling stations. SUN is scheduled to bring on 31 new fueling stations/C-stores by the end of the fourth quarter 2016. The growth has been mainly driven by increase in its borrowings.
Recent Sell-off in the shares of SUN
The shares of SUN have been under severe pressure lately which I attribute to several factors:
Investors' concerns about the company's debt level.
Speculation about a possible dividend reduction.
Year-end tax loss selling.
Stop losses by current investors.
High short-interest by speculators.
It seems that the most recent selloff was in sympathy with its two sister companies SXL and ETP, following their merger announcement.
The main critics of Sunoco LP point to a higher than average leverage ratio which stood at 5.97 times EBITDA at the end of the 3rd quarter in 2016. This has caused concerns that SUN may exceed its debt covenant limits and be forced to reduce distributions. The latest article to raise such concerns was by fellow author Dirk Leach whom I respect, but disagree with on SUN's near term financial prospects. His article was entitled Sunoco LP's Growing Pains. Apparently Dirk is bullish on the long-term prospects of the company as he volunteered to review an early draft of this article which helped to strengthen the case for SUN.
What is Management doing to reduce its debt levels?
First, I would like to say that the management of SUN has been very transparent disclosing its leverage level, and has been giving quarterly guidance on its debt and the steps they are taking to reduce it. It is very re-assuring to know that management has been continuously on top of this issue. During its Q3 earnings call, management announced a radical step to reduce this leverage, which seems to have gone unnoticed by some. SUN has launched an ATM program (or new share issuance program) at the beginning of the 4th quarter with a size of $400 million. The program will run through 2017 and the proceeds received will go towards paying down its credit facilities.
I will run the numbers using an average share issuance price at $21.8/share, which is the most recent closing price. This will result in 18.3 million new shares ($400 MM divided by $21.8). In this case, SUN will issue new shares at market equivalent to 19.1% of its current market cap of $2,080 million (current market cap = 95.4 million shares as at September 30, 2016 X price of $21.80). SUN should achieve $18.4 million/year in costs savings from paying down $400 million in loans, calculated based on its weighted average cost of debt of 4.6%.
Just to be clear, I view an average of $21.8/share to be conservative, and the average is likely to be much higher as the company had already initiated the ATM program when the shares were at $29 according to their most recent conference call. I would expect the average issuance price to be in the range of $25 to $30.
Projected EBITDA
To accurately calculate the new debt ratio, we have to adjust EBITDA to the following:
The Q3 2016 EBITDA came at $188 million or $752 million annualized.
SUN recently acquired a new energy services company Emerge Energy Services LP (NYSE:EMES) which increased Q3 EBITDA by $2.1 million. This transaction closed on August 31, so the 3rd quarter financial results only reflect one month from this acquisition. Therefore yearly EBITDA should increase by another 11 months or by $23.1 million less related interest expense of about $1 million (calculated at the average rate of 4.6%). The net impact of EMES should come to an additional $22.1 million.
This will put the projected EBITDA at $774 million per year.
New Debt-Ratio following "capital increase"
Following the new share issuance will reduce its debt ratio by 0.6 times EBITDA by the end of 2017 as we can see from the table below.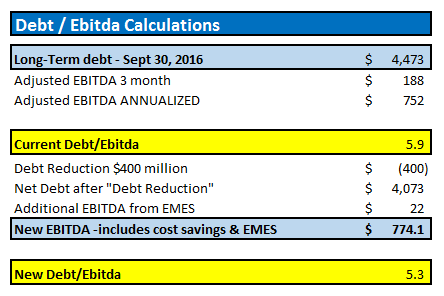 This will result in a new Debt/Ebitda ratio at 5.3 times which is well below the current ratio of 5.9 times and below its debt covenant limit of 5.5 times. It is worth noting that SUN is not in any violation of its current covenants as it has been working closely with its bankers and has gotten approval to temporarily raise its debt limits following the fast growth it has seen in the past two years.
We should note that using ATM for debt reduction is a more expensive capital to pay down cheaper debt, however it is one of the most effective ways to deal with the issue.
Why the 15.2% Distributions is Safe
Following the new share issuance, SUN will experience some dilution in earnings. However, it is worth noting that SUN has a lot of room to maneuver to maintain its distributions which include:
Further cost savings that can be achieved from its recent drop-downs.
New convenience stores opened in Q3 2016 whereby the profits did not fully materialize, and more to open in Q4.
SUN has a high distribution coverage ratio which stood at 1.25 times DCF based on its Q3 2016 results, and 1.1 times DCF for the first 9 months of 2016.
The Dividend will be covered at 105% following the "New Share Issuance"
Let us look as the details of the DCF coverage ratio after the new share issuance. Even if we do not factor in any additional cost savings or any further growth, the current distribution of 15.2% looks safe and covered at 105%.
Current 9-month annualized DCF stands at $437.1 million.
We should add $18.4 million in cost savings from paying down $400 million in loans, and $22 million from EMES. This will put the new DCF at $477.5 million.
The number of shares will increase to 113.7 million from 95.4 million (increase in shares calculated based on $400 million divided by a very conservative price of $21.8/share).
The new total yearly distribution will run at $461.3 million which includes IDR distributions of $80 million per year.
Based on the above, the New Distribution coverage will come to 105% using conservative assumptions. The table below lays out all the details of the calculations of the new distribution coverage.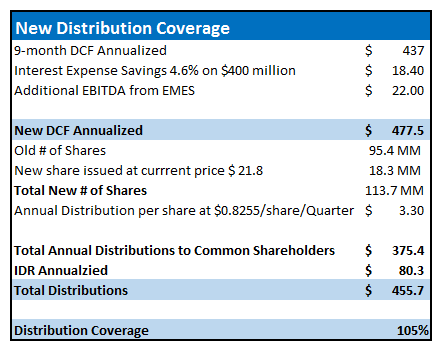 Again, SUN is still in its growth stage and is likely to see its earnings grow and cost savings in 2017 which are not factored into the above calculations, and can result in an even higher coverage ratio. Therefore, it is my view that the current distributions are safe. Those who are betting on a distribution cut are likely to be disappointed.
Most Attractive Valuations
Following the recent selloff, SUN shares provide investors a unique opportunity to buy at the current low prices.
1- Price: SUN is trading at its lowest price since its IPO in November 2012. It is currently trading 45% lower from its 2016 highs of $39.5/share, and 63% lower than its all-time highs of $59/share seen in the year 2014.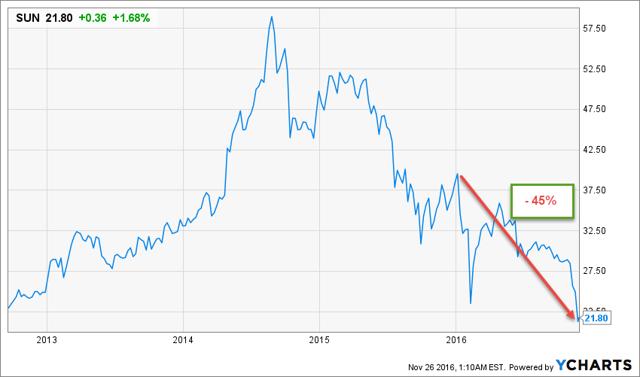 Click to enlarge
2- Forward PE Ratio: With a forward PE ratio of 12.2 times, SUN is trading at its lowest valuation since January 1st, 2015: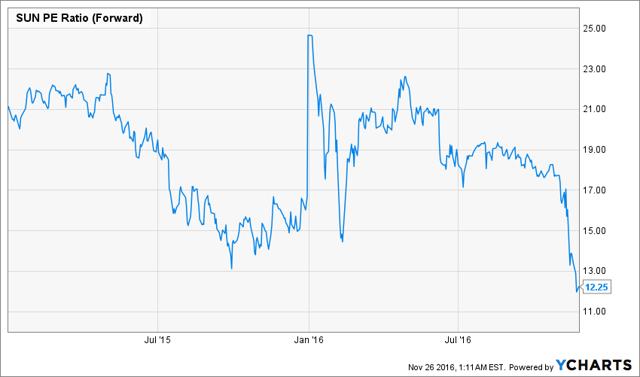 Click to enlarge
Price-to-DCF Calculations
Again, to be extra conservative in calculating the Price/DCF ratio of SUN, I decided to back out the $20 million that SUN pays in form of IDRs to its parent companies. The current Price/DCF ratio of the company comes to 5.8 times (based on 2016 annualized DCF). After the new share issuance, the new Price/DCF ratio will come to just 6.2 times as shown in the table below: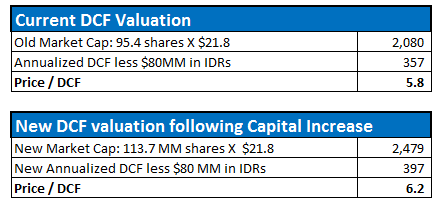 Now at 6.2 times Price-to-DCF ratio (based on the most conservative valuations) is dirt-cheap for SUN. Such low valuations could be sometimes justified for highly cyclical sectors such as shipping, but not for a company that operates in a non-cyclical and defensive sector with a certain stability in its earnings and cash flows.
At 6.2 times Price-to-DCF, SUN will generate a 16.1% cash returns per year which will fully support the 15.2% distributions.
At 6.2 times Price-to-DCF, SUN will still be trading at a very attractive EV/EBITDA ratio of only 8.5 times, which is lower than the 10-times average ratio in the energy MLP space. The EV/EBITDA is a very important valuation metric because it factors in the current debt levels of a company.

Assuming same earnings and no future growth, at 15.2% distribution rate, SUN will return enough cash to return to new shareholders to cover their investment in just 6.5 years. That is really cheap for any investment.
Twelve-Month Price Target: $35.0/share
Most of large Energy MLPs such as Enterprise Products Partners (NYSE:EPD), Magellan Midstream Partners (NYSE:MMP), Buckeye Partners (NYSE:BPL) and Spectra Energy (NYSE:SE) are currently trading well above 10-times their Price/DCF ratio. Over the long-term, I would expect SUN to trade at similar valuations.
My 12-month target valuation for SUN is at 10-times Price/DCF ratio, which would put the share price at $35.0/share, or roughly 60% higher than its recent closing price of $21.8/share.
It is worth to note that the consensus price target of 18 Banks and Analysts covering the company, based on the most recent ratings from the Wall Street Journal is at $30.6/share, or roughly 40% higher from its recent closing price.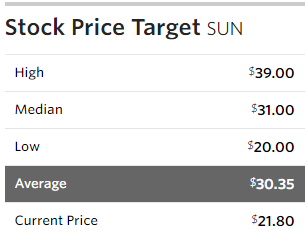 Source: WSJ
At $35.0 SUN would be attractive as the shares would still yield a hefty 9.5% distribution.
Short-Term Catalysts for Price Recovery
As I stated above, the price of SUN has been declining for several reasons including year-end tax loss selling and a massive short-interest. Typically, year-end tax loss selling is over sometimes in early December as investors who sold at a loss may wish to repurchase the shares in early January after the 30-day wash sale rule no longer applies. At the same time, short interest currently stands at 14.8% according to the latest data from shortsqueeze.com; shorts will need 7.2 days of "daily average volume" to cover their shares. Those two factors can converge anytime and should result in a significant price recovery for the shares. I have been following Sunoco LP for a long time now, and exactly the same scenario happened in February 2016 when the stock popped from $23.5 to $30.9 (or 22%) in a matter of a few days as we can see in the Chart below.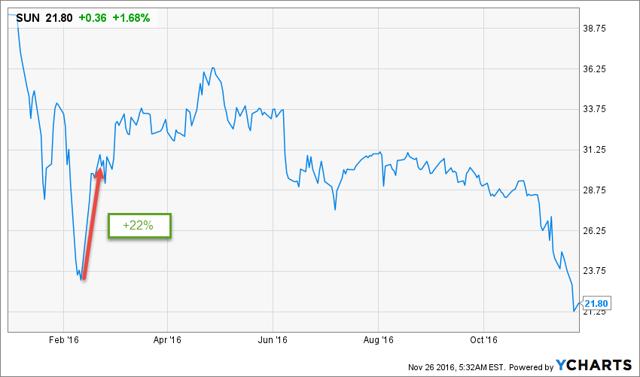 Click to enlarge
This can happen again with SUN.
Risks to Consider
There are two main risk factors to consider when investing in SUN.
1- Further Drop-Downs: In case the parent company ETE or another company in the Group decides to initiate further drop-downs and SUN accepts them, then this can further inflate the Debt levels and put SUN at risk of being in violation of its Debt covenants. I see that this is an unlikely scenario because should SUN be in any violation in its credit facilities, the costs of its future borrowings could skyrocket and put its profitability under pressure. This is definitely not in the best interest of parent company ETE which is a partner in SUN and derives significant income from it.
2- Fluctuating Profitability: SUN profitability can vary from quarter to quarter based on profit margins that are achieved on gasoline sales. We should note however that the Company's margins tend to be more or less stable if we look at them on an annual basis. During Q3 2016, EBITDA fell significantly by 26% due to lower margins compared to Q3 2015. One can argue that the risk here is that EBITDA may continue to trend lower for a few more quarters, and force the company to reduce its distribution.
To address this risk, we have to further dig into SUN's results. Despite a 25% decline in Adjusted EBITDA in Q3, "Distributable Cash Flow" increased by 10% from 2015. If we look at previous quarters, DCF has been trending much higher than EBITDA. The following table compares EBITDA and DCF over the past two quarters:

As we can see above, Q2 2016 "Adjusted EBITDA" increased 18% while DCF increased by 152%. How can that be?
Sunoco LP calculates DCF as follows= Adjusted EBITDA - cash interest expense - current income tax expense - maintenance capital expenditures - Pre-acquisition earnings (or cost of new acquisitions).
Since SUN has significantly reduced its dropdowns and acquisitions in 2016, this is resulting in a much higher DCF despite fluctuating EBITDA.
At the current levels, the company does not need to grow income and payouts; all is needed is to keep the 15.2% yield secure which is what SUN management is apparently doing. Therefore fluctuating earnings or a few more weak quarters are unlikely to affect either DCF or future distributions.
Bottom Line
SUN is another example of a stock that has sold-off for the wrong reasons and currently trading at very cheap valuations. For long-term investors, SUN offers today a rare entry point to lock an exceptionally generous yield which I believe is safe and sustainable. Investors who buy today are likely to achieve significant capital gains over the next 12 months.
If you enjoyed this article and wish to receive updates on my latest research, click "Follow" next to my name at the top of this article.
About "High Dividend Opportunities"
High Dividend Opportunities, is a leading dividend service ranked #1 in dividends on Seeking Alpha and is dedicated to high-yield securities trading at bargain valuations. It includes a managed portfolio targeting 7-9% overall yield - and a selection of the best high yield Master Limited Partnerships, BDCs, U.S. Property REITs, Preferred Shares, and closed-end funds (CEFs). I invite readers for a two-week free trial currently offered by Seeking Alpha to have a closer look at our investment strategy and our Top Buy list. For more info, please click here.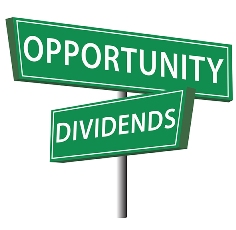 Note: All tables above were extracted/calculated from SUN presentations and website, except when stated otherwise.
Disclaimer: "High Dividend Opportunities" service is impersonal and does not provide individualized advice or recommendations for any specific subscriber or portfolio, as I have no knowledge of the investor's individual circumstances. Subscribers/readers should not make any investment decision without conducting their own research and due diligence, and consulting their financial advisor about their specific situation.
Disclosure: I am/we are long SUN.
I wrote this article myself, and it expresses my own opinions. I am not receiving compensation for it (other than from Seeking Alpha). I have no business relationship with any company whose stock is mentioned in this article.