The short version of the story at Datawatch (NASDAQ:DWCH) is that investors bid up shares earlier this decade, believing the company could compete with high-fliers like Tableau Software (NYSE:DATA) and Qlik Technologies (recently taken private) - and deserved to be valued as such: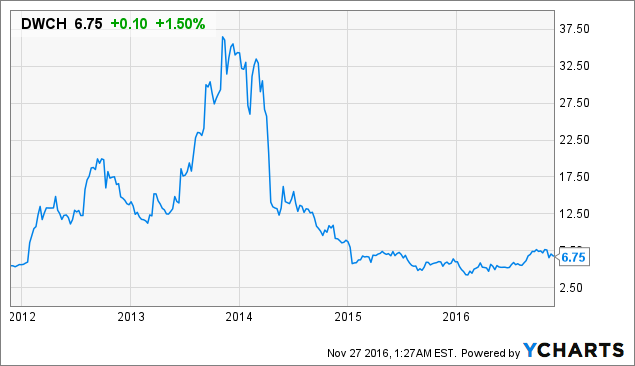 At its peak near $37 in late 2013, DWCH traded at almost 7x revenue (pro forma for its acquisition of Panopticon), a multiple that priced in a fair amount of growth. Obviously, the expectations at the time were far too optimistic:
| | |
| --- | --- |
| Fiscal Year | Revenue |
| 2012 | $26,006 |
| 2013 | $30,296 |
| 2014 | $35,087 |
| 2015 | $30,221 |
| 2016 | $30,462 |
Revenue in thousands; DWCH fiscal years end September 30
To be fair, investors may have been a bit overaggressive toward the business intelligence space. DATA closed Friday at $47.02; it closed its first day of trading in May 2013 at $47. Qlik shares tanked before Elliott Management took a stake and M&A rumors followed.
But Datawatch itself bears some responsibility for the performance of its business and its shares. The more detailed story at DWCH includes a series of missteps by management that led to an activist campaign earlier this year. Even with Potrero Capital getting a board seat as a result of a settlement with the company, management remains relatively unchanged, and a pattern of repeatedly missing targets has continued into FY16.
There is a reasonably interesting story here looking forward: The data preparation space has seen a fair amount of funding and interest of late, as visualization appears at risk of becoming commoditized. Datawatch has rolled out partnerships with Dell (NYSE:DVMT) and IBM (NYSE:IBM) among others; a "land and expand" strategy, along with new leadership, aims to increase sales force productivity.
Cost cuts a year ago have rationalized opex somewhat; while Datawatch still is unprofitable even on a non-GAAP basis, the current structure does imply significant profit growth - and possibly margins - if Datawatch can hit its target of profitability by the end of FY17. And a solid balance sheet - $28 million in cash and no debt - gives Datawatch time to drive that growth.
But even with the new board member, I'm simply not seeing enough to trust the story here. FY16 revenue growth was minimal, even including the effect of deferred revenue from a shift to subscription revenue a year ago. The initiatives that are supposed to be driving growth all look behind schedule at best, and DWCH management still can't forecast the business.
While DWCH is cheaper than it was just a couple of years ago, it's hardly cheap, given negative EBIT and free cash flow and a 1.7x+ price/revenue multiple. To justify even that multiple, Datawatch needs to improve. And I'd like to see some concrete evidence of that improvement before committing capital to a stock that has disappointed repeatedly.
Promises, Promises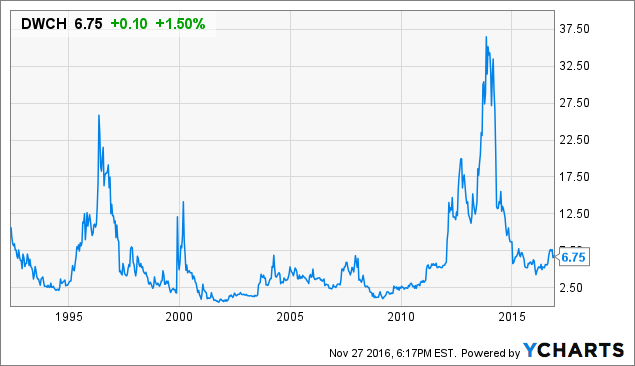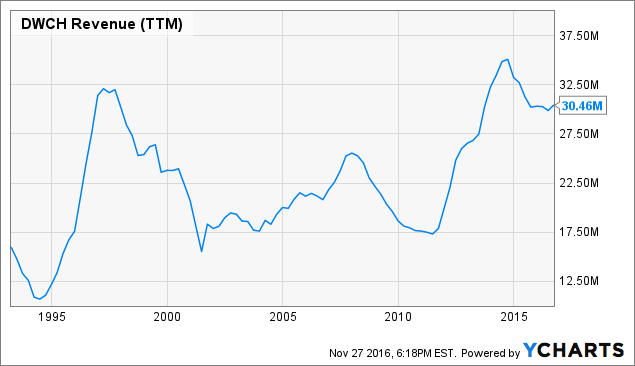 DWCH Revenue (TTM) data by YCharts
Datawatch feels a bit like a busted IPO - exposure to a hot, relatively new, space, an inability to gain share, followed by an activist effort - but it's actually been around for decades, and has been public since 1992. The legacy Monarch product has been used for data capture for years, from sources like mainframes and PDFs. Datawatch had a decent niche with Monarch; it wasn't entirely clear why the company needed to be public (or why it didn't sell itself), but the business was profitable and cash flow positive for most of the 2000s.
After the company decided to emphasize business analytics at the beginning of the decade, revenue spiked in FY12 and FY13, as did enthusiasm toward the space as a whole. The acquisition of Panopticon - per management on the post-acquisition call - was supposed to create a legitimate competitor to Tableau, one month after that company had gone public at a valuation of $2 billion. Datawatch wasn't alone in its optimism: shares would nearly double within months of the purchase, with an analyst on the call commending Datawatch for a "pretty decent deal...[at] something like six times 2012 [revenue]."
Simply put, it just hasn't worked. FY14 revenue increased just over 5% year-over-year pro forma for Panopticon. After management expressed a target of 30% annual growth, sales would decline almost 14% in FY15. Datawatch's plan to go head-to-head against Tableau, in particular, simply didn't work. And as Potrero pointed out in its activist presentation, CEO Michael Morrison admitted on the Q1 FY15 conference call that Datawatch had "over-rotated to visualization and sort of left our heritage, big, loyal, committed customer base behind."
Meanwhile, Datawatch had built an opex structure to support the growth it expected - sales and marketing spend more than doubled between FY12 and FY15, while R&D tripled - and losses thus widened substantially. Indeed, considering a current cash balance of $28 million, a well-timed secondary offering in February 2014 that raised $57.5 million (at $28) is the only thing keeping solvency concerns relatively limited at this point.
All told, the history here does raise some skepticism toward the bull case going forward. Certainly, it's not impossible that Datawatch could have a resurgence under its new model. The company did cut back on costs in FY15, and its break-even rate now sits under $10 million a quarter. There's still a large, committed customer base; there's still value in the legacy software. But the past disappointments and pivots and shifts in focus do matter, in particularly because even including the activist effort, there really hasn't been a lot of change in management or on the board of directors. So, in my mind, the past here has to be remembered when considering Datawatch's outlook for the future.
Going Forward
The new niche Datawatch is targeting is "data preparation" - with Monarch targeted the "self-serve" market, and Panopticon-branded products focusing on real-time analytics. This is somewhat of a hot sector - as Datawatch writes in its 10-K, in a statistic repeated elsewhere, 80% of user time is spent preparing data for the visualizations offered by Tableau, Qlik, and other BI providers. Essentially, Datawatch has moved from trying to compete with Tableau in particular (Datawatch has long been a partner of Qlik) to becoming complementary to the visualization space.
Its initial targets are in the financial services industry and in IoT (Internet of Things) data, both seemingly perfect use cases for the real-time capabilities offered (and areas where larger players like Qlik and Tableau are less interested, per DWCH management).
The question is whether Datawatch is simply late again, as it appears to have been in emphasizing visualization. Key rival Alteryx raised $145 million in barely a year between 2014 and 2015, and its billings were nearly triple that of Datawatch overall as of earlier this year, per figures provided in Potrero's presentation. Two other startups, Paxata and Trifacta, have raised capital in the last twelve months. Now-private Informatica and other firms are targeting the space as well.
To be sure, Datawatch does have some advantages. The legacy customer base provides an opportunity for easier sales with shorter cycles. That base provides a starting point for a "land and expand" sales strategy, whereby Datawatch starts off with small deals, then moves horizontally within the customer to drive additional seats. The company sees a major opportunity in that strategy: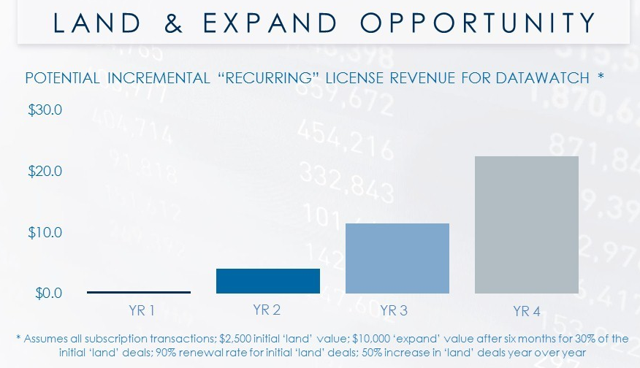 Click to enlarge
Source: Datawatch presentation
The company is an IBM reseller for Watson and Cognos analytics, Monarch is embedded in Dell's Statistica platform, and Datawatch has a partnership with Xerox (NYSE:XRX) to drive digitization in the retail supply chain. Datawatch has re-engaged with Tableau and remains part of the Qlik ecosytem as well, and has made a concerted effort with resellers such as Zones and CDW Corporation (NASDAQ:CDW). With what should be strong end market growth as more enterprises, in particular, adopt data preparation solutions, there's a clear path to increased demand, and Datawatch seems to be doing a solid job of getting its product in front of those interested customers through a variety of channels.
But it's not clear that's actually the case. In FY15, Datawatch set out a target for ~30% of license revenue to come from partner channels. The figure in Q3 FY15 was 12%; in Q4 FY15, it was 11%. By Q3 of this year, it was steady in the +/- 10% range, per CFO Jim Eliason on the Q3 conference call. The Xerox relationship has disappointed, per the Q1 call. Morrison said on the same call that "we would expect that during the course of this fiscal year, we could accumulate a seven-figure bookings number" from Dell.
Given that full-year license bookings of ~$16 million implies less than $2 million from the entire partner channel, that target almost certainly was missed. (Commentary about Dell has been almost non-existent the last two quarters as well.) Datawatch isn't exclusive with either Qlik or Tableau, nor with the major resellers.
There is a path here, but Datawatch looks a bit late to the party, which makes execution even more important than it might be otherwise. And there's simply no sign of improvement on that front. Morrison was targeting break-even by the end of FY17 as late as the Q2 call: Q4 non-GAAP operating loss was $866K, a -10% margin. Datawatch is talking up new sales leadership - after it had to replace the Chief Revenue Officer hired in 2014. The "land and expand" strategy is high-effort and low-dollar, while peers appear to be driving much larger installations and gaining share in the process.
It's too simple just to say that Datawatch has struggled in the past, and thus will struggle into the future. That type of backward-only analysis is a good way to miss opportunities in the market (or, conversely, overvalue companies facing significant changes). But it's very difficult to argue otherwise when the same issues - stagnant growth, missed targets, questionable execution, and a strategy that seems at least a year late - are plaguing the company.
As far as the activist effort goes, I don't see it as quite enough. (Disclosure: I've communicated via phone and email with Chuck Gillman, the director added to the board as part of the agreement with Potrero. To the best of my recollection, we've never discussed DWCH, and I did not consult him while preparing this article.) The key reason shares tanked after the Q4 report earlier this month - which admittedly was the strongest of the year - was because the company announced the conclusion of a strategic alternatives review begun in July (a process urged by Potrero).
The decision from the board was to stay independent, which may have disappointed some traders hoping for a sale. Given that sales and marketing spend was over two-thirds of revenue in FY16 (on a GAAP basis), a sale makes some sense: Datawatch could be far more accretive to a larger player who could cut costs than it can be profitable on its own, at least at the moment.
But Eliason did say on the Q4 call that there were "a number of players at the end of the day had an interest in the company." And that seems to suggest that the price was the sticking point for Datawatch. (For all the criticism of the board and management, they are more heavily invested than at many small-caps, and thus would be more incentivized to sell.) That's not much of a vote of confidence in the assets here, given that there's a case that $32-$35 million in FY17 revenue at 80%+ gross margin easily could mean a $10 million-plus EBIT contribution to an acquirer (which, at 10x, plus cash, values DWCH around $11).
Admittedly, there are a range of outcomes here, as even DWCH management has said on conference calls. Data preparation still is a relatively new space, there's a ton of VC money flooding in, and given some of the behemoths that play at least in the vicinity of the business - IBM, Microsoft (NASDAQ:MSFT), Oracle (NASDAQ:ORCL), etc. - there are different directions in which the industry can go. But I simply don't see a lot of evidence at the moment that Datawatch necessarily should be considered a potential winner; it already appears behind Alteryx and its current strategy is at least somewhat behind schedule already.
And Mr. Gillman aside - for whom I do have a good amount of respect, and who has had success with a number of micro- and small-cap activist plays - I don't see much reason to trust this management to navigate what almost certainly will be a turbulent space.
And it's not as if DWCH is cheap. On an enterprise basis, the company still trades at 1.7x FY16 revenue. Cash burn was about $7 million - the current trajectory doesn't imply solvency concerns until the end of the decade, but the trend does need to take a step up. But most of the improvement YOY in FY16 came from one-time cuts: the annual opex run-rate in the $35 million range isn't coming down again this year. Simply to support the current valuation from a profit standpoint, sales probably have to get to $38 million or so ($3 million EBIT + $2.6 million D&A) and that ignores stock-based comp that was over 9% of revenue in FY16.
That's about 20% revenue growth for a company whose sales were flat in FY16, and which increased barely 3% even accounting for a move to subscription revenue that led to an increase in deferred revenue. Q4 was much better, admittedly, with revenue up 17% Q/Q and 7% YOY, including a 30% sequential jump in license revenue. But Datawatch also had said on the Q3 call that several deals had slipped into Q4. I'm hardly ready to call the most recent quarter as being driven by some sort of inflection as opposed to being helped by lumpiness.
The broad point here is that something needs to change, and even with an activist, there simply hasn't been enough. That's not necessarily to say that it can't change. There is a path, and there is time, for DWCH to become a significant part of the data preparation space, an achievement that certainly would drive shares higher. But given history - and recent history - and the difficulty in that space, I'm not willing to bet on it, unless DWCH gets a lot cheaper.
Disclosure: I/we have no positions in any stocks mentioned, and no plans to initiate any positions within the next 72 hours.
I wrote this article myself, and it expresses my own opinions. I am not receiving compensation for it (other than from Seeking Alpha). I have no business relationship with any company whose stock is mentioned in this article.
Editor's Note: This article covers one or more stocks trading at less than $1 per share and/or with less than a $100 million market cap. Please be aware of the risks associated with these stocks.