TWC Enterprises (OTC:CLKXF) is a Canadian company that operates in two divisions: Clublink golf courses and the Yukon-White Pass Railway. The company reports in Canadian dollars, and all figures in this report are in Canadian dollars. The company is overlooked for a couple of reasons, which is always a good thing when one is searching for undervalued stocks. The first is its small size, with a $293M market capitalization at its current share price of $10.57 (on the Toronto Stock Exchange, where it trades as TWC). That naturally weeds out buyers, as does the frankly bizarre combination of businesses. The final factor that reduces its exposure to investors is the ownership structure. Because the company is majority owned by Rai Sahi, and have not required additional capital, the sell side is aware that there are likely to never be any share issuances, which reduces their interest in providing research dramatically.
That all suggests to me that there is at least the possibility for the company to be undervalued, but the only way to determine whether it is for sure is to do the work. So I'm going to dive right in and quantitatively and qualitatively evaluate the two different divisions. They will naturally need to be valued separately, as they are quite different businesses.
Clublink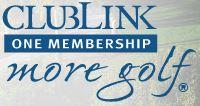 I will start with evaluating the golf course business, which operates under the name Clublink. The company sells passes that include golf at multiple golf courses. It operates in two primary areas - Central Canada, with operations in the provinces of Ontario and Quebec, and Florida. The company's operations are at materially greater scale in Canada, which shows in their results. The company has over 40 championship courses in Canada, compared to 11 operating in Florida.
I should say that I don't particularly like the business of running golf courses. There is a natural tendency for the market to construct more golf courses than demand would suggest is necessary, because constructing a golf course makes the land surrounding it more valuable for resort or residential development. This causes developers to build golf courses to enhance their short-term real estate profits, even when there isn't a strong market for those golf courses operationally.
Clublink has primarily purchased golf courses at relatively low prices, and optimized their operations by selling its multi-course pass style membership. That provides the company with the leverage of network effects, as they have a built-in customer base for new courses. It also makes it easier to sell memberships to a new course, when that membership also comes with reciprocal rights to a host of other courses.
The Canadian operations have reached scale, which means that they have the network effects that I mentioned above. The Florida operations have not, and that, combined with the primarily distressed nature of the courses they have purchased, has meant that the Florida operations are less profitable. The company has been focusing on cost cuts in Florida, closing its standalone administrative office as well as shuttering one course. It transferred the members to a nearby club it also owns, which should hopefully allow it to keep most of the revenue from the closed course, while keeping none of the expenses. Nine holes of the closed course were sold to an adjacent course.
The golf operations did $45.1M of NOI in the trailing twelve-month period, and the results are very seasonal as the Canadian course are closed during the winter, so the TTM is pretty representative of the 2016 results. I have not included depreciation in this analysis, but will include the three-year average of maintenance capital spending, which has run $6.3M per year.
I will also adjust the results for the fact that it is booking more revenue from the sale of new memberships than the value of memberships sold this year. The company sells a membership, then amortizes the revenue over its estimate of the membership life. Since membership sales have declined since the early 2000s, it is booking more revenue than it is selling memberships. This results in reported earnings being approximately $1.7M higher than my opinion of true economic earnings. Making these adjustments produces a segment owner earnings of $37.1M. Earnings have been approximately flat for the past few years, and the business is not one that is likely to have extremely attractive long-term operating economics. Nonetheless, a profitable, stable business should be worth 10X its earnings, so placing a valuation of $371M on the division does not seem aggressive.
It is worth noting that the company has land value on its books of $309M, the vast majority of which is associated with the golf course business. The golf courses also have a variety of improvements (including clubhouses, cart paths, grass, equipment, and a few Muskoka area hotels), which means the land value would be a very conservative downside estimate of their value, providing another data point for the operating income valuation not being excessive.
Excess Land
The company has recently embarked on a development program for its golf courses, which is extremely exciting news, as it has the potential to provide large capital gains while keeping much of the membership revenue by moving members to alternative courses.
The company closed a club in Aurora, Ontario, and transferred the land into a development joint venture. The joint venture has spent the last two years attempting to get permits for the development of the land into single family homes, and its Q3 results indicated it has reached a settlement with the town on development. This is fortuitous, because the Ontario board that rules on disputes between landowners and municipalities wasn't scheduled to hear the matter until March 2017, which would cause them to miss another construction season for getting the land serviced for homes. Aurora is in the Greater Toronto Area, which makes the 100 acres of development land extremely valuable. Its partner paid $3.75M for half the land, and that was prior to it being permitted. Thus, I think it's very conservative to suggest the remaining half of the land should be worth at least $4M.
The company also owns over 1,000 acres of land in residential areas in Montreal, the Greater Toronto Area, and Florida. Additionally, it has development property in Muskoka, a high end resort area in Ontario. These properties are not producing any income at present, and in fact, produce negative results due to carrying costs, but they provide a valuable long-term option to shareholders that isn't reflected in the company's financial results. Since the timing on these assets is uncertain, I'm not assigning them a hard value in my analysis, but am assigning their upside to my "margin of safety" pile.
Railway
The scenic railway is truly a one-of-a-kind asset and is a wonderful business. Operating under the name White Pass and Yukon Route, the railway has a long and proud history, as it was built in the late 1800s for the gold rush. It carried mining concentrates for decades after that and was eventually restarted as a tourist line carrying cruise ship passengers on sightseeing trips out of Skagway.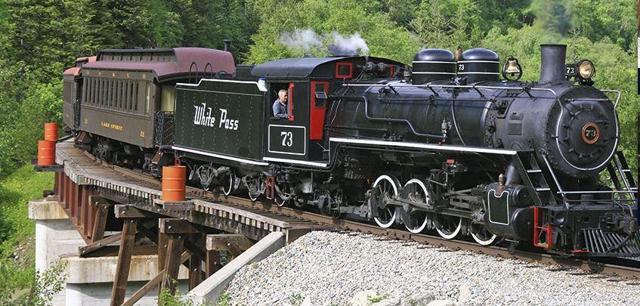 Click to enlarge
Source: wpyr.com
The excursion has helped cement Skagway's status as one of the top ports in Alaska, and approximately 80% of the passenger volume entering the state stops in the port. The company operates docks with capacity to berth four ships in the town, which allows it to provide for ever larger ships as necessary, which improves its revenues as they bring more passengers.
The company is also a marketing dynamo and provides an extremely unique experience. An Alaskan rail tour up the mountains into the Yukon (on the route the gold rush took!) is a unique experience, and one that cannot be replicated at any other port on a visitor's Alaskan cruise. That gives the company pricing power and a unique marketing position. You can see the pricing power in the company's margins. The rail division had 53% operating margins in the trailing twelve months, which means it turned more than half of its revenues into profit after covering all its expenses. That is the hallmark of a business that has pricing power. I think it's also relevant to note that for the first time it captured a full 50% of the passengers who arrived in Skagway. That means 1 out of every 2 people on the giant floating cities that docked in the town chose to take their rail tour, even at their current price point. That suggests to me that there could be room for pricing growth in the future.
Given the company's very large market share, the easiest way for it to grow revenue is for the overall size of the market to grow. That appears to be reasonably likely in at least the near term, as cruise ship schedules are announced well in advance. Excellent signs of future growth include this forecast from the Cruise Line International Association - Alaska. They foresee a record breaking year for 2017 in Alaska, although given their purpose (a lobbying group designed to pry marketing spend and lower taxes from Alaska), they spend quite a bit of time talking about the state not resting on its laurels and staying competitive. 2018 should also be a relatively good year, with the newly built Norwegian Bliss coming to Alaska, on an itinerary that includes Skagway. With a capacity nearly double the Jewel class ships Norwegian sails North at present, this will meaningfully add to the railway's addressable market. (I estimate a 4-5% bump just from this ship if it replaces a Jewel class ship, or a 8-10% bump if it is an additional sailing). Norwegian is making a long-term commitment to the market, as they are custom building the ship for Alaska and signed a 15 year lease for a new passenger terminal in Seattle for the ship's homeport.
So one can expect the business environment to be excellent for the company over the next few years, just as it has been for the last number of years. The company has also been successful at growing its business through gaining passenger share among those stopping at Skagway, increasing its tour sales (where the majority of its profits come from) 1.5% even though the number of passengers through the port was flat. This demonstrates the rail is getting more attractive to Alaskan cruisers, and bodes well for their ability to convert on the larger passenger numbers that are coming their way in the next few years.

Click to enlarge
The company has been consistently growing the earnings of this business as well, as you can see from the graph below. That is to be expected from a business with the strong moat that this one has. Given the irreplaceable nature of its assets (even if it were economically feasible to build a new tourist rail line through the Alaska mountains, I think it would be very difficult to get environmental approvals), higher demand results in higher earnings.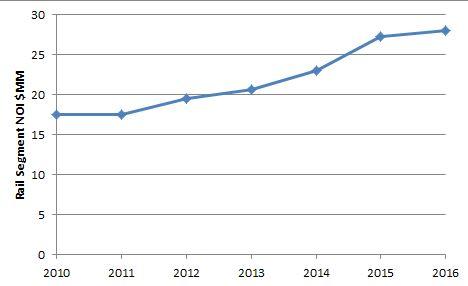 A business of this quality deserves to trade at an exceptional valuation, and certainly its private market valuation would be at a high multiple. The best comparable is Merlin Entertainments (OTCPK:MIINF), a British company that owns tourist attractions all over the world. While some of its attractions have comparable features of irreplaceability and the notoriety to drive earnings through price (such as the London Eye), some are more pedestrian, such as its chain of aquariums, which could be subject to competition. That being said, Merlin trades at 24X earnings. Allowing for the fact the rail operations are a less diversified income stream and to add conservatism, I think 20X is very fair.
In the trailing twelve months, the railway earned $27.7M (after accounting for the associated land lease expenses) in net operating income. The railway operations consistently have depreciation in excess of capital spending. I believe this is primarily due to the docks, which do not seem to require much maintenance capital. Therefore, I am deducting only my $3.1M estimate of maintenance capital (the three year average), gives owner earnings of $24.6M. That suggests $492M is a reasonable valuation.
Balance Sheet and Valuation
The company has $334.8M of outstanding debt less current liabilities, which will of course need to be deducted from the valuation. The debt is a bit of a potential catalyst over time, as some of it is higher rate amortizing mortgages, which are being paid off, allowing income expenses to decrease over time. The company also had corporate costs not allocated to any segment of $2.9M, which I'll capitalize at 20X, and deduct the resulting $58M from the valuation.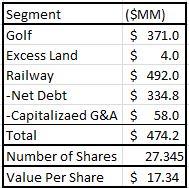 The price target of $17.34 is materially in excess of the $11.15 for which shares currently trade. That should provide for an upside move to the stock.
Potential Catalyst
The potential catalyst for the shares here would be success in one of their real estate development efforts. If the redevelopment mentioned above in Aurora takes place, it will improve the value of the land, as it's proposing 184 single family lots and a 144 unit condominium building, which should produce significantly more profit than the $4M I've estimated as its current value. Additionally, it will demonstrate to the market that the company is serious about adding value to its land, which should cause the stock market to re-rate its valuation.
Another example of the company putting profits over prestige is its earlier stage redevelopment proposal of the Glen Abbey golf course. For those unfamiliar, Glen Abbey is almost certainly the most prestigious course in Canada. It has hosted the Canadian Open 27 times, is home to the Canadian Golf Hall of Fame and Museum, as well as the headquarters of Golf Canada. It is also in the heart of Oakville in a dense region of the Greater Toronto Area. The company filed plans for over 3,000 dwellings, as well as of office and retail space, all of which would likely be highly sought after. While any cash from those sales is likely a decade out (which is why I haven't included it in my valuation), it does demonstrate its resolve to convert assets to their highest and best use, and success in the re-zoning process will provide future catalysts to the stock.
Management
The company is majority owned by Rai Sahi, a billionaire who also owns a stake in and runs the Morguard (OTC:MRCBF) group of companies. He has been reported to be the 73rd richest person in Canada. This has pros and cons. He has been known to get his elbows up in corporate plays before, including when he took control of Clublink. However, he also has done well for himself and his shareholders over time, and his big stake in the company should motivate him to make its success a priority.
Disclosure: I/we have no positions in any stocks mentioned, but may initiate a long position in CLKXF over the next 72 hours.
I wrote this article myself, and it expresses my own opinions. I am not receiving compensation for it (other than from Seeking Alpha). I have no business relationship with any company whose stock is mentioned in this article.