Summary
Clearside Biomedical, Inc. (NASDAQ:CLSD) has a lot of potential. Someday in a distant future, the company could see 100s of millions or even billions of dollars in revenue, but if you own the stock, you already know that story. Current market cap valuation is approaching $500 million, and the stock is up over 3x the June IPO price of $7 per share. Clearly, investors are bullish on CLSD. We chose to explore why they are so bullish and what might give cause for concern at these lofty levels.
Target Market
CLSD is a pharmaceutical company focused on back-of-the-eye diseases. Currently, it is seeking FDA approval for a novel, patented microneedle injector for several ophthalmologic drugs targeting a specific area of the eye called the suprachoroidal space (SCS). Current standard of care options for treating eye diseases include eye drops, systemic drugs (often steroids), periocular (around the eye) injections, intravitreal (center of the eye) injections and sustained-release intravitreal implants.
Treatment for several eye diseases has dramatically improved in the past decade, mainly from intravitreal injection of anti-vascular endothelial growth factor (anti-VEGF) drugs, including Avastin (bevacizumab), Lucentis (ranibizumab) and Eylea (aflibercept), but several drawbacks remain. Intravitreal (both injections and implants) and periocular drug injection tends to have high incidence of complications, including intraocular pressure (IOP), cataracts, endophthalmitis, retinal detachment and others. These risks are particularly high for steroid injections. Endophthalmitis, though rare, is a serious concern for ophthalmologists who perform intravitreal injections, due to the potential for severe loss of vision. Systemic steroids, while effective, are not recommended for long-term treatment of eye disease due to their immunosuppressive effects. Lastly, eye drops, while the safest option, are not useful in treating posterior (back-of-the-eye) diseases. CLSD hopes to address many of these unintended side effects and efficacy concerns with its microinjector.
Before explaining how CLSD looks to improve upon current treatments, it's important to understand the structure of the eye.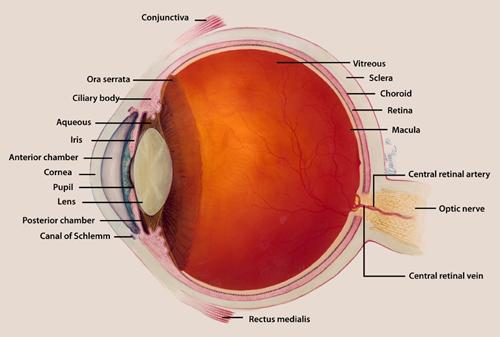 (Source: National Eye Institute (NEI))
As you can see in the diagram above, the eye has several layers. The retina is one of the most important components of the eye, because this is the layer that receives images, which are then translated through electrical impulses to the brain via the optic nerve. There is a specific area of the retina toward the back of the eye called the macula. The macula is the most important part of the retina, because this is the area of the eye that is responsible for our central vision. When you are reading, driving, watching TV, etc., your macula is what allows you to see clearly. The macula's posterior location has made treating diseases that affect it difficult to treat. Some of these eye diseases include diabetic macular edema (DME), retinal vein occlusion (RVO), wet age-related macular degeneration (wetAMD) and Uveitis.
Macular edema is a fluid build-up, or swelling of the macula. Left untreated, the swelling of the macula often leads to vision loss. All of the diseases mentioned above can lead to macular edema and the associated vision loss. CLSD's microinjector is focused on treating eye disease related to the inflammation and swelling of macular edema. The other treatments we mentioned above are also useful in treating these diseases, but as we mentioned, have several drawbacks.
CLSD looks to improve upon these treatments by injecting drug into the suprachoroidal space, an area of the eye not currently being utilized by ophthalmologists for drug injection. The suprachoroidal space is a "virtual" space between the sclera and the choroid. It is considered a virtual space because, under normal conditions, the sclera and choroid rest directly against one another. However, when a fluid (drug) is injected between the sclera and choroid, the space opens up, as can be seen in the image below.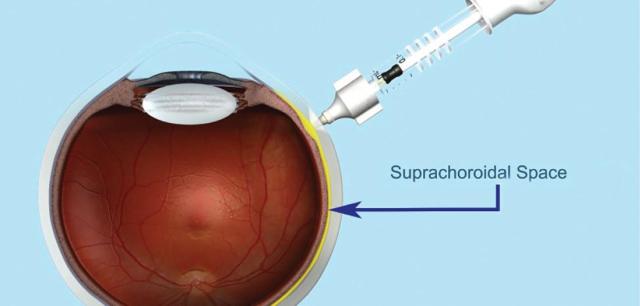 Click to enlarge
(Source: Retina Today)
In theory, there are several advantages to this approach of drug delivery. Unlike intravitreal injections directly into the vitreous, or middle of the eye, CLSD's microinjector only penetrates the sclera. The result is less opportunity for collateral damage to the structure of the eye. Additionally, an SCS injection allows the drug to spread around the choroid, improving access to the area where the drug is needed toward the back of the eye. Since the drug is better able to target the posterior portion of the eye, less drug is required. CLSD believes that equivalent therapeutic targets can be achieved with as little as 1/10th the amount used for intravitreal injections.
This could reduce the typical side effects associated with steroid use, specifically IOP and cataracts. To date, clinical trials of CLSD's microinjector have seen no meaningful increase in IOP or cataract formation. Lastly, because the drug is targeted to the choroid and retina, it remains in the posterior section of the eye, and very little makes its way to the intermediate (vitreous, ciliary body) or anterior (front, iris) portions of the eye. In comparison, intravitreal and periocular injections spread throughout the eye, and as a result, a lower amount of drug is able to reach the posterior section.
CLSD is seeking approval for its microinjector and a proprietary preservative-free suspension formulation of the corticosteroid triamcinolone acetonide (TA) that the company calls Zuprata to treat macular edema associated non-infectious uveitis, macular edema associated RVO and DME. It is also seeking approval to treat wetAMD with axitinib, an anti-VEGF and platelet derived growth factor (PDGF) drug.
Treatment for each of these indications requires separate investigational new drug (IND) applications and clinical trials. This pipeline will take several years to develop, with the first approval expected in the 2nd half of 2017 for macular edema associated non-infectious uveitis (CLS-1001). Analysts anticipate the company's first revenue beginning in late 2018.
Current CLSD Pipeline Status
Name
Drug
Indication
Stage
When
CLS-1004
Zuprata (corticosteroid)
Diabetic Macular Edema
Phase 1/2 Enrollment
Began 11/15
CLS-1001
Zuprata (corticosteroid)
Macular Edema associated with Non-Infectious Uveitis
Complete Phase 3 Enrollment
YE16
CLS-1002
axitinib (anti-VEGF, PDGF)
Wet Age-Related Macular Edema
File IND
YE16
CLS-1003
Zuprata (corticosteroid)
Macular Edema associated with Retinal Vein Occlusion
Initiate Phase 3
1H17
CLS-1001
Zuprata (corticosteroid)
Macular Edema associated with Non-Infectious Uveitis
Phase 3 results
2H17
Source: Clearside Biomedical and Cliffside Research
Currently, most analysts are basing valuation for CLSD on its first two late-stage indications, CLS-1001 and CLS-1003. Upon approval, CLS-1001 should be the first to market in late 2018, and CLS-1003 will follow in late 2019 or 2020. Some have also begun baking in revenue from CLS-1004 for DME into their model beginning in 2021 or later. Analysts aren't expecting the company to reach profitability until sometime between 2020 and 2022, depending on the model. One model has CLSD profitable in 2020 on sales just over $50 million, another model has the company profitable in 2022 on sales over $185 million. There appears to be little consensus, implying that they really don't know what to expect. These estimates, of course, assume the company gets FDA approval at least for the first two indications.
We feel there is higher than average probability of FDA approval for CLSD's microinjector, specifically for the first two indications (CLS-1001 and CLS-1003) in uveitis and concomitantly with Eylea for RVO. Triamcinolone acetonide is well established as a treatment for the eye diseases CLSD is targeting, with treatment going back decades. There also is a need for a more targeted approach due to the side effects we described. The microinjector addresses these issues, and intraocular injections are already approved for several drugs, including TA. Kenalog (off-label), Triesence and Trivaris are all forms of TA that are currently being used via injection to treat eye diseases. However, we also believe the current valuation fully reflects this. We believe the major risk to the stock is not based on FDA approval, but on operational and sales execution to achieve current estimates.
CLS-1001 Revenue Risk
For CLSD, it is extremely important for the company's first product, CLS-1001, to meet or beat current estimates out of the gate. If it does not, we believe the company and analysts will lose credibility, leading to downward estimate revisions and a significant decline in valuation. Based on our research, it is our opinion that CLS-1001 will fall woefully short of all current estimates.
Perhaps to attract investors, CLSD appears to have fallen victim to a trap that many small start-ups often do - it was too optimistic on expectations for its initial product. We believe this is a critical error that will come back to haunt investors. If CLSD is overly optimistic on its initial product, investors will conclude that the company is also overly optimistic on follow-on products, even if it is not.
A similar event typically unfolds when a company goes public and then misses its first quarter as a public company. Those companies rarely regain credibility with investors, and the stocks tank. CLSD and most pharmaceuticals waiting on FDA approvals typically get to avoid this issue. Investors are more willing to give them slack on making quarters until they receive the FDA's blessing. Assuming the FDA approves the drug, the rubber meets the road when they begin selling the product. If they miss estimates at this point, the stock is in trouble.
Why would they set themselves up to fail? One obvious reason they may do this is because they need to raise money. In most cases, the sooner a company can reach profitability, the easier it will be to raise money. CLSD's ability to reach profitability by the 2020-2022 time frame that analysts and investors are expecting depends largely on a strong sales ramp of the company's initial indication for Zuprata (CLS-1001). CLSD claims that the addressable patient population for uveitis is 350k patients.
We find this in the company's 424B4 filing with the SEC:
Based on prevalence data published in the journal Ophthalmology in 2004 and United States census data for 2010, we estimate approximately 350,000 individuals in the United States suffer from some form of uveitis.
How did it get to this number? This figure appears to be based on the Northern California Epidemiology of Uveitis Study (NCEU) conducted in 1998-1999 that was first published in Ophthalmology in 2004. In that study, prevalence of uveitis was 115.3 per 100,000 persons. When combined with the US population of ~309 million people from the US census, we can see the math.
(115.3/100,000) * 309 million people = 356,277 patients
It would appear CLSD rounded down to 350k. You might also note that the company relied on the 2010 census, and of course, the population has grown since then, so we also calculated the patient population based on a more current estimate of 325 million people. Of course, the drug won't be available until 2018, so we'll kick in another 5 million for good measure.
(115.3/100,000) * 330 million people = 380,490 patients
So on the surface, it would appear the company used a pretty conservative number, but wait... there's more. It turns out the NCEU study originally conducted in 1998-1999 is not the most recent uveitis epidemiology study available. In fact, there are only 3 other uveitis studies that have been conducted in the US. The earliest was the Minnesota study from 1945-1954. We can see why CLSD wouldn't rely on this study (plus incidence data from this study was way lower).
The other two were the Pacific Northwest Veterans Affair (PNVA) study and the Pacific Ocular Inflammation (POI) study, noted as "current study" in the chart below. Those studies were more recent than the NCEU study that CLSD relied upon for its estimate. As it turns out, both of those more recent, and we would argue more relevant, studies had similar conclusions on uveitis prevalence. Conclusions that also happened to coincide with uveitis incidence data from the Minnesota study conducted way back in the '40s and '50s.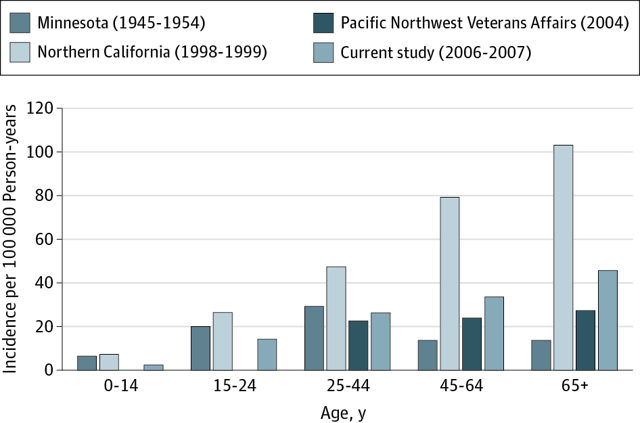 Click to enlarge
Comparison of Incidence Rate Estimates From US Population-Based Uveitis Epidemiology Studies
The figure displays the incidence rates per 100 000 person-years for the current study, as well as prior US population-based studies. In this study, there was a significant increase in incidence rates with older age (P < .001). The Northern California Epidemiology of Uveitis Study found a similar significant increase in incidence with age (P < .001), while the Rochester, Minnesota, study (P = .30) and Pacific Northwest Veterans Affairs study (P = .61) did not.
(Source: JAMA Ophthalmology)
Since the PNVA study was conducted in 2004, we needed to make sure we weren't making a huge mistake by looking at the wrong study. To review, in CLSD's 424B filing, the company states that "based on prevalence data published in the journal Ophthalmology in 2004 and United States census data for 2010, we estimate approximately 350,000 individuals in the United States suffer from some form of uveitis."
The Pacific Northwest Veterans Affair Study conducted in 2004 was not published until 2008 in the American Journal of Ophthalmology. The study CLSD relied upon for its 350k patient estimate was based on the Northern California Epidemiology of Uveitis Study conducted in 1998-1999 and published in 2004 in Ophthalmology. So it appears we have it correct, plus the math getting us near 350k patients only works with the NCEU study.
Now let's review what the math looks like if we use the more relevant studies. First we'll start with the PNVA study. Prevalence of uveitis was 69 per 100,000 persons.
(69/100,000) * 330 million people = 227,700 patients
For the most recent study, the POI study, the prevalence was 57.5 in 2006 and 58 in 2007, for an average of 57.8 per 100,000 persons over the course of the two-year study.
(57.8/100,000) * 330 million people = 190,740 patients
Taking the average of these two studies, we reach a total US uveitis patient population of 209,220 patients, approximately 40% below CLSD's estimate of 350k patients.
Now let's translate that into revenue estimates. For this, we created two revenue models for CLS-1001. One includes average prevalence and incidence data from all three studies (NCEU, PNVA and POI), and the other includes only the more relevant PNVA and POI study averages (See attachment). Peak sales for the "all three" model is $91 million. Peak sales for the PNVA/POI model is $67 million. This is far below most analyst estimates for CLS-1001 peak sales of $150-200 million.
Importantly, most analyst estimates assume CLSD will reach profitability based on its first two candidates (CLS-1001 and CLS-1003). CLS-1003 has much larger potential in the long term, but it likely won't be approved until 2020. It will then take several years to ramp revenue on CLS-1003. Since CLS-1001 is expected to be approved and in the marketplace by the end of 2018, it is a fairly large contributor to reaching initial profitability.
Most models we reviewed have CLS-1001 contributing about 50% (+/-10%) of the revenue to achieve first-year profitability somewhere between 2020-2022, depending on the model. This is why getting it right on the first drug is so important. If CLS-1001 stumbles out of the gate and misses estimates, credibility will be lost, models will be revised downward, profitability will be pushed out, cash burn will be higher than expected and the likelihood of additional equity or debt raises will increase. As a result, we believe the stock would react very negatively to the poor sales of CLS-1001 that we anticipate.
The Complexity of Uveitis
On its surface, uveitis is easy to understand. It's an inflammation of a specific set of eye tissues called the uvea. The uvea consists of the iris, ciliary body and choroid (see image above). CLSD's plan is to treat the inflammation and associated macular edema by injecting standard inflammation-lowering corticosteroid (Zuprata) into the suprachoroidal space next to the choroid. This same corticosteroid (triamcinolone acetonide) is already being used to treat uveitis. Sounds like a two-inch put, and for FDA approval, we believe it is. Unfortunately, it gets more complicated than that after approval, and that's what we believe investors are ignoring while they focus on clinical trials and FDA approval.
While uveitis is easy to understand, what is far more difficult are the causes, diagnoses and treatment. In many cases of uveitis, the ophthalmologists don't know what is causing it (idiopathic). It can be caused by infection, immune disorders or trauma.
Causes of uveitis:
AIDS
Ankylosing spondylitis
Behcet's syndrome
CMV retinitis
Herpes zoster infection
Histoplasmosis
Kawasaki disease
Lupus
Lyme disease
Multiple sclerosis
Psoriasis
Reactive arthritis
Rheumatoid arthritis
Sarcoidosis
Syphilis
Toxoplasmosis
Tuberculosis
Ulcerative colitis
Vogt Koyanagi Harada's disease
Idiopathic (don't know)
and more...
Doctors can't properly treat uveitis until they understand the cause. This, of course, can take a fair amount of time and testing (and can get very expensive for the patient). Some typical tests for a patient with uveitis include blood tests, chest x-rays and several others.
There are four types of uveitis, depending on the anatomical location of the inflammation:
Anterior (front, iris)
Intermediate (ciliary body)
Posterior (back, choroid)
Panuveitis (whole eye)
Uveitis can be either acute (lasting 12 weeks or less) or chronic (lasting more than 12 weeks). It may or may not reoccur, and the reasons are often unknown. It may be infectious or non-infectious. Patients presenting with anterior uveitis will have redness, swelling, sensitivity to light and pain. Intermediate and posterior uveitis is painless, and the person may not know they have it until they notice that vision has become poor. All of this must be considered when determining treatment for a patient with uveitis. When it comes to diagnosis, the doctor has a lot to think about.
They also have several options to treat the condition. Anterior acute uveitis is typically treated with eye drops. If the patient is recurring, the doctor may prescribe drops and systemic steroids (pills). If the patient has intermediate or posterior uveitis, drops won't work. These patients require systemic and/or injections (periocular and intravitreal). Some have had success with implants for chronic cases (Ozurdex). If there is concern over side effects like IOP or cataracts that are typically associated with steroids, then immunosuppressive drugs can be used.
Uveitis... has always been one of the most challenging diagnoses in ophthalmology.
The point of describing this is to show that while it may be easy to understand uveitis, a doctor treating the condition is presented with a far more complex set of issues to consider for treatment. As a result, we believe doctors will be less likely to stray from standard of care for a new, expensive injection method with no real-world efficacy data. Reimbursement concerns could also be an issue.
For example, imagine a patient who has macular edema associated with intermediate uveitis. Intermediate uveitis occurs in 1.4-22% of uveitis patients. CLS-1001 is designed to treat macular edema associated with uveitis, but it accesses the macula via the choroid. The drug is located at the back of the eye. Intermediate uveitis is toward the front of the eye (ciliary body). Very little drug will reach the ciliary body at the front of the eye, because it's not designed to reach this portion.
To treat the inflammation that is causing macular edema, the doctor will still have to treat the intermediate uveitis. Eye drops do not work for intermediate uveitis treatment. To treat the source of inflammation, the patient will either need drug systemically or via ocular injection or both. This defeats the purpose of using CLS-1001, because it does nothing to limit the amount of drug the patient is exposed to, and in many cases, they'll still need intravitreal and/or periocular injections. In fact, in this example, it only increases the amount of drug the patient is exposed to.
Given all we've described about diagnosing and treating uveitis, do you think the doctor is sure the patient doesn't have intermediate uveitis? When additionally considering cost ($900 per injection) and time lost, we don't believe they'll frequently choose this option until it's a more established treatment. This likely will be measured in years. We also believe the best candidates for CLS-1001 will be well-established chronic sufferers of uveitis. This significantly limits the potential patient population even further.
The slide below shows that very little drug reaches the Iris-ciliary body (by design). How will the drug treat uveitis originating in this region?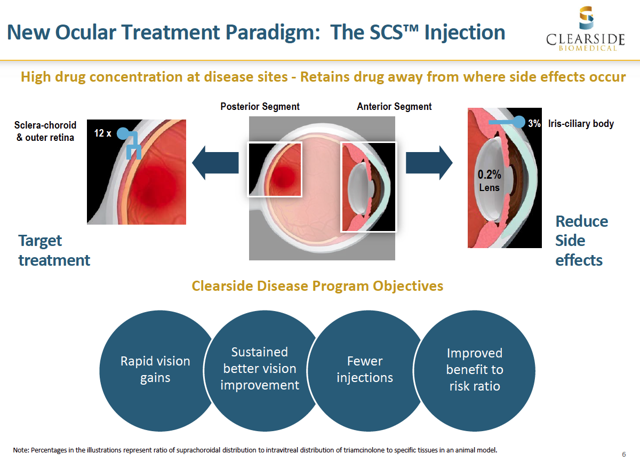 Click to enlarge
Best Comp to CLS-1001
In our opinion, the best comp to how CLS-1001 may fare in the early years in uveitis is to look at sales of Ozurdex (NYSE:AGN). Ozurdex is a biodegradable sustained release implant of the steroid dexamethasone. It is designed to last for 6 months, but can vary from as little as 3 months to as long as a year. Since Ozurdex is injected into the vitreous, it has the negative side effects associated with injected steroids (IOP, cataracts) that CLSD hopes to avoid - but we believe it's one of the best options currently available. Ozurdex is on track to produce well over $200 million in revenue this year for Allergan, but before we get too excited, let's take a closer look at this.
First of all, Ozurdex isn't only approved to treat non-infectious uveitis. It is also approved to treat RVO and DME, two much larger markets. It will be several years before CLSD has approval for Zuprata for these additional indications, if ever. Ozurdex was first approved for RVO in 2009. Approval in posterior uveitis followed in 2010, and then DME in 2014. So while Ozurdex is now a big seller for AGN, in the early years it was a dog. It really didn't take off until the company received approval for DME post 2014. CLSD won't see approval for DME for many years. It has just now begun enrolling for phase 1/2 for this indication.
Unfortunately, AGN only releases drug revenue data for drugs in its portfolio that are expected to see over $200 million in revenue. This is the first year that Ozurdex has reached that level! Furthermore, AGN makes it clear that the growth is being driven specifically by DME.
OZURDEX® net revenues in the third quarter of 2016 were strong at $20.9 million, up 19 percent driven by demand from the diabetic macular edema indication.
So how bad were Ozurdex sales in the early years? We can't be sure, but it's clear the sales reps weren't impressed. Remember, the uveitis approval was in September 2010.
January 3, 2011:
Over 60% of the original sales force has left due to inherent problems in marketing Ozurdex.

Problems... Where does one begin!! It is a marketing nightmare. Reimbursement problems, Small on label indications: RVO, Uveitis, duration of action only 3 months, competition works better (Avastin), $5 steroid works just as well, device sucks, unbelievable price at $1295... that's just on the tip of the iceberg.
January 4, 2011:
Between $30 Avastin and $5 Triamcinolone no one wants to touch this. They tell you to your face they will use it but they don't. These guys want to increase their profit margin as much as possible and also not risk slow/no pay reimbursement so they won't risk $ on this product. One insurer told one of my docs specifically not to use it but to stick to triamcinolone.
Apparently, intravitreal triamcinolone acetonide injections (Kenalog) are very cheap. CLSD hopes to charge $900 per injection of this same drug to a different spot in the eye. Sounds like a tough sell.
January 4, 2011:
Ozurdex did 9 million in 2010 with 20 reps. 14 of the 20 reps are new in the last 6-9 months. The other 6 have their resumes on the street. The eyecare division split the retina division out so they did not have to include their pathetic numbers to wall Street!!! the original goal for the drug was 54 million. 2010 goal was 12 million and they did not hit that goal. the goal this year is 18-19 million. No one will make bonus in 2011. How do I know all this because I am interviewing half of their salesforce.
Our model has CLS-1001 sales of $14.1 million in its first full year (2019), going to $30 million in 2020. This is well below most Street estimates (approximately 50% lower). At this point in time, Ozurdex was approved for not only posterior non-infectious uveitis, but for macular edema following RVO. Ozurdex was first approved for ME-RVO in 2009, so this comment is after the drug was in the marketplace and known to docs for two years. For CLSD to hit our very low estimates, it appears it would have to vastly outperform Ozurdex in its first year. We believe this is highly unlikely.
Other Points of Concern:
Management and Insiders
CLSD's Chairman of the board, Christy L. Shaffer, PhD., violated Section 13(a) of the Exchange Act for misleading disclosure about a clinical trial while she was CEO of Inspire Pharmaceuticals. Inspire was a public company at the time. The company was conducting a phase 3 trial for an eye drug called diquafosol. The trial failed to achieve statistical significance for the primary endpoint (corneal clearing), and the stock dropped 44%.
Dr. Shaffer is also the chairman of the nominating and corporate governance committee for CLSD. One responsibility of this committee is the code of conduct and ethics for employees, executive officers and directors.
CEO Daniel H. White has some decent experience with ophthalmology companies (CIBA Vision, Novartis), but we weren't particularly impressed with his background. His other experience includes co-founding Percept BioSciences in 2007, where he was president and CEO through 2008. It appears that Percept was hoping to develop drugs related to neurodegenerative disorders like Alzheimer's and Parkinson's disease. We don't feel this is relevant to ophthalmology. It appears Percept is now defunct.
After Percept, White worked for Stiefel Laboratories, where he was an executive director of Global Corporate Development. Stiefel was a dermatology company. This was his most recent experience prior to CLSD. We don't see this as particularly relevant either.
Perhaps his most relevant experience was as co-founder and VP of Finance and Corporate Development at Alimera Sciences (NASDAQ:ALIM) from 2003-2007. ALIM has an FDA-approved intravitreal implant for treatment of DME called Iluvien that is currently in the marketplace. This is a category that CLSD hopes to eventually compete in with CLS-1004 (currently enrolling phase 1/2). Thus far, sales of Iluvien have disappointed. If you were an early investor in ALIM around the time of the IPO in 2010, you'd currently be down about 90% on your investment.
CFO Charles A. Deignan's most recent background includes two bankruptcies, Salutria Pharmaceuticals and AtheroGenics. He was VP of Finance and Administration at both. At AtheroGenics, Mr. Deignan had the additional role of principal accounting officer. AtheroGenics filed for bankruptcy after raising $450 million in debt and equity. Salutria filed for bankruptcy in April of this year.
Valuation Comparison
CLSD is a small-cap with no FDA-approved drug and no revenue, we believe it's best to compare its valuation to other small caps in the ophthalmology space. Since CEO Daniel White was a co-founder of ALIM, we find it is most appropriate to compare valuation of CLSD to ALIM and another ophthalmology company directly related to ALIM, pSivida Corp. (NASDAQ:PSDV).
ALIM's FDA-approved injectable micro-insert drug for treatment of DME (Iluvien) was licensed from pSivida. Like CLSD and ALIM, PSDV is focusing on treatments for back-of-the-eye diseases. It is currently seeking FDA approval for Medidur to treat chronic non-infectious posterior uveitis. Sound familiar? Phase 3 readout is expected in the first half of 2017.
We feel both ALIM and PSDV are excellent comps for CLSD. Both are small-cap ophthalmology drug companies focusing on back-of-the-eye diseases, and both are further along the FDA approval path. Interestingly, neither company has lived up to its initial hype. We believe this is largely because what started as a good idea hasn't really turned out that way as competitive options entered the market. CLSD could suffer the same fate.
We find it more than a little odd that ALIM has an FDA-approved drug in the marketplace that competes directly in a category where CLSD hopes for approval in several years, yet somehow CLSD;s valuation is nearly 4x that of ALIM and 10x that of PSDV.
| | | | |
| --- | --- | --- | --- |
| Valuations ($mil) | | | |
| | CLSD | ALIM | PSDV |
| Price | $21.28 | $1.16 | $1.84 |
| FD Shares | 20.3 | 91.4 | 34.2 |
| Market Cap | 432.0 | 106.0 | 62.928 |
| Cash & Equivalents | 56.9 | 33.9 | 22.5 |
| Debt | 7.5 | 33.4 | 0 |
| Enterprise Value | 382.6 | 105.5 | 40.4 |
| Value as % of CLSD EV | | 28% | 11% |
Loss of Spark Therapeutics
In April 2015, Spark Therapeutics (NASDAQ:ONCE) entered a research, option and license agreement for CLSD's microinjector platform. Under the agreement, Spark and CLSD were to explore the feasibility of delivering Spark's gene therapy drugs to the choroid and retina via CLSD's microinjector. The agreement allowed for periods of time for Spark to access feasibility with upfront payments before actually entering into an IP license for the technology. The initial payment was $500k. At any time, Spark could license the technology for an initial upfront payment of $2 million, or at the end of the first evaluation period, it could opt for a second evaluation period for another $500k payment.
Spark Therapeutics decided not to license or further evaluate CLSD's microinjector in February of this year. it is unclear why the company declined to pursue drug delivery via CLSD's microinjector platform. Spark currently has approximately $300 million in cash and equivalents, so we believe funding was not the concern.
Lock-up Expiration
Lock-up is set to expire for 12.3 million shares on November 29th. Currently, there are only 8.2 million shares in the float. With the stock up well over 3x its June IPO price, we're concerned many investors will be looking to exit in the coming days/weeks.
In Conclusion
CLSD looks as if it has a bright future. Unfortunately, current valuation appears to already reflect that potential, with many hurdles still needing to be crossed. We believe investors are currently assuming approval of both CLS-1001 for ME associated with NIU and for CLS-1003 for RVO. For CLSD, this is the easy part. Its drug (Zuprata) is a proprietary formula of a drug that is regularly used (triamcinolone acetonide) by ophthalmologists to treat the indications the company is seeking approval for. Injection into the SCS would appear to be a safer route of administration.
Beyond that, it gets much tougher for CLSD, in our opinion. We believe current sales estimates for its initial indication, CLS-1001, are far too high. If we are correct, estimates would likely decline and investors could suffer. We see shortfalls for CLS-1001, based on a combination of overly optimistic market assumptions, difficulty in convincing ophthalmologists to use the product in the early years and intense competition from very cheap alternatives. A lack of profitability will likely lead the company to raise more cash than is currently expected, leading to dilution beyond what is already assumed.
Most analysts have 12-month targets for CLSD in the mid-to-high $20s, based on what we feel will prove to be unachievable expectations. With the stock already in the low-to-mid $20s range, we believe the company is more than fully valued. Since most of these valuations are based on DCFs that make assumptions that are several years out, we believe they are at high risk of revision.
Therefore, we believe the most important component of estimates should be based on revenue assumptions for the company's initial product, CLS-1001. Our revenue model assumes revenue will be approximately 50% or more below current analyst estimates. CLSD will have no revenue before the end of 2018 at the earliest.
Our model was based on three epidemiology studies versus analyst estimates that we believe were based on one very optimistic study (NCEU study) provided by the company, which we think may be an anomaly. Based on our revenue estimates, which will likely will prove to be more accurate, we believe there is at least 50% downside to CLSD shares over the next 12 months as investors become more familiar with the difficulties involved beyond FDA approval.
Disclosure: I am/we are short CLSD.
I wrote this article myself, and it expresses my own opinions. I am not receiving compensation for it (other than from Seeking Alpha). I have no business relationship with any company whose stock is mentioned in this article.
Additional disclosure: FULL DISCLOSURE: Cliffside Research and our affiliates invest in the companies we cover. We spend great effort in our due diligence process. We make investments based on our conviction in our due diligence process. You should assume at the time of publication we hold a short position in securities of the company discussed in this report. Please see our full "Terms of Service" at cliffsideresearch.com.
Editor's Note: This article covers one or more stocks trading at less than $1 per share and/or with less than a $100 million market cap. Please be aware of the risks associated with these stocks.