Here's a video of my analysis of the chart technicals showing the weekly and daily charts of the Dow Jones. Although, we may have some more room to run, indicators show a correction is likely soon.
For the video, please click on the link below:
Dow Jones Most Overbought Since April- Video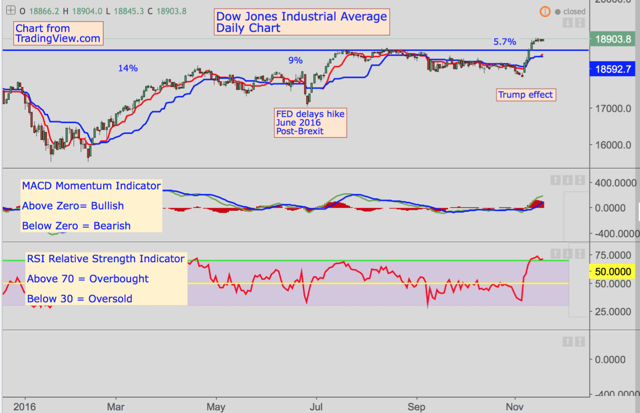 Following the election, three key drivers of Trump's potential economic stimulus are propelling the Dow Jones higher.
Infrastructure Spending:
Large companies in the Dow and those long DIA SPDR Dow Jones Industrial Average ETF, should benefit the most from these government contracts. Also the large-cap S&P 500 and those invested in the SPY SPDR S&P 500 Trust ETF.
Tax reform including tax cuts for companies repatriating funds from overseas:
Whether we agree on how much a reduction to a 10% tax rate for repatriated funds will actually have on the economy; the anticipation of the passage of the bill is helping to propel the Dow higher. According to Goldman Sachs, Trump should help large corporations.
"Tax and trade reform appear to be high priorities for President elect Trump. Cyclical stocks that should benefit most will have high domestic sales, sizeable profits held overseas that may be repatriated, and/or high corporate tax rates." CNBC interview.
Deregulation of the banks including a weakening of the Dodd-Frank bill.
We're seeing a huge surge in prices for large banks following the election. However, the 10-year yield is also higher, and banks make more money on lending in a higher yield environment. Personally, I would offer caution in putting too much emphasis on regulation since yields will have a far greater impact on bank earnings than any legislation.
And more than likely, any regulation change is mostly priced in at this point and yields have to come off at some point. These sentiments were echoed by Morgan Stanley.
"Clearly less regulation is a positive, but given the financials have moved way more than just interest rates alone would indicate they should have, we think some regulatory relief has begun to be priced in." CNBC interview.
Going forward, the Fed meeting on December 14th may result in a rate hike and would likely cause a bearish knee-jerk reaction in the Dow. However, I'll be watching the Fed's statement for indications of rate hikes in 2017.
A few other market-moving events likely to increase volatility and possibly put the Dow's surge at risk are the holiday retail sales numbers, the OPEC meeting on November 30th, and any uncertainty out of Europe with the Italian referendum and the European Central Bank meeting coming up in December.
One thing's for certain; it won't be a quiet finish for 2016. Good luck!
Disclosure: I/we have no positions in any stocks mentioned, and no plans to initiate any positions within the next 72 hours.
I wrote this article myself, and it expresses my own opinions. I am not receiving compensation for it (other than from Seeking Alpha). I have no business relationship with any company whose stock is mentioned in this article.