TriplePoint Venture Growth (NYSE:TPVG) is a business development company ("BDC") that provides financing primarily to venture capital ("VC") backed companies at the venture growth stage, similar to Hercules Capital (NASDAQ:HTGC) and Horizon Technology Finance (NASDAQ:HRZN). The stock price for TPVG is up around 17% since the beginning of the month and likely related to positive Q3 2016 results as well as being underpriced. Also, its equity investment in Nutanix, Inc. (NASDAQ:NTNX) has bounced back from lows after its recent IPO.

Q3 2016 Results:
TPVG recently beat my 'best case' projections and covered its dividend by 112% due to higher portfolio yield and prepayment income shown in the chart below. There were four portfolio company exits during the quarter including the acquisitions of Dollar Shave Club and Jet.com (Private:JET), the initial public offering of Nutanix, and the announced acquisition of EndoChoice (NYSE:GI). As mentioned in the previous report, the company had realized gains of approximately $1.1 million primarily due to proceeds from warrants and equity in Dollar Shave Club and warrants in Jet.com.
"We delivered our highest quarterly total investment income, generated substantial realized and unrealized gains, and grew the investment portfolio for the fifth quarter in a row…The combination of our growing investment portfolio, strong portfolio yield, portfolio company exits, and share repurchases enabled us to generate earnings in excess of our dividend and increase our net asset value."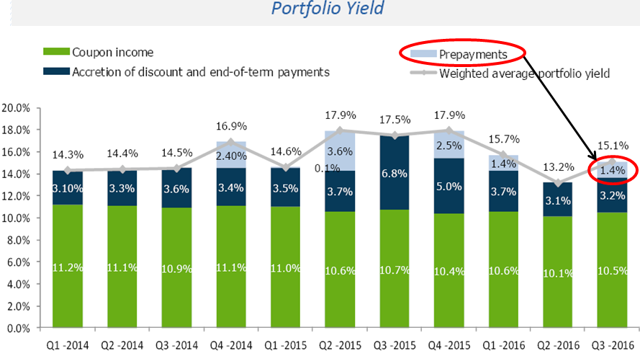 Click to enlarge
The weighted average credit rating of the portfolio remained stable and net asset value ("NAV") per share increased by 3% mostly due to NTNX and GI as well as accretive share repurchases. The share price of NTNX was around $37 as of 9/30/16 before declining to almost $23 in early November and has now rebounded to $34.
"Nutanix also completed their much anticipated public offering. This was the largest tech IPO of the year, and it's traded well ever since. Based primarily on these remarkable events, we recognized almost $5 million of net realized and unrealized gains on our investment portfolio. On top of that, during the quarter, our public portfolio company EndoChoice announced its acquisition by Boston Scientific."
Current BDC Yields:
The only BDCs with higher yields are either poorly managed such as Fifth Street Finance (NYSE:FSC) or have exposure to collateralized loan obligations ("CLOs") such as TICC Capital (NASDAQ:TICC), KCAP Financial (NASDAQ:KCAP) and Prospect Capital (NASDAQ:PSEC).

Potential Negatives for TPVG:
Similar to HTGC and HRZN, TPVG has exposure to M&A and IPO activity in technology and life sciences sectors that are closely tied to VC investment and fundraising activity levels. Many of the positives from having a successful origination platform for picking higher quality investments lead to higher levels of prepayments and lower portfolio growth. This often results in dividend coverage through one-time exit fees rather than recurring interest income.
TPVG likely raised equity and debt capital at the wrong times and/or too close together. This resulted in increased shares and higher borrowing cost due to unused facility fees until the company can grow the portfolio. For previous articles on TPVG including risk rankings, pricing charts, dividend coverage tiers, suggested BDC portfolios, interest rate discussion, expense ratios, my upcoming/historical purchases and current positions, please see "Index to Free BDC Research."
Current Leverage:
BDCs with lower amounts leverage (borrowings) have the ability to grow the portfolio and net investment income ("NII") per share. As mentioned earlier, TPVG has recently had prepayments that have resulted in lower portfolio growth and an under-leveraged balance sheet.
"We continue to expect to increase our leverage ratio to our target of 0.6 to 0.8 times over the next several quarters. As we have reminded you in previous earnings call, our net interest income covers our dividend rate at the lower end of our target leverage range without any additional benefit of prepayments."

Risk Profile:
I consider TPVG to have a safer-than-average risk profile due to mostly 1st lien positions with VC equity support. Its portfolio is 96% debt investments structured as 'growth capital loans' or 'equipment financing' and mostly backed by a senior position on all assets (see below), typically with warrants that provide upside potential. However, around 16% of growth capital loans are with borrowers that have other facilities in a senior position to TPVG:
From 10-Q: "Approximately 16.2% and 18.0% of the debt investments in our portfolio as of September 30, 2016 and December 31, 2015, respectively, based on the aggregate fair value, consisted of growth capital loans where the borrower has a term loan facility, with or without an accompanying revolving loan, in priority to our senior lien."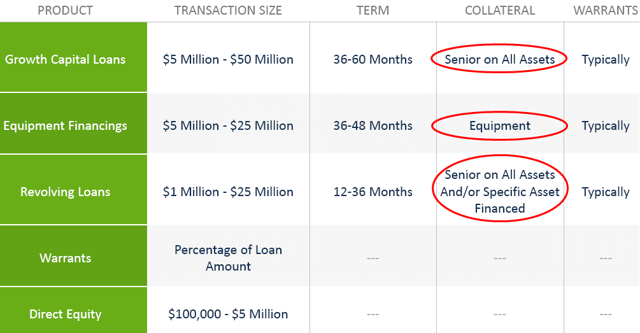 Click to enlarge
Fee Structure:
I am continually assessing new BDCs with fee structures that protect total returns to shareholders. Specifically, I look for realized/unrealized losses to be included when calculating incentive fees for management, with a look-back feature to keep management on the hook for the performance of investments over the long-term. TPVG has this shareholder-friendly feature as a part of its incentive fee calculation and management is not paid incentive fees until investors earn an 8% annual return on equity since its IPO.
From previous quarter: "There was no incentive fee due to our best-in-class fee structure, which provides that no incentive fees payable except to the extent that 20% of the cumulative increase in net assets resulting from operations since our IPO exceeded the cumulative incentive fees accrued and our paid since our IPO. As a result of this feature our stockholders benefited by an additional $600,000 or $0.04 per share of income. Our net investment income in core investment income were both $5 million."

Click to enlarge
Personal note: I have updated my positions to reflect changes in my holdings, but please keep in mind that some of the positions are very small and mostly for research purposes. There are over 50 publicly traded BDCs and I try to cover as many as possible but I do not have the bandwidth to include each company for each article.
Disclosure: I am/we are long ABDC, AINV, ARCC, BKCC, FDUS, FSC, FSFR, FSIC, GAIN, GARS, GBDC, GLAD, GSBD, HCAP, HTGC, MAIN, MCC, MRCC, NMFC, PFLT, PNNT, PSEC, SLRC, SUNS, TCAP, TCPC, TPVG, TSLX.
I wrote this article myself, and it expresses my own opinions. I am not receiving compensation for it (other than from Seeking Alpha). I have no business relationship with any company whose stock is mentioned in this article.