Company
Farmingdale, New York-based Cemtrex (NASDAQ:CETX) is a diversified manufacturing and environmental services provider to technology companies.
The company was founded in 1998 as Diversified American Holdings and was previously listed as CTEI on the OTC, then uplisted to Nasdaq in 2015.
Cemtrex is headed by 30-year-old CEO Saagar Govil, who is related to Aron Govil, Chairman of Ducon Group, an India-based company founded in 1938 that provides environmental control and emission monitoring products and services for Indian manufacturing companies.
Ducon is a large holder of Cemtrex' stock, and Aron Govil is the Executive Director of CETX.
Technology
CETX operates two business segments:
Electronics Manufacturing Services - The EMS group manufactures various interconnects and related cable assemblies as well as providing OEMs with engineering services and testing equipment.
Industrial Products and Services Group - The IPS group has developed a line of air filtration and environmental control products to assist manufacturers in measuring various gasses, particulates and other regulated pollutants used in emissions trading.
In 2013 CETX acquired ROB Group, a German electronics manufacturing solutions company, for $6 million in order to expand its operations base and focus its efforts on the EMS industry.
In 2015 the company acquired precision equipment installation firm Advanced Industrial Services of York, Pennsylvania, for $7.5 million in cash, debt, and stock.
Most recently in June 2016, Cemtrex purchased Northern Germany-based Periscope, also an electronics manufacturing firm, for approximately $9 million total consideration consisting of cash and debt.
So, Cemtrex has been executing an aggressive acquisition strategy which appears to be designed to shift its focus away from its IPS segment and toward its EMS segment notwithstanding its VAM and MCDR environmental technologies and recent announcement about the IPS segment market opportunity.
Furthermore, the company has been widening its geographical reach into Europe with the acquisition of two Germany-based companies.
These acquisitions seem to have generally been well-received by analysts and observers, as the company has avoided overpaying for the deals.
In October 2016, the company announced a letter of intent to acquire an as-yet-unnamed electronics manufacturing solutions company located in Silicon Valley.
It says the annual revenues from the company has averaged $7 million over the past two years and that the purchase price will be $1.4 million.
The company has a number of direct competitors in its various segments:
CLARCOR (NYSE:CLC) - competitor for environmental monitoring
CECO Environmental (NASDAQ:CECE) - environmental testing and monitoring
Handy & Harman (NASDAQ:HNH) - joining materials for manufacturing markets
TriMas Corp. (NASDAQ:TRS) - engineered components for manufacturing
Benchmark Electronics (NYSE:BHE)
Celestica (NYSE:CLS)
Creation Technologies
Sanmina (NASDAQ:SANM)
Foxconn
Flex (NASDAQ:FLEX)
Jabil (NYSE:JBL)
The above list is not exhaustive as the industry is widely fragmented by region.
According to a 2016 report by Global Information, the European EMS industry reached EUR 25 billion in 2014, and other reports indicate a 10% CAGR through 2017.
Europe is likely equal to or greater than the U.S. in size but is dwarfed by the Asia-Pacific region.
Financials
Cemtrex' recent financial results can be summarized as follows:
33% revenue growth over prior for the nine months ended June 30, 2016
Gross margin growth from 29% to 31%
CFFO growth from $3.1 million to $4.9 million
Below are the company's operational results for the three and nine months ended June 30, 2016 (Unaudited):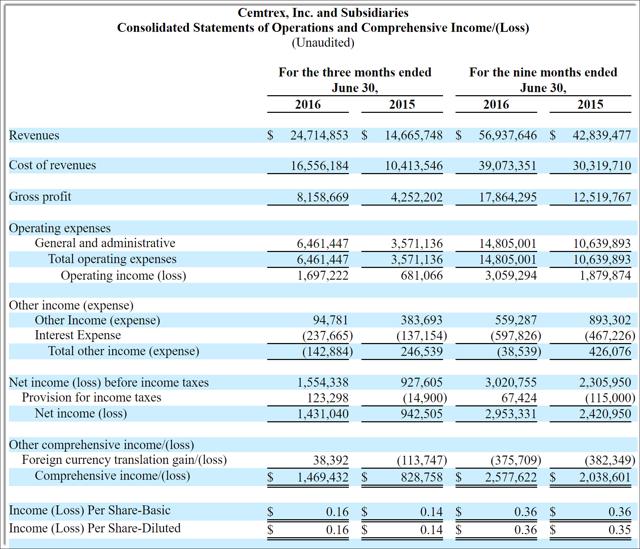 (Source: Cemtrex June 30, 2016 10-Q)
As of June 30, 2016, Cemtrex had $3.2 million in cash on hand and restricted cash. It had total current liabilities of $23.25 million.
Registration Details
Cemtrex intends to raise $15 million in gross proceeds from a subscription rights offering of 1.5 million units at $10 each.
Each unit distributed to holders of its common stock as of the record date, which has not yet been disclosed, will receive the following, subject to proration if there aren't enough units to fully satisfy all subscription requests:
One share of Series 1 Preferred stock
Two Series 1 Warrants to purchase shares of its common stock
Note the following important terms per its S-1:
Dividends. Holders of the Series 1 Preferred will be entitled to receive cumulative cash dividends at the rate of 10% of the purchase price per year, payable semiannually on the last day of March and September in each year. Dividends may also be paid, at our option, in additional shares of Series 1 Preferred. Dividends will be entitled to be paid prior to any dividend to the holders of our common stock.

Liquidation Preference. The Series 1 Preferred will have a liquidation preference of $10.00 per share, equal to its purchase price.

Rank."The Series 1 Preferred will rank with respect to distribution rights upon our liquidation, winding-up or dissolution and dividend rights, junior to all of our existing and future indebtedness but senior to our series A preferred stock, common stock and any other class of capital stock we issue in the future. See "Description of Capital Stock -Series 1 Preferred -Rank."

Call Option. The Series 1 Warrants are callable by us at a price of $0.10 per underlying share of common stock on 30 days' notice if (1) the average closing price of our common stock for 30 consecutive trading days exceeds 200% of the exercise price, (2) our common stock continues to be traded on the Nasdaq Capital Market or is trading on another national securities exchange and (3) the registration statement forming a part of this prospectus remains effective (or another registration statement covering the shares underlying the Series 1 Warrants has been declared effective), and such shares are not subject to lock-up restrictions.
Cemtrex says it intends to use the net proceeds, expected to be $13.7 million, to fund its 'acquisition growth plan' and to a lesser extent to reduce its debt and continue its previously announced stock buyback program.
Commentary
The Cemtrex 'story' now is one of M&A-fueled expansion into manufacturing services and widening its geographic footprint to better serve international customers.
The company's three most recent acquisitions and its new, unnamed LOI acquisition were all in its Manufacturing Services segment.
Its environmental segment is no longer a point of focus, it seems.
Revenues, gross margin and cash flow from operations are all growing, though I suspect most of the revenue growth is from its acquisition successes and not necessarily organically.
More troubling is that in the nine months between September 30, 2015, and June 30, 2016, the company's total liabilities grew from $15.4 million to $39.4 million.
Granted, the cost of capital has been low, but how long will that continue? Already U.S. debt costs are rising, as bond markets believe there will be greater U.S. government spending and borrowing under a new administration.
As Cemtrex' debt service grows, fewer dollars will be available for all-important technology upgrades to its offerings.
Reading through CETX' filings, there is zero discussion of 'research & development,' so it doesn't appear to be a focus of the company.
The environmental technologies it currently has, it licensed from major stockholder and family member Aron Govil's Ducon Technologies.
So, I don't see much 'technology' here, or certainly nothing more than living off its past investments. Now the company is essentially acquiring German know-how, though the extent of that is unknown.
Valuation
CETX currently has a Price/Sales multiple of . 62x and an EV/Sales multiple of.87x, not too different than much larger competitors such as Handy & Harman but lower than CECO at 1.09x Price/Sales and 1.35x EV/Revenue.
So, from a valuation standpoint, it appears the company is slightly undervalued to fully valued based on its revenue growth.
If it can continue to grow revenues at its current pace by virtue of its acquisition strategy while increasing its gross margin as a function of greater focus on its Manufacturing Services segment, CETX will grow into a higher valuation
But for now, I suggest a 'wait and see' mode to learn more about its latest acquisition and its next earnings results.
---
I write about IPOs, follow-ons and M&A deals. If you want to receive future articles automatically, click the +Follow link next to my name at the top of this article.
Disclosure: I/we have no positions in any stocks mentioned, and no plans to initiate any positions within the next 72 hours.
I wrote this article myself, and it expresses my own opinions. I am not receiving compensation for it (other than from Seeking Alpha). I have no business relationship with any company whose stock is mentioned in this article.
Editor's Note: This article covers one or more stocks trading at less than $1 per share and/or with less than a $100 million market cap. Please be aware of the risks associated with these stocks.