5 Things Sandstorm Gold Needs to Do to Outperform in 2017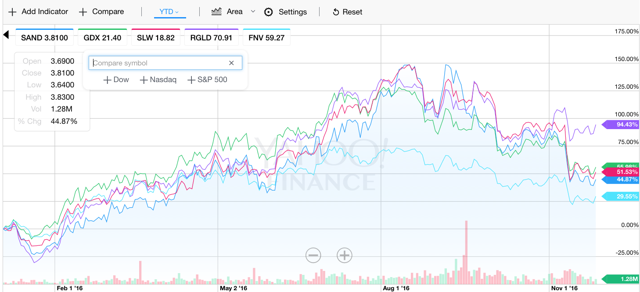 Click to enlarge
(Credit: Yahoo Finance)
Sandstorm Gold (NYSEMKT:SAND) certainly has had an up-and-down kind of year, as has many of its peers in the gold sector. The stock has gained 44.8% as of writing. However, as you can see in the above chart, the stock has actually underperformed the benchmark gold miners index (NYSEARCA:GDX), as well as peers Silver Wheaton (NYSE:SLW) and Royal Gold (NASDAQ:RGLD), while outperforming only Franco Nevada Corp. (NYSE:FNV).
The one advantage I think Sandstorm has over its peers is that it is a smaller company. While Franco Nevada ($10+ billion market cap) and Royal Gold ($4+ billion market cap) have hundreds of millions of available capital to deploy into new royalties and streams, Sandstorm has about $120 million as of writing ($20 million in cash and $100 million in available credit). So, it has less firepower.
However, I think that each Sandstorm deal has a much larger impact on its share price - for example, a good deal for $30-$40 million can really "move the needle" so to speak, while the same can't be said for Sandstorm's peers. I estimate that the company has the ability to grow its annual production by at least 10% by completing such a deal. For example, a $30-$40 million stream that produces 6,000 attributable gold ounces annually would increase Sandstorm's annual production by over 10%. So, while Sandstorm is still a small company, I think its share price upside is much larger than peers.
To Outperform in 2017, Sandstorm Needs to Do This
Sandstorm's stock underperformed in 2016. Why was this the case? In my opinion, I think the market was expecting more deals from the company this year and perhaps was a bit disappointed.
Outside of the $17 million acquisition of 52 royalties from Teck Resources back in January, the company was rather quiet; you can see below a summary of the deals completed by Sandstorm in 2016, as well as previous years.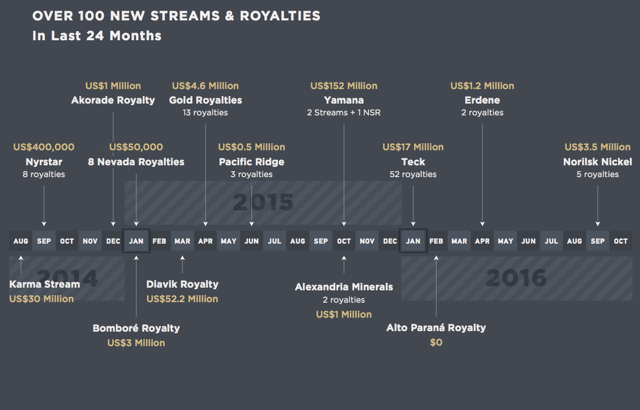 Click to enlarge
(Credit: Sandstorm Corporate Presentation)
Of course, 2015 was really a huge year for Sandstorm, as it spent $152 million two acquire two streams and one royalty from Yamana Gold (NYSE:AUY), plus another $52.2 million was spent on acquiring the Diavik Diamond royalty, among other deals.
But as a shareholder, I was a little surprised by the lack of deals completed this year. After all, Sandstorm has a world-class management and technical team (check out management bios for more info), whose expertise is highly valuable, and I expected at least a few more royalty acquisitions from the company.
So, for 2017, I think Sandstorm needs to be a little more active on the acquisition side of things. Thankfully, with the gold price trading under $1,200 per ounce, I think there are more opportunities for Sandstorm here as junior miners and explorers are having a tougher time raising equity to fund projects, and as debt becomes a bit more risky given the lower gold price, which makes it more difficult for a miner to repay its debt. Times like these are great for Sandstorm as the company can complete deals at better terms, but it also benefits a junior miner that needs capital: instead of diluting shareholders at a low valuation, or risking bankruptcy with new debt, they can sell a royalty or a small gold stream instead.
Personally, I'd like to see Sandstorm spend at least $60 million, or approximately 10% of its current market cap, on new deals in 2017; I would be pleased to see another 2015 type of year where Sandstorm spends $200+ million.
While I see the long-term value on buying "optionality" type royalties on exploration projects, I also want to see Sandstorm buy at least two new gold streams or royalties on producing assets or assets near production, similar to the Karma gold stream or the Diavik Diamond royalty. I think a few of these types of deals will diversify Sandstorm's cash flow and increase confidence in the company's ability to grow and diversify (especially given the recent issues with the company's Black Fox stream, which I discuss here). I believe this will eventually lead to a higher share price.
Can Sandstorm afford to spend this much on new acquisitions? In my opinion, the company absolutely can. With $120 million in available capital, and approximately $8-$10 million in operating cash flow each quarter at current gold prices, Sandstorm's balance sheet is in good shape. Following the Yamana Gold deal, the management team wisely chose to repay its debt. Now, it's time for the company to get aggressive again.
I'd also like to point out that Sandstorm has close to $90 million in "non-core" investments ($35 million in equity and $53 million in debt) that it can monetize into cash. This would be a wise idea, because I don't even think a lot of investors realize Sandstorm has these assets, and monetizing them would allow the company to complete even more acquisitions. Sandstorm may also choose to issue new equity to raise cash for acquisitions, however, I think this option will only be considered if the share price is trading much higher.
In conclusion, Sandstorm Gold's stock underperformed peers in 2016, but I think this can change in 2017 if the company gets aggressive and completes new deals. Sandstorm should look to monetize non-core investments to raise cash. To trade at a higher valuation, I think the company needs to continue growing and diversifying its gold production. I remain long Sandstorm stock and am a buyer of shares below $5.
Disclosure: I am/we are long SAND, SLW, FNV.
I wrote this article myself, and it expresses my own opinions. I am not receiving compensation for it (other than from Seeking Alpha). I have no business relationship with any company whose stock is mentioned in this article.