Over the past several decades, Altria Group (NYSE: MO) has generated enormous wealth for shareholders, averaging an annual return of 18% with dividends reinvested. It is a truly staggering number to maintain for as long as Altria has. Factor in the spin offs of Kraft Foods, and Philip Morris International (NYSE: PM) over the years, and Altria's legendary returns story grows even more.
A three part returns machine
Altria has achieved this with a rare combination of quality earnings growth, a high dividend, and a long period of time in which Altria traded at very low valuations. There are many companies that generate high quality earnings growth - whether it be through exceptional management, a powerful brand, or other competitive advantages. There are many companies that pay out a high percentage of its earnings out to share holders as dividends. There are (fewer these days) a handful of companies that have traded at low valuations for prolonged periods of time. However, it is very rare for a company to possess all three traits. This dynamic trio has been the engine driving outsized share holder returns for years.
The problem with Altria today, is that it no longer resembles the dynamic share holder returns engine that it once was. That is not a slight on the company itself. Personally, I still believe that Altria is one of the most well run companies in the world.
High quality earnings growth
Altria has benefited from prolonged earnings growth of 8-10%. This has been accomplished by utilizing the high margin/low capital requirement nature of selling tobacco to generate high cash flows, that have been used to give the company flexibility to diversify while simultaneously paying out large sums to share holders.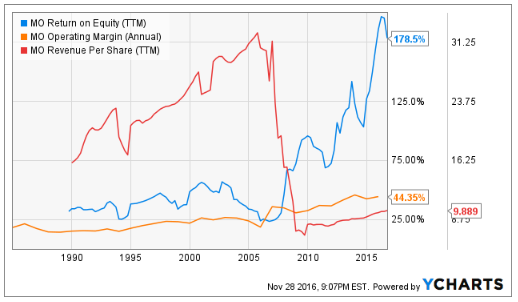 Its return on share holder equity, revenue per share, and operating margin are in a constant climb upward (ignore the plunge in revenue per share - that was the spinoff of Philip Morris International.
In addition to improved efficiency, Altria is constantly seeking ways to diversify its income streams as its volumes of cigarette shipments shrink every year due to the deteriorating conditions of the cigarette market. It has diversified into other forms of tobacco, wines, and beer.
Altria's transaction with Anheuser-Busch InBev (NYSE: BUD) recently came to a close, with the beer giant completing its buyout of SABMiller. Because of Altria's large stake in SABMiller, Altria received a 9.6% stake in Anheuser-Busch InBev. In addition to the stake, Altria received $5.3B in pre-taxed cash from the transaction. Altria has already used a portion of this cash to expand its stake in AB InBev to 10.2%. This qualifies Altria for foreign tax credits. The stake will provide a supplemental stream of income for Altria via dividends and tax credits, and is another feather in the cap of management. Top notch management such as this, has helped Altria continue to grow earnings despite an ever shrinking domestic tobacco market.
High dividend payout
The second component of Altria's wealth generation engine has been the consistently high, and continuously increasing dividend. Altria is a well known dividend champion, having increased its dividend 47 years in a row. The dividend grows 8-9% every year in line with earnings, which has enabled Altria to maintain a steady payout ratio of about 80%. While this would be concern for most companies, Altria does not require a lot of capital to maintain its business (cigarettes cost virtually nothing to produce). This allows Altria to maintain such a high pay out without endangering the earnings power of the core business.
Prolonged low valuations, no more
The last component of Altria's past success is where the troubles today are found. The low interest rate environment has created a feeding frenzy on companies that pay a consistent and safe dividend. When Altria was generating these massive returns in the past, it was trading at a significantly lower valuations than it is today. Up until 2010, Altria traded in a range of 8-12X earnings. Even as recently as 2014, Altria could have been had for about 13-14X earnings.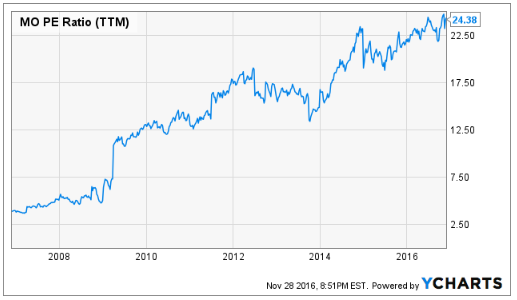 Over the past couple of years, Altria's valuation has shot up to over 24X earnings while its dividend yield as shrunken down to under 4% as a result. Altria is forecasting full fiscal year 2016 earnings growth of 6.5%-8.5% from 2015, and is forecasted to grow earnings at around 8% moving forward. The earnings growth is impressive given the industry headwinds it constantly faces - Altria truly is a fantastic company.
But from an investment standpoint, to buy Altria at these prices would be to depend on an equation that is currently broken. Altria is currently more expensive than a true growth company such as Nike (NYSE: NKE) that has grown earnings at a 17% clip for the past 5 years, and is expected to grow in the low to mid teens moving forward. The disconnect between the price Altria trades for, and the rate at which Altria can grow earnings/dividends has grown too large to be given leeway any longer.
Conclusion
Say Altria trades at 17X earnings (which is still a bit higher than its historical norms). This places shares in the high $40s. It was only trading in this range last summer. This is not a call for selling, but a word of caution for new capital. Altria's valuation has gotten out of hand at this point. It is far more likely that Altria will eventually start reverting to its mean, than to maintain this level. The market at all time highs, and rising interest rates are additional warnings signs. Now, is not the time to be buying Altria.
If you liked this article, please find my profile icon at the top of this page, and hit the "Follow" button. I enjoy engaging with those who comment, and am always looking for feedback that allows me to improve on the content I provide. As always, thanks for reading.
Disclosure: I am/we are long NKE.
I wrote this article myself, and it expresses my own opinions. I am not receiving compensation for it (other than from Seeking Alpha). I have no business relationship with any company whose stock is mentioned in this article.