Select acronyms
AMR - Antimicrobial resistance
MDR - Multi drug resistant
MDRGN - Multi drug resistant gram-negative bacteria
CRE - Carbapenem-resistant enterobacteriaceae
FDA - U.S. Food and drug administration
EMA - European Medicines Agency
BARDA - U.S. Biomedical Advanced Research and Development Authority
OECD - Organisation for Economic Co-operation and Development
NDA - New drug application
QIDP - Qualified Infectious Disease Product designation
PHIII - Ultimate phase of drug candidate evaluation preceding filing of NDA
DRG - Diagnosis-related group
WAC - Wholesale Acquisition Cost
Introduction
This article covers a small cap biotech concern with a promising late stage drug candidate (Plazomicin) all the while pondering recent evolutions in the space of antimicrobial resistance (AMR). We provide readers with compelling reasons why we consider Achaogen (NASDAQ:AKAO) to be a timely and rewarding investment opportunity. To do so, we consider policy trends, expert opinions and the competitive landscape surrounding Plazomicin to establish a fair value for Achaogen. Our analysis suggests 400% upside to Achaogen's current share price.
Company overview
Achaogen's lead product candidate Plazomicin, a next-generation aminoglycoside, targets multi-drug resistant gram-negative bacteria ('MDRGN'). It is being evaluated in two parallel PHIII studies: EPIC (complicated urinary tract infections) and CARE (carbapenem-resistant enterobacteriaceae a.k.a. CRE). EPIC is going to serve as the pivotal study supporting the Plazomicin NDA, whereas CARE could considerably broaden the scope of application of this new compound. During a webcast earlier this year, the company reaffirmed that it intends to co-submit CARE data with its NDA.
Both studies completed enrollment ahead of schedule and have recently concluded. During the latest quarterly call, the company announced that it is set to release top line data for both Plazomicin PHIII studies by the end of this year, ahead of its initial guidance. In our opinion, this rapid progression reflects Management's excellent execution alongside great enthusiasm by the principal investigators, driven by urgent clinical need.
Plazomicin benefits from the support of several U.S. government agencies, reflected in a Qualified Infectious Disease Product designation (henceforth 'QIDP designation') resulting in a fast track designation as well as an extension of marketing exclusivity by 5 years beyond the standard exclusivity period upon approval. Plazomicin benefits from a BARDA contract (Biomedical Advanced Research and Development Authority) to the tune of $124m, of which $41m remained unspent as of June 2016.
Further to its lead candidate in PHIII, the company is working on LpxC inhibitors (LpxC is an "essential, single copy gene that is conserved in virtually all Gram-negative bacteria"[1], an enzyme essential to the structural integrity of the bacterial outer membrane and a validated drug target[2]), looking to discover antibodies targeting MDRGN bacteria as well as novel, hitherto undisclosed MDRGN targets & approaches.
Achaogen's work on LpxC inhibitors benefits from NIAID funding, most recently topped up by a further $2.4m[3]. Achaogen recently concluded a collaboration agreement with Crystal Bioscience intended to further its discovery, and ultimately development, of monoclonal antibodies targeting MDRGN[4].
From our conversations with experts in the field of AMR, the LpxC inhibitor component of Achaogen's pipeline warrants particular attention going forward. In vitro, ACHN-975 has shown outstanding activity against the 'prototypical MDR organism' p. aeruginosa. This compound is poised to reenter the clinic following modifications to the drug excipients identified by Achaogen as having previously caused toxicity issues.
We have a high degree of confidence in the company's management, which comprises Genentech, Cubist and Calixa veterans in key positions as well as a McKinsey Alumna in charge of corporate affairs. Earlier this week, IP expert Gary Loeb of Genentech fame joined Achaogen as Principal Advisor. Interestingly, Mr. Loeb has expressed admiration for the company's antibody platform - given Mr. Loeb's depth of expertise in Pharma IP and the preclinical nature of Achaogen's antibody program we will be keeping a keen eye on developments in this space. Investor Relations have been professional and swift in providing information when requested.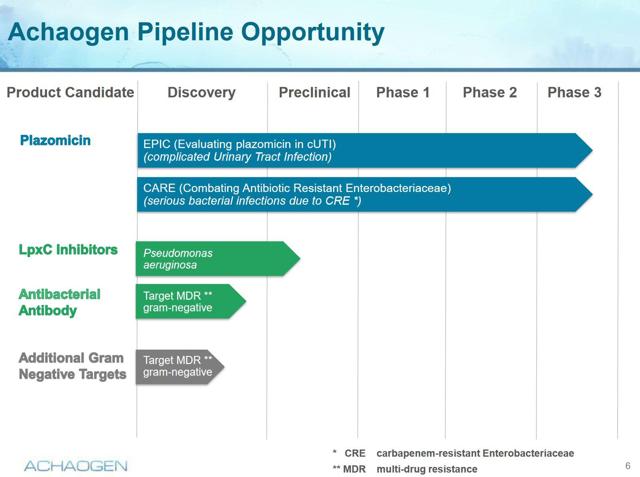 Click to enlarge
Antimicrobial resistance: an overview
Introduction
When we think about contemporary pharma R&D, we think first and foremost about advances in oncology or cardiovascular and antiviral compounds. Immuno-oncology gives us hope, we are excited by the possibilities of CRISPR gene editing and encouraged by the Sovaldi Hepatitis breakthrough. Headlines about novel developments in the antibiotic / anti-microbial space cross our screens much less frequently, yet that may be about to change as efforts to tackle antimicrobial resistance (AMR) begin to bear fruit.
As an example of hype in the space, OpGen's stock was skyrocketing this July presumably as a reaction to Merck & Co.'s (NYSE:MRK) VC arm taking a large (37.5%) stake in the Gaithersburg, Maryland company focused on microbial genetics and molecular diagnostics. Since the pertinent SEC filing[5] dates back to June 29, the violent move in OpGen might be grounded in this eulogy of an article published on July 19.
OpGen has subsequently faded on unfavorable news regarding its management and just the general tendency of micro caps to sell off following 'hysterical' day trading.
Merck is positioning itself as a behemoth in the antibiotics space, as evidenced by its acquisition of Cubist in early 2015, and its strategy deserves a write-up on its own. For the purposes of this article, I will simply state that M&A activity in the AMR space is unlikely to fizzle as interest in new treatment options is driven both by urgent clinical needs as well as by an improving policy outlook.
We're likely to see more optimistic articles like the one above as well as significant corporate PR as the data on many early and mid-stage compounds pours in over the next few years. The Review on Antimicrobial Resistance projects 10 million deaths globally due to AMR by 2050 (annual projection), surpassing current levels of cancer fatalities. Global GDP loss due to AMR is projected to reach levels of $100 trillion within the same time frame.[6]: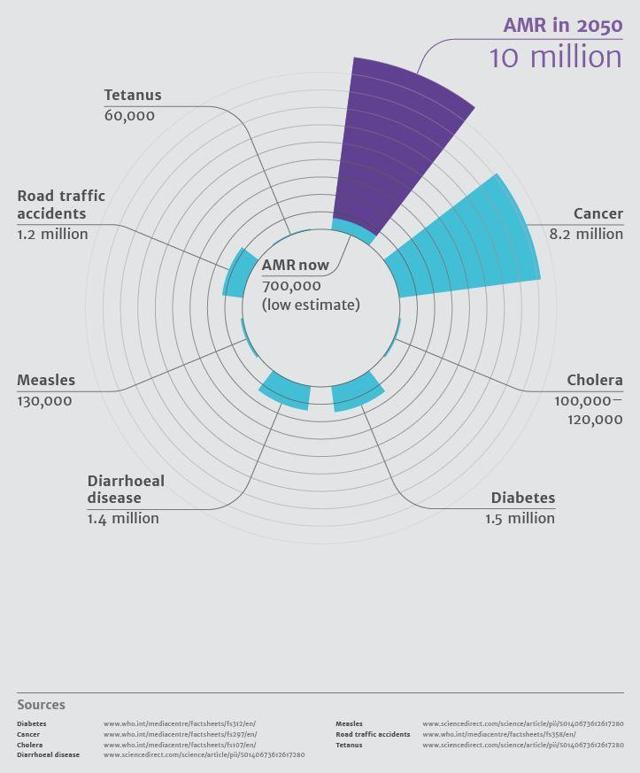 Click to enlarge
Evolving political awareness and public policy
In our view, 2016 has been a year of particularly noteworthy events regarding AMR awareness and the subsequent years are likely to see an intensifying exchange between the industry and the public sector as reimbursement reforms and AMR incentives will need to be implemented in the West.
We retain the industry declaration at the WEF in Davos at the beginning of 2016 and the recent UNGA discussion on AMR as particularly noteworthy high profile events in terms of raising awareness. Much more is being done 'behind closed doors' in expert level working parties in Brussels, Washington, London (EMA) and Paris (OECD). National reforms and initiatives in the US, UK, some Nordic countries and FR are being complemented by overarching initiatives.
On the EU level for example, there has been talk of extending the joint procurement mechanism in place for vaccines to include antibiotics. The EMA is considering 'evaluation incentives' tailored to new antibiotics. Several crucial policy papers have also been finalized in 2015 and 2016, notably the Polton Report in France and the O'Neill Report in the UK. The Polton paper is an in-depth, rather technical document, which will serve as the basis of an upcoming reform of the French healthcare system.
In a nutshell, the French 'high authority on health' is poised to strengthen the statistical weighting of expensive drugs' economic spillover effects (think reduced hospitalization burden and overall HC costs for MDR infection patients being treated with new antibiotics) when setting the price at which the French universal healthcare system purchases said drugs. This bodes well for a drug such as Achaogen's lead candidate and legitimizes management's ambition to 'value-based' pricing on a similar basis as Forest Laboratories' Avycaz, acquired by Allergan (NYSE:AGN).
Avycaz (ceftazidime & avibactam combo) currently commands a wholesale acquisition cost of around $900 / day, and is frequently cited as a pricing precedent for similar antibiotics of last resort to come. Achaogen's Plazomicin addresses a similarly, if not more, urgent need and similar, if not higher, pricing can be justified on the basis of significant savings in hospital bills. From the policy-maker's perspective, premium pricing for these ABs of last resort both incentivizes their development ('pull measures', in conjunction with 'push-measures' such as BARDA grants) and together with appropriate labeling and guidance, serves as deterrence from excessive prescription and administration.
The O'Neill report, officially Tackling drug-resistant infections globally: Final report and recommendations as published in the Review On Antimicrobial Resistance in May 2016, focuses on the AMR question and in its recommendations goes beyond just drug pricing, tackling issues such as rapid diagnostics, reporting & surveillance or the dearth of infectious disease specialists. I encourage interested readers to go over this very accessible and comprehensive publication themselves.
For the purposes of this article, it is noteworthy that the O'Neill report promotes the idea of 'market entry rewards' for new antibiotics, which would be substantial (around $1bn) and payable upon entry of a new product on the market. This proposal has generated quite a bit of buzz in the pharma / AMR space and a reputable, experienced acquaintance in the industry would not dismiss the idea as unrealistic.
Other unconventional 'pull' initiatives that have been proposed include the attribution of extended IP / marketing rights to companies bringing new antibiotics to market, for a drug of their choice. Imagine AbbVie obtaining extended rights to Humira for successfully developing a new systemic antibiotic…
In the US, a bill called DISARM[7] needs to be taken up by the Senate "in some form, which could happen as part of a 21st Century Cures bill, as part of PDUFA in 2017 or as an independent bill" per Achaogen IR. The primary interest lies in decoupling antibiotics procurement and pricing from diagnosis-related group limitations in hospital settings, which would greatly reward a compound such as Plazomicin.
On the one hand, the antibiotics space is becoming more attractive out of sheer epidemiological necessity. On the other hand, pharmaceutical companies that are frequently targeted politically can trade favors with policymakers around the globe by ramping up R&D in the AMR space once again.
The evolving epidemiology of MDR infections from the practitioner's point of view
At an event hosted by Achaogen on July 19, Dr. Keith S. Kaye, Corporate Medical Director in charge of Hospital Epidemiology and Antimicrobial Stewardship at both Wayne State University and Detroit Medical Center, laid out the urgent need for new antimicrobial compounds such as Plazomicin in view of the rapid spread of gram-negative "Superbugs."
All pathogens contained in the acronym ESKAPE from the 2009 keystone publication 'Bad Bugs, No Drugs: No ESKAPE!'[8] are, with the notable exception of MRSA, gram-negative bacteria as addressed by Achaogen's pipeline. A slide deployed by Dr. Kaye illustrates the steady decline of systemic antibiotic agents approved within subsequent 4-year periods by the FDA starting from the 1980s: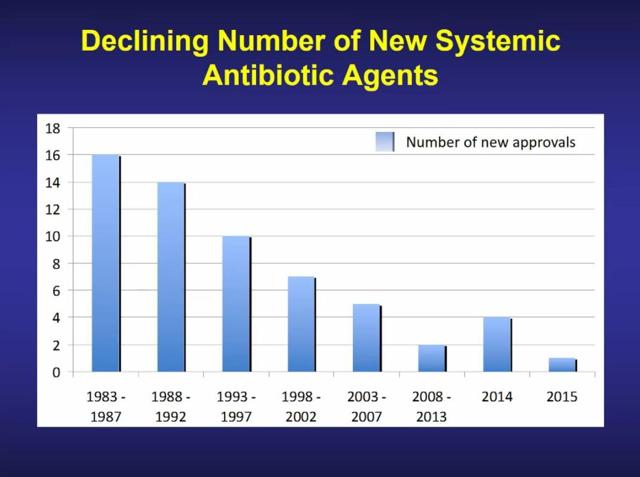 Click to enlarge
The situation is more bleak than even the above chart would suggest, as discussed by the CDDEP:
Looking at this, you might conclude that the 1980s and early 1990s were the "glory years" for new antibiotic introductions.

But that would only be partially correct. Nineteen of the antibiotics on this chart were not commercially or clinically successful and were ultimately withdrawn or discontinued from the market. Since 1980, antibiotics have suffered market withdrawals at triple the rate of all other FDA-approved drugs. Six of these drugs were formally withdrawn for safety-related reasons, while for others, safety questions played a role in limiting clinical and commercial success. Approval of these drugs didn't help patients much, nor were the companies rewarded because sales were low. In short, we should not celebrate antibiotic introductions from the 1980s and early 1990s in the way the chart above implies.
When adjusted for withdrawn and discontinued drugs, the chart looks like this: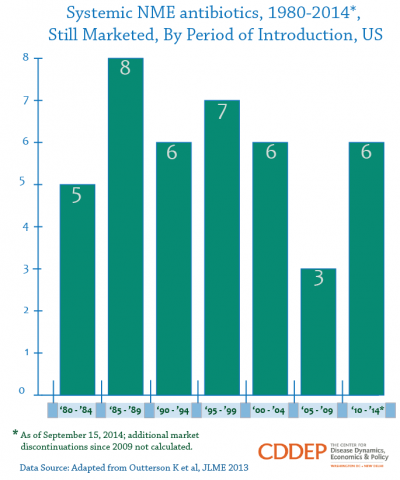 Readers may note the negative correlation between discontinuation / withdrawal rates and period of introduction, an encouraging trend in that it points to 'lessons learnt' by the industry.
Dr. Kaye emphasizes that even among the few recently approved agents, none specifically address the most urgent emerging threats, notably resistance to the Carbapenems frequently used as a last resort in MDRGN. In fact, the 2009 ESKAPE paper underlines the "growing need created by the emergence of carbapenemases" and "found no antibacterial drugs with a pure gram-negative spectrum that have reached phase 2 development". Within the MDRGN sub-group, Dr. Kaye defines the spread of carbapenem-resistant enterobacteriaceae (CRE), as targeted by Achaogen's Plazomicin, as the most concerning development.
Recent publications echo this sentiment while calling for swift action[9]. The CDC in 2013 classified CRE among the 3 "Urgent Threats" with regards to antibiotic resistance, its highest classification.[10] CRE and the other gram-negative superbugs have been spreading at an alarming rate throughout the world, as a snapshot from Achaogen's most recent corporate presentations illustrates: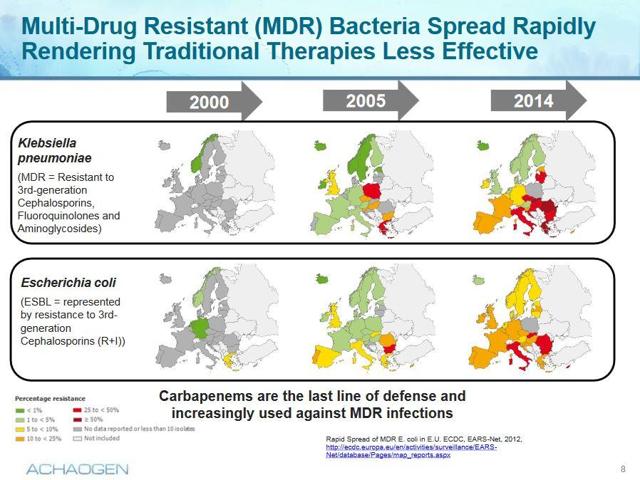 Click to enlarge
Demand for a compound like Plazomicin and justification for 'value-based' premium pricing ought to be driven by this rapid spread of MDR bacteria notably in inpatient settings with elevated risk factors, generally poor outcomes due to lack of effective treatment options and hospitalization costs that are almost directly correlated with the degree of a given infection's AMR. Importantly, as noted by Dr. Kaye, carbapenem resistance seldom occurs in isolation but rather as a manifestation of MDR with most if not all first and second line compounds being exhausted.
Thus, physicians must often revert to antiquated agents such as Polymyxins despite their unfavorable safety profile. Focusing on carbapenem resistance expressed by Klebsiella pneumoniae, the following slide from Dr. Kaye's presentation maps out the global nature of this unaddressed clinical need: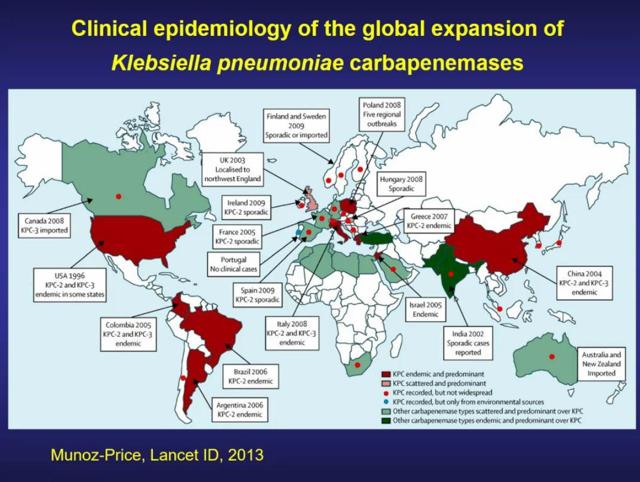 Click to enlarge
The U.S., much of South America (e.g. Brazil), Italy, Greece as well as parts of Eastern Europe and China are currently undergoing "huge challenges" with regards to carbapenem resistance per Dr. Kaye. For a further breakdown with regards to the U.S., the CDC has made interactive maps on antibiotic resistance available here: http://gis.cdc.gov/grasp/psa/index.html . Overall, "the epidemiology of MDR Enterobacteriaceae is rapidly evolving" with CRE being of particular concern. "Infections with these organisms are no longer limited to those associated with healthcare in the severely ill or infirm. Community-acquired infections are now described" and "the speed with which the newest resistance genes have disseminated among the different Gram-negative species and around the world is such that it is now considered a global public health crisis."[11]
Negative developments keep on making headlines in the field, such as the news of plasmid-mediated (potential for a swift spread) colistin resistance having emerged in China, leaving little doubt that 'superbugs' will continue making headlines for good reason.
The Causa Cempra
We would be amiss to ignore the recent case of Cempra's (NASDAQ:CEMP) Solimicin FDA AdCom, which took many investors by surprise. The AdCom recommended approval of what some thought would become a blockbuster drug with the narrowest of votes. Hepatotoxicity concerns weighed heavily on the drug's prospects as all but one panelist felt comfortable about Cempra's disclosure of toxicity concerns.
We tuned in to the live transmission of the full AdCom and noted the prosecutorial zeal and the extensive modeling employed by FDA officials to make their case for larger clinical studies. This is a highly instructive case for investors in the AMR space and we deduce the following:
The FDA will not renege on its regulatory obligations in the face of the need for new antibiotics
The FDA takes toxicity, hepatotoxicity in particular, very seriously when evaluating ABs meant to address widespread, community acquired infections
The FDA is looking at AB class-dependent toxicity precedent to inform its assumptions
The moment the FDA released its meeting documents for the Solimicin session, it became clear that the infamous example of Ketek (an AB fallen out of favor due to hepatotoxicity among other things) was influencing the FDA's stance towards Solimicin, which is in the same class of antibiotics ('macrolides'). The FDA's cautionary approach to widely used ABs is also evident in its relabeling of Fluoroquinolones earlier this year.
Inversely, this cautionary approach built upon analogous precedents should embolden Achaogen investors. As a neo-aminoglycoside, we do not expect Plazomicin to exhibit hepatotoxicity or the debilitating side effects of fluoroquinolones. We expect Plazomomicin to exhibit common aminoglycoside side effect such as tinnitus.
Plazomicin is designed to address only the most urgent, in-patient, needs. Regulators are not blind to such nuances and while they may be willing to apply extreme caution to an AB intended for widespread use, we are confident that they would approach a drug of last resort such as Plazomicin with a more accommodating mindset.
Additionally, manufacturing issues linked to Cempra's Indian CMO had previously cast aspersions on the company's management/judgment. Achaogen investors on the other hand can put their mind at rest knowing that Plazomicin will be manufactured by award-winning Portuguese API producer Hovione, with Pfizer/Hospira acting as CMO.
Plazomicin: competitive landscape and commercial opportunity
Positioning
Derived from sisomicin, Plazomicin is "the only aminoglycoside engineered to overcome aminoglycoside modifying enzymes (AMEs)." Like CREs, AMEs seldom come alone but usually "co-travel with other resistance mechanisms" (including CREs). In vitro activity is impressive: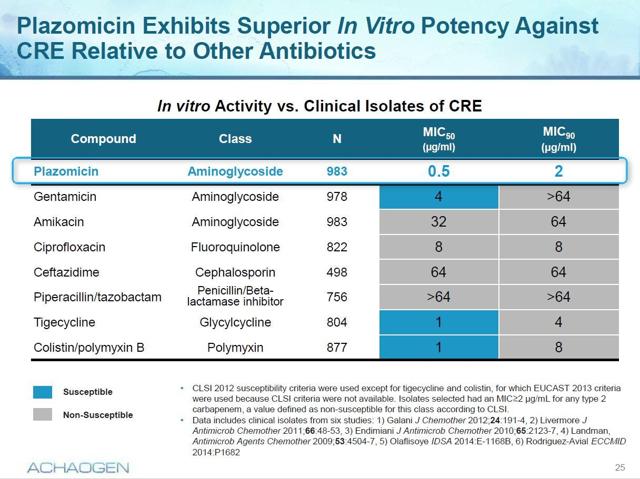 Click to enlarge
In-depth data presented at last month's Infectious Disease Week (IDWeek) event provides us with further insights into Plazomicin's in-vitro activity against more than 2000 clinical isolates. Importantly:
Plazomicin was very active against Enterobacteriaceae isolates that were non-susceptible to other aminoglycosides [...] inhibiting 23/25 (92.0%), 175/184 (95.6%), and 186/191 (97.4%) of the isolates non-susceptible to amikacin, gentamicin and tobramycin, respectively, at ≤2 μg/mL.
Another presentation at IDWeek has provided us with critical early insights into Plazomicin's bioavailability in a small cohort of PHIII patients. The results are very reassuring in that Plazomicin is present in human plasma in concentrations entirely sufficient to provide the desired antibacterial effect.
Unlike most other drugs, antibiotics tend to fail early rather than in late stage trials, and the insights presented at IDWeek further de-risk Plazomicin's PHIII studies. Based on what we know about Plazomicin and given the ahead of schedule enrollment and study completion in PHIII, we are highly confident about a positive outcome being announced by EOY.
In terms of the investment thesis, the question is rather one of market opportunity and costs: expected (peak) sales based on demand and the competitive landscape.
Given the dire epidemiological nature of CRE and other MDR infections, infectious disease specialists and affected hospitals across the world are keeping a keen eye on promising drug candidates like Plazomicin. The enthusiasm and speed at which AvyCaz has been taken up illustrates this point. Achaogen has run its own (blinded) physician polling on the matter, with rather telling results. Both in confirmed and suspected CRE infections, physicians estimate that a drug with Plazomicin's profile could capture about a third of the market share, albeit in combination therapy with other drugs.
We should note that diagnosis-related group ('DRG') limitations have the potential to impose price ceilings on antibiotics and that the use of multiple antibiotics in combination therapy could inflict pricing pressure on the most expensive compound, in this case Plazomicin. This could be manifested in the shape of discounts. As we mentioned earlier in our policy discussion, legislation is underway to decouple drugs such as Plazomicin from DRG limitations in the U.S.
The rollout of AvyCaz also suggests that pricing is a secondary concern for new antibiotics of last resort addressing relatively small populations and analyst comments at the 2016 Stifel Healthcare Conference, where Achaogen delivered a great and thorough presentation (worth listening to!), reinforce our belief that Plazomicin could command an even steeper price than AvyCaz.
Based on the epidemiological nature of nosocomial CRE infections, we expect a rapid rollout. Given the compound's efficacy, safety profile and ease of use (once daily administration & precise labeling) in a very critical application and given positive policy dynamics, we expect the company's expectations for premium pricing to pan out.
The Pew Charitable Trusts maintain an updated data table on antibiotics currently in clinical development. Below is a selection of compounds addressing ESKAPE pathogens that are currently in PHIII akin to Plazomicin:
Drug candidate

Company

Drug class

S-649266

Shionogi Inc.

Cephalosporin

Omadacycline

Paratek Pharmaceuticals

Inc.

Tetracycline

MK-7655

Merck & Co. Inc.

Carbapenem+novel

beta-lactamase inhibitor

Carbavance

Rempex (The Medicines Co.)

Meropenem+novel

boronic beta-lactamase

inhibitor

Eravacycline (failed)

Tetraphase Pharmaceuticals Inc.

Tetracycline

Plazomicin

Achaogen Inc.

Aminoglycoside
Of the above, we consider the Medicine Company's Carbavance and to a lesser degree Merck's MK-7655 as competitors with Plazomicin in the clinic. This comes with a huge caveat: neither Merck's nor the MedCo's beta-lactamase inhibitor combos cover certain potent metallo-beta-lactamases or OXA-48-types dubbed 'the phantom menace' in a recent paper - Plazomicin does. Additionally, it should be expected that new beta-lactamase inhibitor combos will soon be overcome by new bacterial resistance mechanisms, necessitating an alternative.
Our own conversations with MDs and public health experts corroborate Achaogen's assertion that a highly potent, unique neo-aminoglycoside with Plazomicin's characteristics will be a prized asset in the clinic. We expect PHIII top line data to underline Plazomicin's remarkable synergetic efficacy in combination therapy - perhaps the single biggest selling point and competitive advantage of the drug in practice.
Commercial opportunity & valuation scenario
The following is an attempt at establishing the fair value of Achaogen, contingent upon FDA approval of Plazomicin for cUTI CRE indications all the while omitting the potential of the company's LpxC and antibody platforms, which merit follow-up.
Based on:
Available and conservatively projected cUTI CRE infection numbers addressable by Plazomicin over a 10-year period in the US & EU-5 markets.
Realistic take-up of the drug in confirmed and suspected CRE infections as discussed earlier on.
'Value-based' pricing as outlined by the AvyCaz precedent (roughly $900/daily WAC) and supported by emerging policy shifts.
Gradual WAC increases over the years as is common in the industry.
Market share peaking at 40% in year 4, reflecting rapid take-up given epidiomological emergency. Market share tapering off to 15% in the final years of the 10-year cycle due to emerging resistance / competition.
Roll-out discounts from year 1 to 3 so as to reflect, inter alia, post-approval studies by key opinion leaders.
A steady, 70% profit margin.
Fixed costs tied up in roll-out effort. For the sake of convenience & to err on the cautious side of things, we estimate roll-out costs to be the sum of year 1 and year 2 net profit (=$685.12m), we have established a NPV of $1.1bn for Achaogen (28% discount rate). With currently 26.68m shares outstanding, this translates into $41 / share.

Click to enlarge
Barring an acquisition somewhere between the PHIII results due by EOY 2016 and the NDA filing in H2 2017, Achaogen will need to raise funds as grant money runs out and the rollout effort begins.
Management in the most recent quarterly call has strongly hinted at its ambition to secure an ex-US commercial partner next year. We expect the company to stem marketing in the U.S. itself. To simplify things and to err on the safe side, we determined rollout costs to total $685.12m, equaling the two initial years of Plazomicin contribution margin in our NPV model. We may reasonably expect that Achaogen will trade somewhere within the range between its current share price ($5) and our NPV/share price ($41) following successful top-line PHIII data in 2017.
For the sake of simplicity, we will accept $25/share. To raise $685.12m at a SP of $25, Achaogen would have to issue 27.4m new shares. That brings us to a projected total of 53.23m shares - and a dilution-adjusted NPV of $20.3/share.
Thus, we establish a conservative fair value of $20.3/share for Achaogen, which translates into roughly 400% upside from current levels.
Standard risk factors are outlined below. Readers should also consider that more favorable scenarios are entirely possible. E.g., roll-out costs could come in significantly below our cautious estimate and up-front payments by a future commercial partner could further ease the burden. Achaogen's per share value would accordingly tend towards the upper limit of the $20.3 - $41 range.
Following a successful Plazomicin NDA filing, the company would almost certainly re-introduce its remarkable 'p. aeruginosa-killer' ACHN-975 into the clinic and move ahead aggressively with its early-stage monoclonal antibody program with the enthusiastic support of Gary Loeb.
To conclude, on top of a largely de-risked lead candidate, which will benefit from dire epidemiological need and important policy dynamics, the company provides investors with an equally appealing medium and long-term outlook.
Charting
AKAO traded near $19 upon its 2014 IPO. Having reached historical lows earlier this year under the auspices of the prolonged correction in biotech indices, AKAO has bucked the trend and started a marked reversal at the end of May. In terms of charting, the stock has underscored this reversal with a sustained breakout above the 50- and 200-day SMA about a month ago.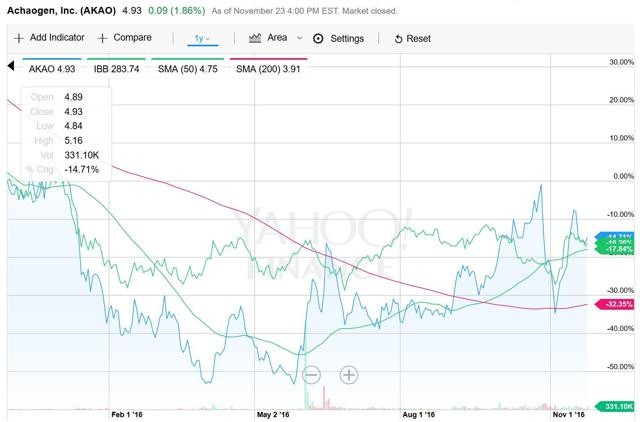 Click to enlarge
Risks
Substantial risks to our evaluation of the stock include but are not limited to the following:
Failure of Plazomicin to reach its primary endpoints (non-inferiority with meropenem) within the EPIC PHIII study.
Unfavorable competition from emerging drugs or therapies.
Evolution of widespread resistance mechanisms to Plazomicin, which could render the compound prematurely obsolete.
Premature withdrawal/discontinuation of Plazomicin due to toxicity concerns.
Policy (pricing and reimbursement) evolution less favorable than outlined in this paper.
Management risks.
---
[1] www.ncbi.nlm.nih.gov/pubmed/18289052
[2] www.umich.edu/~caflab/lpxc.htm
[3] investors.achaogen.com/releasedetail.cfm...
[4] investors.achaogen.com/releasedetail.cfm...
[5] www.sec.gov/Archives/edgar/data/1293818/...
[6] amr-review.org/sites/default/files/AMR%2...
[7] http://avalere.com/expertise/life-sciences/insights/congress-proposes-bill-to-expand-new-technology-add-on-payments-for-antibio
[8] cid.oxfordjournals.org/content/48/1/1.long
[9] www.ncbi.nlm.nih.gov/pubmed/22766646
[10] www.cdc.gov/drugresistance/biggest_threa...
Disclosure: I am/we are long AKAO.
I wrote this article myself, and it expresses my own opinions. I am not receiving compensation for it (other than from Seeking Alpha). I have no business relationship with any company whose stock is mentioned in this article.
Additional disclosure: Company management was unaware of my research and analysis efforts and my intention to publish an article on the company. My views are informed by exchanges with a number of HC professionals, policy experts and MDs over the course of the past year. I have initiated, and added to, my long position over the past 6 months.