American Eagle Outfitters (NYSE:AEO) is set to report its third-quarter results on November 30, 2016. While a modest growth in sales is expected, the EPS is anticipated to come in at $0.41, similar to the guidance provided by the company.
In its most recently reported quarter, the company posted a modest comparable sales growth of 3%. However, when taken into consideration that this growth was on comps that increased a massive 11% a year prior, the rate seems quite impressive. A factor working in the company's favor, like it has for Urban Outfitters (NASDAQ:URBN), is its cautious approach to building its store base. While the company has 949 stores in the US, Canada, Mexico, China, Hong Kong and the UK, most of them are located in the US. The company mostly operates in the international locations through its online business, which brings in revenue from 81 countries, according to the company. This restricted growth overseas gives the company less exposure to the foreign currency headwinds plaguing a number of retailers and other global risks.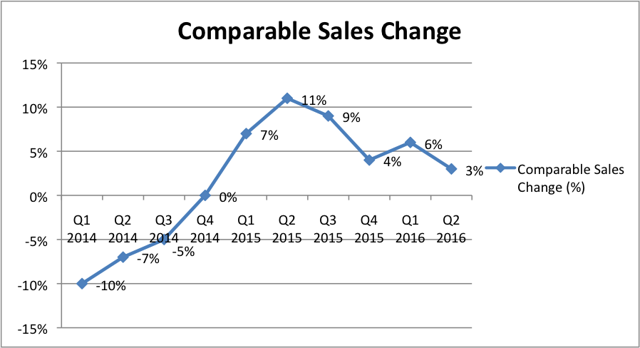 Click to enlarge
The U.S. apparel industry is gradually shifting towards omni-channel retailing, which refers to providing a seamless shopping experience across stores and the online channel. This is becoming an inevitable move for U.S. apparel retailers, including American Eagle, which is working hard to develop its omni-channel platform and has shown significant progress so far.
Online retail sales in the U.S. have grown at a rapid pace over the past several years, thanks to the growing Internet usage in the country. Internet penetration in the U.S. has gone up from 44% in 2000 to 88.5% currently. Furthermore, facilitated by the convenience of constant access, 92% of teens today go online daily, including 24% who are online constantly, according to a study conducted by Pew Research Center. Over half of the teens (aged 13 to 17 years) go online several times a day, aided by the presence of smartphones, which are available to nearly three-quarters of teens. The smartphone usage will only increase in the future and this will likely result in a steady rise in online sales. This is evidenced by research which predicts online apparel sales in the US to increase its revenue from $63 billion in 2015 to $100 billion by 2019. This segment is considered as the most popular e-commerce category in the US, accounting for 17.2% of total e-retail sales in 2015.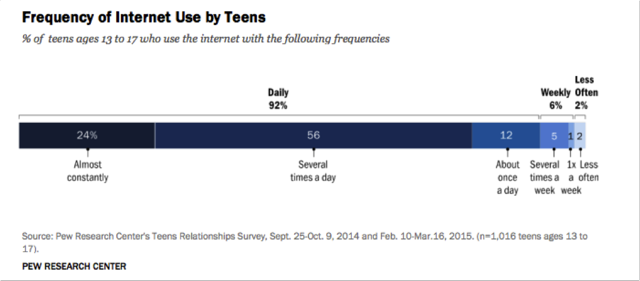 Click to enlarge
As is the case with other apparel retailers, AEO is gradually shrinking its store count and focusing more on the high margin e-commerce channel. A soft and gradual reduction in its brick-and-mortar footprint, as opposed to a large closure in one go, is a good decision as it would not result in a steep fall in its sales. The company's digital sales registered a 20% growth in FY 2015. This lends credence to its decision to develop its omni-channel presence by investing in digital marketing, and improving its website and mobile app. During FY 2015, the company invested $29.1 million in developing its e-commerce capabilities and is expected to spend more in FY 2016. The direct business continues to perform well for the company, contributing to 30% of the company's revenues in Q1 2016 and has been a major driver in its sales growth, especially since the mall traffic has been soft. Furthermore, AEO, on November 21st, launched 'reserve-try-buy', which enables pre-shopping. With this program, the customers can use the company's app to reserve an item before trying it on in a store. The company's online business, particularly through the mobile channel, has been quite strong. During the second quarter of 2016, the new Mobile-First website drove a 35% increase in mobile conversion.
Disclosure: No Positions.