When it comes to capital raises, the advice often given to CEOs is to raise the money sooner than later, and to do so before the business needs the money. The rationale is that capital markets could turn and money could get expensive or that the capital raise window may close altogether if investors get a sense that the business needs money sooner than later.
Tesla (NASDAQ:TSLA) may have run afoul of this golden advice. In Q3, the Company was planning on raising capital in Q4 and pulled all operational stops to post strong numbers for Q3. Unfortunately, the Company's effort to goose up the numbers came to public view and the Company did not get the desired outcome when it reported the results for the quarter.
The aggressive dealings of Q3 took a toll on the Company's sales pipeline and the Company was left with some thin gruel going into Q4. Tesla could have repeated some Q3 sales tactics such as heavy discounting to revive the sales pipeline but CEO Elon Musk publicly stated that Tesla does not encourage employees in discounting new vehicles and there will be no more new vehicle discounting in Q4.
In October, we predicted that Q4 would be a negative growth quarter for Tesla and sales are likely be as little as 15,000 units. As such, our prognosis was based on lack of adequate sales mechanisms to boost Q4 sales. However, Tesla has been very creative in coming up with new sales strategies. As the quarter progressed, Tesla unveiled several creative and high profile efforts to drive the sales for this quarter. They are:
Platform transition to Autopilot 2.0: While introducing this major platform change in what would traditionally be a strong quarter is a high risk move, it was an understandable development considering the weak sales pipeline. The expectation, as is common with new product launches, is that the appeal of the new features will create a product upgrade cycle among customers and drive incremental sales. However, this particular product transition was initiated without a functional Autopilot 2.0 software. Furthermore, several Advanced Driver Assistance Systems, or ADAS, features that were available in the previous generation Tesla vehicle have been disabled. Given the new functionality is not available to buyers, and given that the ADAS functions are not available, we are doubtful there will be much of an upgrade cycle from this feature set in Q4. Tesla is promising that the working software will arrive around mid-December ( see image below). However, the upside is likely far less than if the feature was released when it was ready.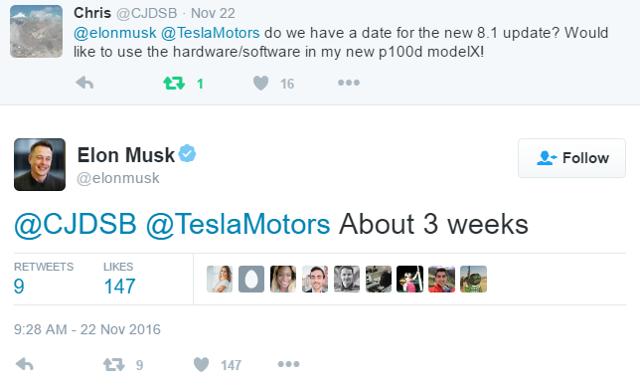 Click to enlarge
The set of missing features is very large ( image below) and shows the likely desperation of this particular product update.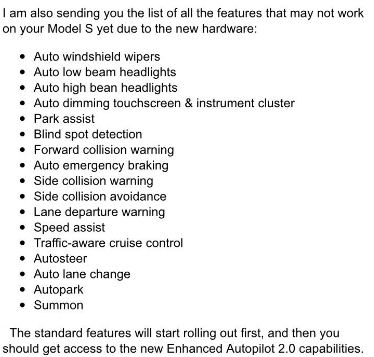 Tesla fans who purchased a de-featured Tesla on the promise of a cutting edge system are starting to get testy.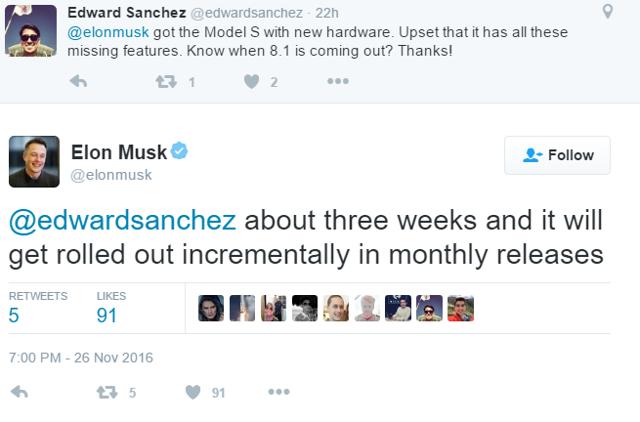 Click to enlarge
2. Removing free Supercharging feature for vehicles ordered after December 31: When it comes to Superchargers, the Tesla story has been broken for some time now. Once the Company realized its strategic error, it was a question of time before this feature was discontinued. This feature is a considerable drain on Tesla's resources and is unduly beneficial to high mileage drivers and fleet operations. Instead of terminating the program immediately on finding the problem, the Company has announced a December 31 st cutoff to be eligible for the free Supercharging program. This will goose up Q4 sales somewhat although it will be at the expense of shareholders. We expect that several high mileage customers will pull in their purchases so that they can benefit from the old program.
3. Price increase of $2000 on the base Model S for new orders starting Nov 22: This price increase, designed to coincide with the approximate made-to-order deadline for shipments before the end of the year, is somewhat of a corollary of a typical incentive program. Tesla incentivized customers to lock in purchases ahead of a price increase. We believe this was likely effective in pulling some demand forward from the next quarter.
4."Drive to Believe" program to get customers to try a Tesla for a week: Tesla started a new " Drive To Believe" program where it allows qualified customers to exchange their current car for a Tesla vehicle for a week with the hope of converting them to paying Tesla customers. This is a super aggressive sales move the likes of which is rarely seen in an industry - certainly not the sign of a supply constrained company. This can be an invitation for abuse and it is unknown what set of rules Tesla is using to screen customers and prevent abuse. Even if moderately successful in driving incremental sales this quarter, we are probably looking at a batch of low mileage, steeply discounted cars available for sale during the next quarter.
5. Discounting older AP1.0 cars: Tesla appears to have discounted most if not all of AP1.0 inventory by around $2K. While it is unclear how much inventory Tesla has of these older products, discounting the older products will help drive incremental sales.
To summarize, Tesla applied more sales levers in Q4 than we expected when we gave the initial 15K forecast in October. Thanks to the incentives and sales techniques, we believe a revision of Q4 shipments is in order. We now expect Tesla to deliver 17 to 18K cars and SUVs in the Q4 (without drawing down on vehicles in flight). While this is a meaningful increase to our prior forecast, the market may be expecting Tesla to deliver around 25,000 cars in the quarter. If our thesis pans out, Tesla would miss its guidance by a large margin and the headwinds to Tesla stock could be significant.
Going in to a new equity raise, the market is also beginning to realize that Tesla has squandered much of its BEV leadership and is now behind in offering an affordable mass market BEV. Chevy Bolt is set to become the first mass market BEV in the market. In addition, Renault Zoe is now becoming available with a range around 200 miles. While Tesla was the first Company to promise vehicles in the mass market price range, it is ironic that the stodgy traditional players are now beating Tesla to the punch. This loss of leadership narrative is coming at a time when even Tesla uber-bulls like Adam Jonas of Morgan Stanley are starting to project a 2018 product launch for the much anticipated Tesla Model 3. Given this time table, it now appears that Jaguar, Kia, Hyundai, Nissan, Infiniti, and possibly other players, will have their mass market BEV offerings in the market sooner than, or contemporaneously with, Tesla Model 3. While some of the competition is in a decidedly different market segment compared to Model 3 (ex: Chevy Bolt and Renault Zoe), vehicles from others are likely to be in more direct competition (ex: Infiniti, Jaguar).
In this increasingly competitive environment, Tesla would need to support its burn rate longer than previously anticipated and will face the prospect of releasing Model 3 into an already crowded market without the first-to-market advantage. Such an outcome can be disastrous in a capital intensive industry.
Tesla is also starting to face other challenges. For example, the closing of the much panned SolarCity (NASDAQ:SCTY) acquisition also does not help the follow on offering narrative. It also is no consolation that solar PV module prices are plummeting and Tesla is hindered by SolarCity's Buffalo fab millstone. Furthermore, the solar and EV incentive policy uncertainty under the Trump administration is likely to be decidedly negative. (see Tesla Policy Headwinds & Sales Forecast )
Looking at the near term financial picture, it appears that SolarCity absorption, lower auto sales, normalization of the balance sheet, and capital expenditures will deplete substantial amount of cash in Q4. By delaying the capital raise, Tesla has put itself in an untenable situation where the Company needs the cash desperately and sooner than later.
All things considered, we expect that Tesla would have an extraordinarily difficult time with a follow-on offering anywhere close to the current stock price. We believe a follow on pricing in the $160s or $170s, or even lower, is now likely.
Our View: Sell Short
Before it is here, it is on the Solar Insights subscriber platform. For timely and in-depth research and analysis of solar and battery industry stocks and developing news, please consider subscribing to our Solar Insights platform.
Disclosure: I/we have no positions in any stocks mentioned, and no plans to initiate any positions within the next 72 hours.
I wrote this article myself, and it expresses my own opinions. I am not receiving compensation for it (other than from Seeking Alpha). I have no business relationship with any company whose stock is mentioned in this article.