REIT Rankings Overview
In our "REIT Rankings" series, we introduce readers to one of the 13 REIT sectors. We rank REITs within the sectors based on both common and unique valuation metrics, presenting investors with numerous options that fit their own investing style and risk/return objectives. We update these rankings every quarter with new developments for existing readers.
We encourage readers to follow our Seeking Alpha page (click "Follow" at the top) to continue to stay up to date on our REIT rankings, weekly recaps, and analysis on the REIT and broader real estate sector.
Data Center Sector Overview
Data center REITs comprise roughly 6% of the REIT Index (NYSEARCA:VNQ). Within our market value-weighted data center index, we track five of the six data center REITs within the sector, which account for nearly $30 billion in market value: CoreSite (NYSE:COR), Digital Realty (NYSE:DLR), DuPont Fabros (NYSE:DFT), CyrusOne (NASDAQ:CONE), and QTS Realty (NYSE:QTS).

Click to enlarge
Equinix (NASDAQ:EQIX) is the sixth (and largest) data center REIT. We don't yet track EQIX because of its recent REIT conversion in 2015, which leaves insufficient data points for the regression analysis.
Above, we show the size, geographical focus, and quality focus of the five data center REITs we track. Average quality is determined by the relative value of the underlying properties. In the case of data centers, as we will discuss in further detail below, value is largely a function of its position along the "Internet backbone," the physical fiber optic network that connects every connected device across the world. Properties within the backbone are able to provide higher-value connectivity-based services than properties on the periphery, which provide more ubiquitous data storage-based enterprise services.
Data centers, along with the fiber optic wires that connect them, are the physical manifestation of the Internet. Even data centers play by the same rules of real estate: location, location, location. Proximity to the physical backbone is critical for speed and connectivity, which means data center customers that require this optimal service will pay-up for that location. These "Network-Dense" data centers command higher rents and higher valuations.
Other renters don't need the speed and efficiency that comes along with the prime location, but need plenty of physical server space to hold the millions of terabytes of data including video content NFLX, email GOOG GOOGL, social networks FB, software as a service MSFT, and enterprise cloud services CRM. "Enterprise" data centers are on the periphery of the fiber optic network and can be built in less populated areas where land values or other barriers to construction are less restrictive.
Apart from connectivity, the value of data centers is also a function of the physical attributes of the property which contribute to its "redundancy level". This includes highly advanced air conditioning systems, diesel-powered backup generators, and physical security systems.
New lease lengths vary from as short as a year for smaller retail clients who lease just a small server rack to well over 10 years for "wholesale" enterprise clients who oftentimes lease the entire floor or building. Unlike any other sector, data center space is leased based on power capacity usage: $/kW. Typically, renters are responsible for providing and upgrading the actual equipment they put into the data center. In essence, the data center itself simply provides the "plug" into the Internet, along with the cooling, power backup, and security features. Thus, capex remains relatively low relative to other REIT sectors.
Finally, data center investors should be aware of the supply/demand dynamics of the sector. Data centers are relatively simple structures, requiring as little as 6-12 months to construct. While there's a substantial amount of new data centers coming online in the next one to three years as companies like Apple (NASDAQ:AAPL) and Intel (NASDAQ:INTC) have poured their cash reserves into the physical construction of data centers, to this point, there's still more demand for space than supply available. Demand is driven by bandwidth usage, which is estimated to increase by 25% or more per year over the next decade driven by cloud computing (particularly as companies continue to outsource internal IT to the cloud), 4k video, artificial intelligence (including self-driving cars), digital medical records, and big data analytics.
Recent Developments and Performance
Despite falling roughly 10% over the past quarter, data center REITs have actually outperformed the broader REIT index over this time and remain the top performing sector over the past year. Q3 earnings were roughly as expected. DFT, QTS, and CONE beat consensus estimates, DLR and EQIX met estimates, and COR fell slightly short.

Click to enlarge
It is important to differentiate between performance attributable to operating results and economic conditions, and it is easy to conflate the two. Rising interest rates are behind much of the underperformance, as data center REITs are surprisingly one of the most interest-rate-sensitive REIT sectors, which we will discuss shortly.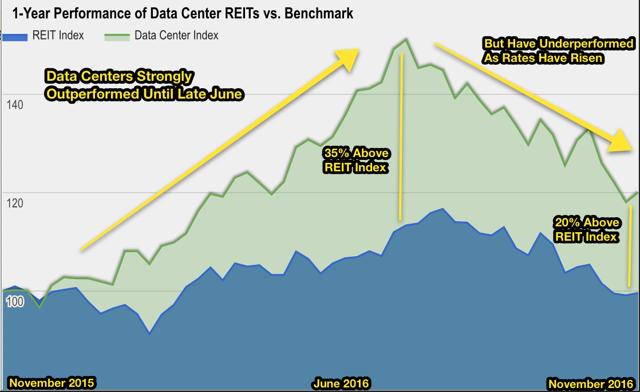 Click to enlarge
On an operational level, data center REITs continue to be among the strongest REIT sectors and have perhaps the most robust secular demand and supply fundamentals. Expectations appear to have outpaced reality for the past several months, as Q3 guidance was a bit disappointing. The primary concerns discussed by management teams during earnings season were the slowdown and choppiness in leasing activity.
REIT management teams see supply and demand near equilibrium in most markets as strong demand has been able to keep up with an increased pipeline of supply in recent years. New development is concentrated in expansion of existing buildings. The relatively fast development timeline reduces the possibility of under or oversupply over the medium term, though there are markets where supply has gotten ahead of demand.
The Republican sweep in the November elections may boost business spending, depending on the actual implementation of the proposed tax policies, which are designed to encourage capital investment. We expect that businesses will allocate much of this incremental spending towards upgrading technology systems. Business migration from local computing networks to the cloud, a trend still in its infancy, is the most robust demand tailwind on the horizon for data center REITs.
Below is our REIT Heat map, showing the quarterly performance in relation to other sectors. Data center REITs have declined 10% over the prior 13-week quarter, which is roughly in line with movements in the broader REIT sector. We highlight the weakness of Treasury notes, as well as investment grade bonds, which explain much of the sector's performance.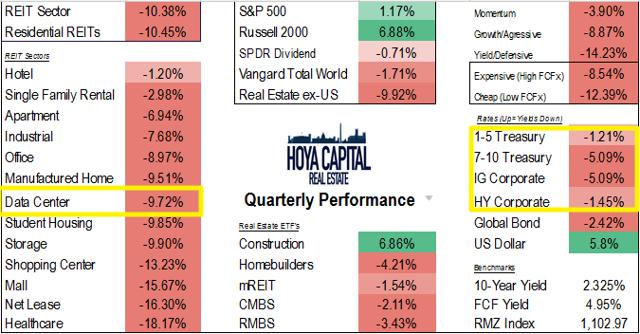 Click to enlarge
Valuation of Data Center REITs
Compared to the 12 other REIT sectors, data center REITs appear attractively valued, especially when growth expectations are factored into the metrics. Data center REITs are the seventh cheapest sector based on current free cash flows and the fifth cheapest sector based on forward 2017 FCF. At 21x current and 19x forward AFFO, data center REITs are trading at discounts to the sector average of roughly 22x and 20x, respectively. The data center sector has gotten cheaper since our last update when the sector traded at 24x current and 21x forward FCF.
When we factor in two-year growth potential, the sector appears more attractively valued. We use a modified PEG ratio, using the forward FCF multiple divided by the expected two-year growth rate, which we call FCFG. Based on FCFG, data center REITs are the second cheapest REIT sector.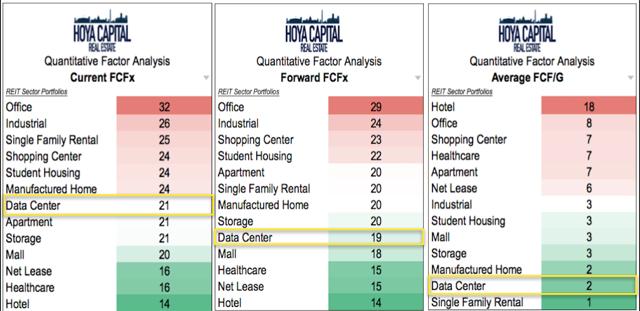 Click to enlarge
(Hoya Capital Real Estate estimates, Company Filings)
Expected to grow AFFO at roughly 12% over the next two years, data center REITs are among the fastest growing REIT sectors, above the REIT average of 7%. The average AFFOG multiple for REITs has increased from 4.5 to 6 since our last update.
As we always highlight, in efficient markets, high multiples are a function of an expectation of stronger future operating performance as well as the predictability and sustainability of future cash flows. Some companies, particularly those with management teams that have a proven track record of net asset value growth, warrant a persistently high multiple, while other companies achieve a higher-than-warranted multiple through a shorter-term market inefficiency.
Equity multiples have added operational significance for REITs. As REITs must raise equity capital to fuel growth, equity that can be sold at a premium is cheaper and thus more likely to result in NAV accretion. In that way, equity valuations for REITs have self-reinforcing characteristics. Thus, cheap REITs have a tendency to stay cheap, and expensive REITs tend to stay expensive.
Within the sector, the smaller names, CONE and QTS are the cheapest across all three metrics. QTS currently has the best FCFG of any REIT we track. COR and DLR, the more established names in the sector, trade at slightly higher multiples. COR has traded at premium FCF multiples for several years, and its slight underperformance over the past year reflects some moderate re-pricing occurring within the sector.

Click to enlarge
Dividend Yield and Payout Ratio
Based on dividend yield, data center REITs rank quite high, paying out an average yield of 3.9%. This may be surprising given the high growth trajectory, particularly when compared to other tech-focused equities, which are known for minimal dividend distributions. Data center REITs pay out roughly 84% of their available cash flow, ranking towards the top of the REIT sectors, but leaving enough "wiggle room" for increased dividend distribution or development. As we will mention shortly, the high dividend yield does have a downside: interest rate sensitivity.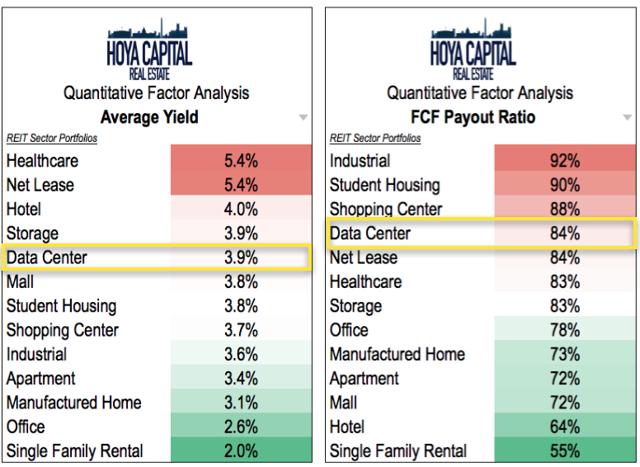 Click to enlarge
DFT tops the rankings when it comes to dividend yield at 4.5%, but doing so by retaining just 7% of FCF. DLR follows a similar strategy at 3.9% by retaining just 11% of FCF. Smaller REITs COR, CONE, and QTS pay out slightly lower yields but retain a more significant portion of FCF to plow back into development or future dividend increases.

Sensitivities to Equities and Interest Rates
Followers of our research know that we put a lot of emphasis on factor analysis, specifically looking at how REITs have historically responded to changes in the broader equities market, interest rates, and to movements in the REIT index itself. We believe it is critical that investors understand how their investments will respond in different economic environments.
The high level of interest rate sensitivity surprises many data center REIT investors. Using our Beta calculations, we show that data center REITs are the fourth most interest-rate-sensitive sector. High interest rate sensitivity is a result of longer-than-average lease terms and high dividend yields. The relatively low Beta to the S&P 500 (NYSEARCA:SPY) is also surprising, as tech-focused equities are normally associated with high beta.
Since our last update, the yield sensitivity of the sector has decreased slightly from .86 to .85. For more details on these calculations, we highlighted the dynamics of bond-like and equity-like REITs in our previous articles, "Are REITs Bond Substitutes" and "REITs Without Interest Rate Risk."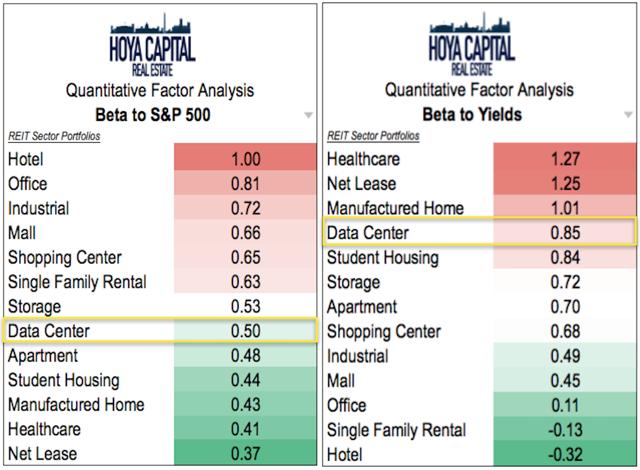 Click to enlarge
Interestingly, there is quite a divergence in the factor sensitivities within the sector and we can see how it all relates to the dividend distribution strategies of these firms. DFT and DLR, both of which pay out high yields by using the bulk of their available FCF, are highly sensitive to movements in interest rates. Investors see these names as more bond-like. CONE and QTS, which pay out lower yields, have correspondingly low interest rate sensitivities.

Click to enlarge
Bottom Line
The stock performance over the past several months has not been truly indicative of the continued operating strength and supply/demand fundamentals in the data center REIT sector. Data center REITs continue to be the growth engines of the broader REIT sector. Once a "fringe" sector, they have gained mainstream acceptance with both REIT-focused and generalist investors, and for good reason: these companies are at the epicenter of the Internet and the explosion in data consumption.
The dividend distribution strategy of high payouts and lower retained earnings provided a tailwind as global bond yields declined through much of 2015 and 2016. Since bottoming in August, though, higher yields have been a substantial headwind on the sector.
This yield-induced pullback may be an early Christmas present for new investors, presenting an opportunity that alluded them for several years during the rapid share price appreciation. The choppy leasing activity, though, is something to keep an eye on, as is potential for oversupply in some markets. Increased business spending resulting from the Republican electoral landslide will likely speed up the migration into the cloud, which may be exactly what was needed to get the sector back on the right track.
Based on our metrics we outlined above, we view QTS, CONE, and DLR as our three top picks within the sector. The small-caps QTS and CONE continue to hover under the radar and are relatively immune from interest rate risk. DLR is the proven sector leader and its yield-induced sell-off may be overdone.
Please add your comments if you have additional insight or opinions. Again, we encourage readers to follow our Seeking Alpha page (click "Follow" at the top) to continue to stay up to date on our REIT rankings, weekly recaps, and analysis on the REIT and broader real estate sector.
Disclosure: I am/we are long DLR, CONE, COR, QTS.
I wrote this article myself, and it expresses my own opinions. I am not receiving compensation for it (other than from Seeking Alpha). I have no business relationship with any company whose stock is mentioned in this article.
Additional disclosure: All of our research is for educational purpose only, always provided free of charge exclusively on Seeking Alpha. Recommendations and commentary are purely theoretical and not intended as investment advice. Information presented is believed to be factual and up-to-date, but we do not guarantee its accuracy and it should not be regarded as a complete analysis of the subjects discussed. For investment advice, consult your financial advisor.