Why some businesses grow over time while some are losing their steam? Buffett explains it in a simple manner:
"The single most important decision in evaluating a business is pricing power. If you've got the power to raise prices without losing business to a competitor, you've got a very good business. And if you have to have a prayer session before raising the price by 10%, then you've got a terrible business."
The second question goes like this: What is behind the pricing power? In my previous article, I explained in detail the competitive position (moat structure) of Novo Nordisk (NYSE:NVO). Now, I'm going to discuss the underlying fundamentals of its business.
R&D Pipeline
A pharmaceutical company's operating performance is determined largely by the success of its drugs and drug candidates. Even the best-managed and best-positioned company is not immune to the risks of extreme events that are impossible to foresee or hedge. Examples include, but are not limited to, supply disruptions, the emergence of new competitors, the failure of high-profile pipeline compounds and so on.
Putting all of these aside, the most important fact is that if Novo Nordisk's pipeline does not progress well and if it fails to discover and develop new, innovative products for people with diabetes and other serious chronic conditions, then Novo will not be successful in the long term.
Significant projects in the research and development pipeline include a new, faster-acting formulation of insulin aspart, a once-weekly injectable GLP-1 analogue semaglutide and a once-daily tablet version of semaglutide. Here is the recent overview of the Novo Nordisk pipeline: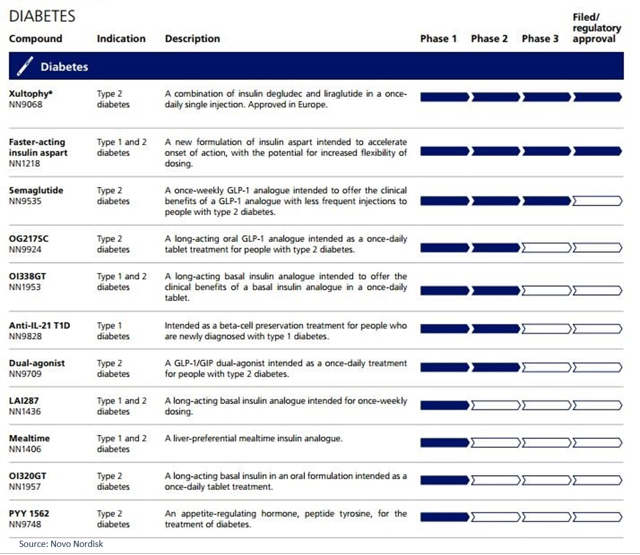 Novo got approval in the U.S. for its new, long-lasting insulin Tresiba at the beginning of the year. That put Novo on a higher level in the most important insulin category. Also, it has filed for approval for Xultophy (it lowers blood sugar with a significantly lower risk of hypos) in the U.S. In addition, Novo filed for regulatory approval of faster-acting insulin in the U.S and the EU for the treatment of type 1 and 2 diabetes in December last year. Three weeks ago, Novo received a positive opinion from the European regulatory authorities for Fiasp (fast-acting insulin) for the treatment of diabetes. Novo Nordisk expects to receive final marketing authorization from the European Commission in the first quarter of 2017. Last week, the company received U.S. FDA approval for Xultophy 100/3.6, which is used as an adjunct to diet and exercise to improve glycaemic control in adults with type 2 diabetes.
Furthermore, NVO has updated its R&D strategy to reflect the increasingly challenging payer environment, particularly in the U.S. market, by applying an even higher innovation threshold for starting and progressing R&D projects within diabetes. Focus will be on exploring current projects into adjacent disease areas of high unmet need. Also, the company will discontinue exploration of oral insulin and combinations involving oral insulin, as well as a number of changes to the portfolio of early-stage projects, reflecting the required higher innovation threshold.
A glance at the pipeline gives a hint of what is in store. As long as R&D department can continue to discover new treatments that are first in a new class or significantly better than products in an existing class, Novo will be able to grow. Novo Nordisk currently has a very strong pipeline of products that will be launching in the coming years.
Price Pressure
Price pressure is another trend that has persisted for many years and has accelerated recently as government-linked payers have felt the brunt of austerity while pri­vate payers have been affected indirectly by austerity and recessionary tendencies. Although one or more price increases a year remain the norm for many effective drugs marketed in the U.S., price cuts occur with some regularity in many other regions.
Based on JAMA study's data, the cost of insulin more than tripled from $231 to $736 a year per patient between 2002 and 2013. The increase reflected rising prices for a milliliter of insulin, which climbed 197% from $4.34 to $12.92 during the same period. Meanwhile, the amount of money spent by each patient on other diabetes medications fell 16 percent to $502 from $600.
It is obvious that diabetes has moved from being a relatively small cost to the medical system to a large and growing one. As a result of that, the prices of insulin came under more scrutiny and political intervention. To manage the purchase and delivery of healthcare, employers and the government contract with intermediaries such as health plans and pharmacy benefit managers. These are often referred to as payers, but are in most cases managers of healthcare costs on behalf of payers. Pharmacy benefit managers have undergone consolidation in recent years (top three now control 4/5 of the market). In the U.S., significant sales rebates are paid in connection with pharmacy benefit managers and managed healthcare plans.

More scrutiny by public and consolidation of PBMs put weight on insulin prices. Now, if we know that the most important factor in evaluating a business is pricing power, we can understand why the stock price is going south this year. Simply, Novo Nordisk has problems in the U.S. with pricing power and the key question relates to intensity and duration of the pressure. Is it short-term pressure until the market digests significant price increases in the previous years, or insulin producers are losing their battle? The answer to this question is not as simple as the question because the business analysis is not a science, but it is an art.
Conclusion
Despite the pressures on the industry pharmaceutical companies, the one that proves capable of developing new and better products will be in business for many years to come. Ultimately, this industry, like other industries, is driven by supply and demand. And the demand for better treatment options will only increase as more people in developing countries get access to healthcare as economies grow.
Not all companies will do equally well and, for some, the only option is to let themselves be acquired or merged with another company, while for others focus will be on innovation. Novo Nordisk belongs to the second group.
Disclosure: I/we have no positions in any stocks mentioned, and no plans to initiate any positions within the next 72 hours.
I wrote this article myself, and it expresses my own opinions. I am not receiving compensation for it (other than from Seeking Alpha). I have no business relationship with any company whose stock is mentioned in this article.