The common theme among cars dubbed "Tesla (NASDAQ:TSLA) Killers" is that they are long-range electric cars. I'll look at a few cars dubbed Tesla killers and then look at what a real Tesla killer would need to be.
The Tesla "Killers"
The Chevy Bolt is the first supposed Tesla killer to hit the market. The expectations set by GM (NYSE:GM) were very high with confident and bold statements like:
GM's balance sheet is in pretty strong shape, so we don't need to take $1,000 of your money just to hold a spot
Source: Electrek
For GM, the Bolt stands to offer a head start in a new kind of market for electric cars. But for the rest of us, there's a broader significance to this news. It's not just that Chevy will likely be first. It's that a car company as lumbering and gigantic as GM, with infrastructure and manufacturing capacity on an epic scale, has gotten there first - and is there now. Tesla is nimble, innovative, and fun to watch, as companies go. But the Bolt is far more significant than any offering from Tesla ever could be. Why? Think of the old saw about how long it takes to turn an aircraft carrier around: It's slow, and there's not much to see at any given moment. But the thing about people who actually manage to turn one around is: They've got a freaking aircraft carrier.
Source: InsideEVs
Then reality hits. That the plan all along was to make a handful of cars in 2016 just to claim the title of beating the Model 3 to the market with a very slow ramp in 2017. At this time chances seem good that Tesla might manage to outsell the Bolt in 2017. After all, Tesla targets 100,000 Model 3s in 2017, while GM may or may not meet their 30,000 target based on the comment below:
GM spokeswoman Michelle Malcho, who said the company is "focusing on this year getting the cars ready for customers," and will be delivering vehicles to other states at a slower pace. Despite high interest in the vehicle, the Bolt will only be available in "limited quantities" throughout 2017.
Source: The Verge
So basically the Bolt is likely to be another low volume compliance car for the near future.
Let's see how others fared:
Audi Confirms 300-Mile Range EV, Plans To Compete With Tesla:
Audi confirms two new pure electric cars will enter production.
First up is the R8 eTron super-sportscar, to be unveiled in January 2015.
Far more important is the 300-mile range EV family car, set to start production in calendar year 2017.
Source: Seeking Alpha article dated Nov 2014.
The R8-eTron now stands cancelled. Also Audi's 300-mile goal is on the overly generous European cycle where the Tesla Model S P100D is already at 381 miles. The non-performance 100D is likely to get close to 400 miles. Nothing is planned for 2017 at the VW group (VW, Audi, Porsche). Instead we had Dieselgate.
Porsche only plans on making 20,000 of their Mission-E Tesla killers annually starting 2020.
The same is the case with everyone else. The earliest anything is likely to appear in volume as a long range EV is possibly the Bolt in 2018 and others in 2020.
To Kill (no quotes) Tesla
The big problem with all the announced and proclaimed Tesla killers lies in the fact that a Tesla killer is not just a long-range EV. Tesla moves so fast that the bar keeps being set higher every few months. A Tesla killer is a constantly improving, long-range EV and now self-driving has been added to the mix. Note that I put "constantly improving" as the first criterion. Not long range. A recent example of Tesla constantly improving is the human detection upgrade to Tesla Autopilot. Another example is the update to the P100D making it go 0-60 faster than a Ferrari and as fast as the Bugatti Veyron. There are countless such examples to Tesla improving cars via software and also examples of Tesla constantly improving the hardware in new cars.
Let's take a deeper look at just how fast Tesla is improving:
Acceleration
Here are the 0-60 times of the fastest accelerating Model S by year: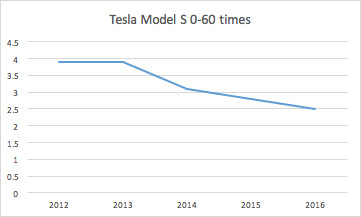 Source: zeroto60times
(does not include the P100D 2.4s update)
Fuel Economy
Here is the fuel economy of the most fuel efficient Model S available by year: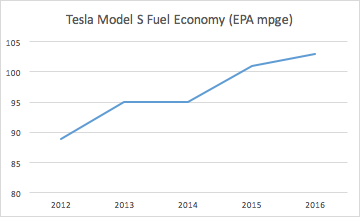 Source: FuelEconomy.gov
Range
Here is the range of the top range Model S by year: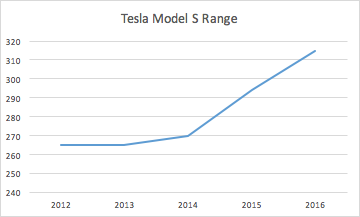 Source: Tesla and Electrek for the 2016 100D
AutoPilot
Tesla Autopilot 1.0 was the best reviewed driver assistance system in industry:
Car And Driver: Tesla is highlighted as the winner against BMW, Mercedes and Infiniti.
The Drive: "Did anyone in Stuttgart drive a Tesla on Autopilot? Even once? People need to be fired.", "(Mercedes Drivepilot_ drove like a drunk 10-year-old, fighting for the wheel with a drunk 14-year-old. It was, in most conditions, dangerous."
Autofill.no: "As tested, Tesla is a better system that is more active and safer in use."
When the Tesla-Mobileye relationship ended, nobody was expecting Tesla to announce their self-driving capable hardware this fast, putting the rest of the industry even further behind. Here is what the Nvidia (NASDAQ:NVDA) CEO had to say:
(Tesla is) basically five years ahead. Anybody who's talking about 2021... that's just a non-starter anymore.
Source: CarScoops
Charging
So far, no EV on the market other than Tesla is capable of anything close to Tesla supercharging. Not even the Bolt - which is limited to 50kW. A Tesla, on the other hand, can charge at 135 kW. The original Model S was only capable of 90kW. And Tesla is only moving further along in this space as superchargers are getting 145kW charging upgrades.
Here's an article from two years ago: BMW And Volkswagen Join Forces To Take On Tesla's Supercharger Network.
Here's the reality:
out of those "more than 30,200 (Chargepoint) charging spots,", only 371 are DC fast-chargers, while all of Tesla Superchargers are DC fast-chargers. You can't even begin to compare the two networks. Tesla DC-fast charging networks is not only several times bigger than ChargePoint's, but also faster, placed better, has many more stalls per location, etc etc. And, if you are counting level two networks you have to count all of Tesla's destination chargers…and why are we comparing Tesla's network with Chargepoint. Teslas can (again) charge at almost every ChargePoint network location.
Source: Electrek
Battery Costs
The biggest item in a long range EV is the battery and Tesla has a significant head start. While we had negative articles about the Tesla Gigafactory being some kind of sham such as this one - The Tesla Gigapotemkin Village - the factory is now double the size as it was when the article was written.
While Tesla's energy storage batteries are different from car batteries, Tesla's Powerwall 2 pricing was a big shocker. Basically nothing else competes and the story in automotive packs is basically the same. VW CEO recently admitted that a battery factory might be a good idea.
There is simple logic for that. LG (OTC:LGEAF) is the primary supplier of automotive battery packs to almost everyone other than Tesla. And in 2020 if everyone will need a lot of battery packs LG should be building massive factories across the globe now. But that is not happening and I expect everyone else's EV ramps to be bottle-necked by battery supply.
So far Tesla's execution has been excellent despite the delays. They have done everything right:
Backed the right horse (EVs vs. other technologies like fuel cells).
Solved the chicken and egg charging for long distance problem - no cars because no chargers and no chargers because no cars.
Made the most appealing performance yet family friendly cars.
Stayed ahead of the pack in other technology like OTA updates, driver assist and self driving.
Now that I've addressed what it would take to be a Tesla killer, I'll take a quick look at the elephant in the room:
The SolarCity (NASDAQ:SCTY) acquisition
The simple fact is that Tesla storage needs a solar installer. A great example is the installation on the Island of Tau which combines 6MWh of Powerpacks with a 1.4MW solar farm. This is the future of energy and Tesla will stay at the forefront. Even long-time Tesla bear Paulo Santos recently revised part of his opinion after watching the Solar Tile reveal and the demonstration of self driving.
While I invested in SCTY at roughly a 50% premium to the current price of Tesla - I believe the lead that the combined company has in cars and energy will continue to grow as the rest of the world stands still while pretending to scramble to build EVs.
Conclusion
Every day that passes by where any 200-mile EV is branded a Tesla killer is a day that the market gets it wrong. A Tesla killer is now a:
300-plus mile EV that will soon be capable of driving itself
Every user gets all the updates to the car that the hardware can handle
It can out-accelerate a

Ferrari.
That is now. The profile of a Tesla killer in a few years could be a self-driving car capable of participating in an Uber-like (Private:UBER) network with a range of 400-plus miles and a charging network capable of charging such a car without human interaction. The future is here and the industry needs to get with the program.
Buy TSLA while you have a limited time holiday sale under $200.
Disclosure: I am/we are long TSLA.
I wrote this article myself, and it expresses my own opinions. I am not receiving compensation for it (other than from Seeking Alpha). I have no business relationship with any company whose stock is mentioned in this article.