With nearly a third of its assets overseas, a complex investment management division, and debt in multiple currencies, W.P. Carey (NYSE:WPC) is not just another cookie cutter real estate investment trust, or REIT. Many underestimate the complexity of responsibilities a large REIT's executives face day in and day out - and W.P. Carey's have it worse than most. It would be great for management and investors alike if it was as simple as buying real estate, collecting rent checks, and drinking margaritas on a beach in Mexico while comparing the beauty of property appreciation and favorable tax treatment to the surrounding views.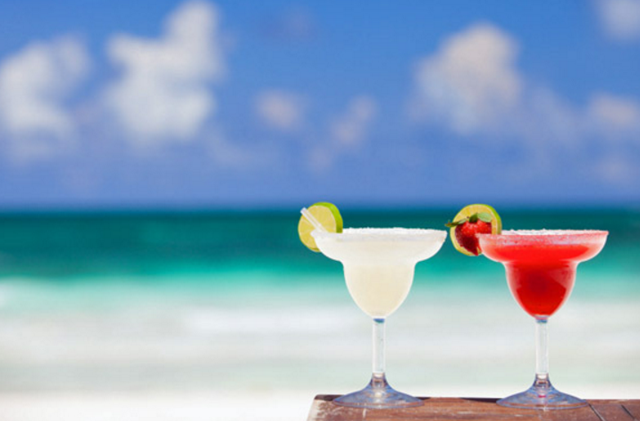 Click to enlarge
Unfortunately for you and I, that is not the case.
Looking Through the Eyes of Management
Lease terms are constantly expiring and must be renegotiated. Portfolio expansion and replacement decisions are constant. Should they buy higher capitalization rate ("cap rate") properties in sub markets and lease to less-established companies for a high yield on their investment? Or perhaps it is wiser to stick with the tried and true core urban markets of the larger U.S. cities and only lease to investment grade tenants at the cost of lower returns. Management has to decide how to balance short-term debt with lower interest expense against long-term fixed rate debt that is more painful today but minimizes long-term risk. What about the ratio of unencumbered assets and portfolio level debt? Should management focus only on domestic assets or are the potential benefits of diversification worth the risk of going international? If so, how will currency risk be mitigated and does the cost offset the rewards of that opportunity set? Is it worth the regulatory headaches, potential conflicts of interest, and personnel cost to open additional business channels to try to secure higher margins or access to a new client base?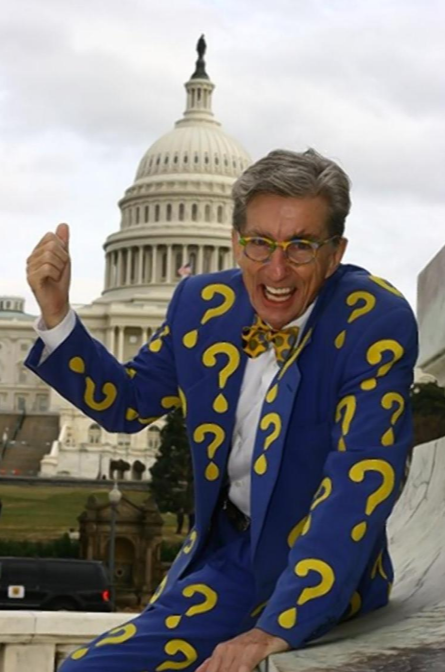 Don't worry, I'm not the famous (infamous?) question mark guy. We'll work through the answers to these questions. If we do not know the challenges facing management, how can we as investors gauge their performance and the firm's prospects accurately? That is the only easy question thus far: we can't. So let's get to it starting with the firm itself.
Making Progress In A Difficult Environment
W.P. Carey has been a leading global net-lease REIT for a long time. Founded in 1973 by Wm P. Carey, the firm's enterprise value as of the end of Q3 stood at $12.2 billion and it has been paying consistent distributions to investors for over four decades.
Let's see if we can answer some of the key issues raised above. Using Q3 numbers, WPC increased its weighted average lease term from 8.9 to 9.4 years. As long as WPC's portfolio remains well-diversified with quality tenants, this is many quarters of reliable cash flow for distributions. Lease expirations scheduled for 2017 in terms of ABR decreased from 2.3%, which is already a solid number, down to 1.4%. 2018's lease expirations were also reduced nearly 300 basis points down to 5.4%. Occupancy is 99.1% and you literally cannot get much better than that. WPC has been honest about the risks associated with its AMD (NYSE:AMD) and Carrefour assets. Last quarter it finally sold of its remaining exposure to Carrefour and disposed of the remaining lease to AMD for a substantial profit. WPC's activity in recent quarters is higher than average as it invests considerable time and resources into fortifying its business and real estate portfolio. These highlights from Q3 support this.
Controversial Investment Management Division
Regarding capitalization rates, which is analogous to yield on invested capital (including borrowed funds) for real estate, recent dispositions were at a 7% cap rate and reinvested into higher cap rate investments. WPC's history on the investment management side is extensive and more detailed than what makes sense to cover in immense detail here. To summarize, WP Carey mainly raises capital through a blind pool offering to higher net worth clients via allocations by their financial advisors. These blind pools take the form of non-traded REIT portfolios of real estate that WP Carey selects and manages on behalf of clients.
The creation and management of these custom-built real estate portfolios generate substantial fees for WPC and the client's financial advisor. I'm not here to debate whether those fees are justified, but various regulatory bodies seem to believe they are. As a result of the much more stringent regulation facing the institutions supporting financial advisors via the Department of Labor, FINRA, and the SEC, sales are down as much as 50% year over year in the sector per Stanger. I imagine part of that is related to the ever-increasing valuations assigned to commercial real estate in general. Frankly, it is probably beneficial that non-traded REITs' capital raises are slowing given they are historically responsible for a large portion of capital invested into commercial real estate here in the states. Many urban markets and sub sectors, particularly Class A multi-family housing, are heavily saturated and blind pool offerings like those of non-traded REITs tend to inject net new capital into the sector whether it is warranted economically or not.
Cash Flow Where It Counts
Q3's adjusted funds from operations ("AFFO") totaled $1.34 representing a strong 13% increase compared to the prior year period. Full-year AFFO should come in at $5.05-5.15 per share relative to its distribution of $3.98 per share. I caution investors not to get too excited about the double-digit growth rate. Rather than from organic growth in operating cash flows, it was primarily due to lower interest expense and lower general and administration ("G&A") costs. While improvements may continue for a couple of quarters, the magnitude of the decrease in these costs is nonrecurring. AFFO from the investment management division was $0.12 per share. W.P. Carey is relatively new to the REIT game given its classification as such only occurred a few years ago. It is still learning how to best raise capital and experimenting with debt issuances, at-the-market ("ATM") share issuances, and alternating between the USD and EUR. In terms of leverage, the net debt to adjusted EBITDA of 5.3 times is half a turn higher than I'd prefer, but it's not overly worrisome given aggregate liquidity at quarter end was $1.3 billion or over 10% of its enterprise value. It also compares favorably to its peers, which are slightly more levered on average. Liquidity is also up ~35% compared to the prior period and leverage was 6.0x, so both are moving in the right direction. WPC has been wise to continue to grow its unencumbered assets resulting in S&P upgrading the firm's unsecured notes to BBB from BBB-. The firm will likely gain additional interest expense relief through moving from secured borrowing above 5% to more cost effective unsecured borrowing. Once the capital structure is stable, the benefits of interest rate expenses will no longer grow AFFO. A weakness WPC faces is its average weighted debt maturity of only five years. Look for improvement here so it better matches its lease profile of 10 years and lowers the firm's susceptibility to higher interest rates.
WPC's lease terms are good example of why the assumed "bond like" characteristics of REITs is dangerously misleading at best. More of my thoughts and analysis of REITs and interest rate movements can be found here for those interested.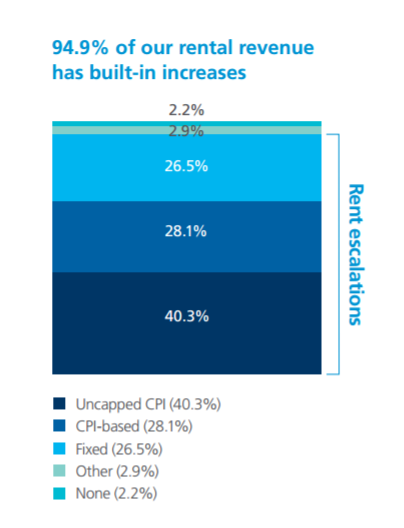 Source: WP Carey
This data is little dated but should not have changed materially since the end of 2015. The real estate portfolio, which produces 90% of the firm's AFFO, is approximately 69% tied to CPI, which is an imperfect but nonetheless good offset to higher rates and inflation. Another 26.5% has fixed rent increases built into the lease contracts resulting in nearly 95% of the total portfolio incorporating higher rents over time. In case anyone was wondering, this is how a firm reliably increases distributions over several decades. Very few business models can essentially contractually force higher incomes from their clients over time.
Strong Track Record
Speaking of cyclical tops, W.P. Carey gets credit for purposefully reducing its capital raises leading up to the collapse in real estate following the great recession. Many of its competitors, such as KBS and CNL, couldn't resist the temptation of drawing in billions of investor capital (and all the high fees paid up front and over time) right at the top of the market. Unsurprisingly, those gigantic private REITs, some with over $10 billion in equity, did not provide investors favorable returns.
Unfairly or not, those firms continue to deal with backlash associated with the poor timing and sheer scale of those investments. Based on my research, WPC's actions and long track record in the space, which goes back to 1979 for its series of investment programs and 1990 for its non-traded REITs, suggest it will likely better absorb a slowdown in capital raising activity than many of its peers.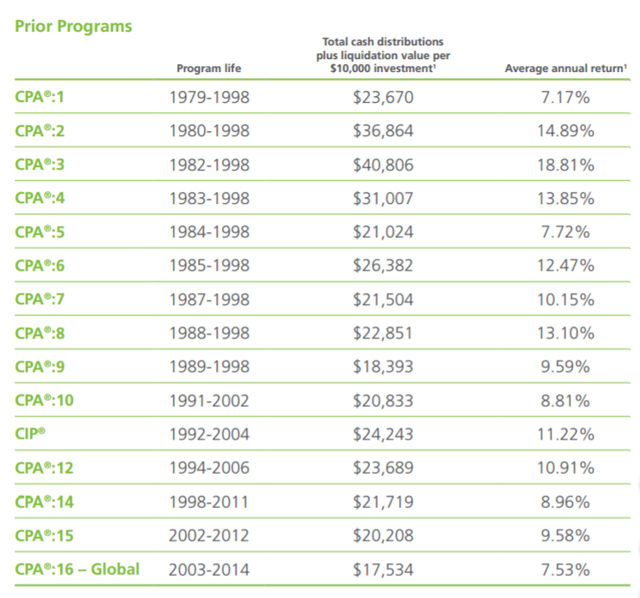 Click to enlarge
Source: WP Carey 2015 Annual Report
The above returns are associated with its private deals. Net of all fees and over several market cycles they averaged a respectable 11% per annum. Lastly, at ~10% of AFFO the business line is important but not critical. With the slowdown in capital raising starting late last year, the negative implications should mostly if not entirely be baked in via three quarters of previous results. Combining this with the favorable returns outlined above, I think the hit to this business line is more or less priced in. I do not, however, expect this to be a growth generator for several years and accept the risk the 12 cents declines to 8-10 cents per quarter for the foreseeable future. For context, that's more of a very annoying rock chip versus full year guidance over $5 per share of AFFO rather than a wheel coming off on the highway. Another issue worth mentioning is the potential conflict of interest associated with running private real estate programs, many of which have similar mandates to the publicly traded vehicle, alongside WPC. This is a problem despite the steps the firm has taken such as normalizing compensation across the divisions to rely on firm level success. Personally, I'd be most concerned if I was an investor in one of the programs. I think the risk for investors in WPC is not significant given it is a fairly small part of the firm's overall business.
Europe
The European assets have a couple risks.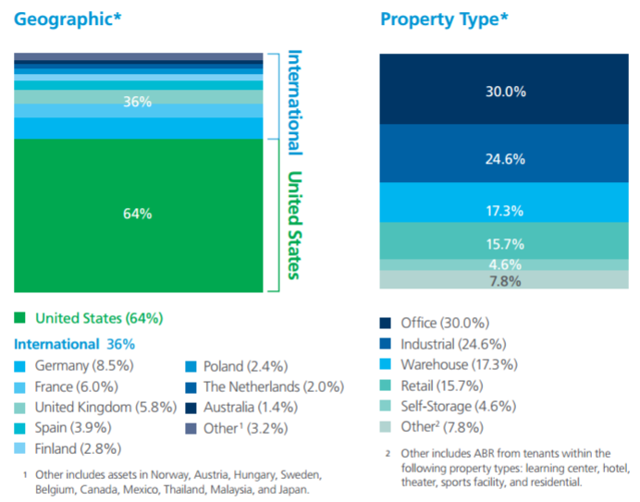 Click to enlarge
Source: WP Carey 2015 Annual Report
First, the poor health of western Europe's economies does not bode well for tenant reliability or the ability to charge higher rents. Second, WP Carey must deal with currency fluctuations which have been extremely volatile between the EUR and USD. Taking on debt in local currencies has mitigated most of the second risk since the underwritten asset's value fluctuates proportionally. The first issue is not so easy, however. WPC and other real estate owners in Europe admit the environment is very difficult. On the plus side, the highest concentration of 9% is focused in Germany which is the healthiest kid in the hospital. The French (6%), UK (5%), and Spanish (4%) assets are a cause for concern though for slightly different reasons. W.P. Carey is no newcomer, having invested in Europe since 1998. From this angle, one could argue that dislocations in these markets could provide the opportunity W.P. Carey has been waiting for. I am less confident these assets will grow rents in the next five to 10 years and discount the growth in cash flows associated with this third of the real estate portfolio. Longer term, the kind of brand name properties in western Europe that WPC invests in are likely to continue to be among the most valuable and stable in the world.
Dividend
There are only a few variables that matter when evaluating distributions. The durability and reliability of the distribution is one. WPC has raised its dividend annually, and often quarterly, for many years.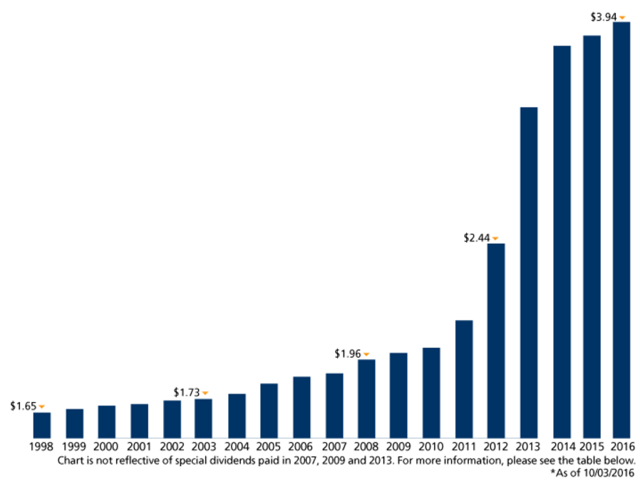 Click to enlarge
Source: WP Carey
This speaks to both aspects because the business model has to be resilient and profitable to generate that track record. The other concern is what portion of the company's cash flows are directed to the dividend today and in the past. This is important because if a firm starts at a 50% payout ratio and ends at a 100% ten years later, any "growth" in the distribution might in fact be an illusion as reinvestment has suffered at an unsustainable rate. Manipulating payout ratios is a popular tactic among management teams to confuse investors who do not do proper due diligence. W.P. Carey's current payout ratio is 80%, representing an 6.7% yield and is approximately in line with its long-term FFO payout ratio of 78.39%.
Valuation, Peer Comparison, and Conclusion
While the significant of some individual elements are a bit overstated, in Q3 WPC generated double digit AFFO growth versus the prior period. Excluding nonrecurring items, it is still in the high single digits. It's distribution is well covered with a payout ratio nearly identical to the long-term average confirming management is not manipulating variables to make it appear to be something it is not. The investment management business is under pressure and it unlikely to improve until the regulatory environment stabilizes which could be years. Considering this division is only 10% of AFFO, the firm has dealt with the slowdown in past quarters, and WPC is an industry leader with solid long-term performance, further material downside to its firm wide AFFO is unlikely. Discounting for slower growth for its European assets and the lower expected contribution to AFFO from its investment management division previously outlined, the AFFO multiple at today's prices for next year comes in at 11.25x. Investment in WPC at AFFO multiples between 10-12x are historically associated with strong long-term returns. The nearly 7% yield at today's level does not hurt either.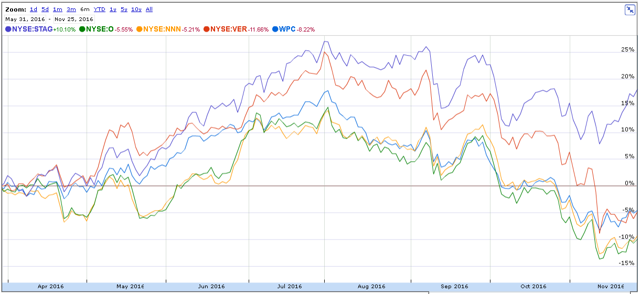 Click to enlargeSource: Google Finance
WPC is not the only large-cap diversified REIT paying the piper in terms of its stock price as of late. I want to focus on Vereit (NYSE:VER) for a moment. Cole Capital is essentially VER's version of WPC's investment management division. Contributions to earnings are similar. The main differentiators for Vereit are threefold: its reputation was all but destroyed due to the accounting scandal associated with its prior form American Realty Capital, huge turnover in management, and its distribution history is severely compromised.
This is compared to W.P. Carey, which has among the strongest brands in the space, fairly stable management (not perfect), and a very strong distribution history going back over 15 years. VER's full-year AFFO will come in around 78 cents per share for a multiple of 10.8x. The fact that WPC trades at almost the same valuation and distribution yield as the beaten and battered Vereit is unsustainable. This is not a statement for or against owning Vereit, just a realistic assessment of the each firm. Using recently released Q3 numbers, Realty Income (NYSE:O) is trading at a sky high 19.6x multiple to AFFO per the firm's full year guidance while National Retail Properties (NYSE:NNN) trades at a 14.4x AFFO multiple. Both pay dividends of about 4.3% which is less than two thirds of WPC's. Stag Industrial (NYSE:STAG) lands between WPC and O/NNN in terms of multiple and yield (5.9%).
While WPC should rightly be discounted relative to O and NNN for business complexity risk, a less-fortified balance sheet, and its investment management division, the collapse in its valuation has gone too far relative to peers and its long-term metrics. It is a buy below $59 and a strong buy below $54 provided investors are comfortable with the risks previously outlined. I have bids out on the common stock.
Disclosure: I am/we are long GST-A, VTR, HCP, HTA, OHI, DOC, MAIN, BXMT, BNS, LGCYO, CF, EPD, MMP, CF, EVEP, TD, RY, HMC, CCP, MRCC, LGCY.
I wrote this article myself, and it expresses my own opinions. I am not receiving compensation for it (other than from Seeking Alpha). I have no business relationship with any company whose stock is mentioned in this article.
Additional disclosure: WER has positions in EVEP debt only and LGCY debt and preferred only. WER does not own the common units in either. WER is short Deere & Company (DE). The author may enter into long or short positions in any part of the capital structure of any of the firms mentioned in this article. Readers should always conduct their own independent due diligence and not rely upon information or opinions provided by the author.