Since the release of its third-quarter results earlier this month, Transocean (NYSE:RIG) has shot up close to 20% on the market. This impressive growth in Transocean's stock price can be attributed to the meaningful progress that the company has made on the financial front. In fact, its earnings for the third quarter came in at $0.25 per share, surpassing the market's expectation of $0.14 earnings per share by a wide margin. More importantly, Transocean's earnings improved more than 47% on a sequential basis.
Therefore, it is worth looking at the factors that are driving Transocean's earnings performance. Also, in this article, we will focus on Transocean's ability to secure more contracts during a tough oil and natural gas price environment.
Improved revenue efficiency will be a tailwind
During the third quarter, Transocean's revenue efficiency rose to 100.7% from 96.5% in the second quarter of 2016. This improvement in the revenue efficiency can be attributed to Transocean's focus on keeping its rigs running competently by increasing the uptime. The important thing is that an improvement in the uptime and lower idle costs helped Transocean to improve its EBITDA margin to 51%, even though its revenue declined 4% on a sequential basis. The following chart clearly shows how Transocean is managing the downturn by improving its efficiency despite a decline in the top line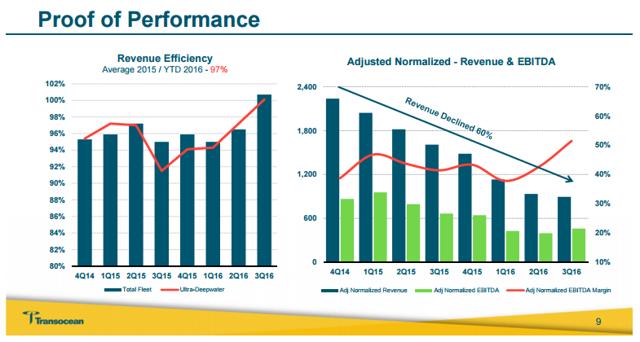 Click to enlarge
Source: Transocean
On account of the continued improvement in Transocean's revenue efficiency, it has converted nearly $3.8 billion of its contracted backlog into revenue so far this year. As of October 30, its contracted backlog was $12.2 billion, which indicates that the company will be able to report robust revenue levels due to its strong revenue efficiency. More importantly, Transocean has been able to secure new contracts that bode well for its top line performance going forward.
For instance, in the ongoing quarter, Transocean has added a new 15-month contract for the Transocean Barents rig. This rig will work for Suncor and is expected to start its operations in mid-2017. This contract is on the top of a new five-year contract Transocean signed for its high-specification ultra-deepwater drillship, the Deepwater Conqueror, with Chevron (NYSE:CVX) in the third quarter of 2016. The Chevron contract will commence early next year.
Additionally, more than 90% of Transocean's backlog is made up of investment grade companies, which indicates that the possibility of contract cancellations is low. This is shown below: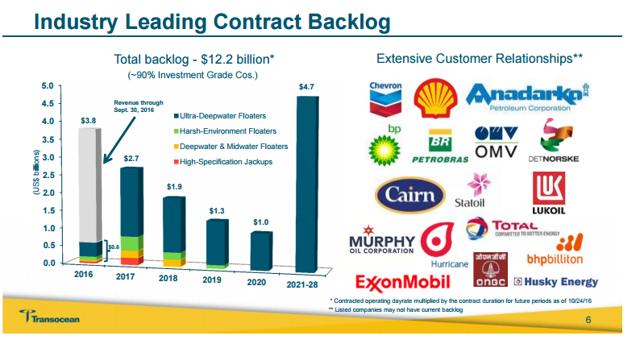 Click to enlarge
Source: Transocean
Thus, given Transocean's ability to convert backlog into revenue and at the same time, add new contracts to its fleet makes it an attractive bet in a weak pricing environment.
Transocean's end-market could be improving
With the recovery in crude oil and natural gas prices, the rig count is gradually picking up pace, which is good news for Transocean. For instance, the rig count in North America has improved 4% so far this month to 593 rigs from 569 rigs at the end of October, including two offshore rigs.
More importantly, the rig counts are expected to increase for the next couple of years. According to the Oil & Gas Journal, the total U.S rig count will be up by 106% to 1,030 rigs in 2017, and then grow by 32% to 1,358 in 2018, as shown in the chart below.

Click to enlarge
Source: Oil & Gas Journal
This improvement in the rig count will be driven by a significant decline in non-OPEC supply growth in 2016 as a result of lower capital spending in upstream oil, which has created a supply gap in the face of rising oil demand. More specifically, the demand for crude oil and NGLs will continue to grow going forward, which will require 7.1 million barrels of oil equivalent per day of additional output to match the demand in 2020.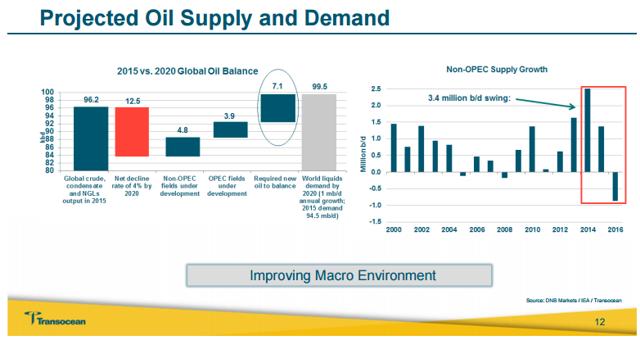 Click to enlarge
Source: Transocean
In order to fill the supply gap, offshore oil investments will have to increase. As a result, Transocean will witness an improvement in its addressable market going forward.
A lower cost base is another positive
Apart from the addition of new contracts and a possible improvement in the end-market, Transocean continues to make progress toward reducing its costs. For instance, last quarter, Transocean reduced its operating expenditure by over 19% and lowered its SG&A expenses by more than 7% on a sequential basis.
Looking ahead, Transocean expects the overall costs of operations & maintenance to come down in the range of 20% to 25% in 2017. Also, it expects the G&A expenses to decline by 10% to between $145 million and $155 million in 2017 on a year-over-year basis, driven by its restructuring and other cost-saving initiatives.
At the same time, Transocean anticipates that its capital expenditure in 2017 will come in at $450 million, including $400 million in new build CapEx, which is lower than its capital expenditure in 2016. Additionally, Transocean expects its capital expenditure to further decline by 17% to $375 million in 2018. These cost reductions will enable Transocean to improve its bottom line performance going forward and mitigate the weakness arising from a challenging end-market environment.
Conclusion
Transocean has almost survived the downturn effectively and continues to do so. Its recent progress on the operational side such as costs reduction and revenue efficiency cannot be ignored that makes it attractive going forward. Moreover, the long-term demand fundamental look positive that should keep the oil prices intact going forward, improving the offshore drilling market.
Disclosure: I/we have no positions in any stocks mentioned, and no plans to initiate any positions within the next 72 hours.
I wrote this article myself, and it expresses my own opinions. I am not receiving compensation for it (other than from Seeking Alpha). I have no business relationship with any company whose stock is mentioned in this article.