Note: This article was originally published November 23rd on Value Investor's Edge, a Seeking Alpha subscription service.
Overview
It was back on February 8th when I wrote an article entitled Can Things Get Any Worse For Navios Maritime Partners Investors? which discussed the increasing counterparty risk brought on by the mounting financial distress out of Hyundai Merchant Marine, HMM.
The article came shortly after the suspension of NMM's distributions which caught investors off guard. However, the topic of counterparty risk brought up in this article also caught unit holders by surprise as it was something that the company had glossed over in their earnings reports.
Of course, a matter of months later charters with HMM were revised under threat of bankruptcy, which negatively impacted NMM's operating revenue, as well as other US listed companies.
Shortly after that article, on June 1st, I released an article entitled Hanjin Shipping Vessel Arrest Foreshadows More Hard Times For Korean Shipping, and in my conclusion I stated, "This could be foreshadowing a more dire (and rapidly deteriorating) situation in Hanjin than many had previously anticipated."
Of course, Hanjin later declared bankruptcy. A move that upset the entire container shipping market.
In the end, several US listed shipping companies were impacted by these developments. It was a hard lesson for many investors that counterparty risk is real and if it plays out negatively can have devastating consequences.
The following is written with the goal to simply inform, so investors can have as much information at their disposal to make an educated decision. At this point I am not making a determination, but thought these developments were important enough to bring to the attention of investors.
Ship Finance International Limited
In the latest quarterly presentation, Ship Finance International Limited (NYSE:SFL) noted that a significant portion of their revenue comes from the offshore segment.

Click to enlarge
Source: Ship Finance
Notice that 32% of the company's charter revenue for Q2 of 2016 is derived from the offshore segment.
This large portion of revenue comes from a relatively small group of charterers. Seadrill charters two Semi-Submersibles, North Atlantic Drilling charters one Jack-up, Apexindo charters the other Jack-up, and finally Deep Sea Supply (OTCPK:DSSPF) charters a total of three AHTS's and two PSV's.
Now, I'm sure many of you are going to jump to the conclusion that I'm about to pick on Seadrill (NYSE:SDRL), which also has the West Linus on charter through a deal with NAD, meaning much of SFL's offshore revenue is tied to that company.
While Seadrill is sketchy, it has been discussed to death on Seeking Alpha. We all know that talk of bankruptcy for Seadrill is emerging as revenue/profits decline, impariment charges are climbing as assets are depreciating, and debt outweighs cash on hand, just for starters. Restructuring is looking like more of a requirement for survival. But that's not the point here.
Nor am I going to pick on Apexindo which has seen a 30% plus drop in share price over the past month, a reflection of the increasingly tough situation that company is facing.
Instead, let's turn our attention to a lesser known Norwegian company, Deep Sea Supply, which has had the five vessels on charter since the crude oil boom years of 2007-2008 at generous rates. I have yet to see those charters discussed as they relate to SFL, so let's tackle that.
Click to enlarge
Source: Deep Sea Supply
Deep Sea Supply
The recent deal between SFL and Deep Sea Supply to negotiate a temporary charter rate reduction through 2018 in exchange for a 3 year extension resulting in a potential $21 million additional backlog as well as a 50% profit share above base rates might look on the surface to be a win/win for both companies.
However, that's not the case. Deep Sea is struggling and SFL knows that a reduction was likely the best move. But the profit sharing, well that is just a myth at this point, since according to Deep Sea's latest presentation all of these vessels are currently laid up.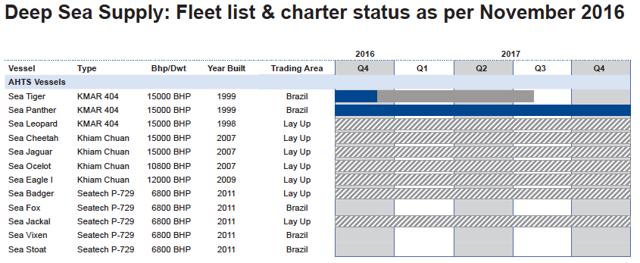 Click to enlarge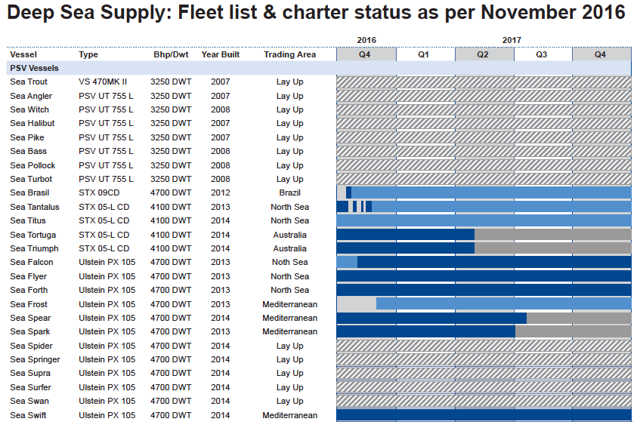 Click to enlarge
Source: Deep Sea Supply
The Pike, Halibut, Cheetah, Jaguar, and Leopard are all SFL vessels.
In the latest earnings report, Deep Sea Supply stated:
During the third quarter of 2016 the oil price has remained low and there are still few signs of improvement of the fundamentals of the global OSV markets. The Company therefore expects no improvement of the difficult market situation for OSVs in the short to medium term. The contract coverage for the Company is not satisfactory.
Furthermore it noted:
As a consequence of the weak market, Deep Sea Supply has laid up in total 20 vessels. In addition to laying up vessels to reduce cost, the Company is working hard to further reduce operating expenses for the vessels in operation.
Wait, there's more. Recently Deep Sea Supply (formerly DEES BTG JV) became the sole party responsible for the charters to SFL:
As part of the roll-up, the Company reached an agreement with its senior lenders, securing extensive amendments to substantially all of the Company's debt facilities. Following the refinancing, the Company will be a guarantor for all of its outstanding debt, including Ship Finance.
Now, let's take a quick look at the rapidly deteriorating situation which saw approximately 70% of revenue disappear in Q3 year over year.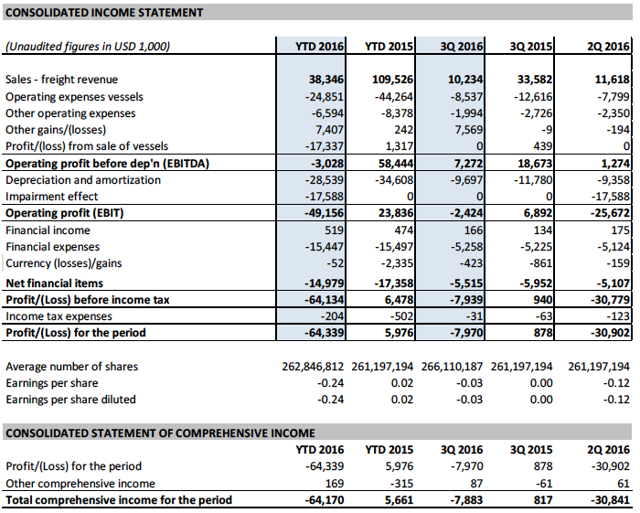 Click to enlarge
Source: Deep Sea Supply Q3 Statement
Currently Deep Sea Supply has a little under 60 million in cash and cash equivalents, a 20% reduction year over year.
Deep Sea Supply said it has sufficient liquidity for 2017 but the board is considering various strategic alternatives, including consolidation.
The move to effectively defer up to $68 million of scheduled debt amortization until March 31, 2018 and also extend maturity of three loan facilities which were originally due later this year appears to have bought it a little time, but will it be enough for the market to correct?
A November 16th article in the Energy Voice entitled "Worst Still To Come For Norway Offshore Fleet" reported:
The offshore fleet tending to Norway's oil industry, already sailing through the worst downturn in a generation, is in for even more pain, according to the head of the Norwegian Shipowners' Association.
So what is a company to do? The company is ruling nothing out, and said its board is actively considering "alternative use" of the fleet, which could include the use of vessels for aquaculture shipping. That's right folks, fish farming.
But that might not even be able to save it and Ship Finance is well aware of the industry turmoil and in the latest 20-F stated:
The dramatic reduction in the oil price which occurred in 2014 and 2015 has reduced demand for offshore drilling units, and day rates and utilizations have declined considerably in the past two years, and are expected to continue declining in 2016. Most offshore exploration activities are not viable at the current price of around $40 per barrel, and if the price stays at this level it is inevitable that demand and day rates for drilling units will continue to decline. It is possible that some owners/operators of drilling units will experience financial difficulties in the near future, including breaking banking covenants and restructuring.
Of course, that statement relates to exploration, but it could also be applied to support craft for the offshore segment. Furthermore, regarding the dividends it notes:
We seek to pay a regular quarterly dividend, the amount of which is based on our contracted revenues and growth prospects.
The implications here are clear. If we begin to see defaults for these vessels, the contracted charter rates reached back in the boom years of 07-08 (when these vessels were new) will be nearly impossible to replicate. That is if employment can even be found at all or at least deemed beneficial as opposed to laying up. As a result operating revenue will be impacted and consequently profitability.
Conclusion
As noted earlier, Deep Sea Supply still has a fair amount of cash on hand, debt maturities have been pushed back, and the company believes it can make it through 2017 given the current market and financial position.
However, looking beyond that time things start to get a bit murky. While the situation here is not dire, it does appear to be deteriorating at a fairly brisk pace.
There are options such as aquaculture or consolidation to improve operational efficiency, as we have been seeing in the container shipping space.
On November 19th, Norwegian publication Dagbladet reported (translated to English):
Consolidation is being considered, but there is not any advanced discussions at this time. It comes to finding the right "asset" or a company, and at the right time. Having said this, our main focus as management to deal with what we have - win contracts and reduce costs, says Deep Sea Supply boss.
Nevertheless, concerns regarding Deep Sea Supply are growing. Those mounting concerns should logically be transferred over to companies that have Deep Sea Supply as a counterparty, one of which is Ship Finance International Limited.
These concerns regarding Deep Sea Supply should also be taken in conjunction with the other counterparties which continue to face a distressed operating environment.
Thank you for reading and I welcome all questions/comments.
If you would like to stay up to date on my latest analysis, I invite you to follow me on Seeking Alpha (click the "Follow" button next to my profile picture at the top) as I continue to cover all aspects of maritime trade.
Note: Value Investor's Edge subscribers receive a 72-hour advantage on all macro reports and trade ideas from James Catlin as well as exclusive research by J. Mintzmyer.
Disclosure: I/we have no positions in any stocks mentioned, and no plans to initiate any positions within the next 72 hours.
I wrote this article myself, and it expresses my own opinions. I am not receiving compensation for it (other than from Seeking Alpha). I have no business relationship with any company whose stock is mentioned in this article.
Editor's Note: This article covers one or more stocks trading at less than $1 per share and/or with less than a $100 million market cap. Please be aware of the risks associated with these stocks.