Boeing's (NYSE: BA) 787 R&D cost more than the company had planned for. The technologies and industrialization became challenging - the global supply chain was supposed to all be moved and local to Everett. Boeing also went through some labor unrest even as it was trying to solve these issues. Then came the battery fires. The 787 gestation is very tough.
Focusing on the $29Bn R&D cost, on a block of 1,300 aircraft this would be $22.3m per aircraft to recover. There are estimates the actual R&D overhang per aircraft is closer to $36m. A Bloomberg report states the overhang is being worked down. The R&D charges are said to have dropped to $27.5Bn and the decline cut $4m per aircraft.
Can Boeing ever recover the 787 R&D? It's going to be tough. Even as Boeing improves its productivity, its flexibility to claw back R&D via higher pricing is limited. The next chart illustrates how Boeing has improved its production efficiency.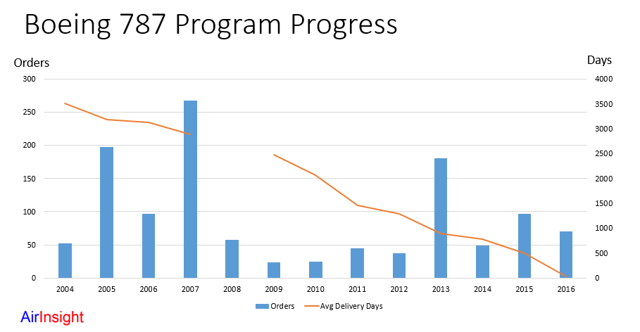 Click to enlarge
As the chart also shows, 787 orders have started to slow. Obviously Boeing needs lots of orders to keep driving down the R&D impact. At 1,198 the company is short of its 1,300 block.
What makes it tougher is that just last week, Airbus (OTCPK:EADSY) rolled out its first A330neo from the Toulouse FAL. This aircraft will be the price leader in the segment. In other words, the A330neo will exert pricing limits on Boeing.
So just as Boeing is getting its 787 rhythm up to speed, the market started to slow and a lower cost competitor emerges. Boeing's choices include:
Squeeze more savings from its supply chain and workers.
Boeing can increase its block size
It can take a financial hit and get the R&D out of the way.
Option 1 comes with risks of labor strife and added financial stress in the supply chain. Option 2 makes the 787 look more expensive. Option 3 means stockholders take a hit.
There will be more 787 orders of course. The 787-10 is about to join the 787 family. But 787-8 orders have slowed earlier than expected. The 787-9 is now the best seller.
How many more 787 orders are going to come? We believe Boeing could sell 2,000 and the R&D per aircraft would drop to $14.5m. That is still an overhang that Airbus does not have and can exploit.
Disclosure: I/we have no positions in any stocks mentioned, and no plans to initiate any positions within the next 72 hours.
I wrote this article myself, and it expresses my own opinions. I am not receiving compensation for it (other than from Seeking Alpha). I have no business relationship with any company whose stock is mentioned in this article.
Editor's Note: This article discusses one or more securities that do not trade on a major U.S. exchange. Please be aware of the risks associated with these stocks.