Micron Technology (NASDAQ:MU) manufactures a broad portfolio of high-performance memory technologies including DRAM, NAND, and NOR Flash. Table 1 shows revenues for all three memory types from FY2012 - 2016.
Table 1 - Memory Revenues by Type

$ Millions

2012

2013

2014

2015

2016

NOR

977

792

505

400

375

DRAM

3,178

4,361

11,164

10,339

7,207

NAND

3,627

3,589

4,458

5,274

4,639

Total

7,782

8,742

16,127

16,013

12,221

% NOR

12.6%

9.1%

3.1%

2.5%

3.1%
DRAM
Revenues for DRAM dropped in the past two years according to the above table, by 30.1% in 2016 and 7.4% in 2015. According to the company's 10-K,
"production and cost reductions for 2016 and 2015, were constrained by equipment downtime incurred in connection with transitioning from 25nm to 20nm-based products and a shift to a higher mix of DDR4 products, which have larger die sizes and fewer bits per wafer."
For FY2016, average selling price dropped 35% although gigabit production increased 7%.
Demand for DRAM has risen as the PC market has stabilized. I noted is a recent Seeking Alpha article entitled "Tsinghua Unigroup And Micron Technology: If At First You Don't Succeed..."
"With the increase in DRAM prices, Micron's stock has risen accordingly - stock movement started around the same time DRAM prices started rising. The stock has since increased from a low of $9.56 on May 13 to $19.18 (100% growth) at the close on November 16. DDR3 4GB 512x8 increased from a low of $1.47 in May to close at $2.45 (67% growth) on November 16."
and I urge the reader to read my arguments there.
NAND
Revenues for NAND dropped 12.0% in 2016 after increasing 18.3% in 2015. Gigabit production increased 8% in 2016 following a 45% increase in 2015. Gigabit production for 2016 was constrained by equipment downtime that incurred in connection with transitioning to 3D NAND Flash products.
I discussed in a May 16, 2016 Seeking Alpha article entitled "A Shortage Of NAND Flash Memory Is Coming Soon - What Caused It And What Will Be Its Impact," that a shortage would happen in the next two quarters, namely by year end.
DRAMeXchange confirmed five months later that "NAND Flash Prices on Upswing in Fourth Quarter as Supply Shortage Becomes More Severe."
NOR
Micron is in a unique position to generate increased revenues in the NOR flash market due to an upcoming shortage. Chairman and CEO Miin Wu of Micronix, one of Taiwan's main NOR flash memory suppliers, stated that
"Currently all kinds of terminal devices have strong requirements for NOR Flash Memory. In the past, the memory capacity was limited for the use of embedded memory in structures; however, today's enhanced controller functions and the switch to plug-in memory have significantly increased the demand for memory."
According to IHS data, Macronix supplanted Micron for the No.2 position in NOR flash with global market share of 21.4% in 2015. In 2015, the global NOR flash memory market revenue had dropped by 15% to US$1,977 million, according to IHS.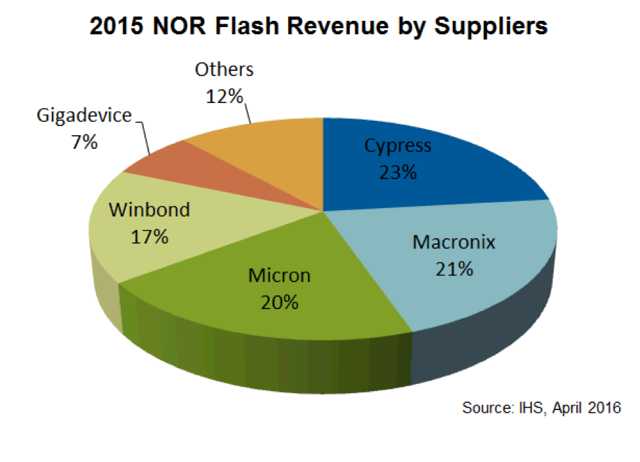 Click to enlarge
The NOR flash market began its decline in 2007, after reaching $8 billion in revenue in 2006, as NAND products began to replace NOR. NOR is twice the size of a NAND cell; the latter has a more efficient architecture offering a higher density per given die size. The poor write and erase times of a NOR cell has obviated its use in high capacity storage in favor of NAND. NOR is also more expensive than NAND, limiting its use to code storage and low-end embedded devices
There are two types of NOR, Parallel and Serial, and MU makes both. According to Micron's web site,
"Serial NOR flash, with its high-speed continuous read capabilities throughout the entire memory array and its small erase block sizes, is tailored for applications that shadow program code and/or store granular data. Serial NOR's low pin counts and small package solutions make it a good fit for applications like PCs, ultrathins, servers, set-top boxes (STBs), printers, Blu-ray drives/players, modems/routers, wearables, and hard disk drives (HDDs).

Parallel NOR flash delivers fast system boot times and high-speed, low-latency XIP operation, making it ideal for applications like digital still cameras (DSC and DSLR) that need "instant-on" performance, as well as other process-intensive applications like networking routers/switches, home gateways, and STBs."
Micron will see increased revenues for these numerous applications, which will come from a shortage of NOR flash as chip prices increase.
To further gain revenue and market share, Micron has created a new category of NOR flash, called XTRMFlash memory, which leverages the best of serial NOR flash and parallel NOR flash so that system designers do not have to choose between high performance and low pin counts. Micron's XTRMFlash outperforms all other flash types except the largest NAND flash arrays, which are too slow for realtime instant-on applications, as illustrated in the graphic below courtesy of Micron.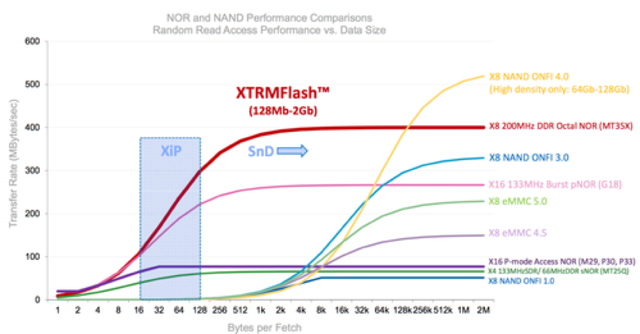 Click to enlarge
The keyword here is "instant on" that is used in applications such as automotive, industrial and consumer spaces such as human-machine interfaces, graphical-user interfaces (GUIs), instrument clusters, infotainment systems, and advanced driver assistance systems.
According to MU,
"Sustained read throughputs of 400MB/s enables an entire 1Gb XTRMFlash device to be read in a mere 0.3s. With XTRMFlash memory's direct execute-in-place (XIP) operation and low pin count interface, valuable board space can be saved and the need for code shadowing can be eliminated."
One of Micron's competitors in the NOR space, Cypress Semiconductor (NASDAQ:CY), which acquired NOR technology with its merger with Spansion also inherited HyperFlash, which provides bandwidth of up to 333 MBps - more than five times faster than ordinary Quad SPI Flash - with one-third the number of pins of Parallel NOR Flash.
Cypress is also addressing the "instant on" market, recognizing that
"Higher memory densities and faster performance will be required in automotive dashboards. Data throughput becomes more and more important in order to load the kind of rich graphics found, for example, in cluster or navigation systems."
Cypress takes a different and more expensive approach than Micron. It recognizes that NOR flash cannot cover the high-density requirements, while NAND flash lacks the ability for random-access read for automotive instrument clusters - so why not combine both?
Investor takeaway
Micron's stock has benefited from an increase in DRAM pricing amid stronger-than-expected global demand for notebook computers, which worsened a constraint in supply - which was mitigated by lower production yields in the move to 20nm devices.
At the same time, a current supply shortage of NAND flash will be exacerbated in the fourth quarter due to higher demand in the smartphone and SSD industries.
MU's stock has since increased from a low of $9.56 on May 13 to $19.81 (100% growth) at the close on November 25, due to supply constraints in DRAMs and NAND. With an anticipated shortage in NOR, MU is positioned to take advantage in price increases associated with supply.
The potential shortage of NOR will enable XTRMFlash memory, which is ideal for automotive and IoT applications requiring instant-on access and quick response times, to gain share compared to traditional NOR. These two applications are among the fastest growing markets for memory. With XTRMFlash memory, system designers no longer have to choose between the performance of parallel NOR and the small footprint of serial NOR.
Disclosure: I/we have no positions in any stocks mentioned, and no plans to initiate any positions within the next 72 hours.
I wrote this article myself, and it expresses my own opinions. I am not receiving compensation for it (other than from Seeking Alpha). I have no business relationship with any company whose stock is mentioned in this article.