OPEC is once again bringing the investing world through a pointless meeting as it struggles to find an identity. One thing has remained clear throughout the turmoil for oil markets (NYSEARCA:USO), and that is OPEC's inability to strike an agreement. This meeting has so far, and will continue to bear the same results as the previous meetings:
Prior to the meeting they will talk about the promises of an output cut
At the meeting we will hear various reports of discord and harmony
The meeting will be adjourned with anger (bad for prices) or a fake agreement based on inflated production figures (initially good for prices, and then bad for prices)
The market will hit a near-term bottom or high, before settling in the $45-$55 range.
At face value, this all points toward an organization without unity, and without leadership. And, while part of that may be true, there is sense to what they do. In the recent years, OPEC's power has less to do with quotas and markets, and more to do with rhetoric and soft power.
Using The Media And Markets
Over the last ten years, we have seen a financialization of nearly every market imaginable. Chris Cook discussed this in detail in his article The Big Long. While he was not ultimately correct on his predictions, he described accurately how powerful financial instruments have become.
For investors and producers alike, this resulted in an opaque market that was visible to very few. We can hardly predict the amount of the oversupply or undersupply; we can only try to estimate the total amount of oil in storage. From those figures, we try to gander a guess at oil supply and demand. The complexities of this market are increased by illegal oil trading, markets that allow for invisible actors, and a lack of any international clearing system. Hell, even I could go and buy a bill of lading on a Nigerian port for a couple of million barrels of oil.
So we don't know how much oil each OPEC country is producing, we don't know how much of an oversupply exists in the market, and we are aware that U.S. shale will respond to prices as they are now. That lack of transparency leaves Saudi Arabia, as the head of OPEC, with one tried and tested method. Just tell the markets what they want to hear. When prices are getting too high for you, talk down your deal. Subsequently when they drop too low, talk about how close you are to a deal. Rhetoric has become the hand that moves the market, and OPEC knows it. Not every member is on board, but disruption is a painful process.
Shale Oil has changed the way the supply and demand curve works for oil; they can produce the marginal barrels of oil cheaper and faster than any marginal producer over the last 20 years.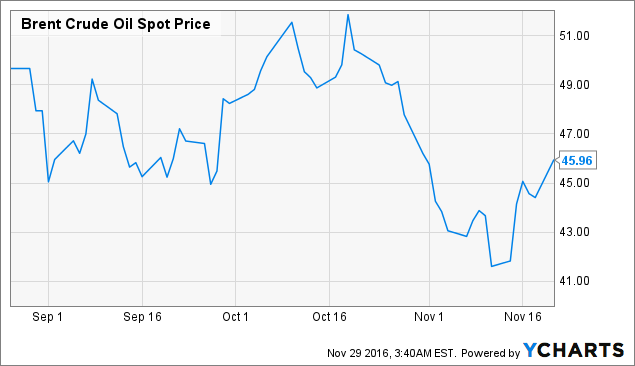 Brent Crude Oil Spot Price data by YCharts
What's On For Wednesday?
There are two possibilities for Wednesday.
First - we see an agreement for a production freeze or production cut. In that event we are going to see every OPEC producer inflate their numbers, and have a production cut in nothing but name. Likely, oil prices will spike as shorts in the market close out, but ultimately the price will come back to where we are now. It is impossible to believe that OPEC has the belief that a production cut will work for an extended period of time, and it is ludicrous to believe that OPEC doesn't understand how quickly shale producers will overtake those cuts.
"Higher oil prices means non-OPEC producers will be more encouraged to drill for more oil, which will increase global supply and prices will be depressed again," said Gao Jian, an energy analyst at SCI International. - WSJ
Second - OPEC leaders whose countries are under tremendous pressure go on the attack. Frustration is building within the weaker members of OPEC as their countries fall to a lack of economic diversity. If this meeting doesn't result in something, regardless of how meaningless that something is, we could see anger as the primary topic.
It's a no-win situation. If you cut production, you get a momentary gain of prices but strengthen all your competitors. If you don't cut, you substantially damage your profit margins. Oddly enough, the oil market is starting to look much more like a free market, thanks to the U.S.A. and its shale boom.
Takeaway
Whatever happens this week, prices will remain where they are in the next few months, or they will drop. My recommendation is to ignore any movements over the next week.
No miracle is coming to save the market, and OPEC will play its games with the media, rather than changing any actual productions numbers. With each time around, the market grows more skeptical of what they hear, and eventually, OPEC will be able to use nothing but a sledgehammer to move markets. Talk is cheap, and OPEC has proven time and time again that they are unwilling to cut. Then again, perhaps that is the right thing to do.
Welcome to the world of sub $50 oil, it's here to stay.
Disclosure: I/we have no positions in any stocks mentioned, and no plans to initiate any positions within the next 72 hours.
I wrote this article myself, and it expresses my own opinions. I am not receiving compensation for it (other than from Seeking Alpha). I have no business relationship with any company whose stock is mentioned in this article.