When all the hoopla surrounding a buyout of Twitter (NYSE:TWTR) was taking place in late September/early October I figured it would be a great opportunity to scoop up shares if the takeover talks were just talk and there was a significant price declined that followed. My hopes came to fruition in early October and investors saw a decline from a high of $24.87 to a low of $16.88 as seen from the chart below.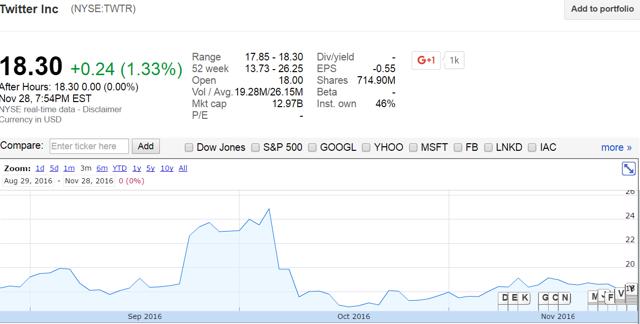 Click to enlarge
Investors know there were lots of potential suitors for Twitter. Names like Disney (NYSE:DIS), Alphabet (NASDAQ:GOOG) (NASDAQ:GOOGL) and even Salesforce (NYSE:CRM) were thrown around, but eventually none of the big companies wanted a piece of the social media company that has been languishing of late. Obviously these large companies are always looking at strategic opportunities to create shareholder value but once Twitter was removed as a viable option for any of these companies a drop in the stock price ensued.
This kind of volatility in a name like Twitter presented a great opportunity to get into the name via options as opposed to buying the stock outright. So what I wanted to do when the stock was trading around $17.50 was write a put where I really wanted to own the stock if it ever got there and then use the proceeds from the put to buy a call. So what I ended up doing was writing the $16 December put, collecting $1.09 in the process while purchasing the December $20 call for $0.91. If the stock expires between $16 and $20 I stand to make $0.18. If the stock goes below $16 I would be forced to purchase the shares at $16 and have potentially significant losses, and finally if the stock appreciates above $20 I could have potentially significant gains. I felt I could put on this trade with very minimal risk that it would see $16 again.
If we take a look at the one-year chart we see the stock topped out at $25 twice and has been trading near the lows for almost the entire time. There is a strong level of support around the $14 range as it traded near those levels the entire summer of 2016. I could have written the put at the $14 strike but I felt that the stop out at $16 was the lowest it could go in the short term.
Since that time the company did not receive a buyout offer, but reported a great quarter, and that is why we have a current stock price of $18.30. I think it is safe to say that the stock is more likely to move toward the $20 level than it is the $16 level at this point. Think about it, without any significant events on the calendar for the next three or so weeks, the stock has to drop another 12.5% for it to be put to anyone that wrote the $16 put.
The upside now is perhaps limited because there are no significant events taking place in that timeframe and the likelihood of having a bidder come in is off the table. At best the stock will meander where it currently is or move slightly higher with the rest of the market. Thank you for reading and I look forward to your comments.
Disclaimer: This article is in no way a recommendation to buy or sell any stock mentioned. This article is meant to serve as a journal for myself as to the rationale of why I bought/sold this stock when I look back on it in the future. These are only my personal opinions and you should do your own homework. Only you are responsible for what you trade and happy investing!
Disclosure: I/we have no positions in any stocks mentioned, and no plans to initiate any positions within the next 72 hours.
I wrote this article myself, and it expresses my own opinions. I am not receiving compensation for it (other than from Seeking Alpha). I have no business relationship with any company whose stock is mentioned in this article.