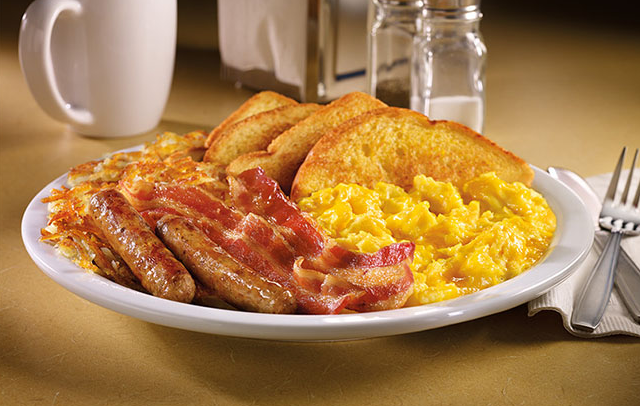 Like most of the restaurant sector, Denny's (NASDAQ:DENN) has struggled a bit this year. The space has been dominated by higher labor costs and lower traffic and if you look at the stock prices of Denny's and others through the first three quarters of this year, that is quite evident. But after trading sideways for much of this year, Denny's has rebounded in a huge way thanks in part to a nice Q3 report. With the stock back at its highs, is this when it breaks out or will it get rebuffed before $13 again?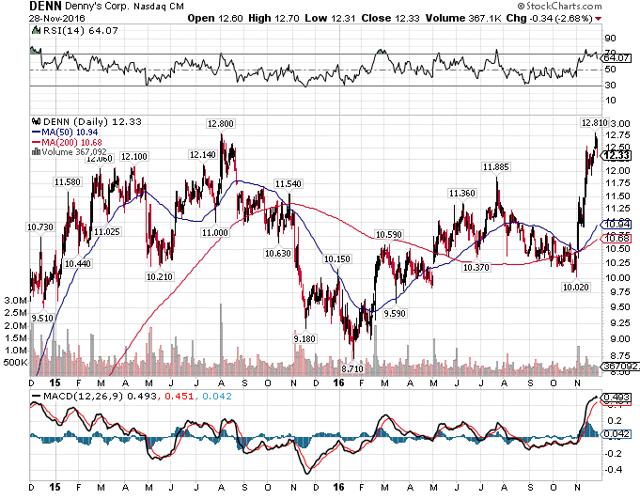 Click to enlarge
Total revenue was up almost 4% as Denny's continues to add both company and franchised stores. The system count is up to 1,728 and that growth is driving some moderate top line expansion. But more importantly, comp sales were well ahead of industry averages in Q3 as Denny's came in with a +1% showing. The number was +1% for both franchise and company locations and that not only drove company store revenue up but franchise and royalty revenue as well. Four percent revenue growth is decent for a restaurant chain these days and with many chains producing negative comps in Q3, Denny's is a standout in a good way.
The leverage on comp sales also drove margins up as company-owned unit margins were up 130bps to 17.2% and franchise revenue margins were up 180bps to 70.9%. Both of those are terrific results and Denny's is managing these gains in the face of labor cost inflation unlike anything we've seen in the space in many years. Other chains have struggled mightily to keep up with labor cost inflation but Denny's handled it very well. That isn't to say that Denny's won't have some potential issues as we get further down the road - rising wages are here to stay - but for now, things look very good indeed.
G&A costs rose by $1.6M in Q3 but $1.2M of that was due to a pension revaluation. The remaining $400K is an actual increase in recurring G&A costs and while that represents roughly the same amount of growth that revenue saw on a percentage basis, it is acceptable. The headline G&A number was pretty ugly but once you strip out the pension valuation, things aren't so bad. I would caution that Denny's really shouldn't be seeing huge gains in G&A costs at this point in its lifecycle. The support infrastructure is there and a 4% revenue gain and 1% comp gain should produce some leverage. It didn't in Q3 so I'll be watching this going forward for some signs of discipline. Denny's could have had a very nice Q3 if it hadn't spent so much on G&A costs as a little improvement here can go a long way.
The share count is down by a whopping 9.7% in the past four quarters as Denny's has made it a priority to buy back as much stock as it can. I'm generally in favor of buybacks that are executed well and given the meteoric rise in shares of Denny's, it seems these purchases were well-timed indeed. The company last week announced it would be accelerating a further$25M buyback, good for almost three percent more and given that there is some room in the balance sheet as well as a willingness to buy back shares, I expect we'll see Denny's share count much lower again this time next year. That's key because it serves as a huge source of EPS growth irrespective of what the business does.
The buyback is a big reason why Denny's EPS growth is forecast to be in the mid-teens yet again next year after a similar showing this year. The business isn't growing that quickly but with the help of a much lower float, Denny's is a star. The problem is that as good as Denny's has been of late, the recent rally has taken the stock to 21 times forward earnings. That's not an outrageous multiple for a restaurant chain but it isn't cheap by any means either. I'm a little concerned about the valuation here and when we look at the chart, we can see the bulls have a lot of work to do in order to push the stock higher.
Denny's topped out at $12.80 last August and its recent high is within one penny of that mark. We're down roughly 4% from that level right now and if Denny's can't punch through that mark, this will prove to be another top. If the bulls want to continue this rally it is going to take a sizable buying effort to push through that mark and sustain it. But at 21 times forward earnings, how willing are buyers to continue to keep the pressure on? After all, this stock was $10 barely a month ago.
I like the fact that Denny's is growing revenue in a diversified way. I also like the fact that margins are rising but higher G&A costs worry me a bit. Share-based compensation fell in Q3 but recurring G&A costs more than made up for that and the total rose in line with revenue growth. The buyback will also be far less effective now than it has been so far this year simply because the price of the stock is a lot higher. While the share count will be lower next year, I don't know how it would be possible for Denny's to replicate its ~10% reduction from the past four quarters. That all adds up to very high expectations and a not-so-cheap stock so for me, despite all the progress Denny's is making, I think it is fairly valued here or perhaps a bit expensive. I don't see bulls punching it through the $12.80 level to make new highs so I'm on the sidelines until the situation changes for better or worse.
Disclosure: I/we have no positions in any stocks mentioned, and no plans to initiate any positions within the next 72 hours.
I wrote this article myself, and it expresses my own opinions. I am not receiving compensation for it (other than from Seeking Alpha). I have no business relationship with any company whose stock is mentioned in this article.