Introduction
The Legg Mason Low Volatility High Dividend ETF (NASDAQ:LVHD) was one of the many smart beta multi-factor ETFs launched in 2015 and 2016. Most of these ETFs failed to convince both advisors and investors in their merits largely because of their complex and opaque investment selection.
I typically do not recommend ETFs holding under $500 million in AUM. However, I think that LVHD has a strong offering and has the potential to bring long-term benefits to its owners.
In its first year, LVHD outperformed SPY by 5% - 14.91% vs. 9.97%. The spread between the two was even higher in October - 11.10% v. 4.91%
At the same time, LVHD beat its main rivals, the iShares Edge MSCI Minimum Volatility USA ETF (USMV) and the PowerShares S&P 500 Low Volatility Portfolio ETF (NYSEARCA:SPLV) by more than 7% - 14.91% v. 8.38% and 7.88% respectively.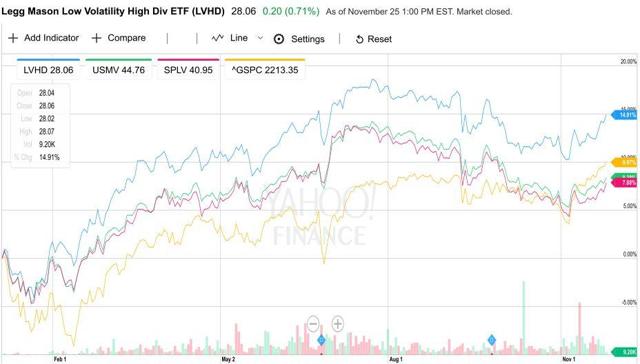 Click to enlarge
Let's go over the construction methodology of each ETF.
PowerShares S&P 500 Low Volatility Portfolio ETF
SPLV has a very straightforward composition. It holds the least volatile 100 stocks in S&P 500. Every quarter, the fund ranks all stocks in the index by their volatility during the past 12 months. Then it weights by the inverse of their volatility so that the least volatile stock receives the largest weight in the portfolio. This strategy does not set restrictions for sector weight and does not consider the correlation between the stocks in the portfolio.
iShares Edge MSCI Minimum Volatility USA ETF
USMV fully replicates MSCI USA Minimum Volatility Index, which aims to produce the least volatile portfolio with stocks from the MSCI USA Index. Unlike its rivals SPLV, USMV uses more comprehensive approach to constructing a low volatility portfolio. The minimum volatility index uses an algorithm that filters for the stocks with the lowest volatility subject to several constraints. These restrictions include maintaining the stock weighs between 0.05% and 1.5% of the portfolio, sector weights within 5% of the MSCI USA Index, and one-way turnover limited to 10%. USMV more comprehensive approach as it attempts to lower volatility on overall portfolio level rather than security level. The ETF currently holds 176 stocks.
Legg Mason Low Volatility High Dividend ETF
LVHD tracks the in-house QS Low Volatility High Dividend Index. The fund applies a multi-step process that screens the 3,000 largest public companies based on historical and projected data. The screening process starts with selecting profitable companies that have the potential to pay relatively high sustainable dividends. The second step is to score the yields of the remaining securities higher or lower based on the attractiveness of their price and earnings volatility. Then the target portfolio is constructed from the pool of the highest-scoring securities, subject to concentration limits. Underlying indexes' components are reconstituted annually and rebalanced quarterly.
QS Low Volatility High Dividend Index is constructed to limit the number of constituents in the Index between 50 and 100. The current number of stocks in the index is 84.
Other restrictions include a limit of individual stocks to 2.5% of the Index, a limit of a particular sector for no more than 25%, and real estate investment trust (REIT) components not exceed 15%.
The QS Low Volatility High Dividend Index aims to provide more stable income through investment in stocks of profitable U.S. companies with relatively high dividend yields and lower price and earnings volatility.
Comparison
Fundamentals
LVHD is significantly smaller than its main rivals. It only manages $102m of AUM, which is a fraction of the $12.7billion by USMV and $6.7billion by SPLV. These two ETFs also have a much longer history (5+ years) and stronger distribution channels. The main advantage for LVHD is that it is not a crowded trade.
LVHD has fewer constituents, 84 versus 100 for SPLV and 176 for USMV. It is a lot more concentrated to its top holdings.
Another drawback for LVHD is the relatively higher expense ratio of 30 bps versus 15 bps for USMV and 25 bps for SPLV. However, 30 bps is not outrageously high compared to other smart beta ETFs and active mutual funds.

Click to enlarge
Source: ETF.com
Yield
Since conceptually LVHD is tilted towards high dividends, it also higher dividend yield than its main rivals. LVHD pays 3.39% of SEC yield which a 1% greater than both SPLV and USMV. This yield spread can make it more appealing for yield-seeking conservative investors.
SEC Yield:
LVHD - 3.39%
SPLV - 2.06%
USMV - 2.25%
Source: Morningstar
Market Cap
LVHD owns a wider range of market cap stocks. Since it uses Russell 3000 for primary benchmark and starting point, LVHD keeps a 9% ownership of small and micro-cap stocks. This approach allows LVHD to introduce some high performing stocks from a small range of the market cap spectrum and still keep its large and medium cap exposure close its rivals.

Click to enlarge
Source: Morningstar
Sector exposure
The sector exposure is where some of the large differences between the 3 ETFs come into play.
LVHD has bigger exposure to Consumer Cyclical and Real Estate. It has much small ownership of HealthCare and Financial Services. difference is largely explained by its methodology which looks at prior and expected earnings volatility. Both HealthCare and Financials have been experiencing stronger volatility in their earnings performance due to macroeconomic and political factors.
Additionally, the table below shows some interesting differences between the 3 ETFs. SPLV has no exposure to Technology, underweights Consumer Cyclical and Real Estate, and overweights Financials, Industrials, Consumer Defensive and Utilities
USMV has a more balanced exposure to all sectors. Unlike SPLV, it owns Technology, underweights Utilities and Industrials, and overweights HealthCare and Basic Materials.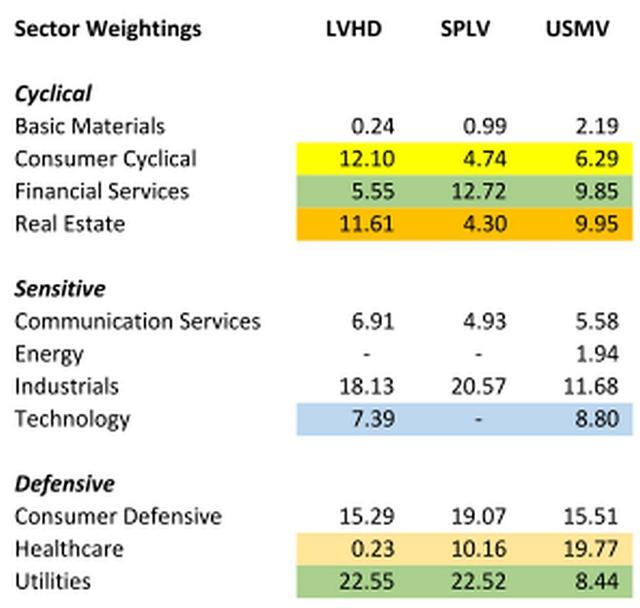 Click to enlarge
Source: Morningstar
Risk and return
In the ten-month period (Feb 16 -October 16), LVHD reported the highest YTD return of 12.21% and higher risk-adjusted performance (Sharpe ratio) of 1.43. LVHD outperformed all USMV, SPLV and S&P 500.
Even though, ten months may seem insufficient to assess how LVHD will perform in the future, the past ten months were like no other. We had the big sell off in January and the Brexit scare in June. All three funds held their volatility lower than S&P 500 and posted stronger returns.

Click to enlarge
Source: PortfolioVisualiser.com, Jan 16 - Oct 16.
Final Thoughts
Low volatility strategy can show its merits in a long term investment horizon. The strategy is designed to offer a smoother ride by protecting the returns during down markets and capture most of the upside during bull markets.
Low volatility can still experience higher turbulence in short periods due to macroeconomic, political and consumer factors.
Fundamentally, LVHD has a strong platform to bring low volatility and high dividend value to its shareholders. The fund is relatively new, only one year old. It started 2016 by beating S&P 500 and both its main rivals USMV and SPLV. With its dividend focus, LVHD can even compete in the high dividend ETF space.
As a young ETF, LVHD has its shortcomings - small AUM, low liquidity and high spread. It is not as widely traded as USMV and SPLV.
While it may not fit stricter requirements to be included in most advisors and investors, it is worth to be on the watch list for more conservative, yield-focused portfolios.
Disclosure: I am/we are long USMV.
I wrote this article myself, and it expresses my own opinions. I am not receiving compensation for it (other than from Seeking Alpha). I have no business relationship with any company whose stock is mentioned in this article.