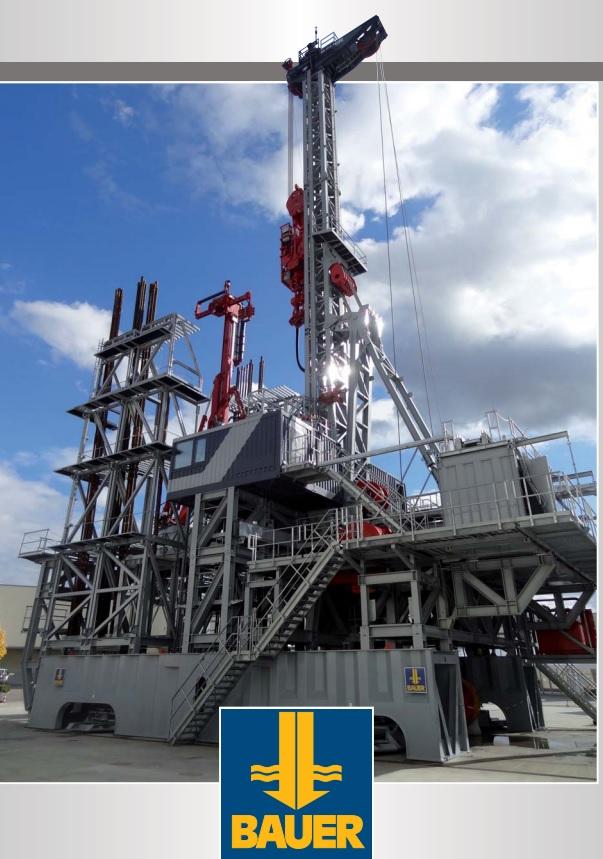 (Image: a BAUER Maschinen Gmbh drilling rig)
Important note: This article is not an investment recommendation and should not to be relied upon when making investment decisions - investors should conduct their own comprehensive research. Please read the disclaimer at the end of this article.
Last year, Schlumberger (NYSE:SLB) announced a plan to design and mass-produce what the oil service major refers to as its "Drilling System of the Future." Apparently, Schlumberger had worked on this technology-system concept for quite some time and last year launched the project into implementation. The move is a departure from the general trend by integrated oil service providers to stay out of contract drilling services that had prevailed for several decades.
Specifically for this project, Schlumberger acquired T&T Engineering, a Houston-based rig engineering company, to help develop the new rig's design. The rigs will be manufactured by a joint venture that Schlumberger has created with BAUER Maschinen GmbH, a leading Germany-based machinery manufacturer for oil and gas and mining industries (of note, BAUER already has its own extensive rotary drilling rig product line).
From Cameron's drilling equipment portfolio, the new rig will receive top-drives, pipe handling modules and blow-out preventers. The drilling system will also integrate Schlumberger's suite of downhole tools and technologies and reservoir characterization technologies.
One year after the initiative was launched, Schlumberger announced that it had deployed two rig prototypes in the U.S. market. According to the company, these pilot versions do not have all the features envisioned for the final product but have many elements of the design and are already operating on the software platform being developed for this integrated drilling system. (Six months ago, Schlumberger hinted that five engineering prototypes of the new system would be ready for field testing before year-end 2016, with deployments in the U.S. and Ecuador. The company recently commented that it is on track with its development plan.)
The first prototype rigs were engineered and manufactured in the U.S. Therefore, their deployment "close to home" makes sense, to make sure that the rigs can get all the support from the manufacturing facility and the feedback on their operational performance is quickly returned to the engineering and manufacturing teams. The complete version of the rig is expected in 2017, with the construction of a number of these rigs already budgeted by Schlumberger for next year.
The deployment of the two prototype rigs coincides with Schlumberger's shift to market share capture in those segments of the U.S. Land market where margins have recovered enough to provide a "path towards profitability." While Schlumberger does not see near-term improvement in margins on the pressure pumping side of the business, the company has made optimistic comments with regard to the drilling equipment and services segment. The Permian Basin appears to be in the center of the company's attention, with more drilling equipment being mobilized to the basin:
…in terms of the reason for mobilizing more equipment into the drilling side is clearly that we have a clear path towards profitability. So given the unique technology offering we have and the technical challenges of drilling these very, very long horizontals, we are able to get pricing which is going to give us… ultimately the returns that we're looking for. And this is why we are prepared to put more capacity into play on the drilling side or what's going on in West Texas.
The addition of two prototype drilling rigs has virtually no impact on the utilization of what I estimate to be 800-strong modern-generation rig fleet in the U.S. That said, Schlumberger's effort will likely lead to the company becoming a meaningful player in the North American drilling market, with a potentially disruptive service offering.
A Strategic Initiative
In essence, the "rig of the future" is a product integration concept. On one hand, Schlumberger expects its customers to win as a wide spectrum of advanced technologies are combined and maximized to deliver the "smartest" and most cost efficient well construction process. On the other hand, Schlumberger expects that it will gain a competitive advantage over the industry and increase market penetration for its higher-margin products and services via a stapled offering.
Therefore, it would be incorrect to think of the "rig of the future" as an attempt by Schlumberger to capture a share of the highly competitive and commoditized North American land drilling market. It is an attempt to capture a share of the entire oil services market by moving from selling a Schlumberger downhole tool or a Schlumberger reservoir characterization service to selling a Schlumberger well, and extrapolating a Schlumberger full field development. In many ways, the "rig of the future" is a logical extension of the company's integrated project management philosophy and should be viewed in that context.
Here is what Schlumberger says about its new-generation rigs:
Evolve our rigs into a well construction platform that can be combined with our industry-leading capabilities in downhole drilling optimization, providing a truly integrated well construction service to deliver a step change in overall drilling performance.

Enabled by Schlumberger proprietary software, the platform facilitates full integration of downhole and surface technologies. Starting with concurrent well engineering based on subsurface modeling, the resulting well program is used to drive closed loop workflows and dynamic scheduling of rig operations, breaking down the traditional siloed approach to service execution on a rig today.

Our integrated well construction platform combines every aspect of the well construction process using advanced rig hardware, along with integrated controls and pioneering software, to deliver customer wells at the most optimal cost.

Improved surface and downhole equipment reliability by streamlining and controlling the drilling operation, along with preventative health monitoring of key components.
Reduced NPT [nonproductive time] through improved equipment reliability, wellbore quality and pressure control.
Reduced invisible lost time by optimizing the process for planned flat-time-related tasks (e.g., tripping, logging, running casing, and cementing), in association with rig hardware and crew efficiency.
Reduced flat time by removing nondrilling-related events and improving logistics, including rig mobility.
Increased drilling performance through higher quality measurements combined with closed-loop workflows.
Integrated Software Platform
The software backbone of the "rig of the future" project is expected to include all aspects of well design, operational planning, and drilling optimization. The project will be jointly developed by Schlumberger's software centers in Houston and Beijing and will be further supported by the company's Big Data and Cloud Computing technology center Palo Alto, California.
Schlumberger's vision is that the "rig of the future" will represent the ultimate integrated drilling platform bringing together digitally enabled surface and downhole hardware. The drilling system will also integrate drilling optimization software to achieve a step change in operational efficiency. Obviously, the drilling system will be compatible and integrated with the entire suite of Schlumberger's products and services, allowing the company to provide a "complete drilling solution" to customers.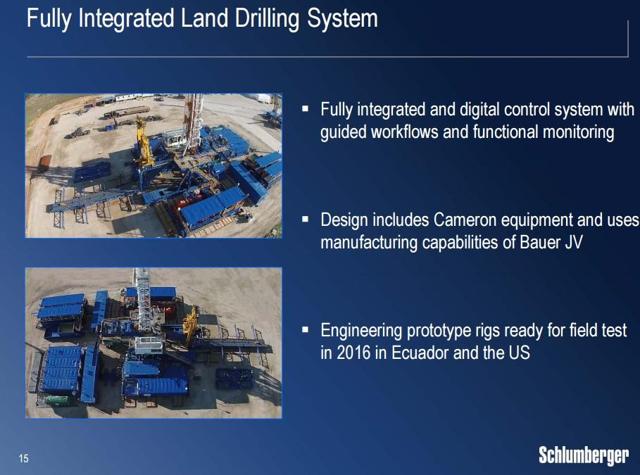 Click to enlarge
(Source: Schlumberger, 2016)
A Competitive Threat
Some sell side analysts have dismissed the "rig of the future" as a potential threat to incumbent U.S. Land Drilling contractors, suggesting that the new rigs will be designated primarily for international markets. I disagree with that view. Schlumberger cannot ignore the potentially very large U.S. Unconventionals market and will continue to actively search for competitive edges and marketing channels for its higher-margin products and services. The "rig of the future" can prove to be a critical tool in this regard, with Schlumberger evolving into a significant and aggressive competitor to the existing U.S. land drilling contractors within few years from now.
Moreover, the "rig of the future" is a strategic initiative for Schlumberger, and as such, will continue to advance almost irrespective of the position in the cycle and the industry's capacity utilization. Regardless of the cycle trajectory, Schlumberger will have to introduce its product in North America and act aggressively in order to achieve customer awareness and acceptance. Schlumberger must be aware that establishing and nurturing customer relationships takes time and will need to start early.
Given Schlumberger's massive financial resources and technology portfolio, any analysis of the North American land drilling competitive landscape must factor in Schlumberger's highly likely forceful arrival.
While the leading North American independent drilling contractors, such as Helmerich & Payne (NYSE:HP) and Patterson-UTI (NASDAQ:PTEN), have achieved tremendous success in designing and continuously improving highly efficient drilling rigs specifically tailored for shale drilling, their advantage versus Schlumberger may not be long-lived. There is certainly a risk that Schlumberger's integrated technology approach will make a difference in producing "smarter" wells at a lower overall cost.
Examples of land drilling contractor stocks that may be impacted by competition from Schlumberger's product include:
Helmerich & Payne
Patterson-UTI
Nabors Industries (NYSE:NBR)
Precision Drilling (NYSE:PDS)
Ensign Energy Services (OTCPK:ESVIF)
For in-depth analysis of the oil and natural gas industry and commodity fundamentals, please consider subscribing to Zeits OIL ANALYTICS.
Disclaimer: Opinions expressed herein by the author are not an investment recommendation and are not meant to be relied upon in investment decisions. The author is not acting in an investment, tax, legal or any other advisory capacity. This is not an investment research report. The author's opinions expressed herein address only select aspects of potential investment in securities of the companies mentioned and cannot be a substitute for comprehensive investment analysis. Any analysis presented herein is illustrative in nature, limited in scope, based on an incomplete set of information, and has limitations to its accuracy. The author recommends that potential and existing investors conduct thorough investment research of their own, including detailed review of the companies' SEC filings, and consult a qualified investment advisor. The information upon which this material is based was obtained from sources believed to be reliable, but has not been independently verified. Therefore, the author cannot guarantee its accuracy. Any opinions or estimates constitute the author's best judgment as of the date of publication, and are subject to change without notice. The author explicitly disclaims any liability that may arise from the use of this material.
Disclosure: I/we have no positions in any stocks mentioned, and no plans to initiate any positions within the next 72 hours.
I wrote this article myself, and it expresses my own opinions. I am not receiving compensation for it (other than from Seeking Alpha). I have no business relationship with any company whose stock is mentioned in this article.
Editor's Note: This article discusses one or more securities that do not trade on a major U.S. exchange. Please be aware of the risks associated with these stocks.