The United States Presidential Election provided a huge catalyst for the defense sector with US based contractors spiking as high as 20% in one day of trading. Inauguration Day is fast approaching and Mr. Trump has been shaping his policy in a more formal setting. One of his common complaints was that the United State's NATO allies don't pull their own weight and don't spend enough on their defense.
The 28 NATO participants all agreed to spend at least 2% of their GDP on defense, and 20% of that on equipment. This is to ensure they remain constantly ready to face any threats. Today only five NATO members meet that long-existing threshold. The biggest spender, both in dollar amounts and percent of GDP, is the United States at $644 billion and 3.6%. The United Kingdom, Greece, Estonia, and Poland are the only others who make the cut.
Following the election Mr. Trump spent a lot of time reaching out to those he would be working with for the next four years. One of those leaders was NATO Secretary-General Jens Stoltenberg. Mr. Stoltenberg tweeted about his discussion with Mr. Trump and had this to say: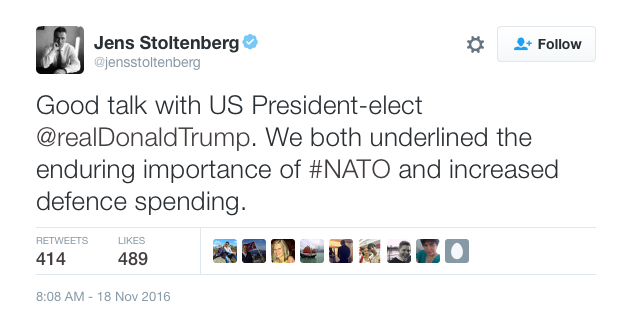 In the days following, the NATO allies spoke publicly about their intentions to spend more on their defense and start closing the gap between their current spending and the 2% threshold. This could be part reaction to Mr. Trump/Mr. Stoltenberg and part reaction to Russian advances in the region. This will take many years and may never truly be achieved, but it appears imminent that the 23 NATO allies who don't spend 2% of their GDP will be spending more.
The world's largest defense firms reside inside the US and will surely benefit from increased spending from friendly countries. There are other firms outside the US who appear well situated to profit off a resurgence of spending who I will take an initial look at two today.
Elbit Systems
Elbit (NASDAQ:ESLT) is an Israeli based diversified contractor. The company offers products and services in 16 separate divisions and deals almost exclusively with governments though dabbles some in commercial aviation due to technology overlap. The $4.4 billion market cap company has been around in one form or another since 1966 but the company we know today is the result of a de-merger that occurred in 1996.
The company is the largest independently held Israeli defense contractor and they have been consolidating their position through multiple acquisitions since their inception. Management appears fairly conservative and has taken their time growing the business being careful not to take on too much at once.
Elbit is a pretty steady operator and over the last nine years they have sported annualized growth in revenue and earnings per share of 8.4% and 11.9% respectively. In 2015 they pulled in $3.1 billion in revenue and reported $4.74 in EPS.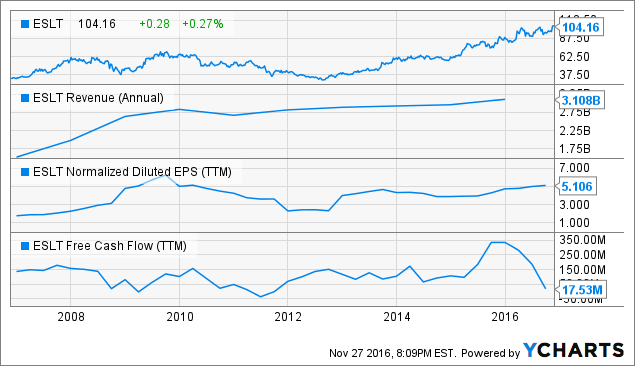 ESLT data by YCharts
Why will Eblit win amidst increased NATO spending?
The company is extremely diversified and offers cradle to grave solutions for their customers. They provide everything from the incredible helmet for the F-35 JSF from their joint venture with Rockwell Collins (NYSE:COL) to autonomous drones that fly and cruise the waterways. A new product of theirs, a UAV jamming device, also offers an enticing solution to what is becoming an increasingly troublesome aspect of modern warfare. They are a smaller operator that offers mostly complementary solutions for existing major platforms so any increase in purchases of those platforms will directly benefit Elbit. Their consistency and ability to execute year over year makes them a worthy company to consider for a portfolio; even better they trade on the Nasdaq. Trading at 19 times current earnings and 16 times estimated future earnings they are not a bad deal either but not a screaming bargain.
Rolls-Royce
Rolls-Royce (OTCPK:RYCEF)(OTCPK:RYCEY) makes more than luxury hand-built automobiles. The company is also a UK based defense and aerospace contractor. The company goes back to 1884 when Henry Royce built his first automobile and in 1914 began catering to the defense industry as World War I began in Europe.
At a $15.5 billion market cap the company is actually quite large but doesn't get a lot of attention from US based investors. On the civilian sector side they're best known for providing power plants to Airbus (OTCPK:EADSF)(OTCPK:EADSY) and other aircraft manufacturers. On the defense side they provide the vertical take-off and landing system for the F-35 JSF from Lockheed Martin (NYSE:LMT) and even the nuclear propulsion system for submarines along with several other products and services.
On a performance basis, the news hasn't been all that great for Rolls.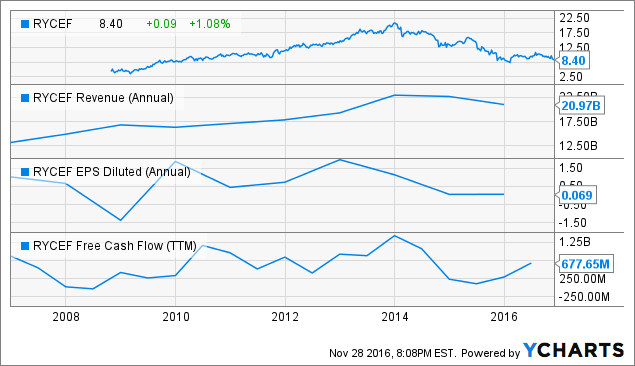 RYCEF data by YCharts
Revenue and EPS has been on the decline for a few years now, as well as the share price. The company has been undergoing a bit of a shakeup as it seeks to boost their profitably to right the ship but being just months old it is hard to see if the changes taking place are helping.
Why Rolls-Royce will win amidst increased NATO spending?
They provide many large components to several large programs. Several defense contractors from several nations utilize their power plants in everything from the F-35 to drones and helicopters. Any increase in military size from NATO allies will come with an increase in equipment and aircraft and Rolls will profit. On a side note, the opening up of Iran to business is set to benefit Airbus which in turn will benefit Rolls. Not everything is worry-free at the company, but the company has been around for a long time and all evidence points to it being around for many more years. Though current EPS is negative they're trading at just 8 times estimated forward earnings which makes them a great buy right now if they can turn things around.
Just Two Ideas
These are just two ideas to consider and still require plenty of investigation from individual investors. The fact of the matter is that NATO nations are going to be spending more money on their defense and as opportunistic investors we should look to capitalize on this in some way. US based defense firms have enjoyed quite a run since the election, so I've started looking overseas for some worthy companies at a fair price. If you have any ideas, please leave them in the comments for all of us to discuss.
I hope you all got something out of this article. I do appreciate the time you took reading it. If you are one of those who follows me here, I appreciate it; if you'd like to include yourself amongst those individuals, please hit the "Follow" button next to my name as well as following other contributors whose work you enjoy. As always, please leave any feedback and questions you may have in the comments below. Best of luck to you all.
Disclosure: I/we have no positions in any stocks mentioned, and no plans to initiate any positions within the next 72 hours.
I wrote this article myself, and it expresses my own opinions. I am not receiving compensation for it (other than from Seeking Alpha). I have no business relationship with any company whose stock is mentioned in this article.
Editor's Note: This article discusses one or more securities that do not trade on a major U.S. exchange. Please be aware of the risks associated with these stocks.